Going Beyond the Script
Written by: Melanie Simmons
Everyone loves a good fairy tale, but few people truly understand how far our familiar cartoon characters stray from their original fairy tale roots. This isn't the case with Dennis T. Giacino's 2016 musical Disenchanted! This raucous comedy takes the typical Disney princesses and throws all their tropes out the window.
Disenchanted enjoyed an off-Broadway run in 2016 and has since been staged all over the country. The show blends some of the original cautionary-tale elements from the "Grimm", gruesome, historically accurate versions of beloved tales and myths and adds in a healthy dose of modern-day female empowerment. Set to cabaret-style music and featuring decidedly adult-style humor, Disenchanted takes you on a 100-minute, intermission-free roller-coaster ride that is sure to leave your audience in stitches!
There are many advantages to staging this particular show. The cast features just 6 women. Performers are of mixed races and can be cast with all shapes and sizes – the only real requirement is some serious singing chops! Additionally, the music-revue setup of the show allows for the staging to be as complex or as simple as your venue, schedule, or budget allows.
Let's take a little journey through this romping comedy, and see how TheatreWorld can provide any look you need!
A Disenchanted Opening Number – "One More Happ'ly Ever After"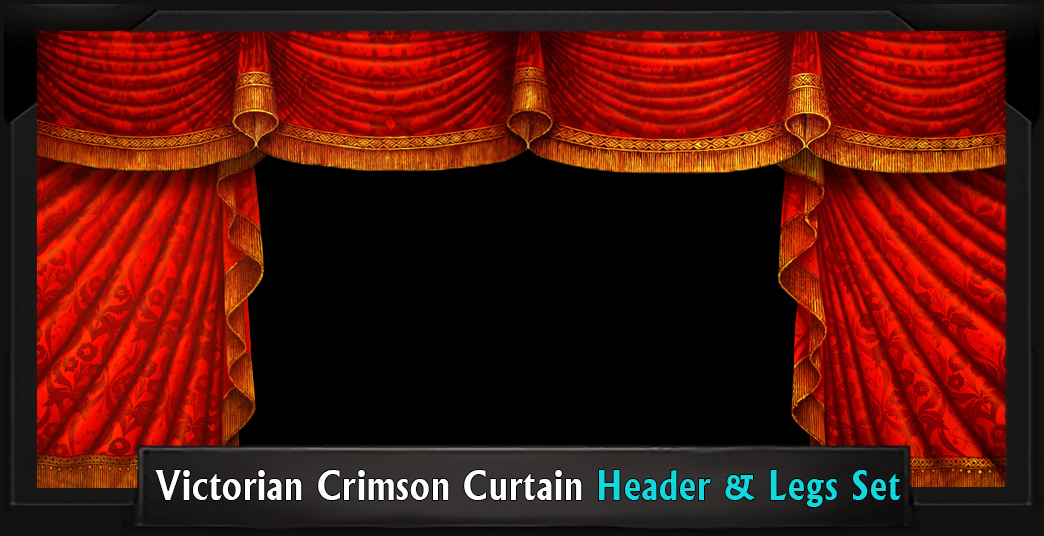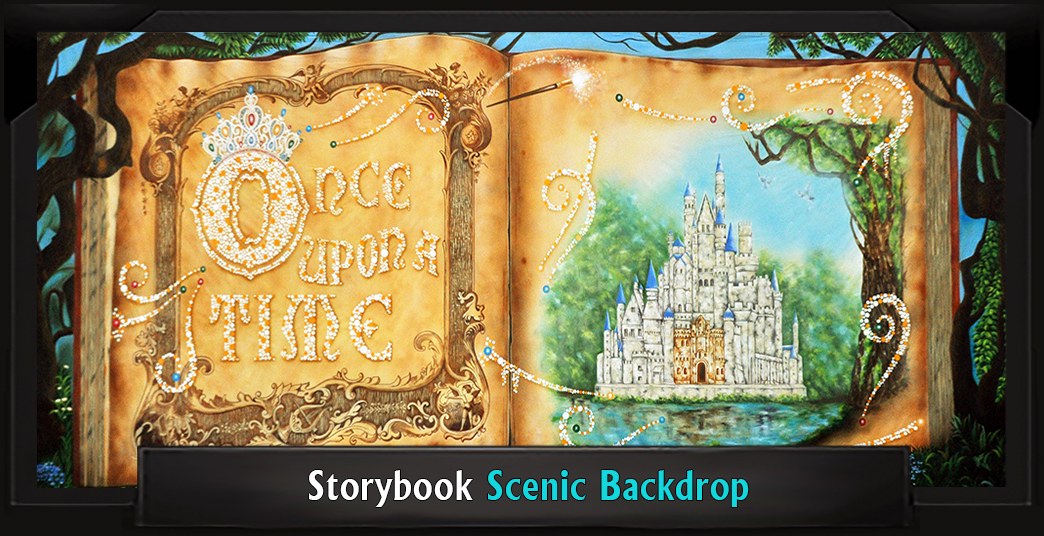 The show wastes no time breaking the fourth wall. Right off the bat, a V.O. Narrator introduces Snow White, Sleeping Beauty, and Cinderella… and that's where the fairy tale ends. These brazen sopranos launch right into their first illusion-shattering song ("One More Happ'ly Ever After"), which cleverly vamps into some audience-engaging chatter that explains the setup of the show. These princesses are tired of the way they've been portrayed – doe-eyed damsels in distress – and are determined to set the record straight, in 100 minutes or less.
The show opens in a modern-day cabaret-style setting, so capturing that first impression is key. Look no further than this Victorian Crimson Curtains header and legs set, which is available in several colors, ready to fit any palette you choose.
This Storybook backdrop is another fun option. Let details like the aging paper pages, glittery lettering, and by-the-book (literally) fairy tale castle heighten the irony as the princesses leap off the dusty pages to set the record straight!
TheatreWorld's Once Upon a Time backdrop would be another deliciously ironic choice for this particular musical. Whimsical, colorful dot details, paired with fun elements, like a sparkly crown and gleaming wand, float against a velvety royal blue backdrop. It's perfect for the playfully dark comedy heading their way.
Beauty and the Beast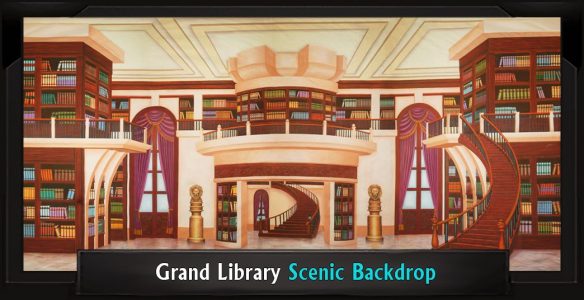 Cindy, Snow, and Sleeping Beauty (played as a full-blown narcoleptic) first tackle the tale as old as time. Belle is introduced as a neurotic, delusional housewife who is convinced the silverware is talking to her ("Insane!"). Try this Grand Library backdrop to call to mind the athenaeum that Beast gifts to Belle in the Disney version.
A more romantic option would be a lovely outdoor setting, captured in delicate detail in our Belle's Garden backdrop. Gothic arches draped in delicate roses will make an amusing setting for Belle's manic musical number.
Mulan


The next princessly-illusion on the chopping block is the story of Mulan. In Disenchanted, she is played as an Americanized Asian woman of questionable sexual orientation ("Without the Guy"). Take advantage of the cheeky racial diversity in this song by trying out this Fushimi Shrine backdrop.
TheatreWorld's Palace of Supreme Harmony backdrop would also make a fun choice. Crimson pillars heavily decorated with gold details gleam against polished stone floors. It will remind audiences of the rigid world Mulan lives in.
The Little Mermaid


Snow White's attempts at achieving princessly perfection ("Perfect – First Attempt") are quickly interrupted by everyone's favorite rebellious half-fish. Ariel takes us on her precipitous slide from a sheltered, innocent teen who gives up literally everything for a man, to a jaded lush whose fate more closely aligns with the original not-so-fairy-tale ending ("Two Legs").
Ariel's Grotto, designed to recall Disney's "Part of Your World" number, would make a fun and playful backdrop for this scene.
To go in a different direction, use TheatreWorld's Coral Kingdom backdrop to capture Ariel's watery world. Details like colorful fish and a looming shark to add a bit of whimsy and danger to the setting.
Pocahontas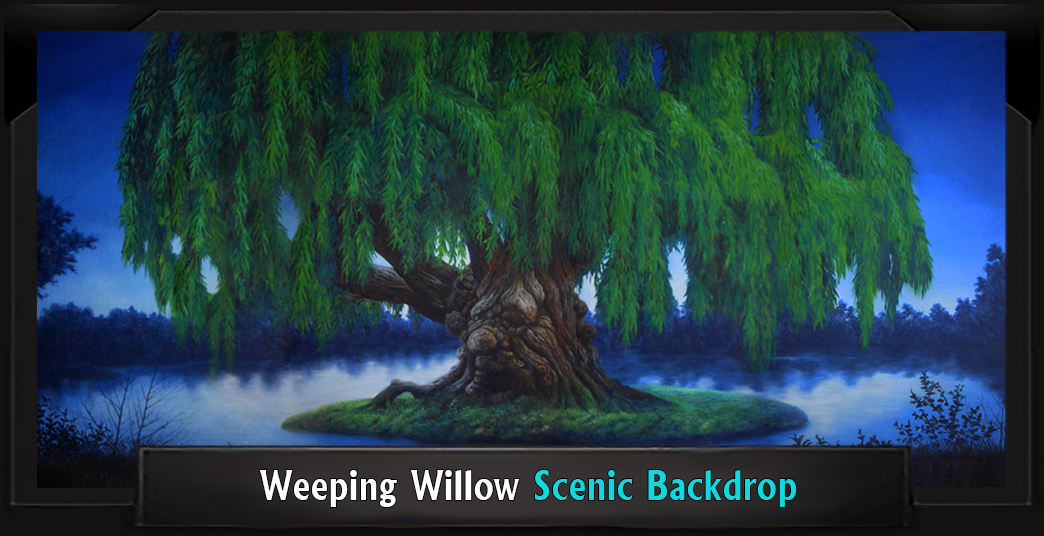 Next, the show tackles the terrifically mangled tale of Pocahontas. Accompanied by puppets and bedecked in a massive headdress, the American Indian heroine struts on stage in a comically sexualized mini dress that amplifies her "assets" ("Big Tits", which you can cut for a more family-friendly show). She "Honestly" explains some inconvenient truths – such as the fact that she was barely 14 during the account by John Smith – with much sarcasm and hilarity.
A lovely forest setting would be an excellent option for this sequence. This Redwood Path backdrop, featuring a worn pathway disappearing around the bend, would do just the trick.
Or, you could poke some fun at Disney's singing grandma tree with this Weeping Willow backdrop. The twilight tones and shadows would provide a nice change of pace. Furthermore, the suggestion of a face in the tree bark gives this drop just the right amount of character.
Rapunzel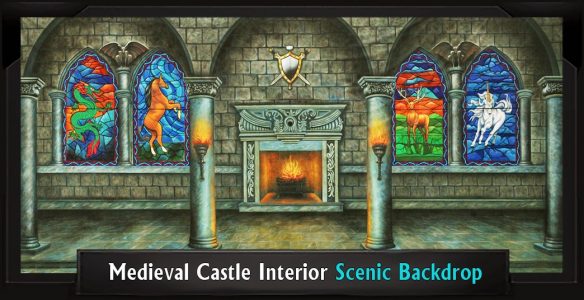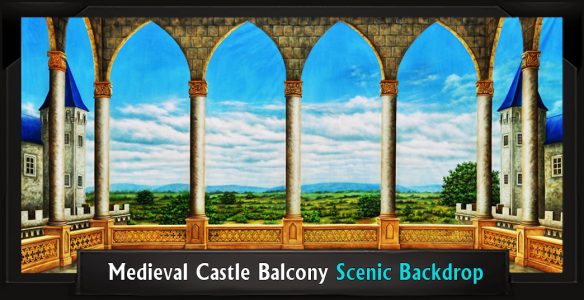 Snow White takes another crack at being perfect ("Perfect – Second Attempt") but is again interrupted – this time by a big, bold, unibrow-sporting Rapunzel, who could easily eat the Disney waif for breakfast. Oozing with Bavarian pride, Rapunzel launches into an over-the-top, Wagnerian recounting of her true self ("Not V'One Red Cent").
Try this Medieval Castle Balcony backdrop to capture the towering feel of an authentic European castle prison. With lofty archways framing distant mountains, it still provides an enclosed, isolated feel that would evoke Rapunzel's legendary lockup.
The stone block detail, coat of arms, and imposing pillars of the Medieval Castle Interior backdrop would also make a great backdrop for Brunhilda -, er, Rapunzel – to warble out her woes. A fire roars in the fireplace, while mystical creatures dance in stained glass friezes along the walls, again bringing that sense of entrapment.
Princess Jasmine


Next, the show takes its audience to a whole new world, as Princess Jasmine – or more accurately, Princess Badroulbadour – swoops in on a faux magic carpet to complain about her atrocious treatment at the hands of modern day caricature ("Secondary Princess"). This Agrabah Palace Exterior works as a colorful homage to the Disney depiction of this much-maligned princess.
For a backdrop more fitting to One Thousand and One Nights, the Arabian classic from which this tale loosely borrows, try this Palace in the Mountains backdrop. With its giant moon looming over a mysterious desert city, you could really play up the dark side of this number's humor.
The Princess who Kissed the Frog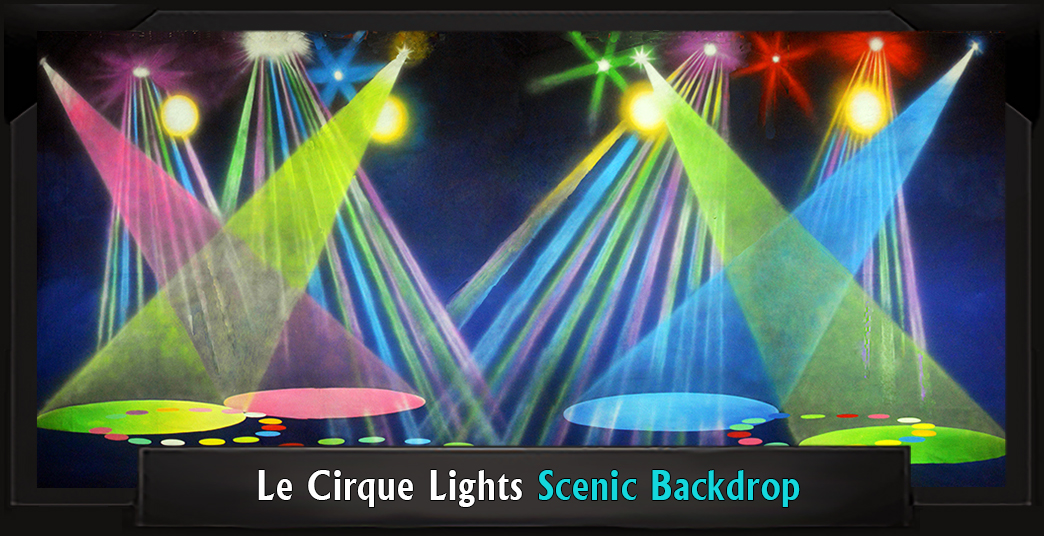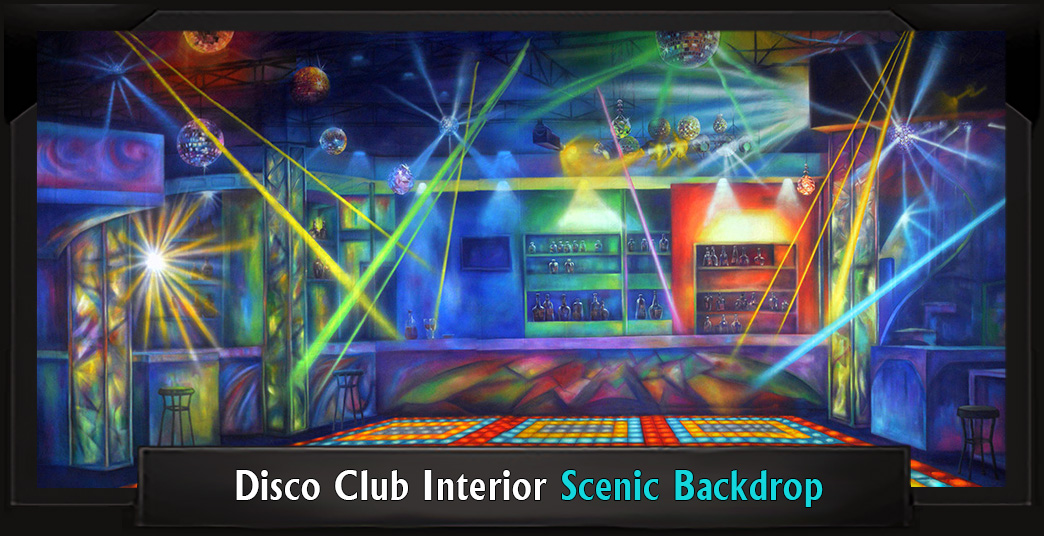 The show isn't done poking fun at the "racial equality" attempted by standard modern depictions, however. The Princess who Kissed the Frog gets her moment ("Finally") in fabulous 1970's disco style! Go for a major departure in this scene with this Le Cirque Lights backdrop.
This Disco Club Interior would make a fun and literal interpretation of this song's style come to life. Fire up the lighting effects, perhaps even a real mirrorball, and let this number really rock!
Snow White, Sleeping Beauty, and Princessly Woes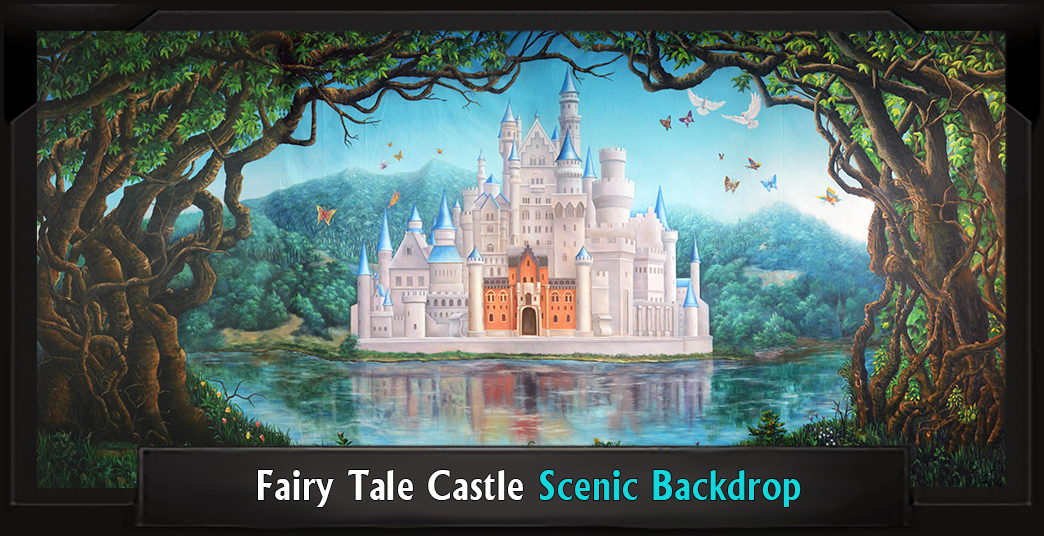 The princesses gather in a show of solidarity… over food. Because the Princess Code demands tiny waistlines and waif-life limbs, each one can't help but confess that "All I Wanna Do Is Eat". This hilarious tribute to food puts a melodic new spin on getting Hangry!
Next, Snow White gets her moment. She calls upon her forest animal friends for "A Happy Tune?". Set against this Enchanted Ruin in the Forest backdrop for a fun number.
Sleeping Beauty FINALLY gets to sing her song, after she fell asleep during earlier attempts. She realizes that being "Perfect" isn't all it's cracked up to be. The Princesses all unite once more to bring down the house in a rousing finale ("Once Upon a Time"). Try a classic look – use TheatreWorld's Fairy Tale Castle backdrop. It will drive home the juxtaposition between the empowering lyrics and the flimsy Disney depictions.
Really enjoying playing with the darker side? This Enchanted Castle backdrop could match well with the more nightshade aesthetic of some of the earlier drops. By choosing darker, moodier drops, you could give the entire show a Goth-like feel, that could be a broody contrast to the bubblier moments earlier in the show.
Make Your Disenchanted Dreams Come True!
At the end of the day, Disenchanted is all about taking the picture-perfect and shattering the illusion into a million tiny pieces. Don't be afraid to stretch your imagination and think outside the box! The more boundaries you push in your staging, the more freedom you will give your actors to shine. (And the more fun your audiences will have!)
Be as unique, bold and fearless as these not-so-Disney princesses. Contact TheatreWorld Backdrops today and bring your twisted fairy tale to life!