Going Beyond the Script
Written by: Melanie Simmons
Daddy issues are a common theme in many a dramatic tale, but no show tackles them quite like Big Fish. Based on the 2003 Tim Burton movie of the same name and the 1998 novel upon which the movie is based, Big Fish is the story of Edward Bloom and his estranged son, Will. Edward is nearing the end of his life, while Will is about to welcome his firstborn child into the world. Years of strain stand between them, as Will has always struggled to believe his father's tall tales. As Edward's story unfolds toward its inevitable conclusion, Will has to decide whether to believe his father's bigger-than-life stories and mend the rift while he has time, or lose this connection to his own childhood forever.
With music and lyrics by Andrew Lippa and book by John August, Big Fish enjoyed a run in Chicago before moving to New York in 2013. The show closed just a few months later. However, despite its short turn on Broadway, it received much critical praise and remains an impactful family-friendly journey suitable for any ambitious theatre group. Let's take a look at this charming, original story and how to make it come to life in your own purview!
A Big Fish in a Small Pond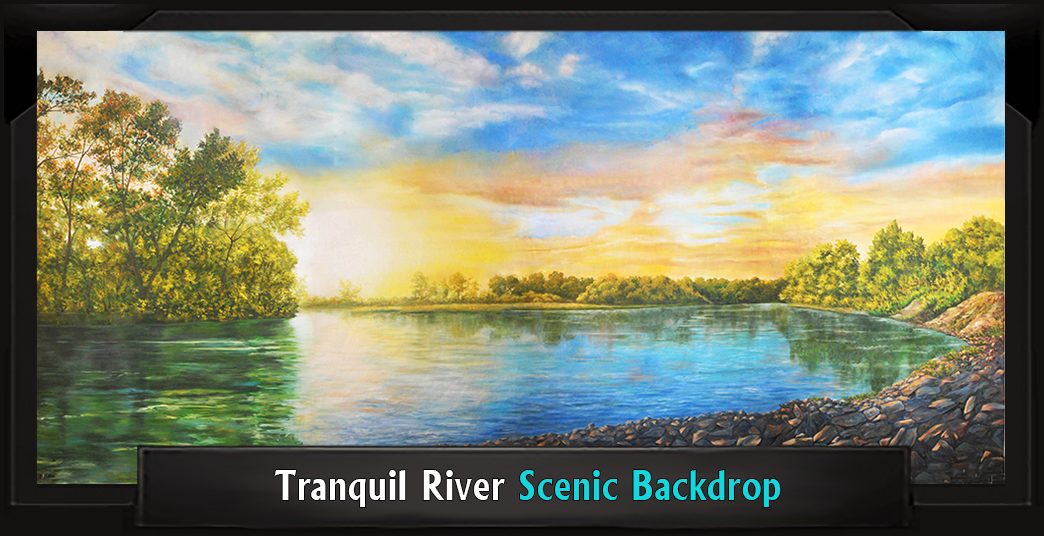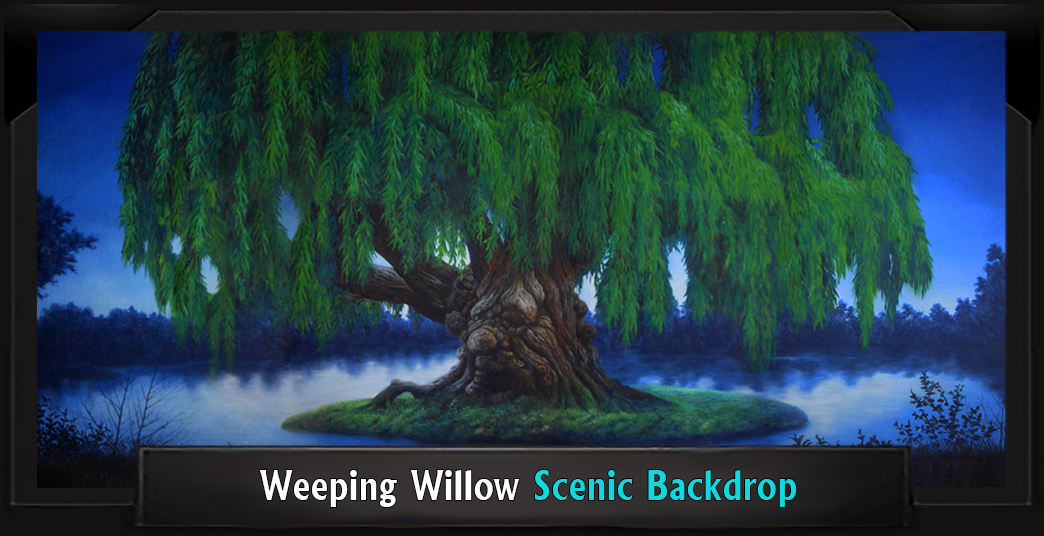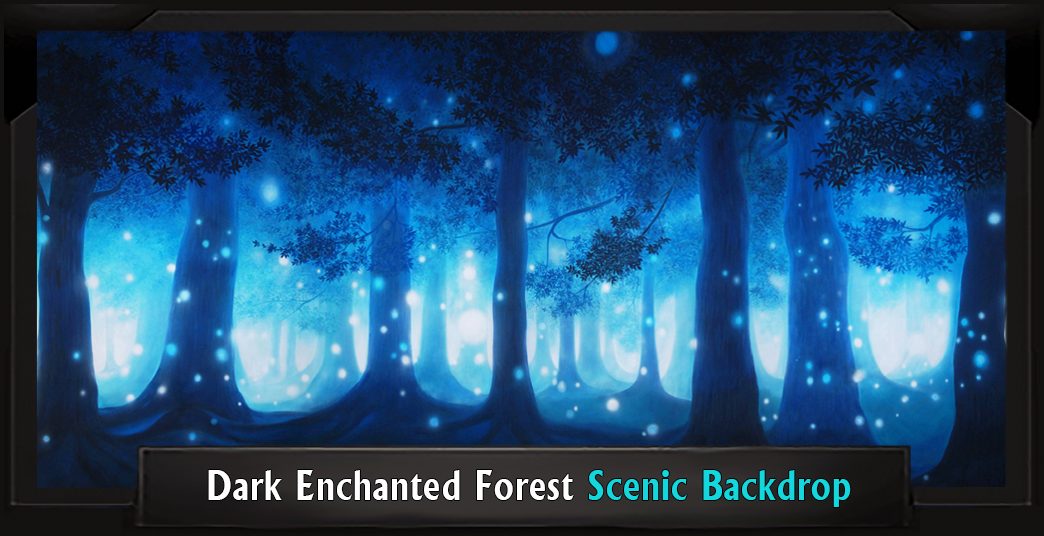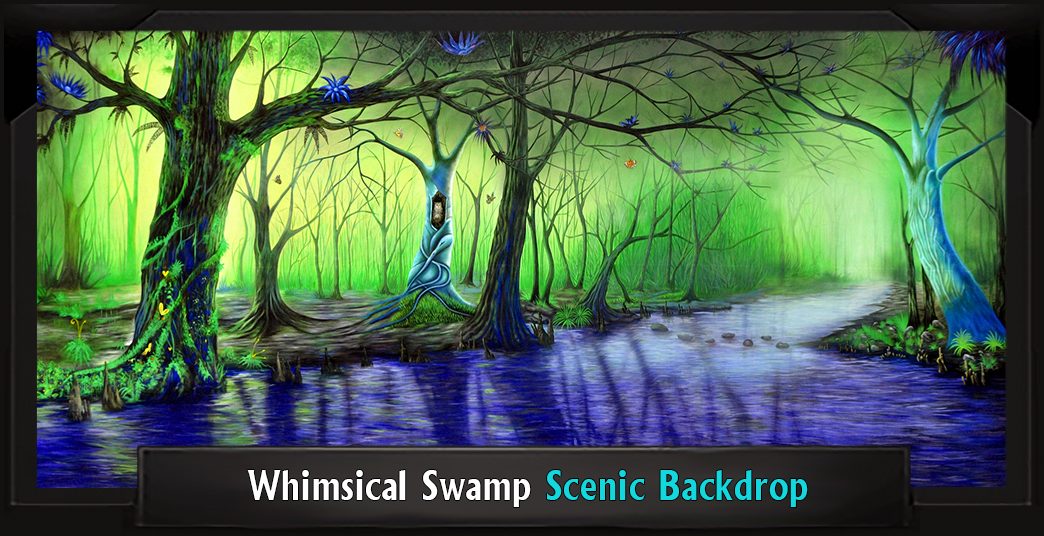 The show opens at a river in Alabama. A present-day Edward skips rocks while his grown son, Will, begs him not to tell any of his "wild stories" at his upcoming wedding. The scene quickly flashes back to the past, where a younger Edward teaches his young son how to catch fish ("Be the Hero"). An excellent choice for this scene would be the Tranquil River backdrop. With exceptional details of smooth river rocks, deep green foliage, and crystal clear water, it definitely captures a nostalgic, mystical feeling. The low sun just touching the horizon suggests either sunrise or sunset, which is perfect for this scene, as Will's mother is about to call him to bed.
Another option would be the Weeping Willow backdrop. The drop features muted indigos, greens, and dark black shadows. A sprawling tree sits alone in the middle of what could easily be a river. Willows have a long history in fairy tales and legends. This magical quality would be a nice backdrop to Edward's fantastical tales.
Sandra, Edward's wife, comes to remind Will that it's past his bedtime, but Edward ignores her. He launches into an astonishing tale about meeting a witch, who told him how he was going to die ("The Witch"). This Dark Enchanted Forest backdrop, with mysterious lights dancing through a darkened forest, would be a great drop for this ominous story point, which proves important later on.
If you really want to play up the magic, try this Whimsical Swamp backdrop. Mysterious creatures peak out from eerie woods in this mystical setting. The lavender river winding through trees glowing in blues and greens would thematically match the first scenes, as Edward's tale winds along.
Will's Wedding and Present Day New York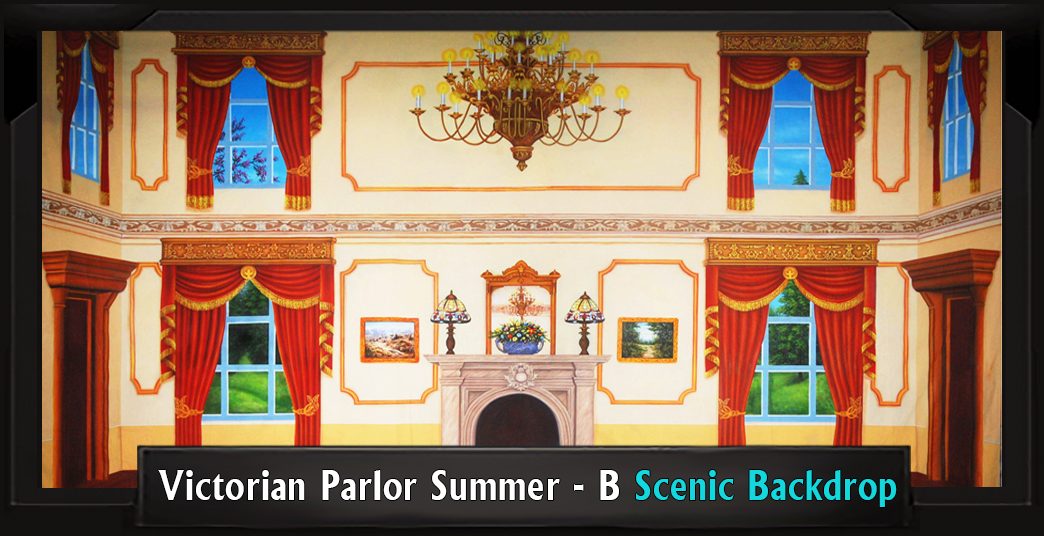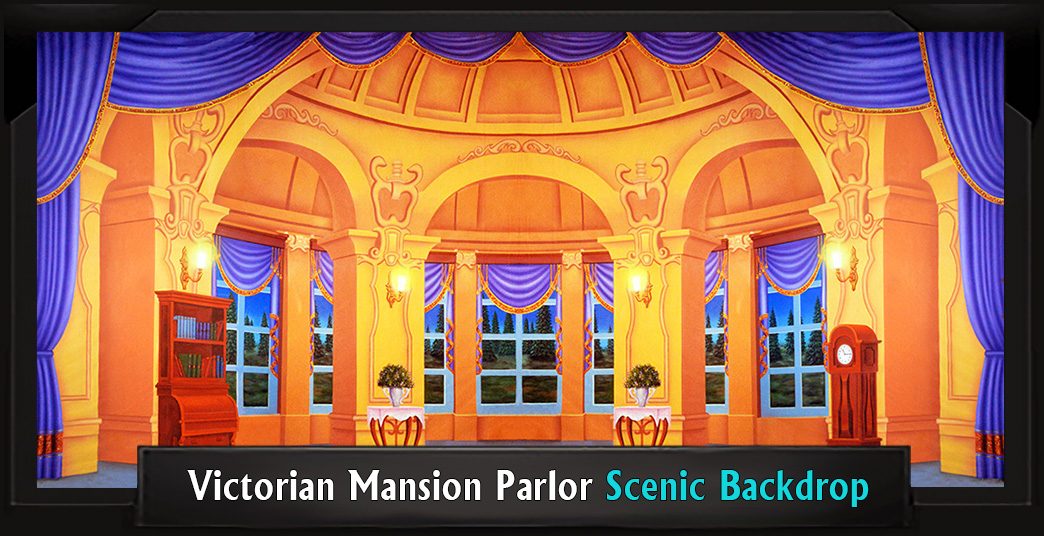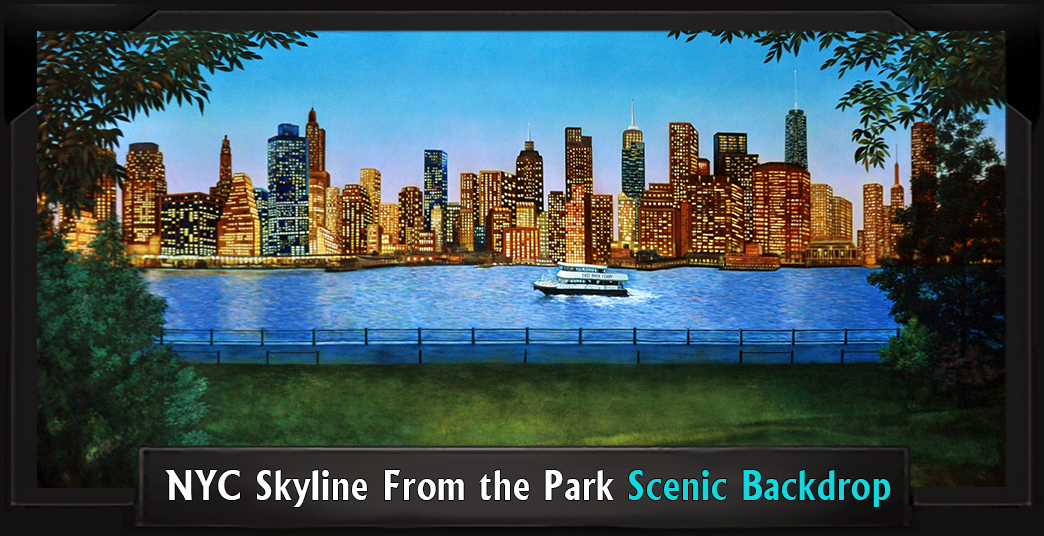 Back in the present-day timeline, it's wedding day! All Will wants is a normal, special day but of course, Edward can't help but steal the limelight. He accidentally reveals that Josephine, Will's bride, is pregnant. Will and Edward argue and part on ill terms.
Weddings are alway fun to stage, but can be difficult to transition into. Let this Victorian Parlor Summer – B backdrop do the hard work for you! Its vintage elements, like detailed mouldings, heavily draped windows and a large chandelier, would prove an excellent contrast to the ethereal settings featured in the more mythical scenes.
For a more romantic feel, try the sweeping arches and royal purple draperies of this Victorian Mansion Parlor backdrop. Golden hues make the deep reds of the rich furniture pop. Again, the formal atmosphere would be a great departure from the flimsy, whimsical locations that spring up out of Edward's imagination.
While Will nurses his wounded pride, Sandra learns that Edward is dying of cancer and has kept his illness secret. They seek medical help, while, at the same time in New York City, Will discovers that his wife is having a son ("Take Another Look"). Will contemplates his impending fatherhood, while struggling with his own paternal estrangement ("Stranger"). An easy choice for this scene would be this NYC Skyline from the Park. The lush green foliage in the foreground opens to a stunning view of the city skyline in the background.
Ashton's Favorite Son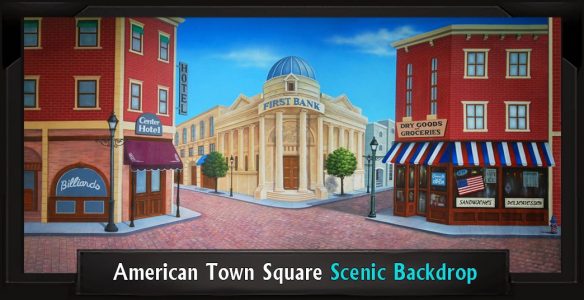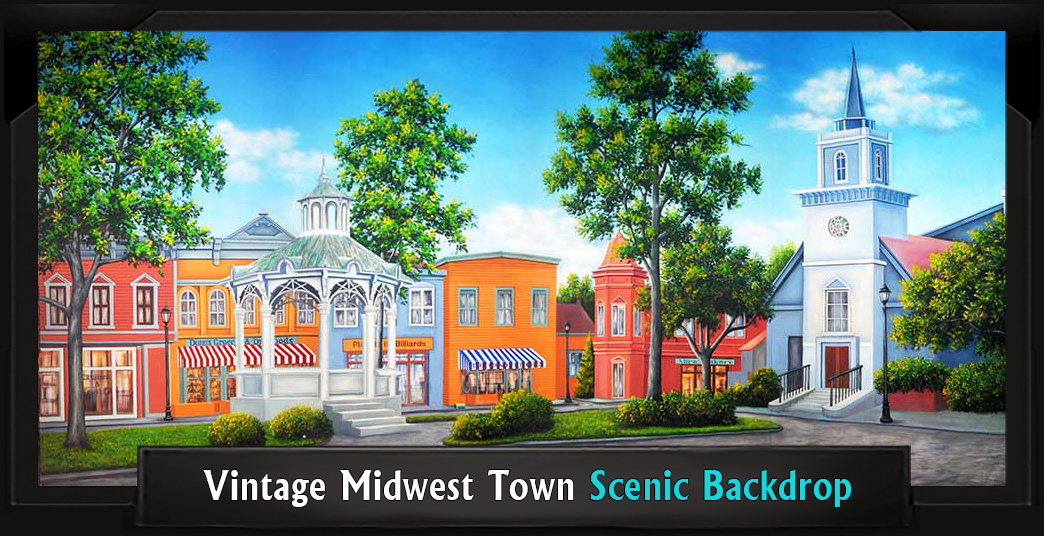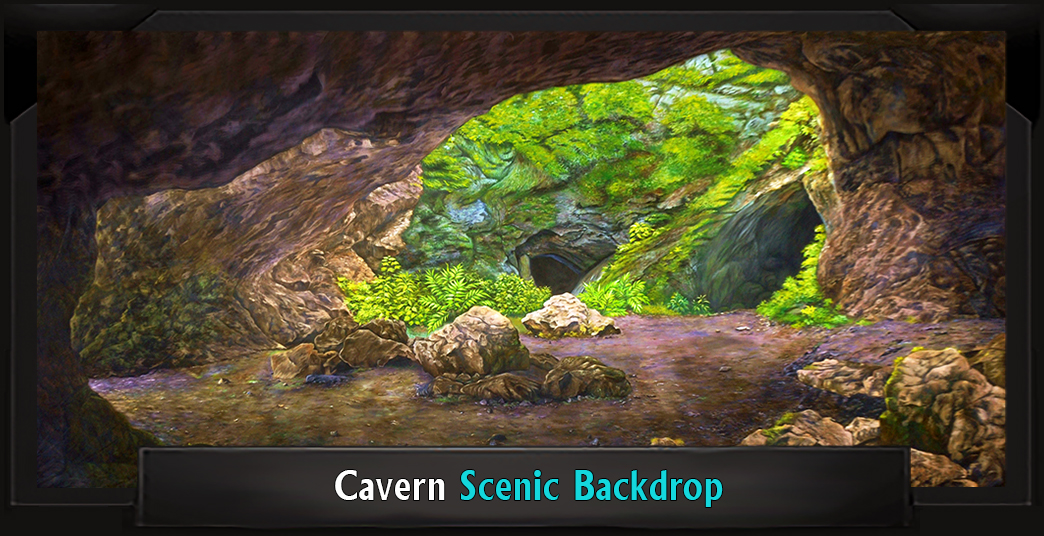 Will and Josephine travel to Alabama to make things right. Before long, however, Edward is spinning his web of tall tales around Josephine, much to Will's frustration. Edward tells her of the small town of Ashton, where Edward claims to have been a local hero in his high school days ("Ashton's Favorite Son"). Try this American Town Square backdrop for the cozy little hamlet of Ashton. With vintage details like a local dry goods store and billiards hall, it has all the charm of small-town Americana.
If you're looking for a more pastel pallette, then opt for this Vintage Midwest Town backdrop. A brightly-steepled church compliments the quaint gazebo, while storefronts and charming trees nestle between them under a hazy blue sky.
Edward becomes the town hero by confronting the giant that threatens the town's peace. Unafraid, since the witch told him how he dies and it wasn't via giant, Edward makes friends with the giant – whose name, it turns out, is Karl – and invites him on an adventure ("Out There On the Road"). This Cavern backdrop, with it's rocky overhang details emerald greenery in the background, is a great selection to frame this scene.
Time Stops/Auburn University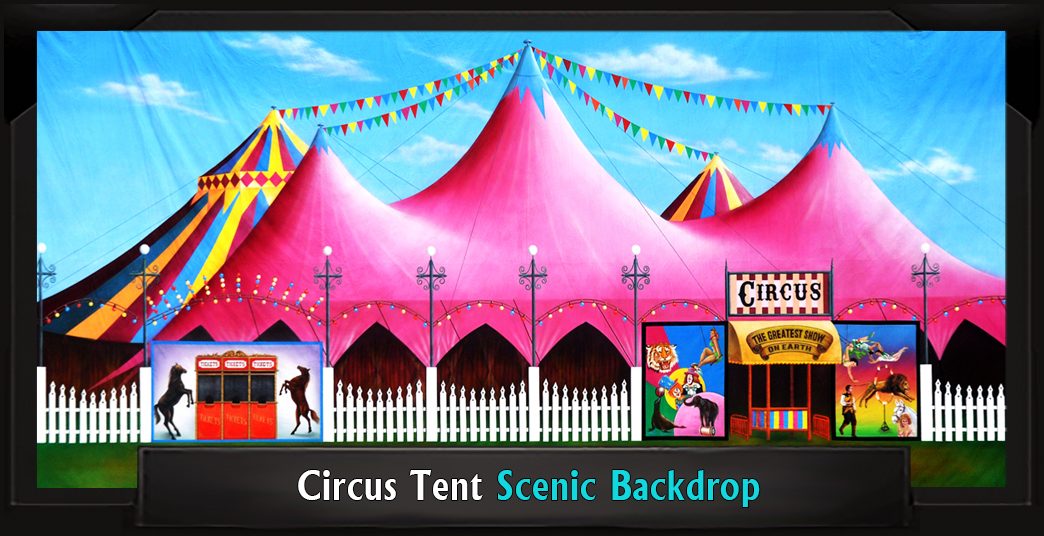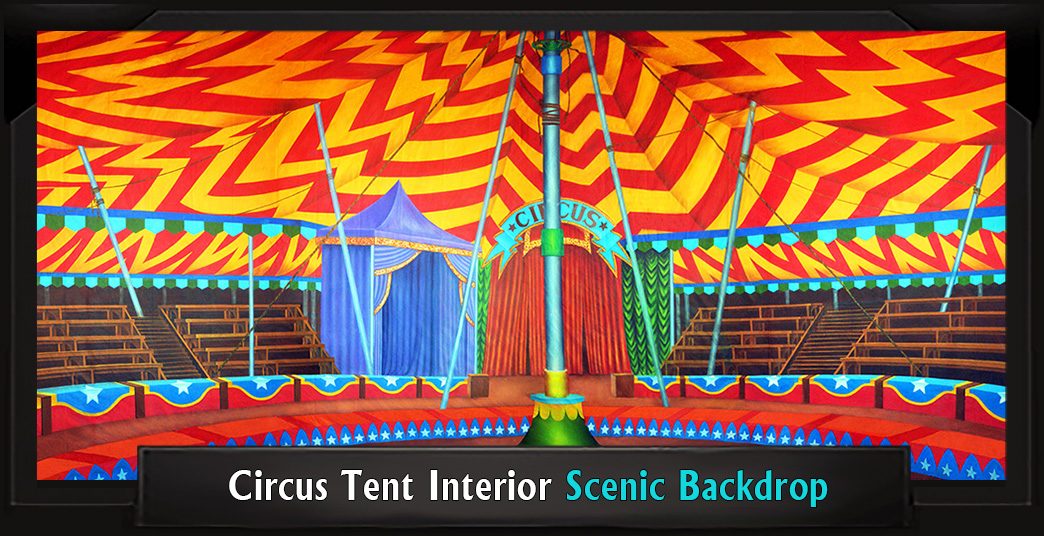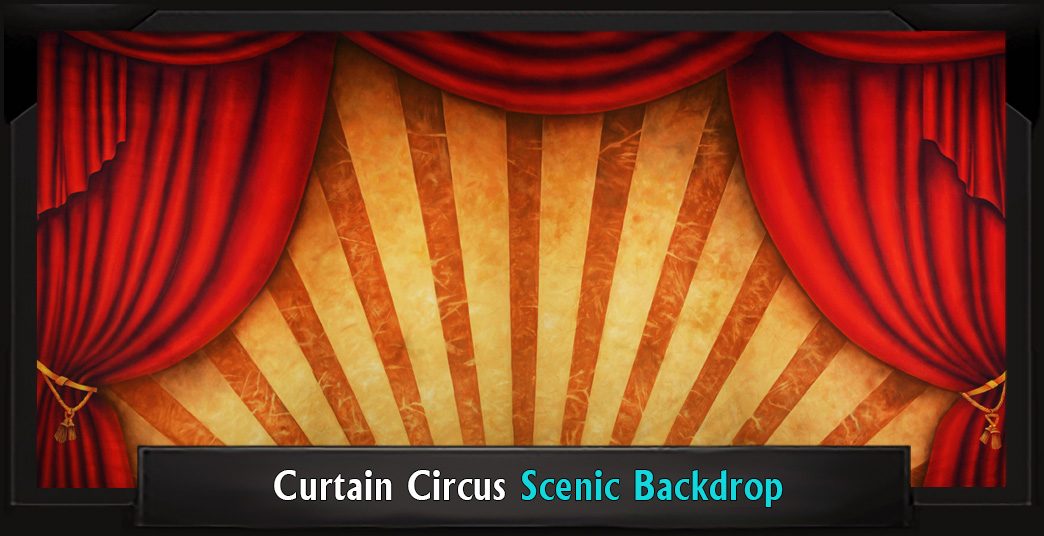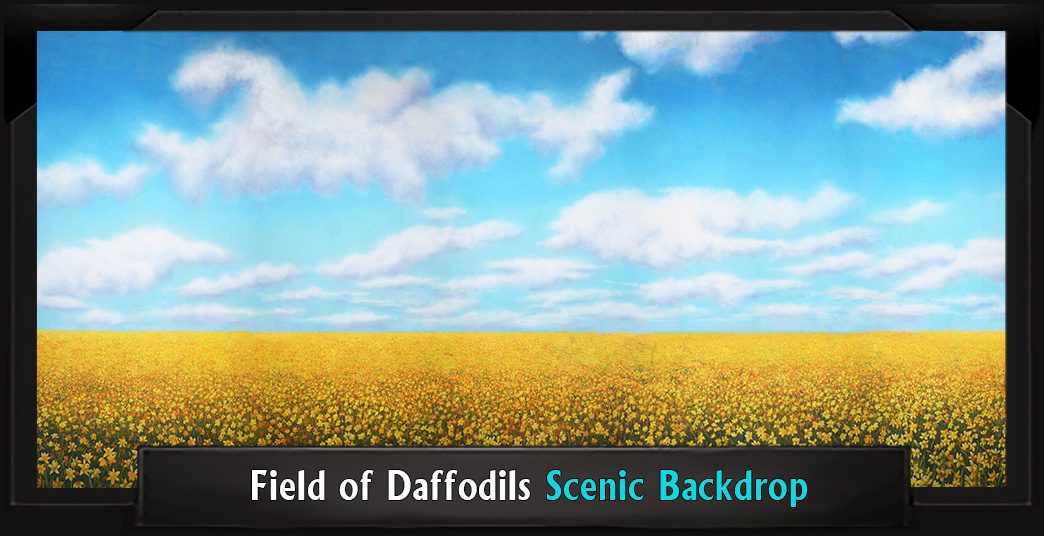 Edward claims he met Sandra at a circus outside of Ashton and instantly fell in love ("Time Stops"). He promptly joins the circus so he that can follow his heart and win Sandra's hand ("Closer to Her"). Try this jaunty Circus Tent backdrop, with its soaring tent tops and streamers fluttering in the air, as a backdrop for this era in Edward's strange history.
Or you could go more intimate with this Circus Tent Interior backdrop, which takes your audience right under the big top! Classic details such as rickety bleachers and star-studded barriers surrounding the circular performance area around the main tent pole leave no mistake as to where the story is set. Audience members will bring their own nostalgia to your stage for the ultimate theatrical experience!
If you're looking for smaller scope, this Curtain Circus backdrop would do splendidly. Simple red drapery framing a starburst pattern in crimson hues summon the feeling of a circus with minimal distraction. It's a great way to capture the circus feel while keeping the audience focused on the love story unfolding onstage.
After three years and 700 miles, Edward finally discovers Sandra's name – and the fact that she's engaged to his high school rival! But nothing daunts Edward, who declares his true love for Sandra in a field full of her favorite flowers ("Daffodils"). There's no better drop than Field of Daffodils, designed specifically with this show in mind. Endless golden narcissus bulbs vanish into the horizon, undulating beneath a blue sky filled with gauzy clouds. Let the romance bloom between Edward and Sandra with this stunning drop!
Act Two Opening/Red White and True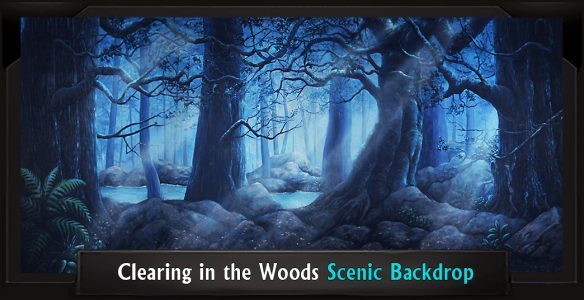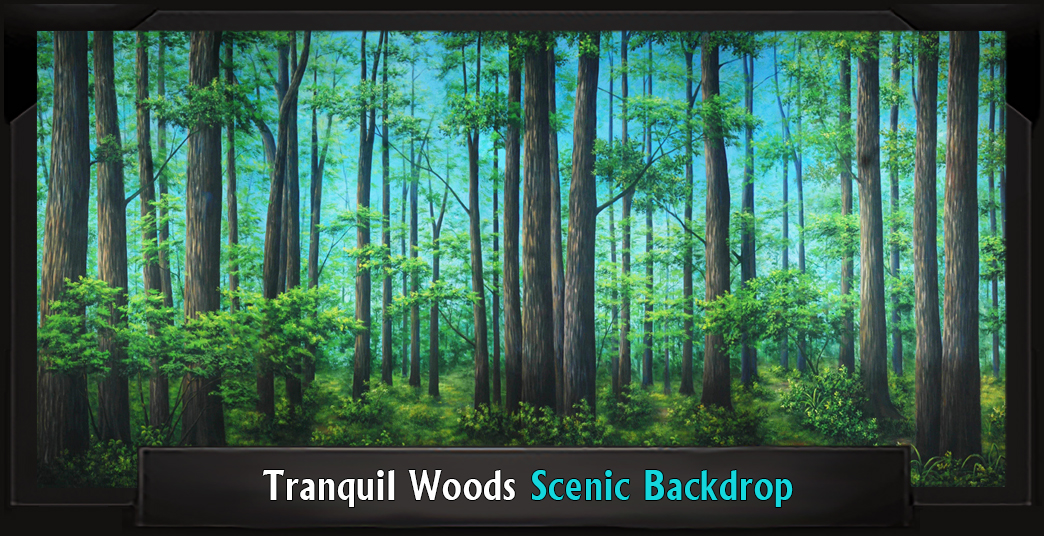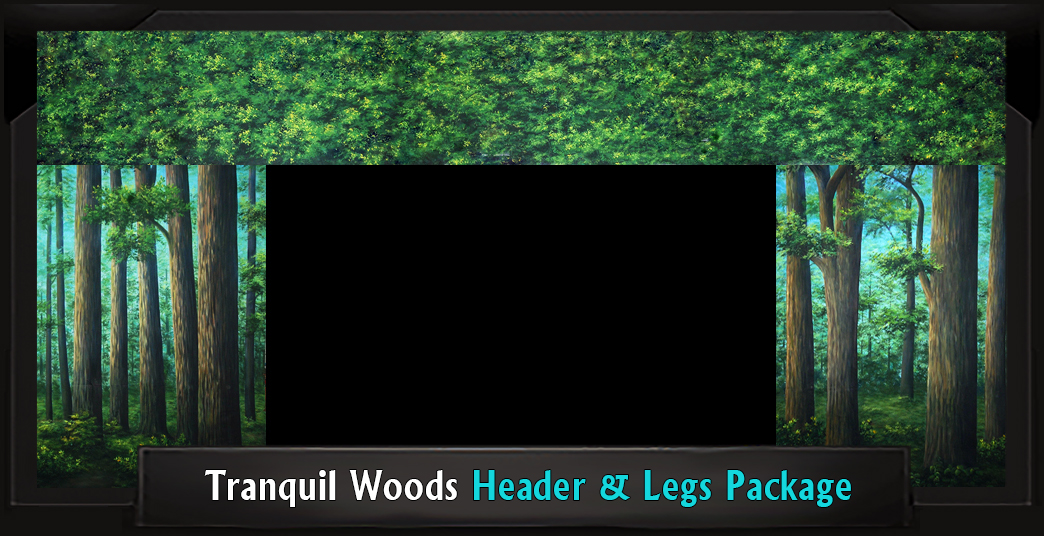 We come back into the past again, as Edward takes Will and several others on a Boy Scout camping trip. He tells an elaborate drama of his days in the war, fighting against an infamous sniper ("Red, White and True"), but cannot answer as to which war it was that he fought in. Try using this Clearing in the Woods backdrop for this scene. The twisted branches with moonlight highlights, together with some lighting changes, could easily double for both the campsite and the setting for Edward's war narrative.
For a more immersive Act 2 opening scene, this Tranquil Woods backdrop, header, and legs set can also double for both scenes. With the addition of the Tranquil Woods Header and Tranquil Woods Legs, the entire effect will draw your audience back into the story as Edward draws his young listeners into his latest mythical feat.
Between Edward's inability to answer questions about his stories, and his having to leave once again for his job as a traveling salesman, Will's faith in his father becomes deeply shaken. Edward encourages his son to "Fight the Dragons", but it's becoming too little too late.
Will Visits Ashton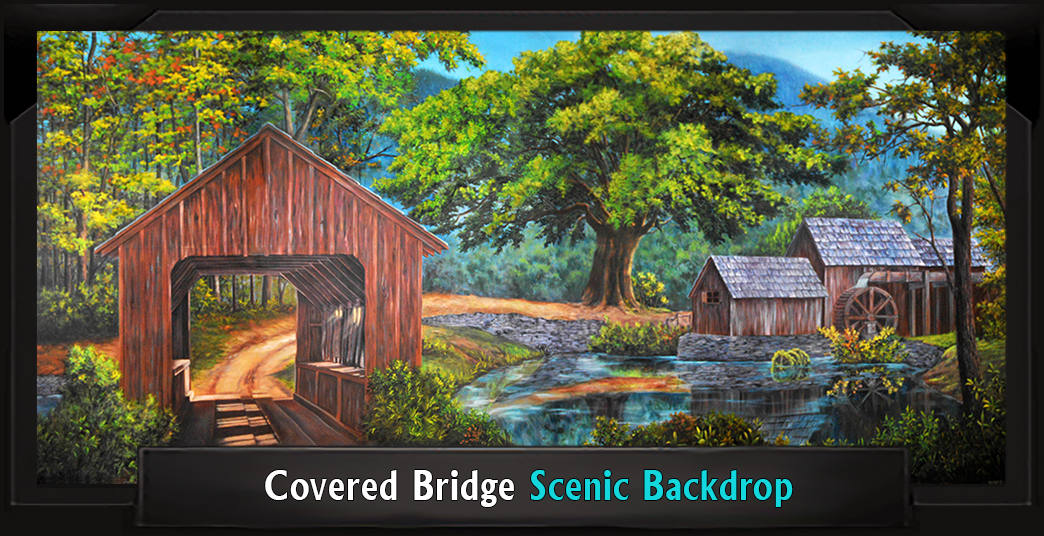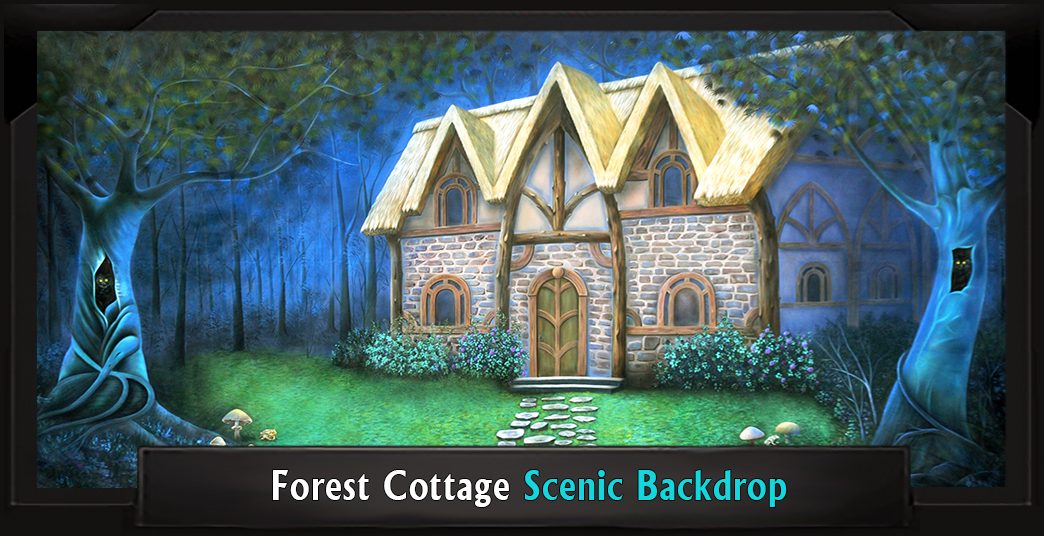 Back in present time, Will finds a deed in his father's name, leading him to believe his father has been having a long-time affair ("Stranger (Reprise)"). Their confrontation leads Edward's health to take a turn for the worse ("Showdown"), and Sandra comforts Edward ("Stay with Me/I Don't Need a Roof"). This interior scene could easily be accomplished with set pieces, but consider this Covered Bridge backdrop to set the mood for a cozy southern country home.
Will, furious and determined to discover the truth, travels to Ashton and finds Jenny Hill. Through her, he finally learns some of the truth to his father's reveries. Jenny tells the true story of Ashton, in which Edward did feature prominently, even if the details differ ("Start Over"). Jenny Hill did love Edward, who bought her a house and promised a life together, but instead fell in love with Sandra and never returned, leaving Jenny with a broken heart ("Start Over (Reprise)").
This Forest Cottage backdrop might be a great way to capture the feeling of a fairy tale come to life. This scene represents Will's chance to tell truth from tale, as if waking from a long dream. The bright yellow thatch roof sets against the deep blues of a sleepy forest, as owls look on. Not to mention, it would make a great aesthetic match with the Whimsical Swamp drop from earlier in the show!
How it Ends – Big Fish Finale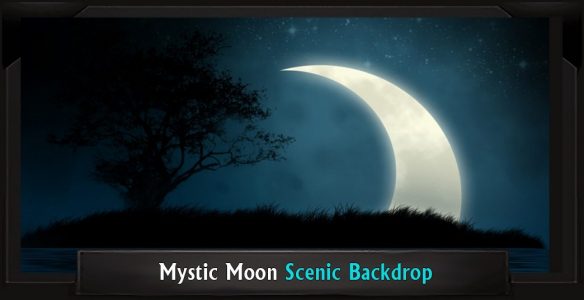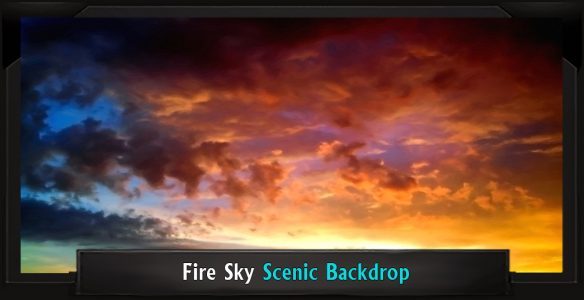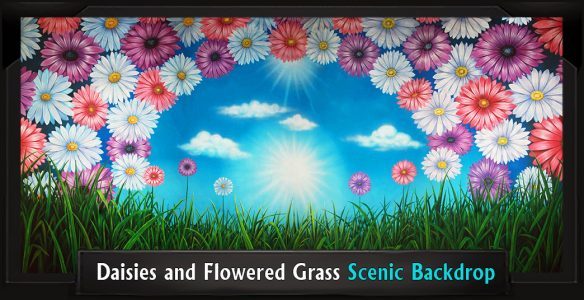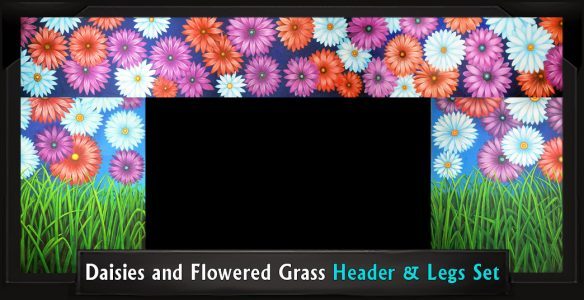 Will returns to the hospital to find his father is out of time. With his newfound understanding of Edward, and faced with losing his father forever, Will spins a fantastical story about Edward escaping the hospital, building on the witch's prediction and letting it bloom into a full-blown adventure ("What's Next")! As Edward passes away, Will takes on the mantle of myth-builder for his own son ("How It Ends"). At the funeral, all the fairy tale creatures from Edwards' stories come forward in their real-world selves – even Karl the "giant" – and myth and reality blend into a gorgeous tapestry of life, love, loss and rebirth.
There are countless ways to stage this final montage, so let's look at some fantastical options! This Mystic Moon backdrop could mark the sunset of a life, while the brilliantly shining moon captures the bright imagination of a son who's finally free to dream.
This Fire Sky backdrop would also be a fabulous option. One could almost imagine Edward's spirit soaring off into the sky, disappearing into the towering clouds brilliantly flaunting radiant colors of what could be either a sunset or sunrise.
One way to bookend this story with the romantic Act 1 finale would be to try this Daisies and Flowered Grass backdrop, header, and legs set. The header and legs once again capture the audience and draw them into the magic of the story, while the flower theme recalls the love of Edward and Sandra and makes it feel eternal.
***
Not only is Big Fish a truly all-American original story, but it's also surprisingly relevant to today's world. In a time when generation gaps seem wider than ever, and technology takes place of imagination, stories like this are timely and touching. Instead of trying to define the differences between fact and fiction, myth and reality, Big Fish dares to propose that the two are really not so different after all, and embracing both can enrich a soul and strengthen family bonds. With a large cast and lots of scene changes, it's not a simple show for smaller venues. However, it would make a fantastic family-friendly option for the holidays, if you seek a departure from the Christmas standards.
Take your theatre troupe on an adventure! Bring Big Fish to your stage and community and let TheatreWorld help you make it a magical show for a magical time of year!