Going Beyond the Script
Written by: Melanie Simmons
All I want is a stage somewhere… playing one this author's favorite musicals of all time! And that's hardly a lonely sentiment; My Fair Lady is always a crowd-pleaser. The musical is based on the novel Pygmalion by George Bernard Shaw and is arguably one of musical legends Lerner and Lowe's crowning achievements. The show is currently enjoying an immensely successful, Tony-award-winning revival at the Vivian Beaumont Theatre in New York City. However, it already boasts six decades-worth of awards garnered worldwide. This Broadway favorite isn't showing any sign of stopping yet!
My Fair Lady follows Eliza Doolittle, a low-born girl who ekes out a living selling flowers on the streets of London. Liza is trapped by poverty and her painfully thick Cockney accent. When she crosses paths with famed (and insufferably egotistical) phoneticist Henry Higgins, he brags to his rich, well-bred friends that his talents in elocution are so phenomenal that he could transform Eliza into royalty within 6 months. What follows is a test of wills that's as ferocious as it is entertaining, for Higgins has met his match in the indomitable Eliza.
TheatreWorld's My Fair Lady Backdrops
Graced with an unforgettable, soaring score and interlaced with drama, intrigue, romance, and humor, this show is an absolute gem. It also has a small cast and a relatively sparse number of scene changes, making My Fair Lady very accessible for community, regional, or school theatres. Naturally, TheatreWorld has a host of backdrops just right for this show, so let's go on a walk through Edwardian London!
"Loverly" Covent Garden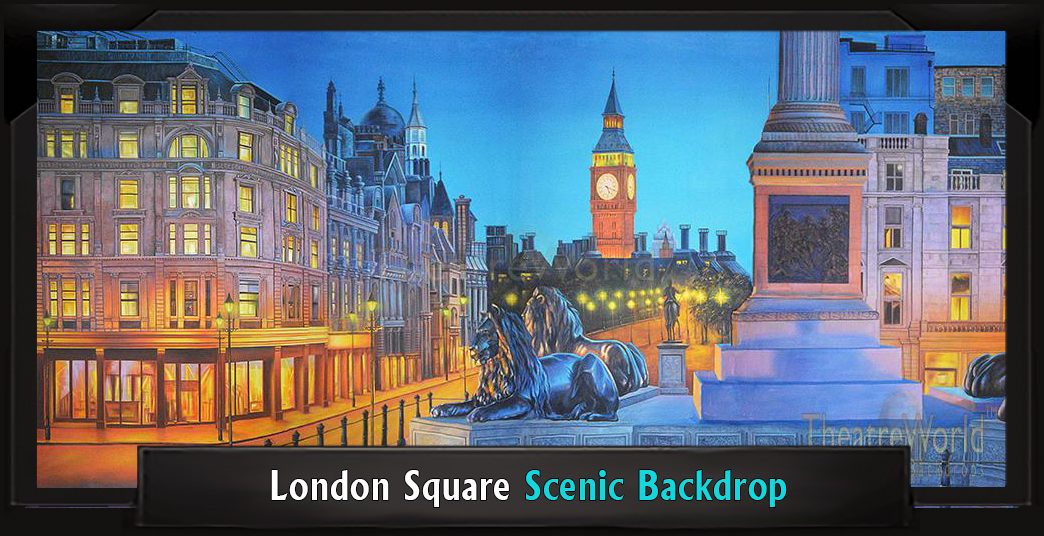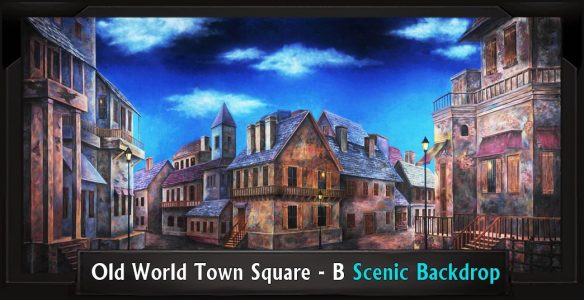 Our first stop is Eliza's favorite haunt, that middle-ground where street vendors hawk wares to the more well-to-do Londerners at the turn of the last century. Here, Eliza sells flowers alongside her lowest-class friends, dreaming of simple pleasures ("Wouldn't It Be Loverly?"). As the nearby Royal Opera House empties of its patrons, Henry Higgins is brought up short at Eliza's ear-splitting accent. What begins as pure mockery at the capriciousness of the English language ("Why Can't the English?") ends with Higgins boasting that the only thing keeping Eliza on the streets instead of the Palace is her accent. Higgins heads home with his new friend Col. Pickering, but Eliza's interest remains piqued.
This London Square backdrop would be just the thing for this entire opening sequence. It details the finer side of London without being too exclusive. The cool blue tones suggest the evening hours in the cold winter, which perfectly suits the setting of the play at the start. Golden light beams from the windows of the well-to-do, while the urchins shiver below. It's an excellent choice for setting up the clash of cultures from the very opening of the first curtain.
Another option for opening this show would be to focus more on the grungy side of the city. This Old World Town Square – B shows a little more dirt, more in keeping with Eliza's world than Henry's. This would make a great setting for "Loverly" and the Busker sequence and would provide excellent contrast as the Opera-goers filter through in all their finery. This sort of setting would also host an appropriate ambiance for Eliza's relationship with her father, Alfred Doolittle ("With a Little Bit of Luck"), which plays an important role in spurning her to seek advancement in her situation.
Henry Higgins' Home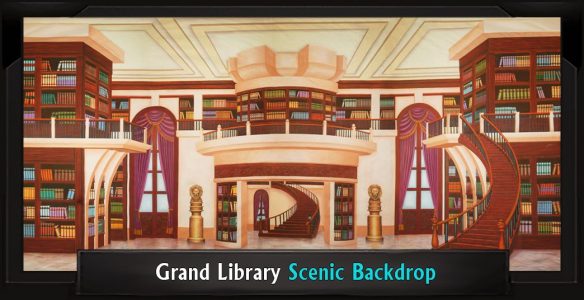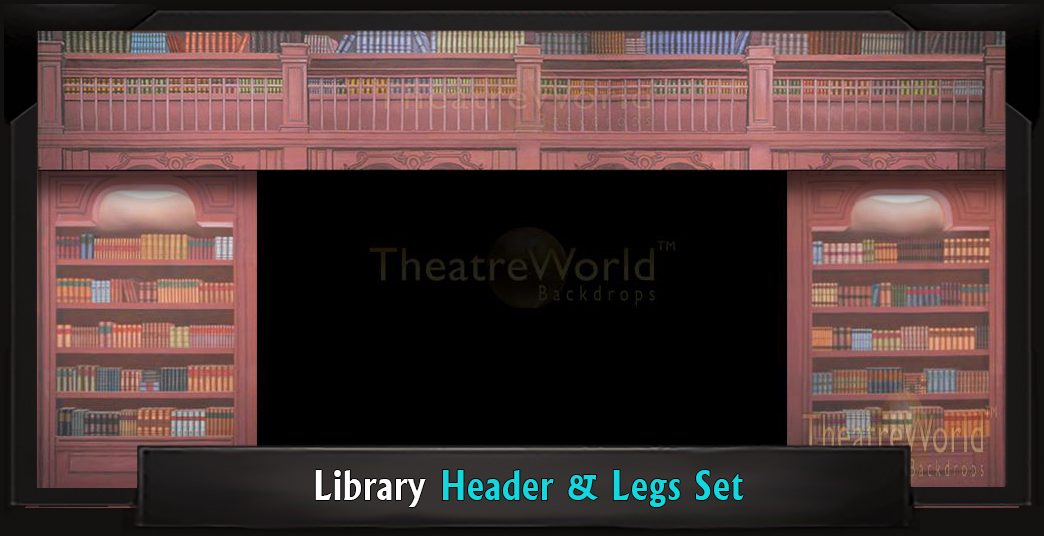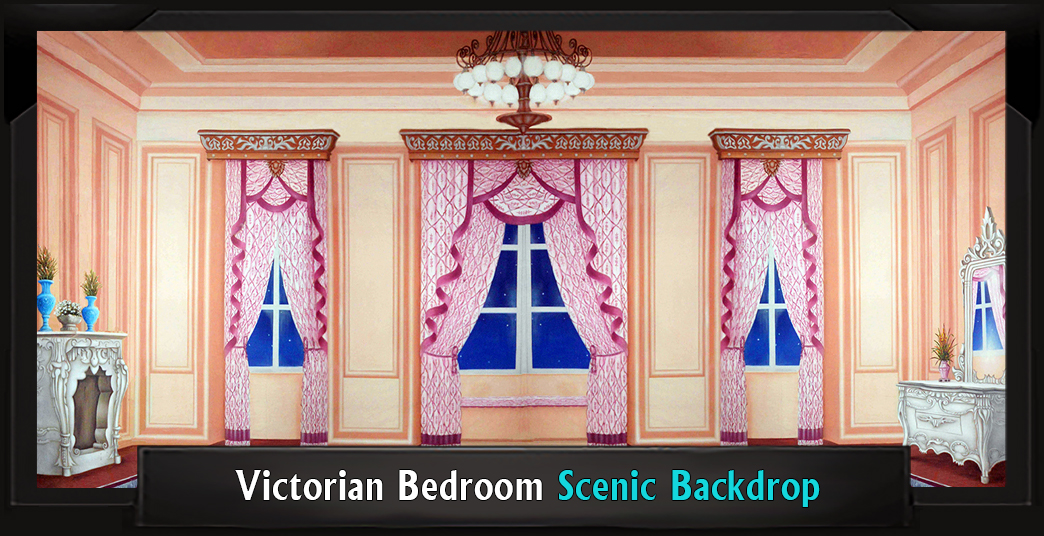 Whichever opening you go with, do not cut corners when it comes to Henry Higgins' house! Not only is this the time to showcase the disparity between his world and Eliza's, the Higgins house is a reflection of its owner – so go bold, proud and rich. (Not that Higgins would use those words, since he assumes he's "An Ordinary Man".) This Grand Library backdrop, with its Edwardian color pallet, is a top-notch choice. Much of the show takes place right here, so give your audience plenty to feast their eyes on with elegant book details galore!
But why stop there? Kick this setting up to the next level with the Library Header and Legs set. The added detail and dimension will make this grand room all the more imposing. The audience will feel overwhelmed and tiny when they see this room for the first time, just like Eliza herself. That in turn will make it even more fun when Eliza finds the strength to stand on her own in this immense hall of knowledge and history ("Just You Wait").
Eliza is ushered into luxurious accommodations well beyond even the modest dreams she expressed in Covent Square. Try this Victorian Bedroom backdrop, with all its splendid pink finery and white accented furniture. Everything within is light, airy and feminine….although the sky is darkening outside, suggesting that Eliza may well be getting in way over her head.
Eliza Enters Society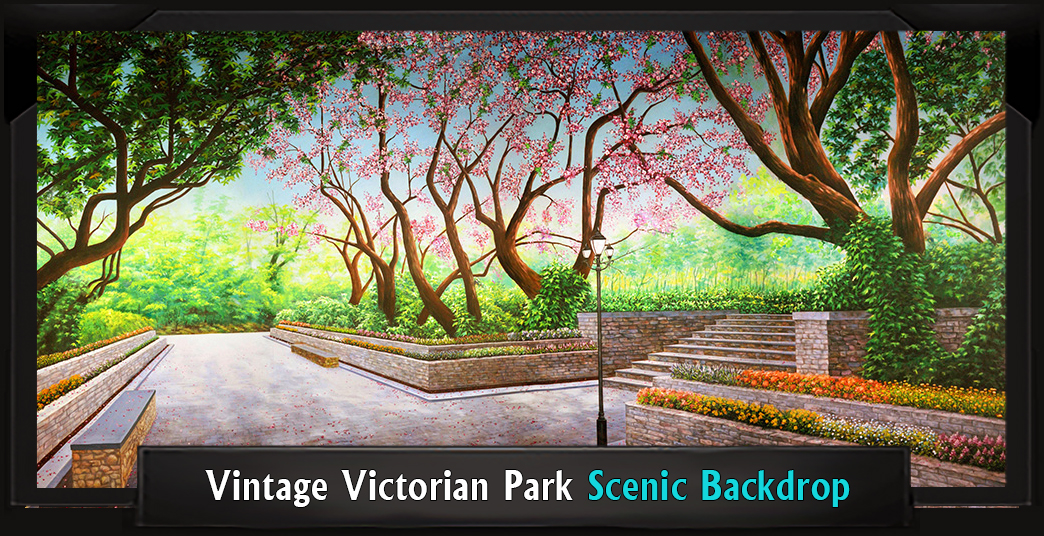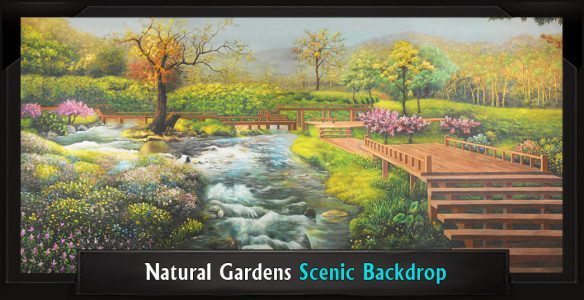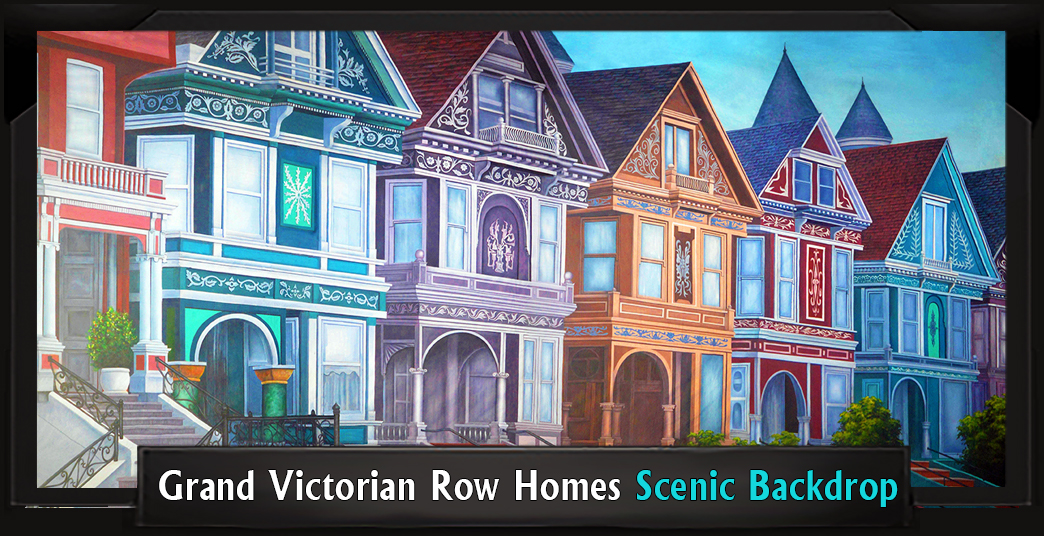 Despite endless squabbling, Eliza finally has a breakthrough in her elocution lessons ("Rain in Spain"), prompting Higgins to try her out at a social event. At the Ascot horse race ("Ascot Gavotte"), Eliza meets Freddy Einsford-Hill, a handsome and rich young patrician who becomes instantly smitten with her. Unfortunately, Eliza fails her social test by screaming at her race horse when it loses, raising the stakes for Higgins to pull off the impossible for the Embassy Ball, not only with Eliza's speech but her manners to boot.
This Vintage Victorian Park backdrop would make a handsome choice for this social setting. The stately, ordered walkways would mirror the defined restraint of this social strata. Delicate flowers and tree blossoms add a sense of refinement, while the outdoor setting still lends an openness that suggests anything can happen!
This Natural Gardens backdrop is a whimsical alternative for this scene. There's a bit more wildness to the flora and fauna and the rushing river compliments the racing horses nicely. Meanwhile the stately, demure walkway keeps everything in line.
Higgins, Eliza, and Pickering go back to the drawing board, while Freddy pines after his new love with painful naivete ("On the Street Where You Live"). Consider this Grand Victorian Row Homes backdrop for Freddy's famous solo; the colorful buildings all in a row showcase the new world into which Eliza is slowly losing herself.
At the Embassy Ball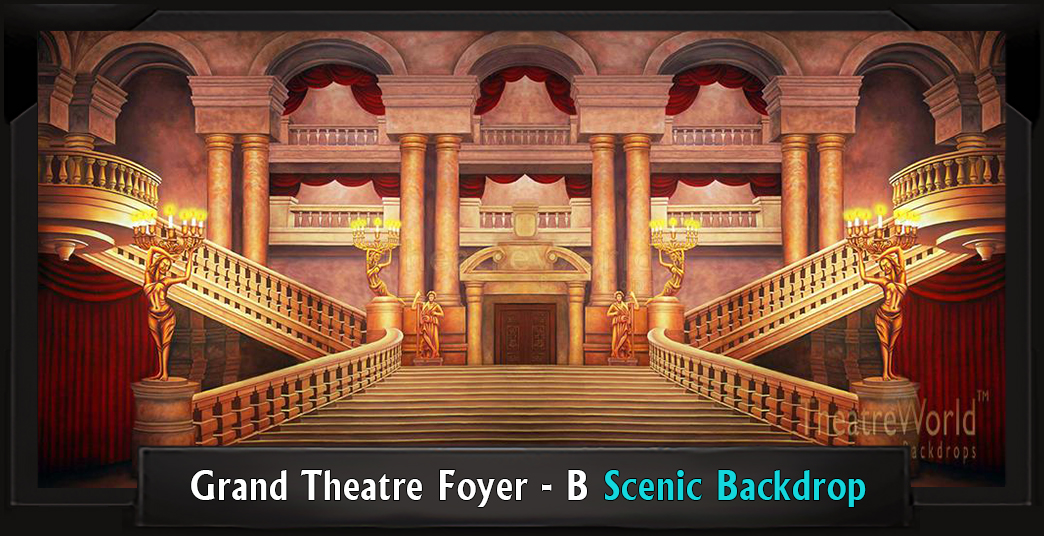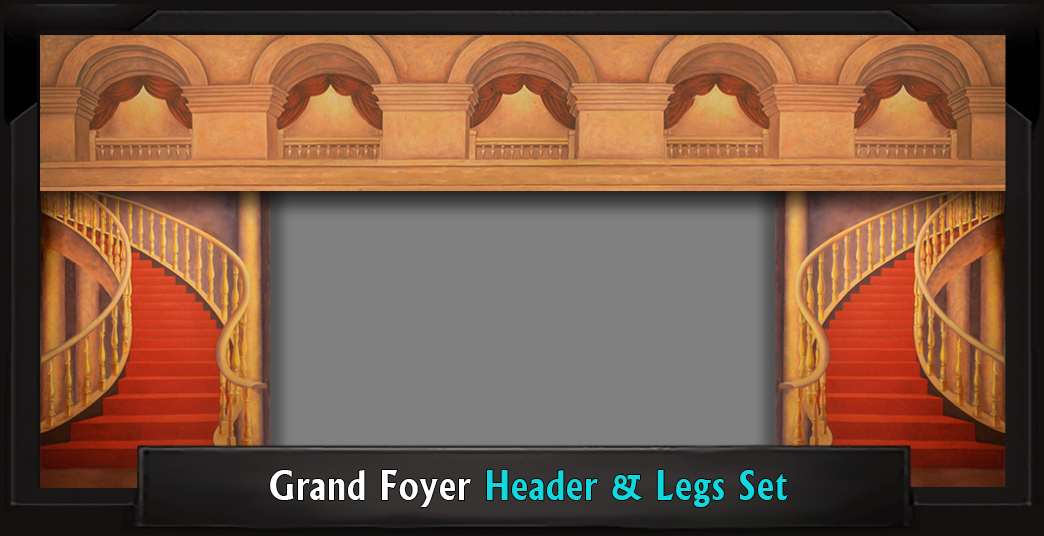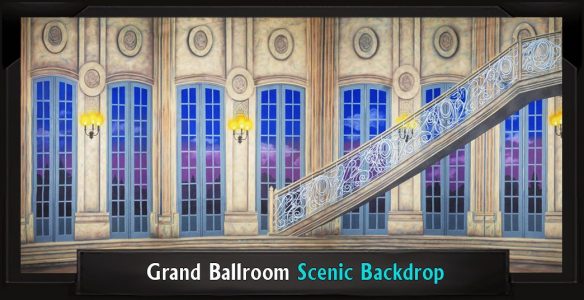 Higgins finally faces his ultimate test – Eliza has to attend the Embassy Ball and pass for nobility, based purely on her accent and comportment. This is the highlight of the London society's social season, and it's the capstone of Act One, so be sure to make a huge impression on the audience!
This Grand Theatre Foyer – B backdrop is an excellent choice for this climactic scene. It features the pale-accented marble signature of 19th-century nobility, plus a giant staircase dominating the drop's center. Will Eliza be ushered gracefully into this elegant, royal world… or will she fall flat on her face? The scenery echoes the tension of this moment with dark shrouded areas, even as the rich velour curtain details provide an element of romance.
For added dimension and grandeur, in keeping with the library setting, add the Grand Foyer Header and Grand Foyer Legs to take this scene over the top!
This Grand Ballroom backdrop is an excellent choice as well. With a paler color palate, it adds drama with a long yet delicate stairway, which mirrors the tenuous position Eliza holds. Skies darkening into night through the soaring windows adds a bit of drama and foreboding, while the interior is all bright lights and white accents – rich, but cold. Eliza just might fit in here after all of Higgins' coaching…. but does she really want to?
Eliza meets the Queen, dances with the Prince of Transylvania ("Eliza's Entrance/Embassy Waltz"), and the first act ends on a high note of triumph!
Act Two – Happily Ever After?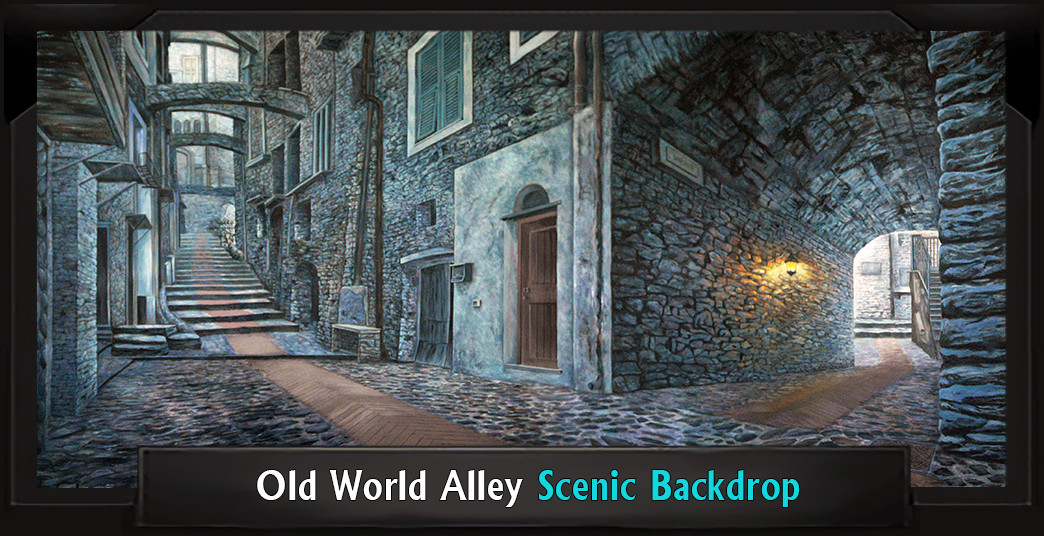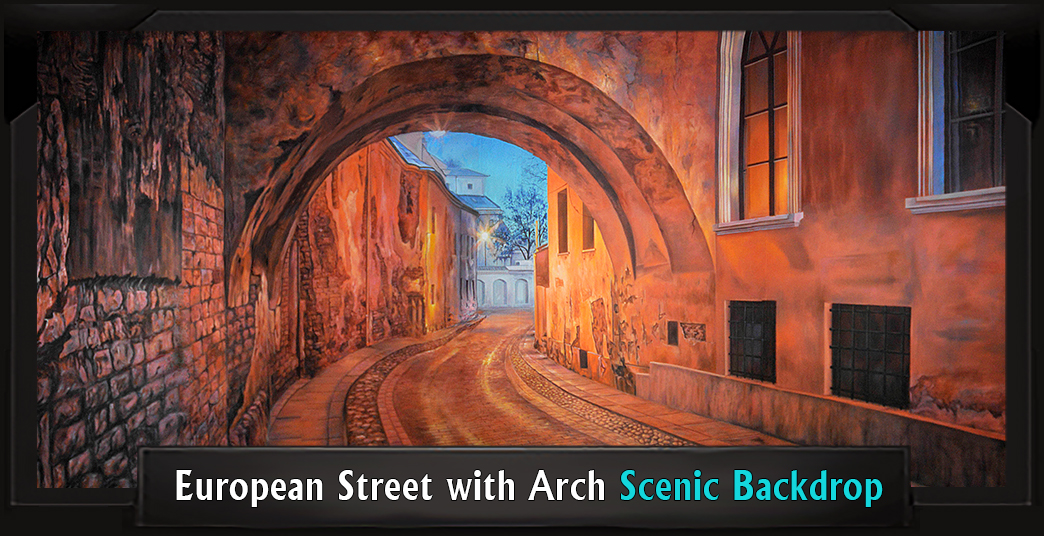 … Or does it? The second act opens up with Higgins and Pickering back in the Library, congratulating themselves on their monumental success ("You Did It"). All through their fine display of masculine pride, they ignore Eliza completely. Feeling discarded and used, Eliza departs in tears to return to her side of town where she belongs ("Just You Wait (Reprise)"). Along her way, she runs into Freddy, still protesting endless words of love ("On the Street Where You Live (Reprise)").
Unfortunately for him, Eliza has had quite enough words and shatters his illusions with all her pent up rage ("Show Me"). Freddy agrees to take Eliza back to Covent Garden, but her old friends don't even recognize her any more ("The Flower Market/Wouldn't It Be Loverly (Reprise)"). Even Eliza's father has been brushed up, thanks to a run-in himself with Higgins, and is now headed off to be properly gentrified and married ("Get Me to the Church On Time").
Go for some extra contrast, and use a different drop for Covent Garden in Act Two. This time, Eliza herself is the contrasting figure, so make sure she stands out as starkly as possible. Try this Old World Alley backdrop, with its dark, curving walkway and shadowed stone arches for a heavy, depressing feeling.
Or, this European Street with Arch backdrop would bring in a similar sense of weight, while adding some warmth with the red and purple tones in the foreground. At center, back in the distance is the finer – yet colder – world she's now trying to escape.
Mrs. Higgins' House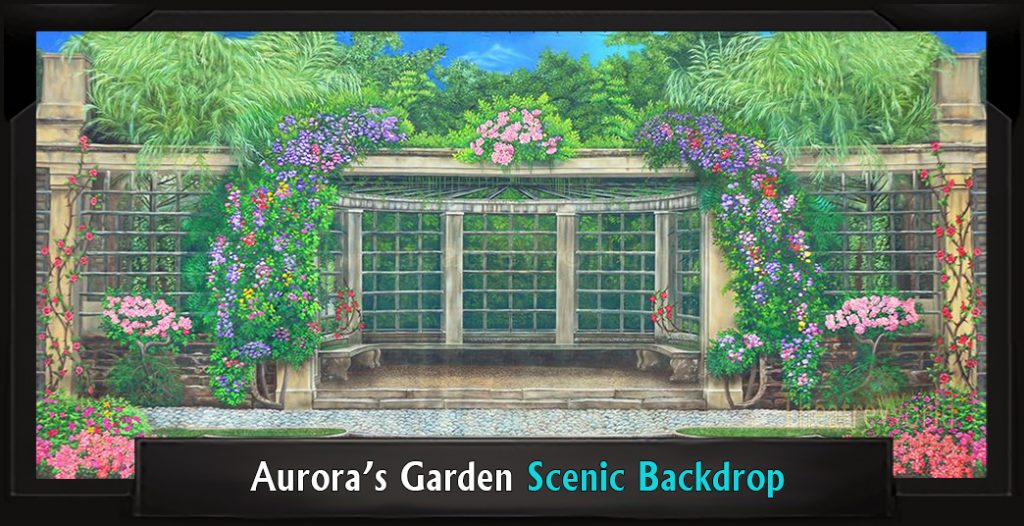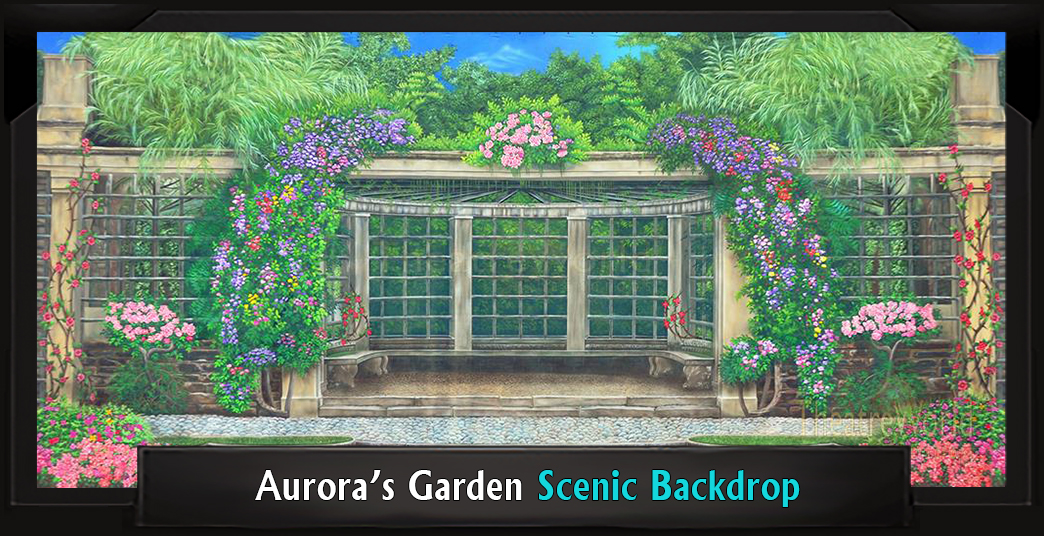 Realizing that she no longer belongs in either world, Eliza has Freddy take her to the only safe place she can think of. The next morning, Higgins is flummoxed to discover that Eliza has left his house. Even Col. Pickering finds he can no longer tolerate Higgin's narcissism, as he can only complain about himself and shows no concern for Eliza at all ("A Hymn to Him"). Abandoned by Eliza and now the Colonel too, Higgins visits his mother's house to sulk. Completely unlike her self-absorbed son, Mrs. Higgins is as rich in heart as she is in hearth, and her home should reflect that.
One of TheatreWorld's brand new drops, this Aurora's Garden backdrop ticks all the right boxes. A massive trellis encloses a thriving garden, with delicately stoned walkways in tiers featured in the foreground. Not only does this garden suggest immense wealth – in a city like London no less! – it also features delicate flowers in fragrant bloom, combining elegance with abundance in a way that is as beautiful as it is enveloping.
Indeed, who does Higgins find hiding out here as well but Eliza Doolittle! Fully supported by Mrs. Higgins, who doesn't mask her disappointment in her son's shortcomings, Eliza and Henry have it out and, this time, Eliza comes out on top ("Without You").
He's Grown Accustomed to Her Face
Higgins storms home, only to realize along the way that he cannot face life without Eliza ("I've Grown Accustomed to Her Face"). Despite all of the edges in their personalities, namely Higgins' massive ego and Eliza's indomitable pride, they have somehow fallen completely in love with each other. While on the surface this seems improbable, in the hands of a talented cast and director, the audience will see – as Eliza and Henry do, in the end – that their strengths complement and they are perfect foils for each other. Just before the curtains close, Eliza shows up at the door of the library. Henry confesses his feelings for her in the only way he knows how – by asking her to bring him his house slippers.
***
This fairy tale story remains timeless because it calls to universal deep yearnings – the desire to reach for the stars, change your fate, and find your perfect soulmate in the process. While some of the elements of the show can seem dated – the rampant toxic masculinity, for one – its current success in revival proves that those elements can be updated with the proper staging and direction. Seize the opportunity to put a modern narrative on this story. Bring it into the new millennium through its endlessly stirring musicality and heart. Like Eliza, My Fair Lady is always ready to surprise you and your audience, and pack your venue to sold-out houses. Now, wouldn't that be Loverly?