Going Beyond the Script
Anastasia Backdrops and Scenery Perspectives
Have you heard? The stage rights for Anastasia are now available! The musical is based on the 1997 animated film of the same name, with music and lyrics by Lynn Ahrens and Stephen Flaherty and a book by Terrence McNally. It adapts the legend of Grand Duchess Anastasia Nikolaevna of Russia, who was famously rumored to have escaped the execution of her family. In Anastasia, a brave young woman, Anya, sets out to discover the mystery of her past. Pursued by a ruthless Soviet officer determined to silence her, she enlists the aid of a dashing con man and a lovable ex-aristocrat. Together, they embark on an epic adventure to help her find home, love and family.
From Imperial Russia to Paris in the roaring '20s, TheatreWorld has all the backdrops you need for this heartwarming "journey to the past". Let's explore Anastasia and see what backdrops TheatreWorld recommends to bring the show to life!
Prologue
Anastasia begins in St. Petersburg, Russia in 1906. We see Dowager Empress Maria Feodorovna, who is about to depart for Paris, comfort her youngest granddaughter, five-year-old Grand Duchess Anastasia, with the gift of a music box and a promise they'll be together in Paris. We then jump eleven years into the future. Anastasia is attending a ball with her family when the Bolsheviks invade the palace. The Romanovs attempt to escape. Anastasia returns to try and retrieve her music box, only to be captured. In Paris, the Dowager Empress receives word that the entire family has been executed.
Anastasia Main Drape and Palace Backdrops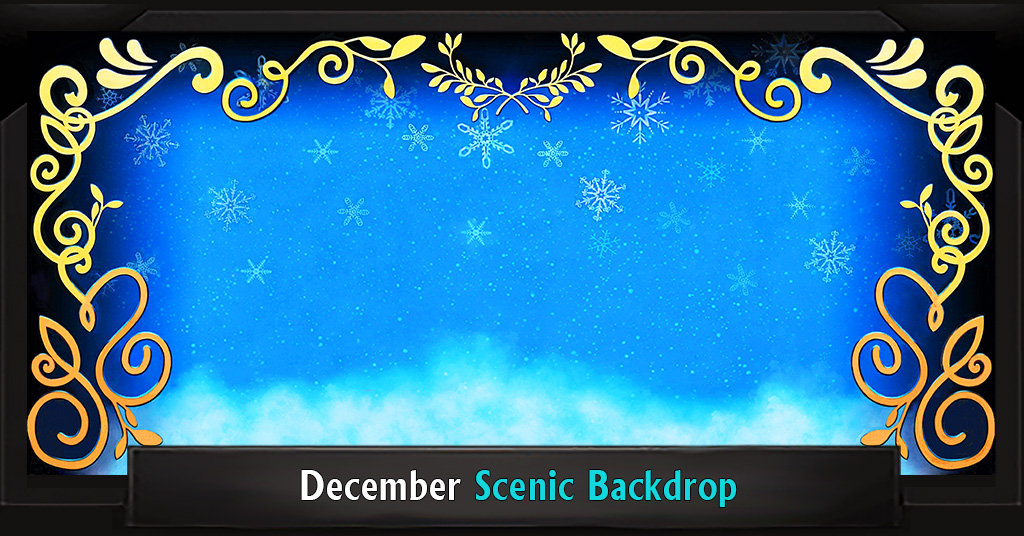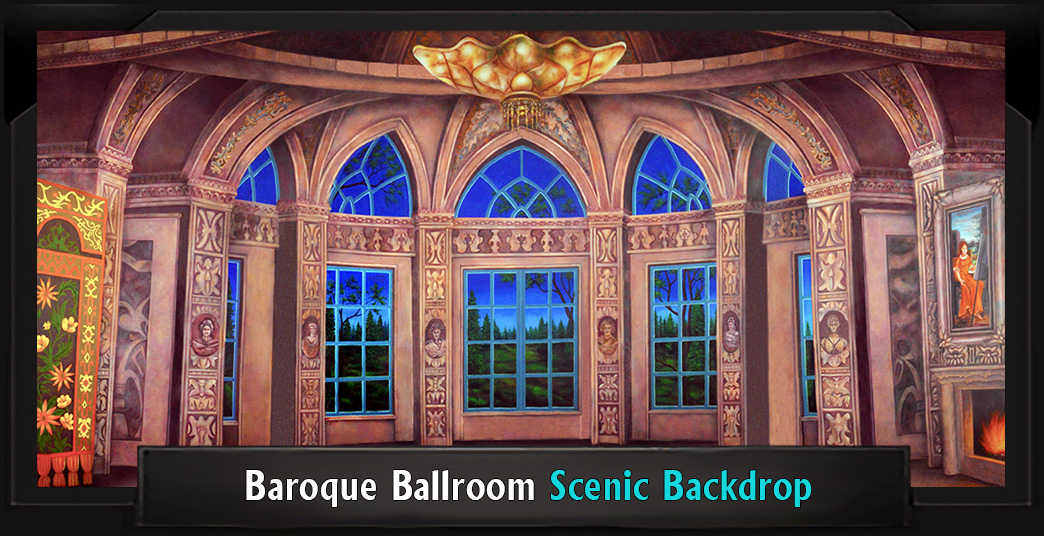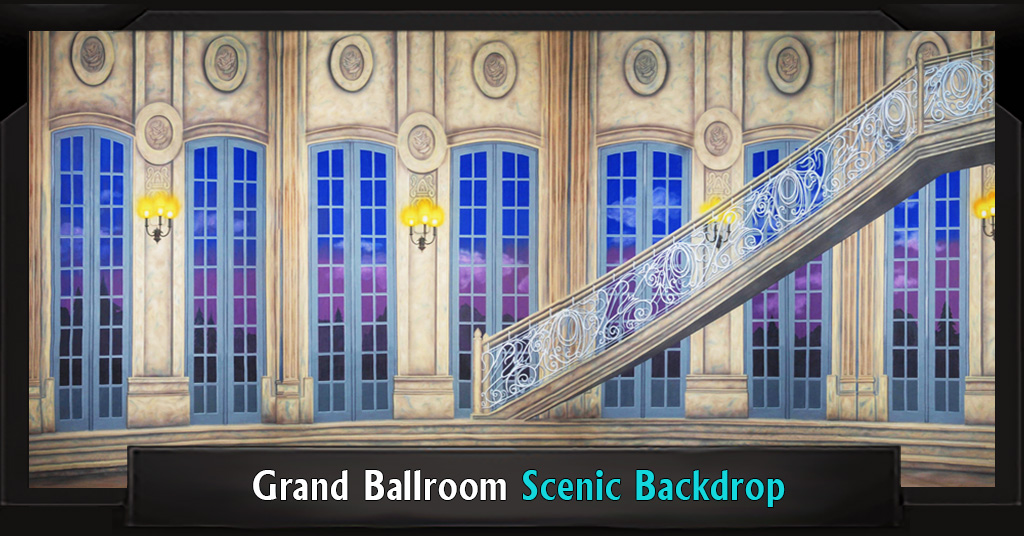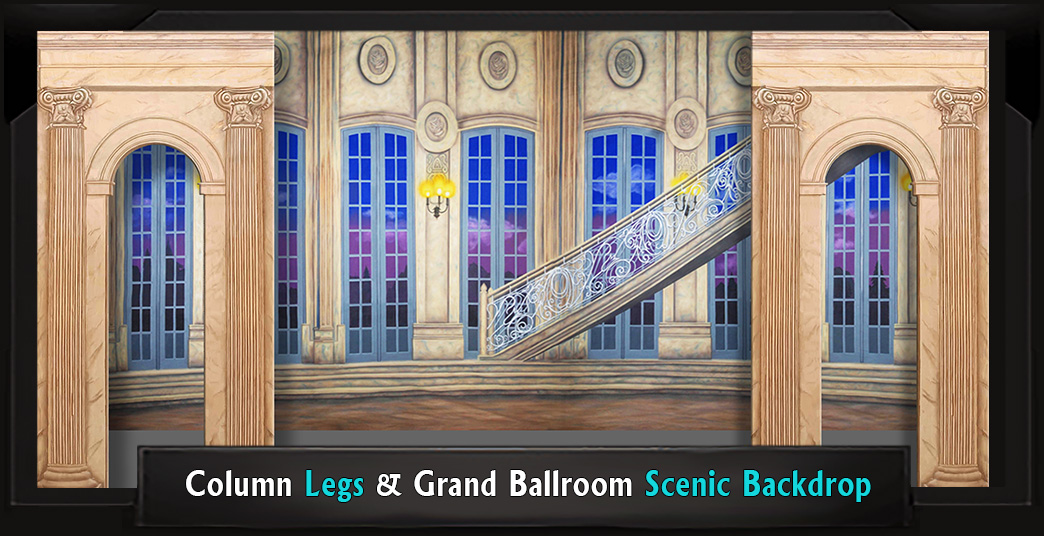 Open your production with TheatreWorld's elegant December backdrop, designed specifically as a main drape for Anastasia. As you move to the palace, opt for our Baroque Ballroom backdrop or our Grand Ballroom backdrop. Both have large windows and an opulent feel that mirrors the original Broadway production's set design. To add entrances and exits and considerable depth, consider adding TheatreWorld's stately Column Legs.
It's now 1927 and Saint Petersburg has been renamed Leningrad. Rumors abound that Anastasia may have survived the Bolsheviks' attack, inspiring two wanted con men, handsome young Dmitry and ex-Imperial Court member Vlad Popov, to dream up "the biggest con in history": they plan to train a girl to become Anastasia in hopes of extracting reward money from the Dowager Empress.
Dimitry and Vlad are about to give up hope of finding a suitable Anastasia imposter when Anya, a street sweeper with a striking resemblance to the Grand Dutchess, walks into their auditions to ask Dmitry about getting paperwork and tickets to Paris. She explains that she doesn't remember who she is due to amnesia and has very few memories of her past. Dmitry and Vlad convince her to join them in Paris, where she hopes to learn more about her life and family. They teach her to become Anastasia through history, dining, and dancing lessons.
Meanwhile, at the capital, Bolshevik general Gleb Vaganov, whose father was one of the men who shot the Romanovs, takes a report from three bitter actresses regarding Dmitry and Vlad's scheme. As he sorts through rumors and reports flying around Leningrad, he develops an obsession with Anya and orders her arrest. She is brought to his office, where he warns her about the consequences of pretending to be Anastasia and tries to convince her that Anastasia is truly dead. However, he can't help but notice she has the Romanov eyes and it ignites a spark of doubt. He lets her off with a warning.
Leningrad Backdrops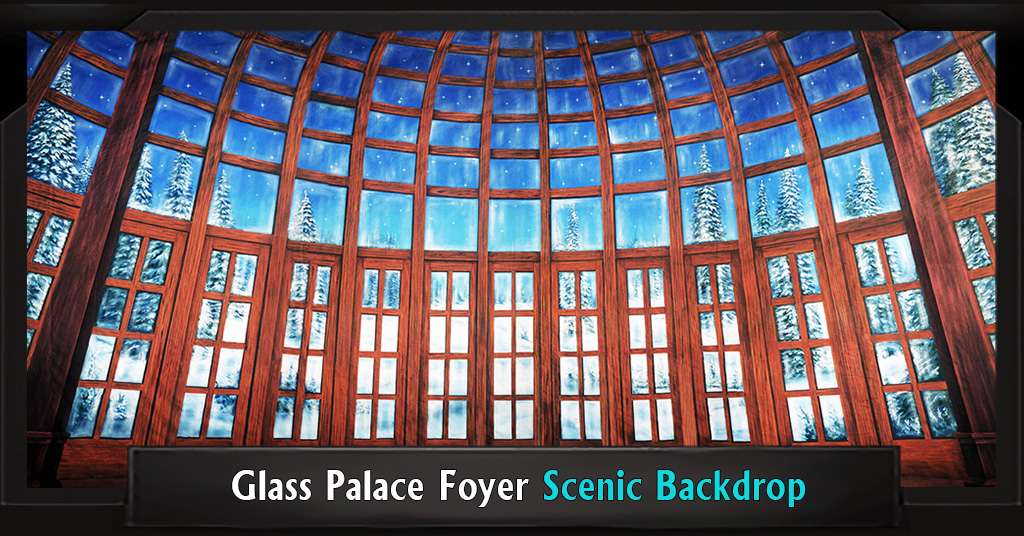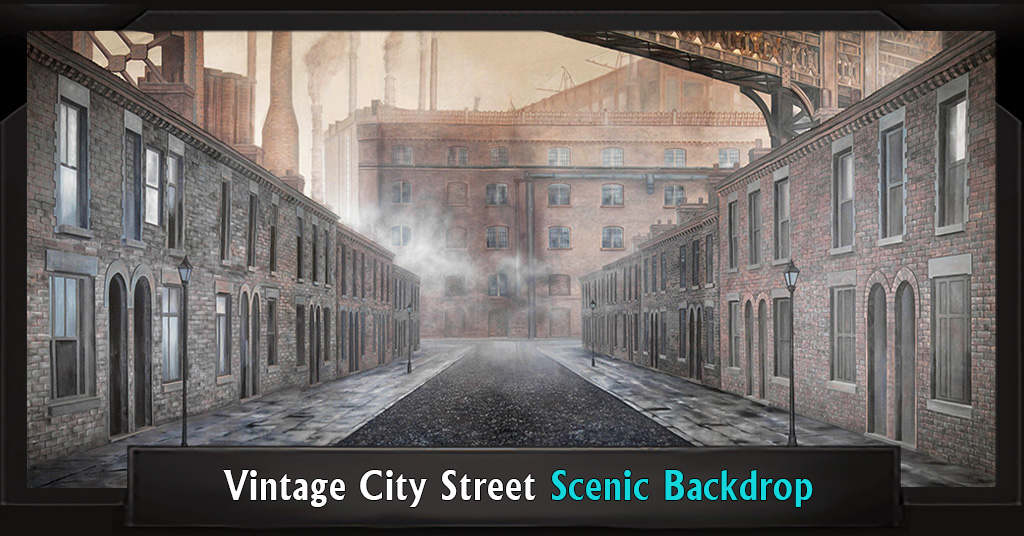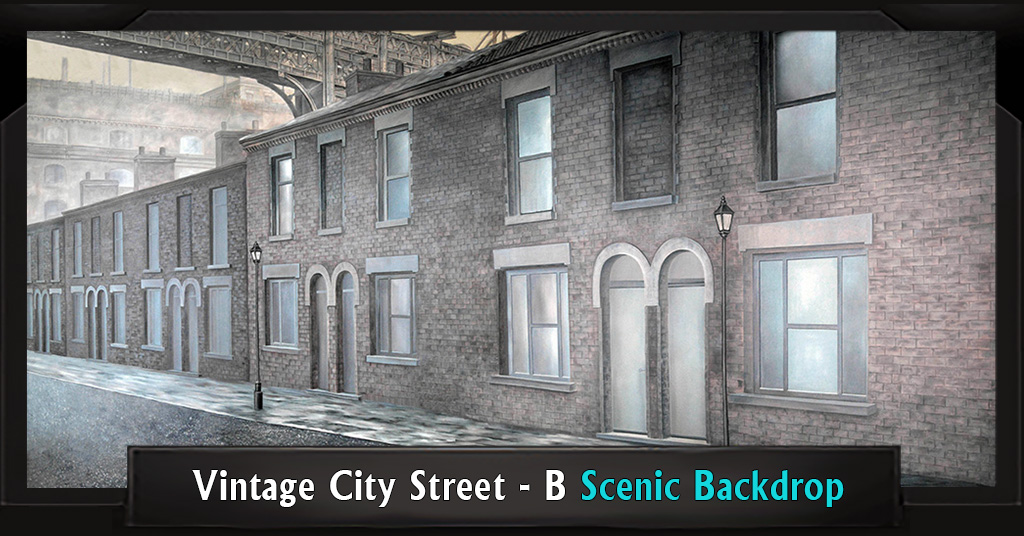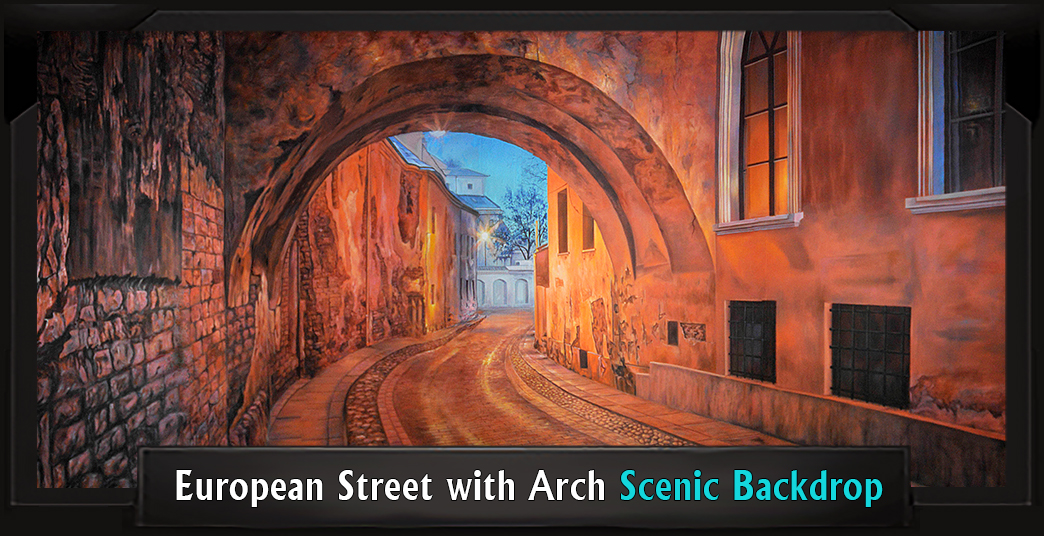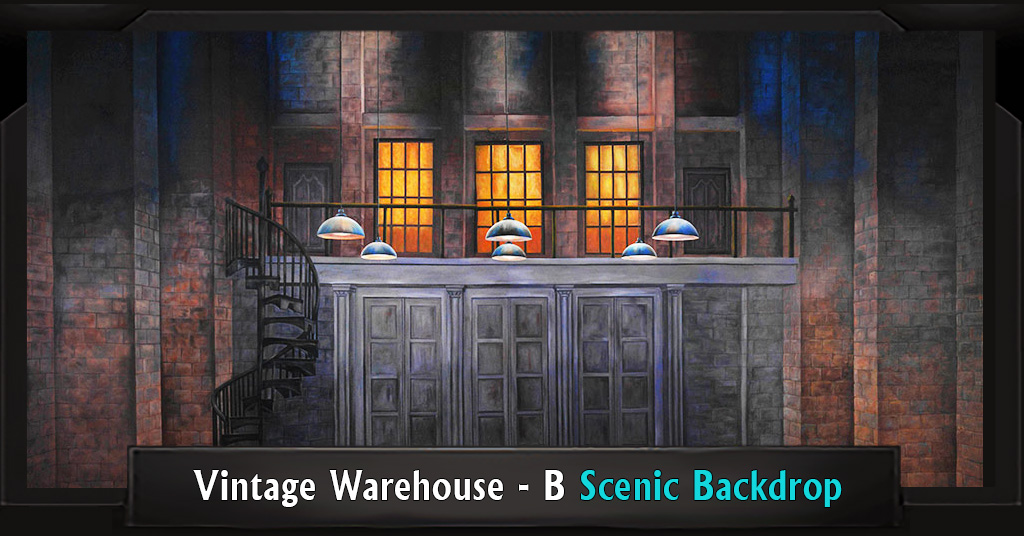 Consider Glass Palace Foyer for the abandoned palace where Dmitry and Vlad hold their Anastasia auditions. For the streets of Leningrad, Vintage City Street, Vintage City Street – B, or European Street with Arch are all excellent picks. Finally, Vintage Warehouse – B makes a cold and imposing setting for the Bolshevik headquarters.
***
Anya and Dmitry reunite. After fighting off Dmitry's old con partners, they share a moment of connection and he opens up about his childhood as an orphan. Dmitry finds himself beginning to trust Anya and shares a music box with her. It's the same music box the Dowager Empress gave Anastasia, though he's unaware. Anya easily opens the box, triggering vague memories of her past. She's more determined than ever to get to Paris, but Dmitry confesses they don't have the money for train tickets. She gives him her most prized possession, a diamond someone once sewed into her dress.
Anya, Dmitry, and Vlad head to the train station. A man, Count Ipolitov, recognizes Anya as Anastasia and they share a moment. He leads the passengers in a prayer of farewell to Russia. On board the train, Anya, Dmitry, and Vlad reflect upon what they're looking to find in Paris. Police officers board the train and fatally shoot Count Ipolitov before turning to Anya, Dmitry, and Vlad. They jump off the train, narrowly avoiding capture, and continue their journey across Russia on foot. In Leningrad, Gleb receives orders to kill Anya if she proves to be the real Anastasia. He wrestles with his feelings of duty and his growing feelings for her.
Russian and French Countryside Backdrops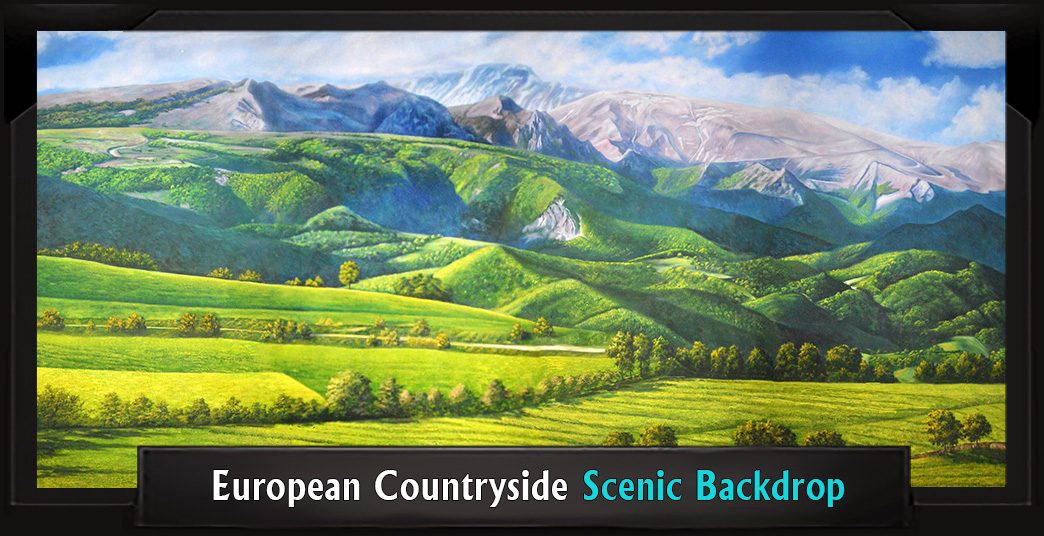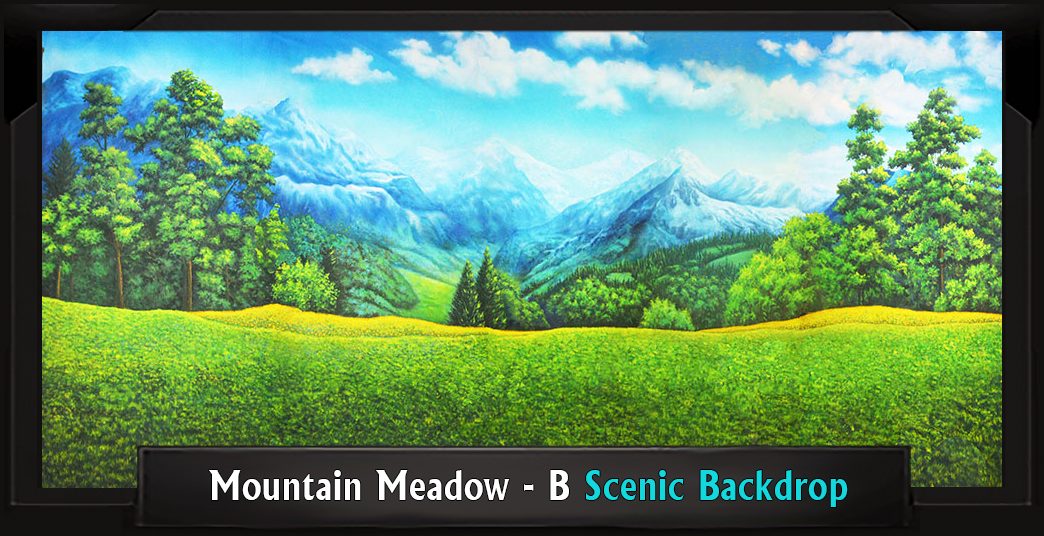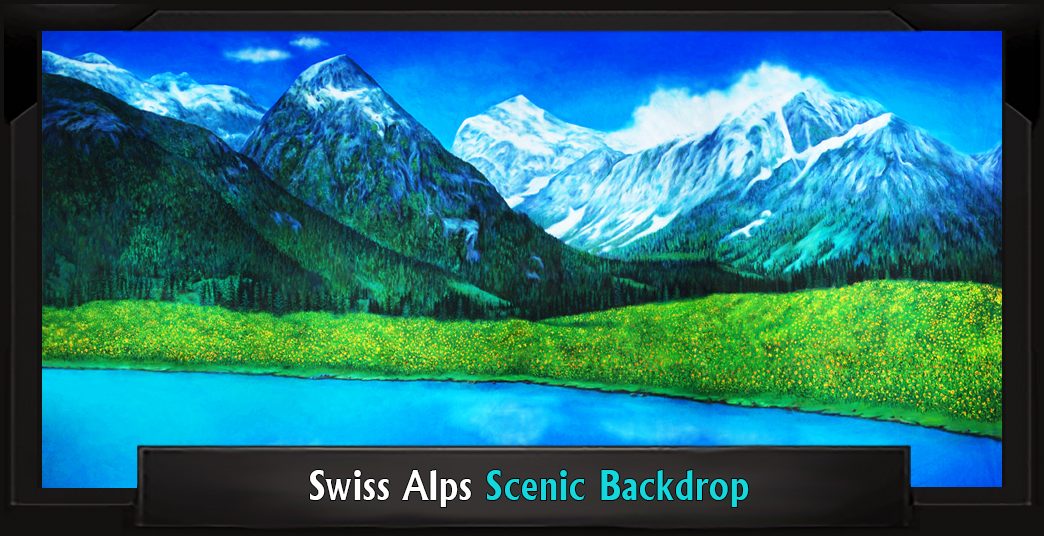 TheatreWorld's beautiful European Countryside backdrop, with its vast scope and rolling hills, is the perfect choice for scenes where Anya, Dmitry, and Vlad leave Russia by train. For the French countryside, consider Mountain Meadow – B or Swiss Alps.
Anya, Vlad, and Dmitry arrive in Paris and are blown away by the sights and sounds of the city. Elsewhere in Paris, the Dowager Empress, bitter and heartbroken, reads letters of various Anastasia impersonators and resigns herself to the fact that she will never find her granddaughter. Gleb arrives in Paris, unbeknownst to Anya and her friends.
At the Neva Club, Russian exiles reminisce about the "land of yesterday". Vlad is reunited with his former fling Lily, the Dowager Empress' friend and confidant. The two rekindle their scandalous romance and Vlad convinces her to invite them to the ballet the next week, giving Anya the opportunity to meet the Dowager Empress. Gleb overhears their conversation and picks up the ballet tickets, which Vlad has accidentally dropped.
That night, Anya has a nightmare about the Romanov execution and wakes in a panic. Dmitry, as he comforts her, tells her a story about bowing to Anastasia as a young boy as she passed by in a parade. As he tells the story, Anya unlocks her own vivid memory of the day and they realize she is indeed the Grand Duchess Anastasia.
Paris Streets and the Neva Club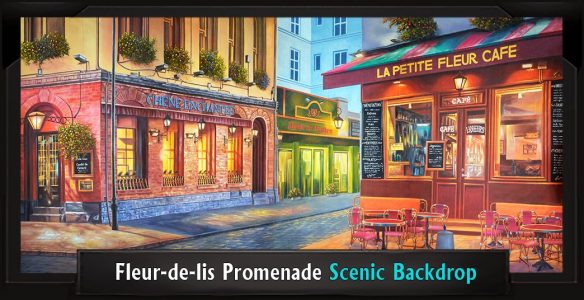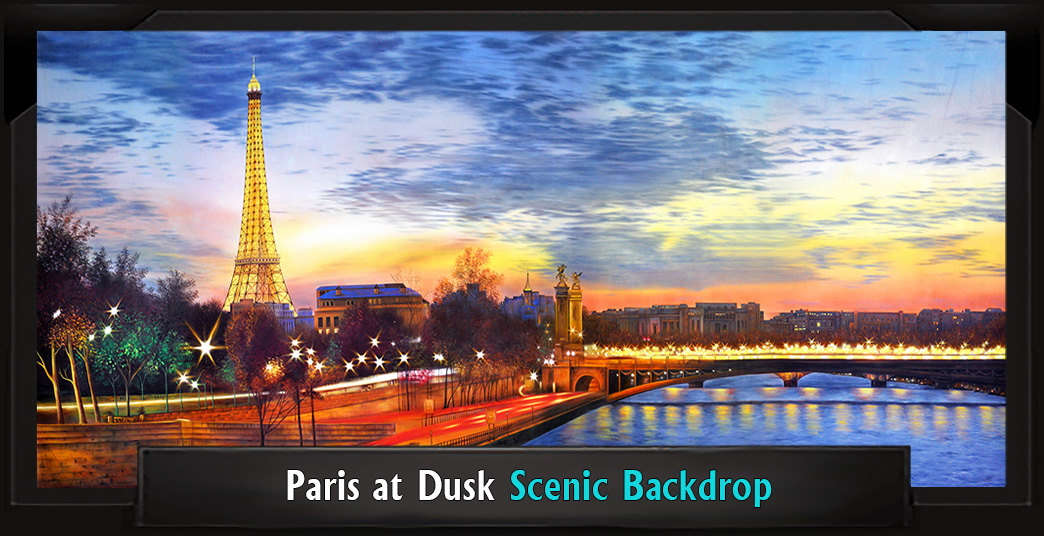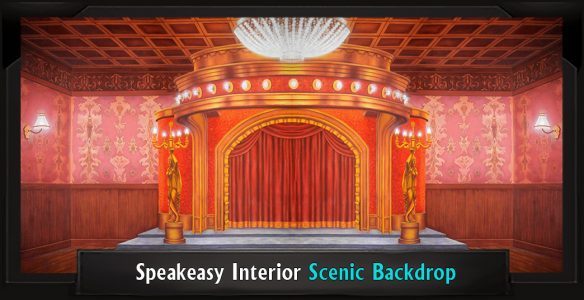 Paris holds the key to your heart–and you'll love TheatreWorld's Parisian backdrops just as much as the city itself! For a distant, daytime look, chose Eiffel Tower. Fleur-de-lis Promenade is a street-level view of Paris, featuring charming cobblestone streets and a cafe. The most romantic option, Paris at Dusk is a twilight scene that showcases and sparkling Eiffel Tower and the Seine. For the Neva Club, brassy Speakeasy Interior, featuring bold red damask walls and gilded accents, is the perfect choice.
***
At the ballet, during the performance of Swan Lake, Anya sees the Dowager Empress and remembers her. The Dowager Empress recognizes Anya as well, but she refuses to believe her eyes. After the ballet, Lily, who also recognizes Anya as Anastasia, immediately takes her to see the Dowager Empress. A nervous Dmitry realizes the depth of his feelings for Anya and that he must do anything he can to reconnect her with her family. Meanwhile, Anya tells the Dowager Empress that she's just trying to figure out who she really is. When the Dowager Empress reveals that Vlad and Dmitry intended to use Anya to trick her and gain the reward money, Anya is enraged and storms off. Dmitry tries to stop the Dowager Empress from leaving and begs her to see Anya again, but she refuses.
Back at the hotel, Anya prepares to leave but the Dowager Empress interrupts her. She is still not convinced Anya is Anastasia, but she was impressed by Dmitry's bravery and decides to give her another chance. The Dowager Empress angrily questions Anya about her past. Anya is shocked by her cruelty and compels her to reflect on the person she's become. Suddenly, Anya remembers the night the Dowager Empress left for Paris and produces the music box. The Dowager Empress realizes Anya really is Anastasia and the two embrace.
The next morning, Vlad and Lily fend off reporters during a press conference. The Dowager Empress tells Anya that Dmitry has not accepted the reward money. Anya confesses her doubts about life as a princess and the Dowager Empress insists that, no matter her choice, they'll always be together. She runs off to confess her love for Dmitry, but Gleb apprehends her and locks her in a room alone with him. Anya taunts him and Gleb, unwilling to bear the shame of his father, is unable to kill her. They come to an agreement. Later, Gleb and Lily announce that rumors of Anastasia will now cease and the reward will given to charity. Anya finds Dmitry and they leave Paris as the spirits of the Romanovs celebrate Anya's future.
Backdrops for the Ballet, Hotel, and Dowager Empress' Home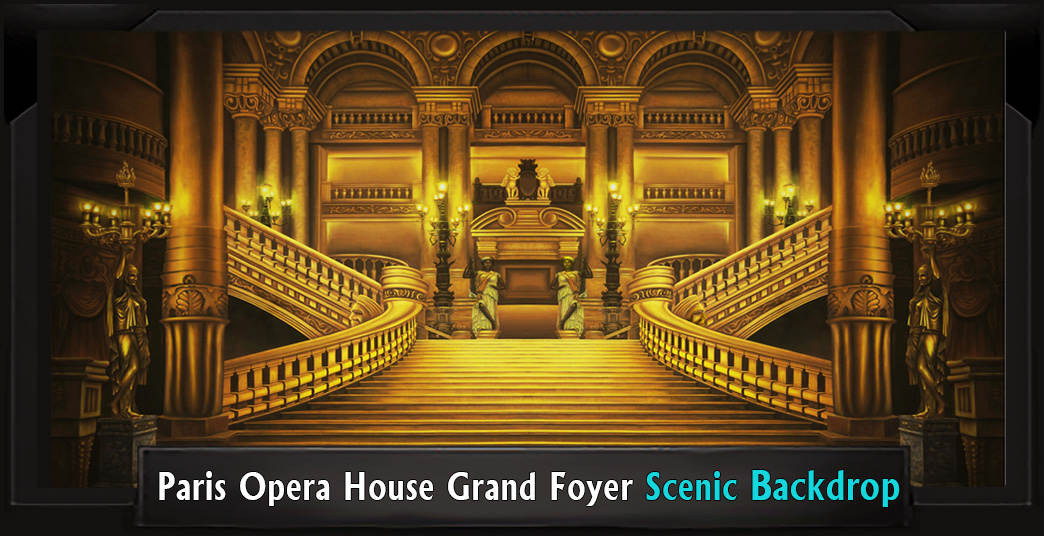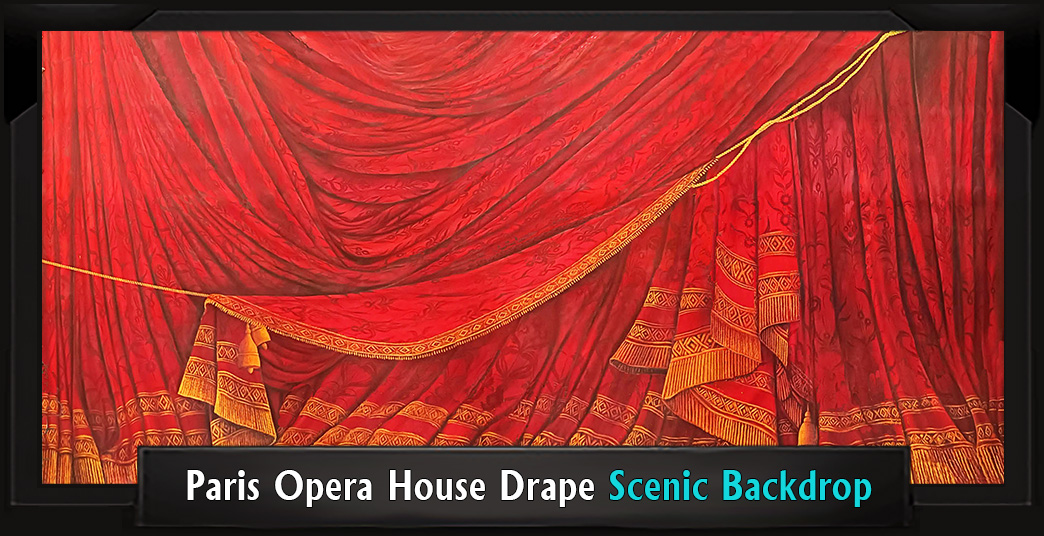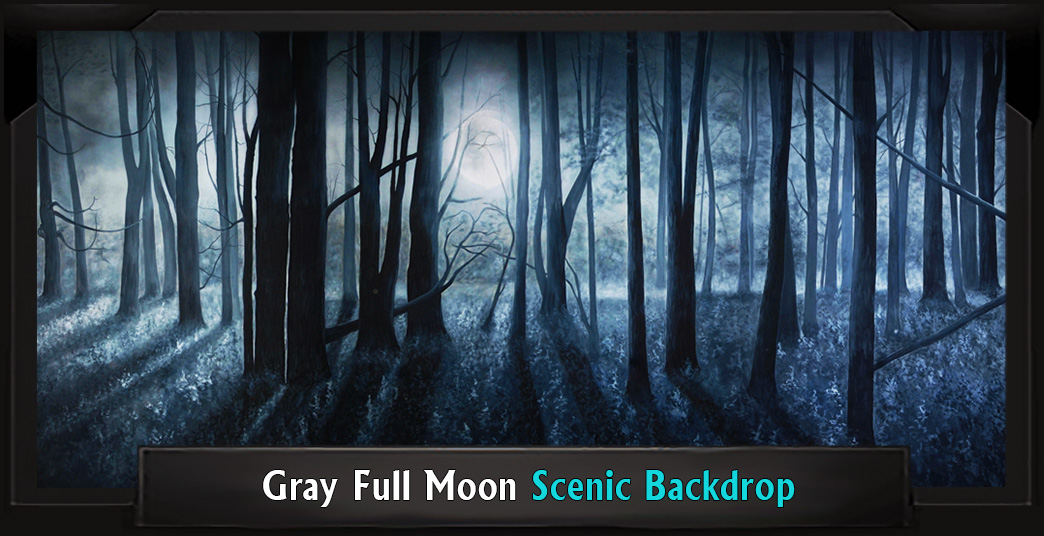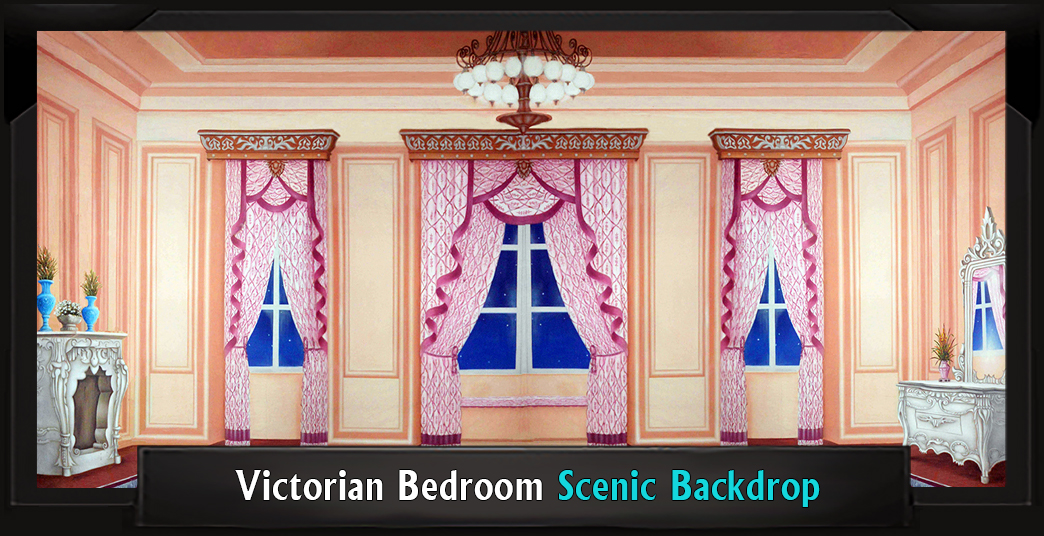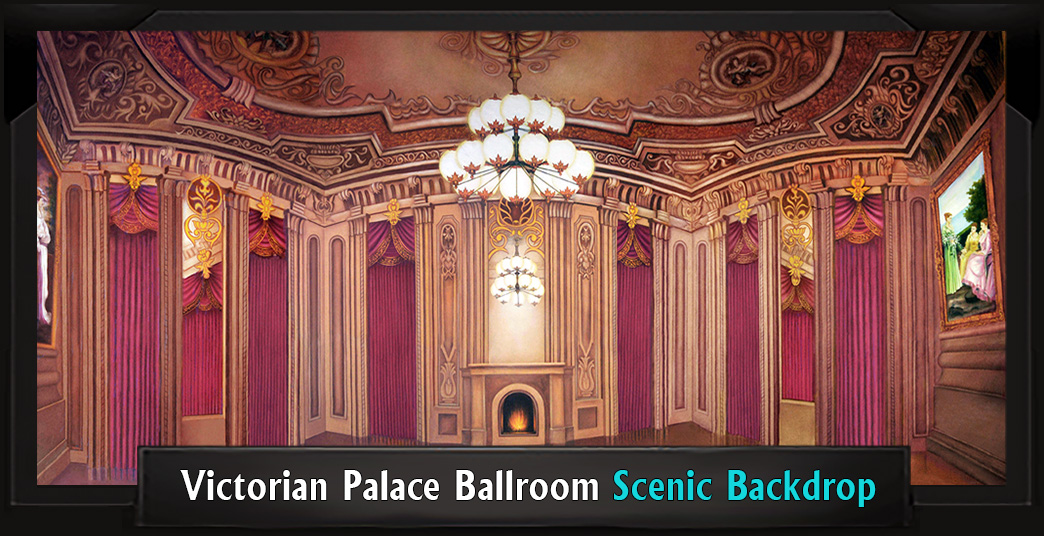 TheatreWorld has all the backdrops you need to portray the famous Paris Opera House in all its glory! Paris Opera House Grand Foyer is just right for scenes outside the theater itself. While the ballet is in progress, chose Paris Opera House Drape for a neutral backdrop. (It's based on the real Paris Opera House curtain!) Or, choose Gray Full Moon for a backdrop that is more specific to Swan Lake, the ballet our characters are watching. For the Dowager Empress' home and Anya's hotel, elegant Victorian Bedroom or grand Victorian Palace Ballroom are just the ticket.
Call Today!
Let TheatreWorld's customer service team help you plan your own production of Anastasia. Give us a call or complete a Wishlist though our website today!