Going Beyond the Script
Written by: Melanie Simmons
While there are many films based on popular Broadway musicals, Singin' In the Rain is one of the rare gems that went the other direction. The movie musical was so universally beloved, it earned itself a Broadway adaptation. The original film was based on a library of songs written by Arthur Freed and Nacio Herb Brown, during the time when silent movies were giving way to talkies. Freed had the idea to tie them all into a musical movie based on that very era. He brought Betty Comden and Adolph Green in to write the story. The resulting 1952 cinematic masterpiece has been hailed as the greatest movie musical of all time.
The stage adaptation of Singin' in the Rain premiered in the West End in 1983. A Broadway run followed in 1985 and the show continued to find success internationally. The stage musical follows the film almost scene for scene and song for song. (This includes bringing the famed tap dance in a downpour onstage.)
Singin' In the Rain continues to delight audiences of all ages. Bring this multi-award-winning classic off the silver screen and onto your own stage – and let TheatreWorld help you bring this beloved movie musical to life!
Silent Films Meet the Stage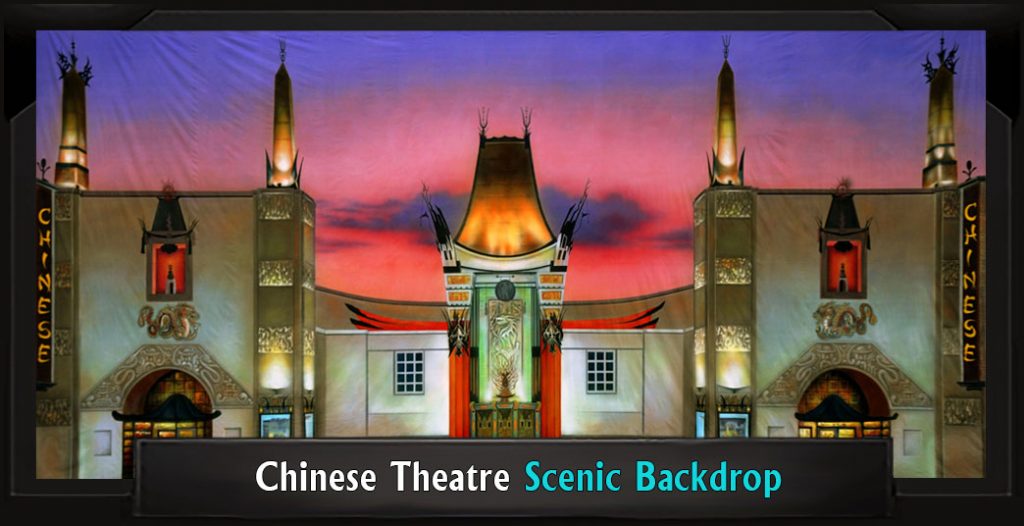 Singin' in the Rain is set in Hollywood in the 1920's, a time when silent film technology was rapidly being overtaken by the sensation of "talkies". (Films that had dialogue synced with the moving images, a magical feat at the time.) Don Lockwood, a preeminent leading man, is at the Hollywood premiere of his latest silent film, The Royal Rascal , with his best friend Cosmo and his regular leading lady, Lina Lamont. Lina can't get a word in edgewise with the press as Don regales them with a flourished version of his humble beginnings and rise to stardom ("Fit as a Fiddle").
Use this Chinese Theatre backdrop as the perfect setting for a glamorous opening night. Pagoda-style pillars frame high walls, reminiscent of Grauman's Chinese Theatre in downtown Hollywood. Fiery uplighting and a dramatic sunset sky add depth and character to this beautifully detailed drop.
Boy Meets Girl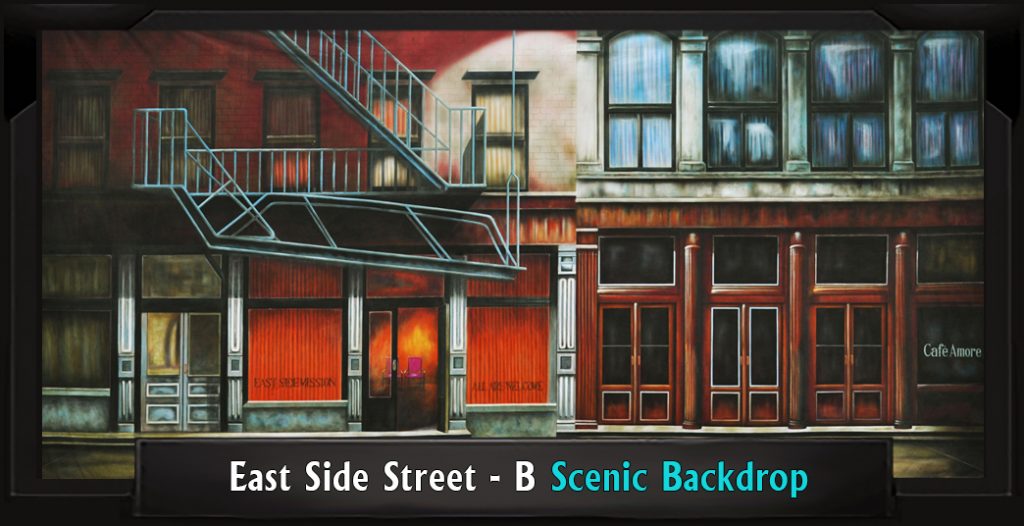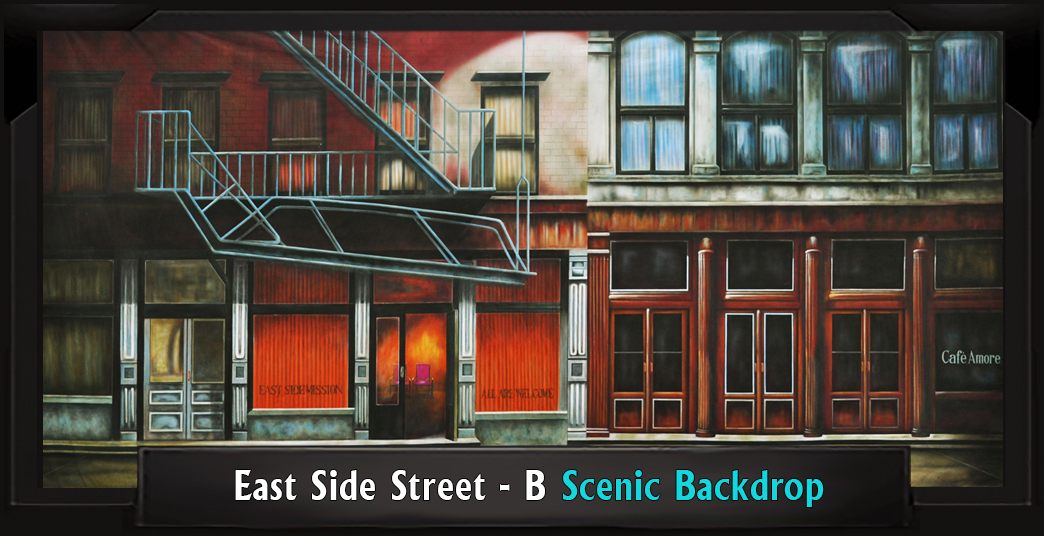 Overwhelmed by the paparazzi, Don escapes the mob and jumps into a passing car, driven by vivacious young stage actress Kathy Seldon. Horrified, she tries to get rid of Don. Don uses his fame to try to smooth things over with her. Unimpressed, Kathy insists that only stage actors are real performers, amusing Don greatly. They part ways, but Kathy has left an impression.
Let this East Side Street – B backdrop do all the work for you in this scene, setting this delicious verbal sparring against a darkened city street. The shading suggests nighttime and downward light mimics street lights. (You can enhance this further with lighting effects.) The darkened windows and slightly grimy feel would be a nice contrast between want-to-be-starlet Kathy's experience of LA and Don's glittering world of Hollywood fame and fortune.
Disaster on Set
Don sees the writing on the wall and is determined to transition to talking films. He only has one problem: his leading lady, Lina Lamont. Lina is an insufferable narcissist and her ear-splitting, nasally New York accent is totally at odds with her lovely appearance. When their studio, Monumental Pictures, insists their next film The Dueling Cavalier include sound, Don is at his wits end trying to manage his malignant screen partner.
Meanwhile, at a studio party, Don is greatly amused when Kathy jumps out of a cake and begins singing and dancing as part of the evening's entertainment ("All I Do Is Dream of You"). Infuriated by Don's teasing, Kathy throws some cake at him, hitting Lina in the face instead. Lina's humiliations are just beginning, however. Their first talkie The Dueling Cavalier proves to be an utter disaster at its first screening. Technical difficulties, combined with Lina's real speaking voice, have the audiences hooting with laughter. Unfortunately, the film was not supposed to be a comedy!
Backdrops Fit for a Movie Premiere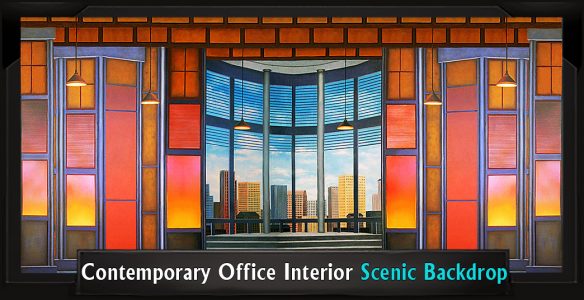 Try this Contemporary Office Interior backdrop for the party scene. Its stylized details and bright pops of color are perfect for an evening of Hollywood elites and dancing girls.
Consider using this Vintage Film Screen backdrop for the premiere scene. The drop features a rugged grayscale outline of a film frame. Perforations run along the top and bottom and a bullseye focus marks the center. The black and white scheme harkens back to the films shot before color was possible. Its vintage feel keeps it era-appropriate. You can also use this drop for any of the scenes involving movie filming or as a main drape. It's a great multi-purpose backdrop!
In the Studio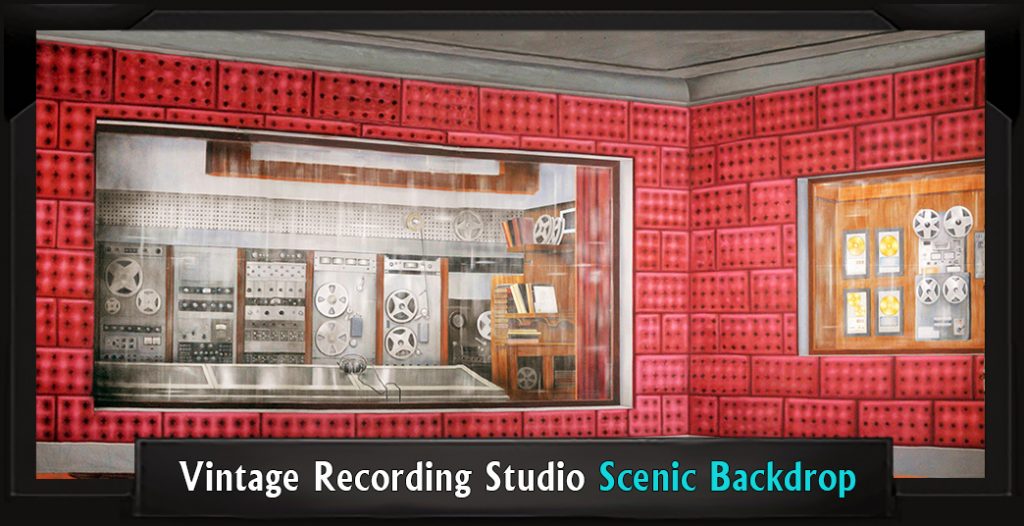 After The Dueling Cavalier's disastrous first screening, the studio panics and converts the film into a musical called The Dancing Cavalier. They also begin a laborious and fruitless attempt at improving Ms. Lamont's speaking voice. Cosmo has the brilliant idea to dub Kathy's much more melodic voice in over Lina's, which works beautifully. Kathy is reluctant at first, but eventually admits she's a big fan of Don and agrees to this arrangement. This Vintage Recording Studio backdrop would be the perfect backdrop for these hilarious scenes. (Lina's grating voice provides some of the best comic moments of the show.)
Setting an Oscar-Worthy Scene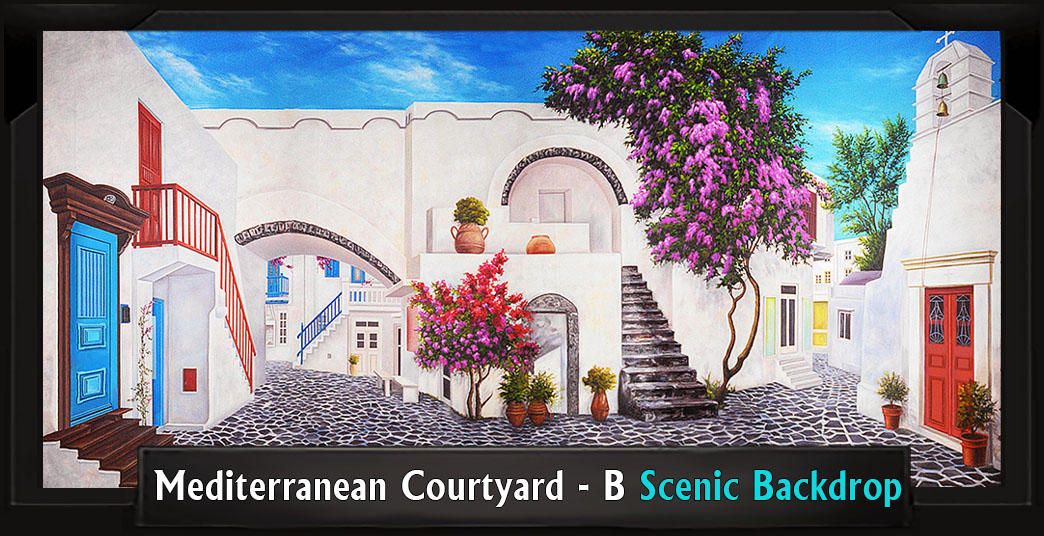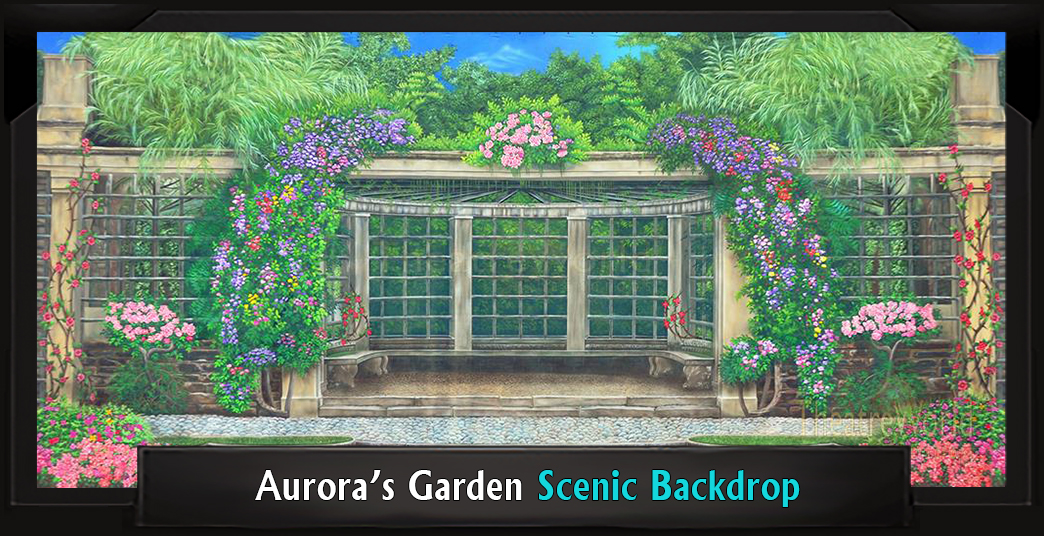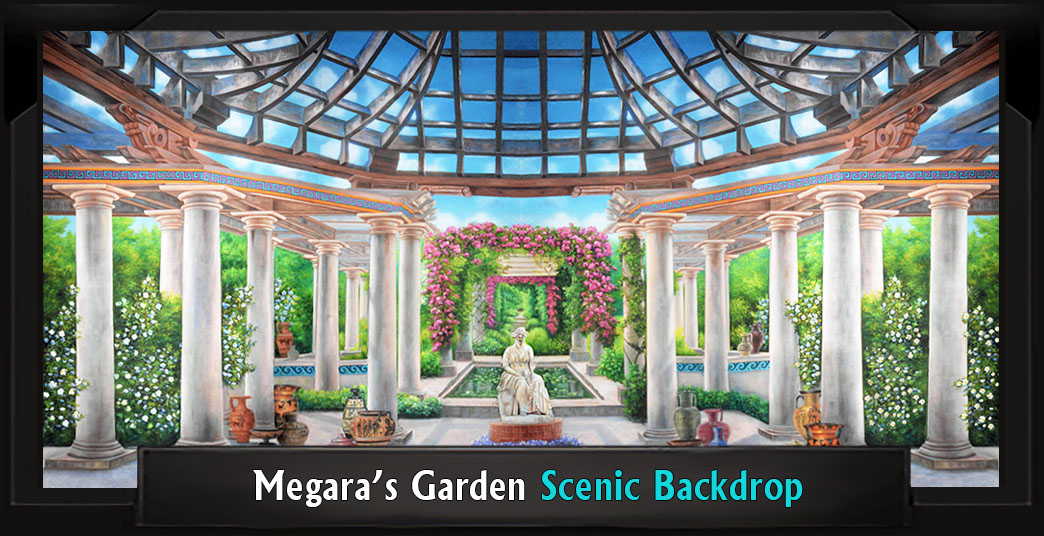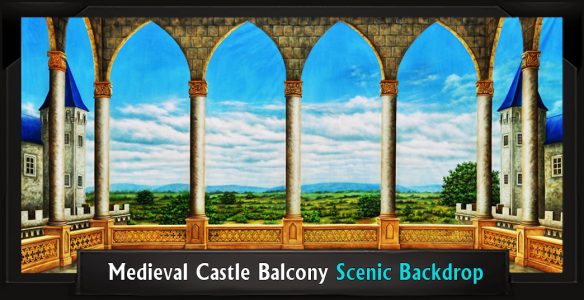 Some of the greatest moments in the show happen during the erstwhile filming of this problematic production. Be sure to go big with your backdrops!
This Mediterranean Courtyard – B backdrop has loads of details that provide a romantic backdrop for Don's and Lina's characters. White arching buildings are set against an azure sky. Pops of color from the lush, blooming tree dot the foreground. You can almost feel the Mediterranean Sea, just out of sight.
Aurora's Garden is another delightful option. It features a massive, sprawling trellis, dripping with flowers galore in romantic shades of pink, yellow, and lavender.
For some Grecian flair, try this Megara's Garden backdrop. A stately marble statue sits serenely amongst soaring columns, which support an intricate roof of glass panes. Multi-hued urns nestle among the flourishing vegetation in a myriad of colors.
The Medieval Castle Balcony backdrop plays up the royal feel with additional gold accents. More pronounced towers and castle walls frame each side. A sweeping garden in the background seems to stretch on forever. (For another, similar option, try Medieval Castle Balcony – B.)
Singin' in the Rain!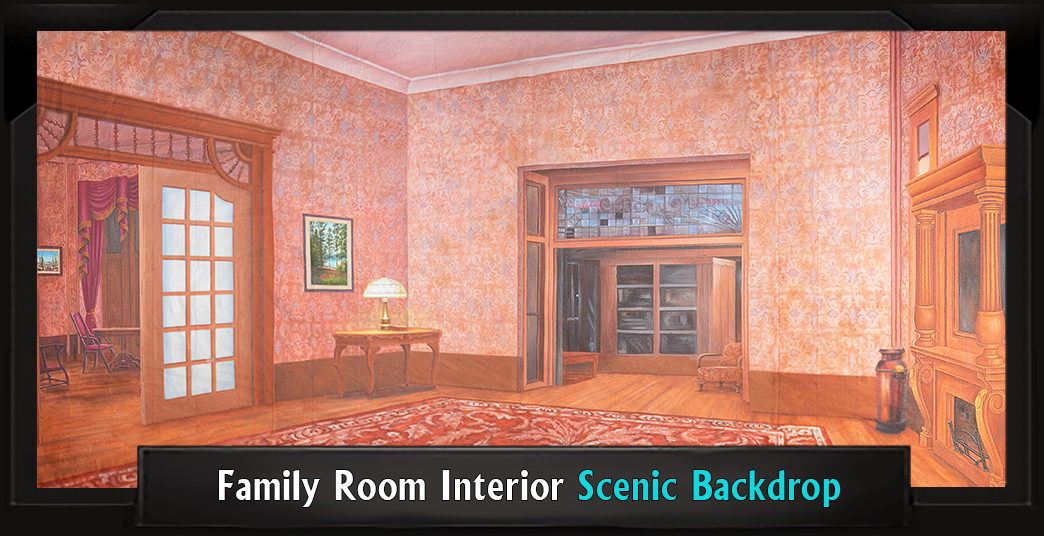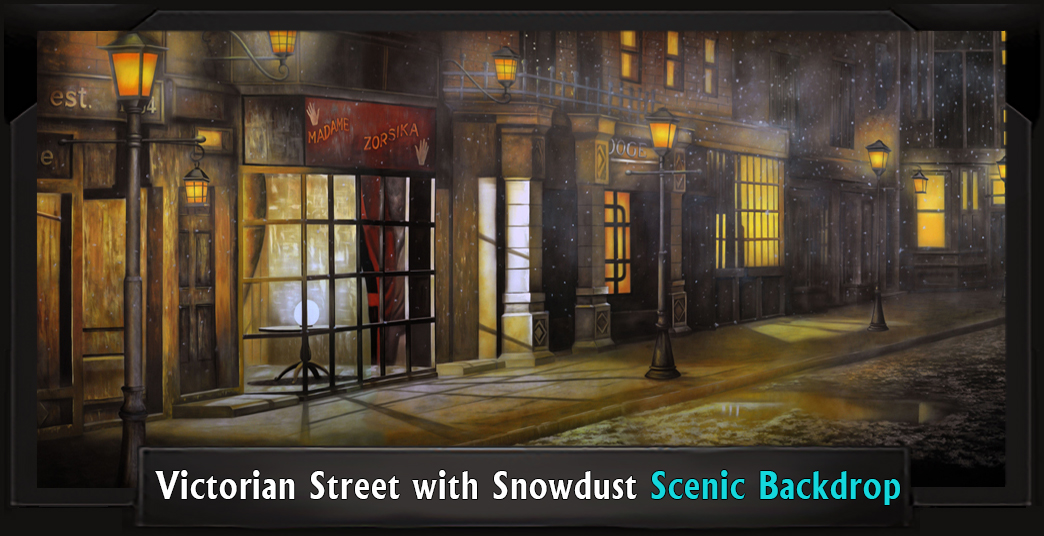 The plan is a success! As Don, Cosmo, and Kathy work through the night writing songs and revisions for the newly-invigorated film, Kathy and Don develop a romance. Their off-stage chemistry ignites into an all-night writing session that produces some of their best work ever ("Good Morning")! Try this Family Room Interior backdrop for Kathy's humble Los Angeles home, as a contrast to the sumptuous film sets and movie theaters of the studio.
Elated by his newfound love and new hope for his next film, Don walks home alone in the pouring rain ("Singin' in the Rain"). In the film and on stage, this scene is a show-stopper. Don't forget to pick a perfect backdrop while you're working out the technicalities of an on-stage deluge! This Victorian Street with Snowdust backdrop is just the thing. The tiny snowfall details will only enhance your rainfall practicals. The glowing lanterns provide just the right romantic touch for this heartwarming and eponymous scene.
Drama on the Set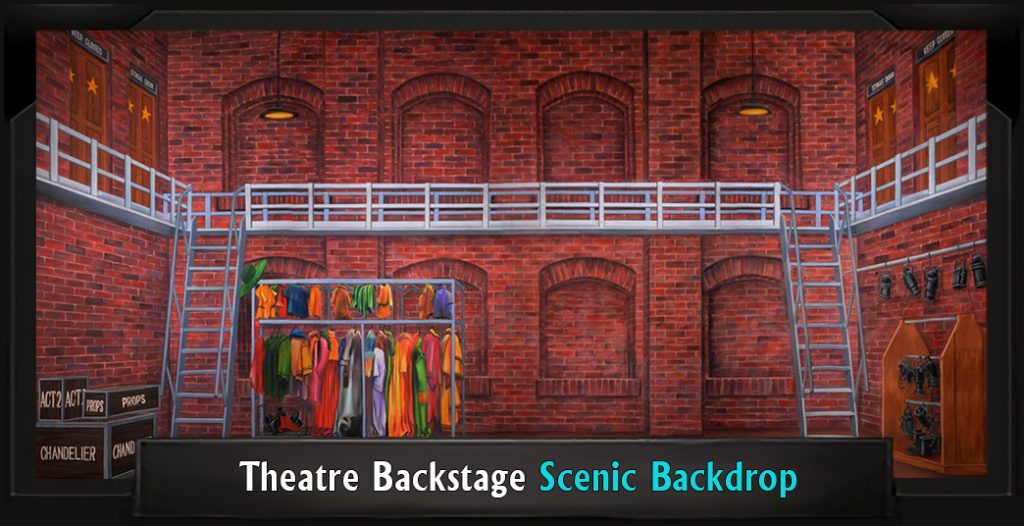 The film is a success, but the drama isn't over. Thrilled by the effectiveness of their subterfuge, Lina demands that Kathy stay behind the scenes and provide future voiceovers for all of her work, uncredited. Under contract to the studio, Kathy can't refuse. She's already furious that her voice was stolen for The Dancing Cavalier, and now her career is finished before it even started. Use this Theatre Backstage backdrop for these behind-the-scenes moments. You can easily adapt it from the feel of a theater to the feel of a backlot. The high brick walls and hints of stardom on changing room doors enhance the feeling that Kathy is trapped, doomed to never reach her own heights.
Premiere Backdrops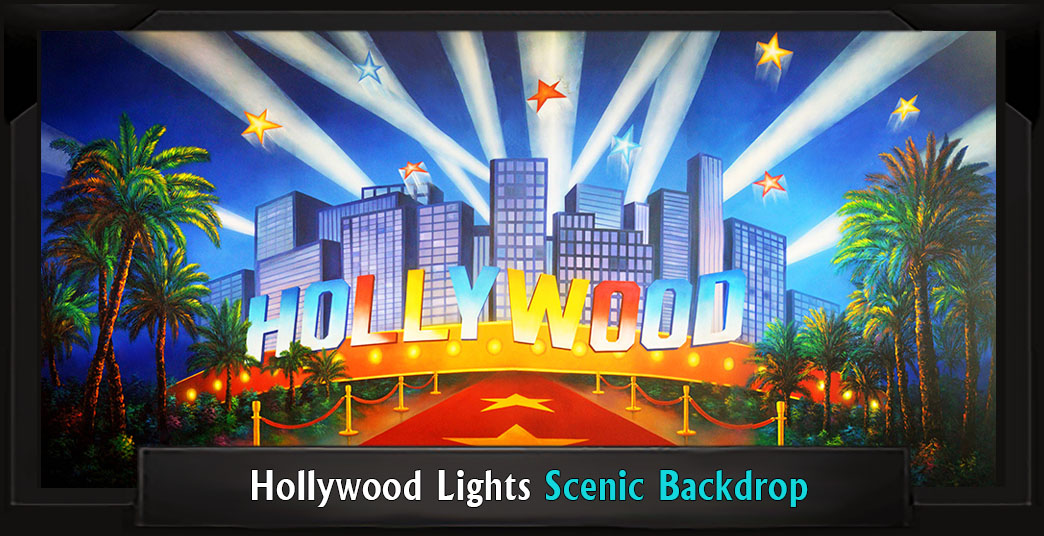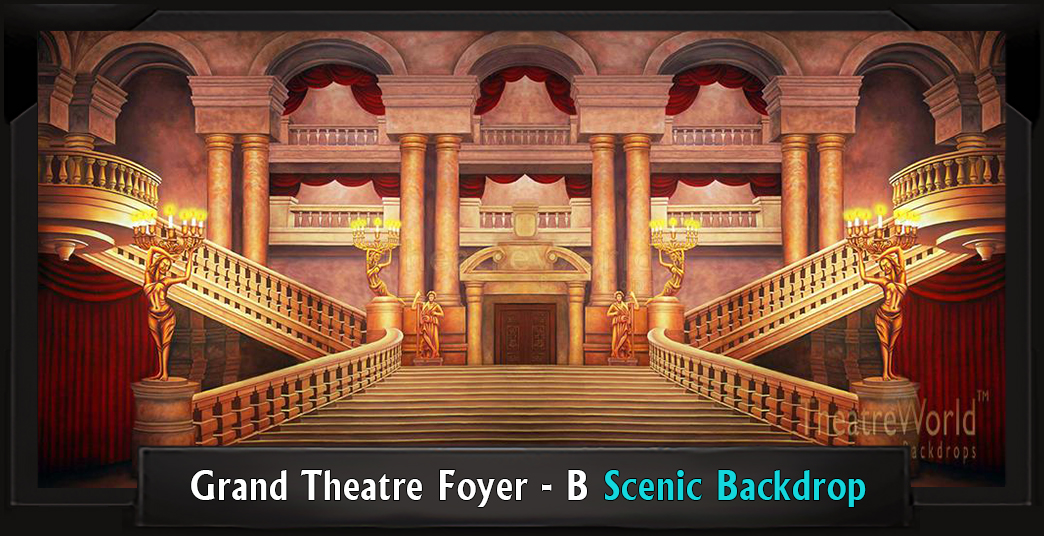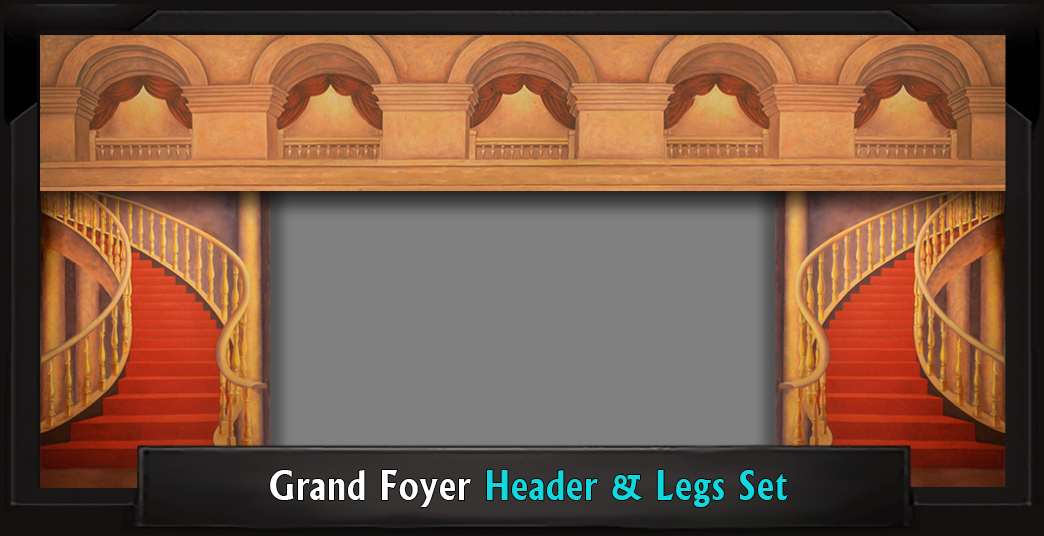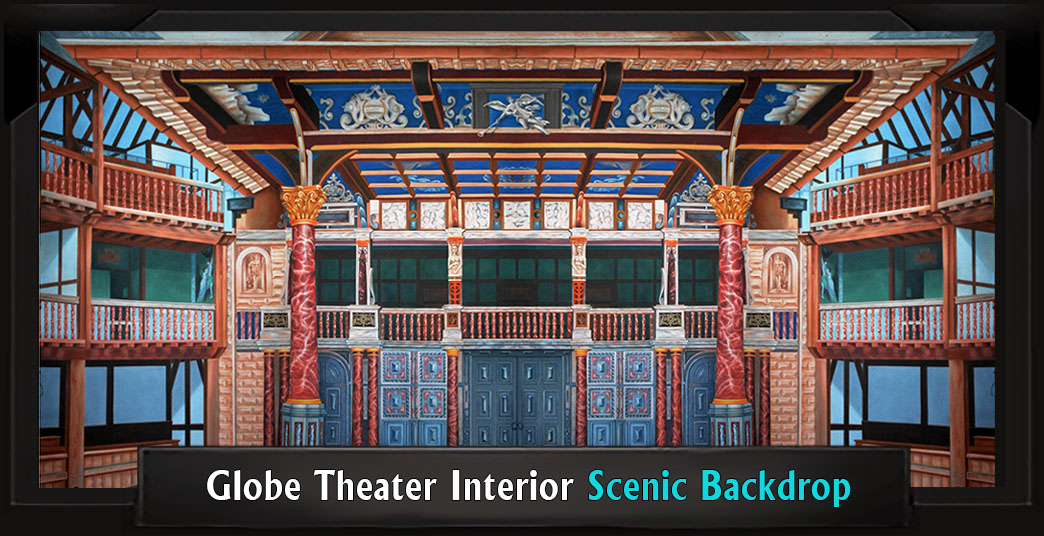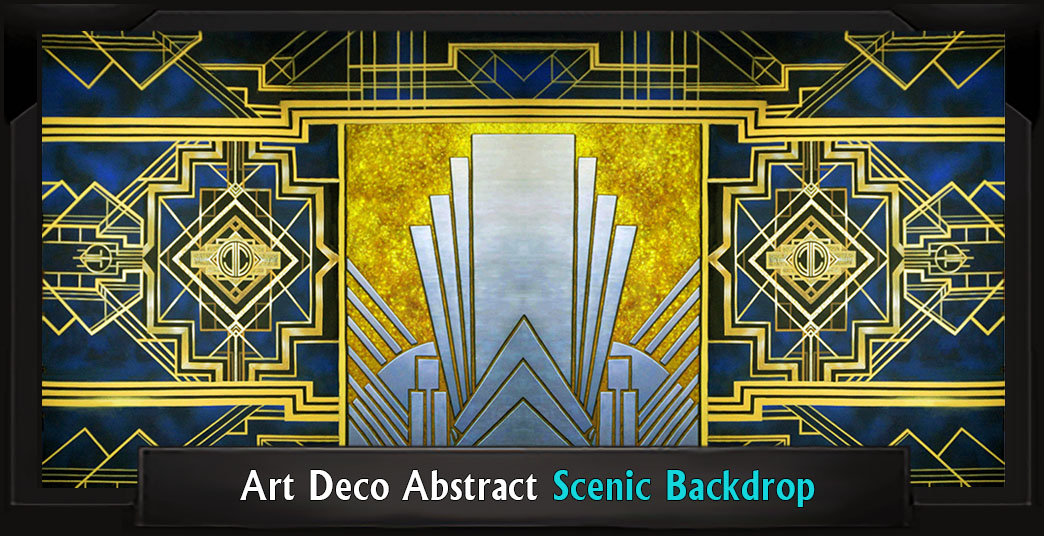 The film's official premiere goes off without a hitch. The Dancing Cavalier – complete with Kathy's stolen voice – is a wild success. Lina is thrilled, but her victory is short-lived. When the audience clamors for Lina to sing live, Don and Cosmo convince her to lip sync into a microphone while Kathy sings off stage. At the right moment, Don and Cosmo raise the curtain – and reveal Lina's lies in dramatic fashion! Lina is finished, Kathy is hailed as the true star of the film, Kathy and Don kiss, and all ends well in proper Hollywood style.
Try this Hollywood Lights backdrop for the grand premiere. Bright spotlights stream through the sky behind an exaggerated Hollywood sign. Use this drop, featuring bold colors, palm trees, and a red carpet, for any era that needs some Hollywood flair!
Or, opt for this Grand Theatre Foyer – B backdrop. Pair it with the Grand Foyer Header and Grand Foyer Legs set for added depth and drama. You'll create a grandiose opening night venue fitting for the Golden Era of Hollywood.
Another option is TheatreWorld's Globe Theatre Interior backdrop, which could double as the interior of the Chinese Theatre backdrop featured earlier. Exotic details winding around columns and archways would bring elegance and opulence to any Hollywood film premiere.
Singin' in the Rain is the perfect forum to capture the Roaring '20s in all their glory! Don't pass on TheatreWorld's Art Deco Abstract backdrop. Gold and silver geometric designs pop against a blue background, creating the stepped outline characteristic of the Deco style that became popular in France before World War I. Channel the feel of the 1920s era with style and elegance. As a bonus, the Art Deco Abstract a great choice if you're using one single drop for the whole show.
***
With drops like these, bringing this all-time favorite show to your own venue will be a breeze. You might even find your own "Lucky Star" talent by entertaining your audience with classic songs, lots of laughs, and one of those perfect Hollywood endings, right on your own stage! Contact TheatreWorld Backdrops today to build your show package for Singin' in the Rain!