Going Beyond the Script
Written by: Melanie Simmons
The stories of Theodor Seuss Geisel, or, as he's better know, Dr. Seuss, are a childhood cornerstone. Seuss' lyrical turns of phrase and whimsical characterizations have made him a literary favorite for decades, enjoyed as much by children as their parents, many of whom grew up with these tales themselves. This collective experience of joy and wonder is what inspired Stephen Flaherty and Lynn Ahrens to put Theodor Seuss Geisel's zany worlds to music. Seussical: The Musical debuted on Broadway in 2000 and has enjoyed national and international acclaim ever since. The show combines many of Dr. Seuss' most popular titles, such as The Cat in the Hat and Horton Hears a Who.
Seussical is available in both a full stage version and a one-act Junior version. With such wide appeal, this show is a fantastic addition to any school or local theatre company's lineup and will delight audiences of all ages. Let's take a look at how TheatreWorld Backdrops can help you bring this madcap musical adventure to your stage!
Oh, the Thinks You Can Think About Seussical Backdrops!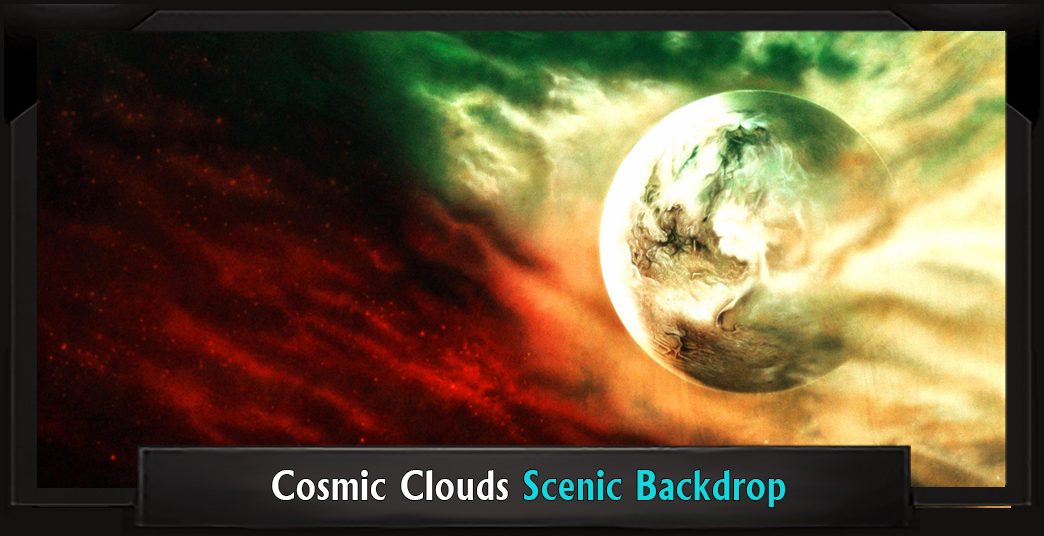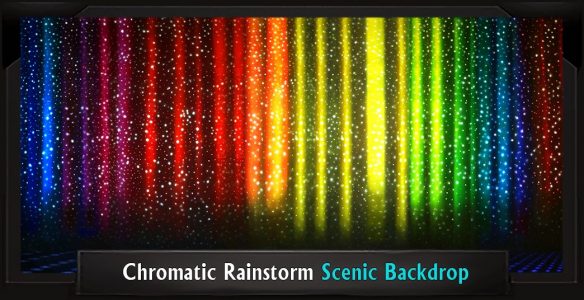 Seussical begins on a blank stage, featuring only a striped hat and a curious boy, nothing more. Intrigued by the hilarious headpiece, The Boy imagines who – or what – could possibly be its owner and promptly dreams up the Cat in the Hat. Together, they burst into song and draw the audience straight into the Seussian world ("Oh, the Thinks You Can Think!").
When transitioning  from blank stage to the wild world of Seuss, think about going for maximum impact! Whether you're planning to go all-out with staging Seussical or keeping your set pieces minimal, consider this Cosmic Clouds backdrop for this transition. It's sure to catapult your audience into the mystical cosmos of the imagination!
For something a little more abstract, consider TheatreWorld's Chromatic Rainstorm backdrop. Chromatic Rainstorm features the full ROYGBIV spectrum, with glittering details that sparkle. This colorful drop will ensure your opening scene soars.
Into the Jungle of Nool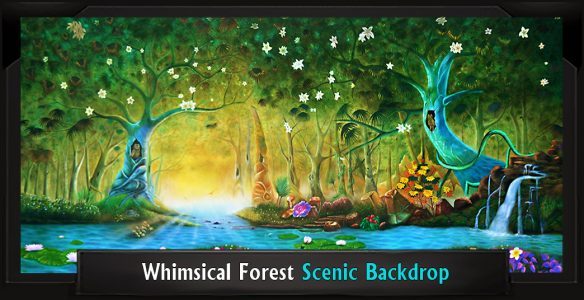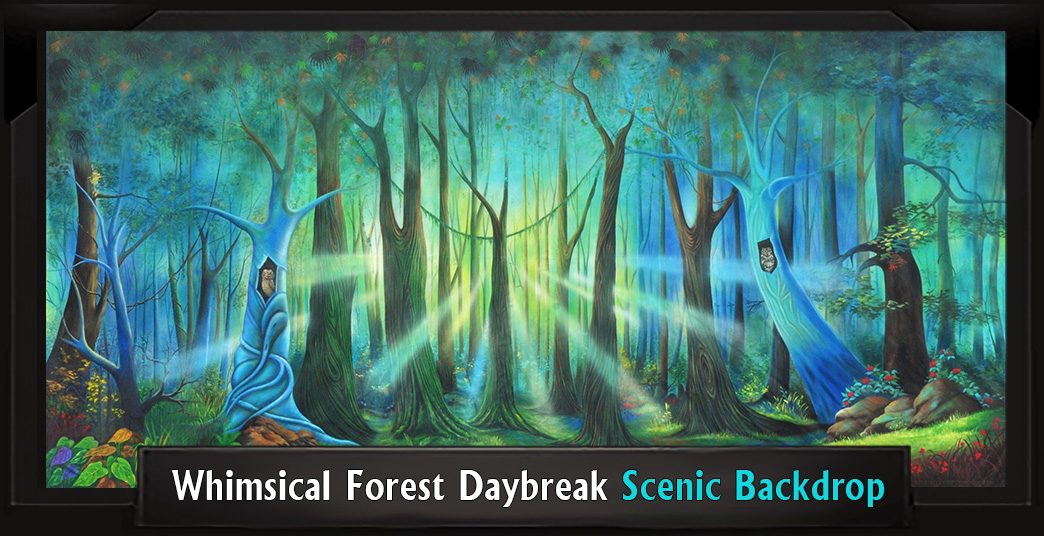 With the Cat as our guide (and occasional devil's advocate), we dive right into the Jungle of Nool. There, we meet Horton, who hears a strange sound ("Horton Hears a Who"). This quickly draws mockery from the jungle animals, except for Gertrude McFuzz. She loves Horton's compassion and begins to fall in love with him ("Biggest Blame Fool"/"Playoff").
Costuming goes a long way with this scene, where the forest creatures come forward in all their gaudy wackiness. Let the backdrops augment this colorful scene with a Whimsical Forest backdrop. Bright spots of light and arboreal flowers keep things light, while shimmery trees, flanking an enchanting stream, house curious owls.
Or, dial back the water details and use this Whimsical Forest Daybreak backdrop. Beams of sunlight highlight more owls in their nests and ruby flowers dot the foreground. Add your own set pieces, done in Seuss' signature style, and you're sure to transport your audience to Nool in no time!
Whoville – Seussical's Famous Tiny Town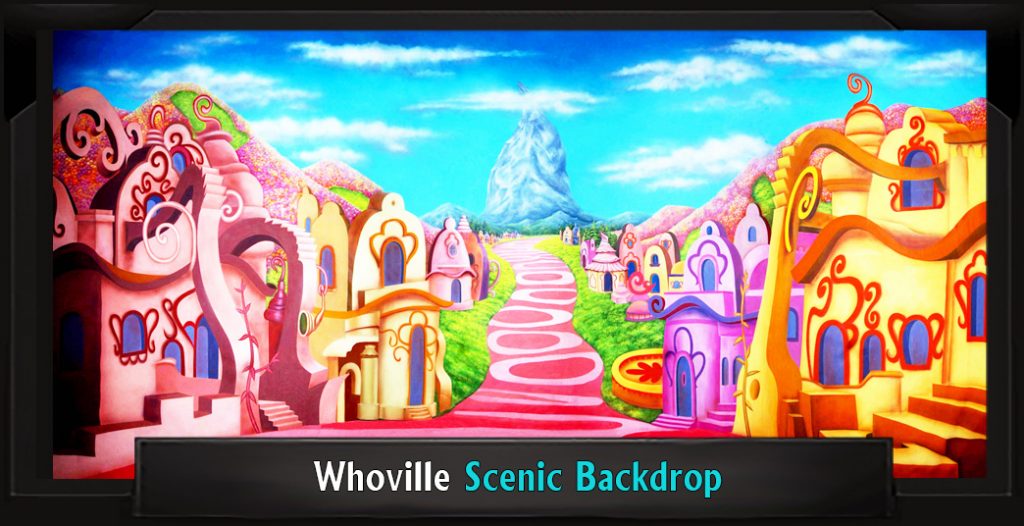 Back in the Forest of Nool, Horton is still mesmerized by the sound he hears. He finds a tiny speck of dust that contains an entire minuscule world ("Here on Who"). Though the diminutive Whos seem idyllic at first, their world is threatened by the terrible Lorax. Horton becomes determined to protect them, for after all, "A person's a person, no matter how small".
This Whoville backdrop is an easy choice for this scene. Brightly colored buildings, full of whimsy and curlique details, show the idyllic world of the Whos. Meanwhile, the looming mountain in the background suggests the threat that hovers over these charming people. Manage transitions easily with this go-to drop!
Trouble for Gertrude and Jojo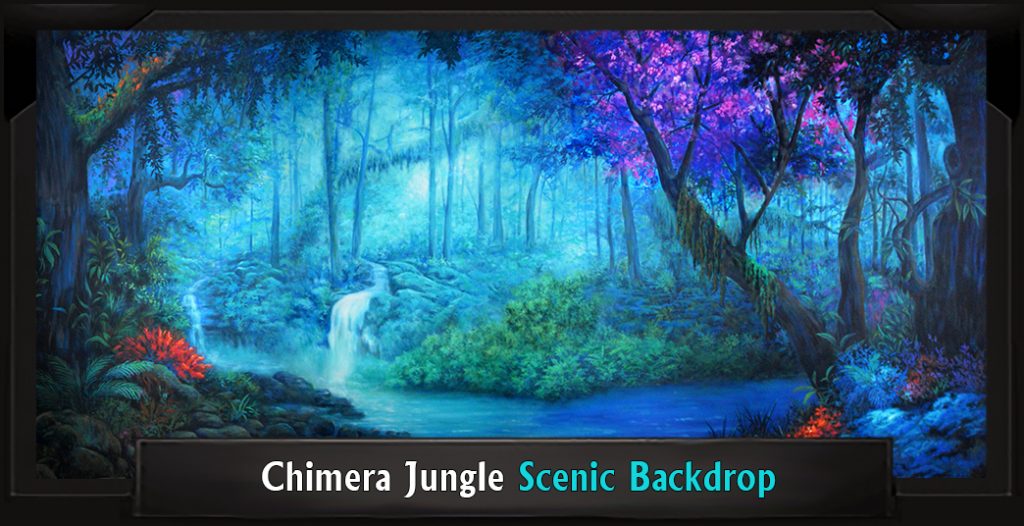 Using the magic of Seuss, The Boy becomes JoJo, the son of the Mayor of Whoville, who is in trouble for thinking too much and disrupting school. Jojo blames the Cat for getting him in trouble ("Oh, The Thinks You Can Think! (Reprise)"). Undeterred, the Cat follows Jojo into the tub and encourages the Boy to imagine wild things again ("It's Possible"). Things rapidly get out of hand, and JoJo accidentally floods his parents' house, drawing their ire ("How to Raise a Child"). They decide to send JoJo to military school ("The Military").
Horton, who has been protecting the Who speck for over a week, calls for Whos. A lonely Jojo responds and the pair quickly become friends ("Alone in the Universe"). The Cat appears and the story shifts back to Gertrude, who is rapidly falling for Horton but can't get his attention ("The One Feather Tail of Miss Gertrude McFuzz"). Her friend Mayzie La Bird sends her to Doctor Dake by the Lake for a makeover. Gertrude gets pills that make her tail grow lovely, but she overdoes it–and her tail grows out of control instead!
Try this Chimera Jungle backdrop for Dr. Dake's lake. The forest imagery takes a darker turn here, which suits the direction this adventure is taking. The water and flower details keep the drop within the aesthetic of the Nool world.
Transitional Whoville Drops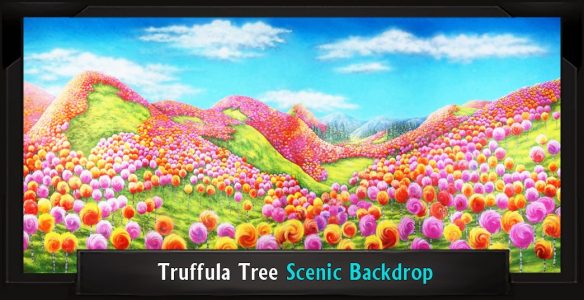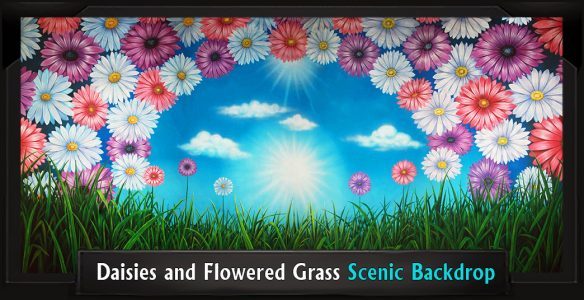 Meanwhile, Horton's clover containing the Who speck gets stolen by some rambunctious monkeys ("Monkey Around"). It's stolen by an eagle and dropped in a field, leaving Horton "Chasing the Whos" among thousands of identical clover leaves!
For this change of scenery, try this Truffula Tree Forest backdrop. With sprawling hills and animated flower and trees, it's easy to imagine the Who clover lost in the wide expanse. The candy-colored palette would be a good blend between the colliding worlds of Who and Nool.
Another great option would be this Daisies and Flowered Grass backdrop. Bright pink, purple, and white flowers adorn a bright blue sky, again blending the white flower details from the Whimsical Forest and the bright pinks of Whoville. The dark emerald grass could easily hide endless clover for Horton to search through.
How Lucky You Are/Notice Me Horton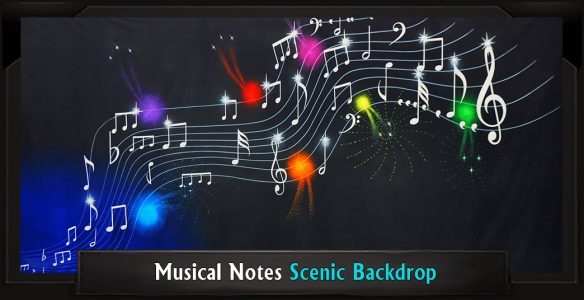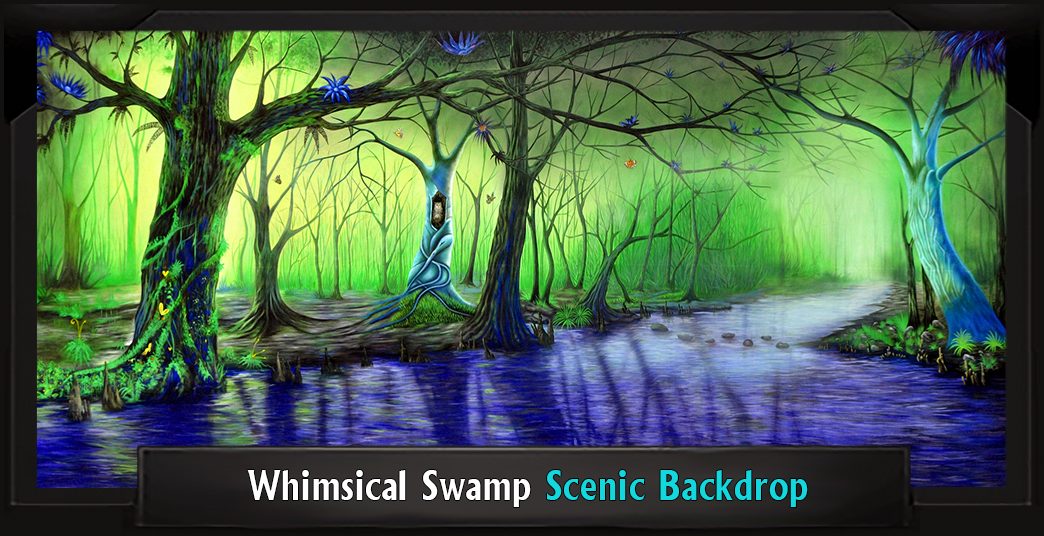 At this point in the story, The Cat steals the spotlight and sings an upbeat song to the audience ("How Lucky You Are"). You can capitalize on this fourth-wall-breaking interlude with TheatreWorld's Musical Notes backdrop. The drop features floating musical stanzas, with notes dancing among bright spots of rainbow colors. It would be a delightful change of pace and would still bridge the two worlds.
Gertrude appears and tries to get the object of her desire to "Notice Me, Horton". Horton, however, is completely focused on trying to find the Who clover. Mayzie interjects, and capitalizes on Horton's sense of purpose by convincing him to sit on her egg while she flies off. Horton reluctantly keeps his word for months and through crazy weather ("Horton Sits on the Egg"). Horton is then caught by hunters, despite Gertrude's attempts to save him. The Cat in the Hat shows up with a "How Lucky You Are (Reprise") to close the act.
In keeping with the concept of the magical word turning darker as troubles mount, consider this Whimsical Swamp backdrop for these more somber scenes. The darker tones and water details easily capture the land of Nool in inclement weather, while the shadows mirror Horton's isolation and loneliness.
Horton Joins the Circus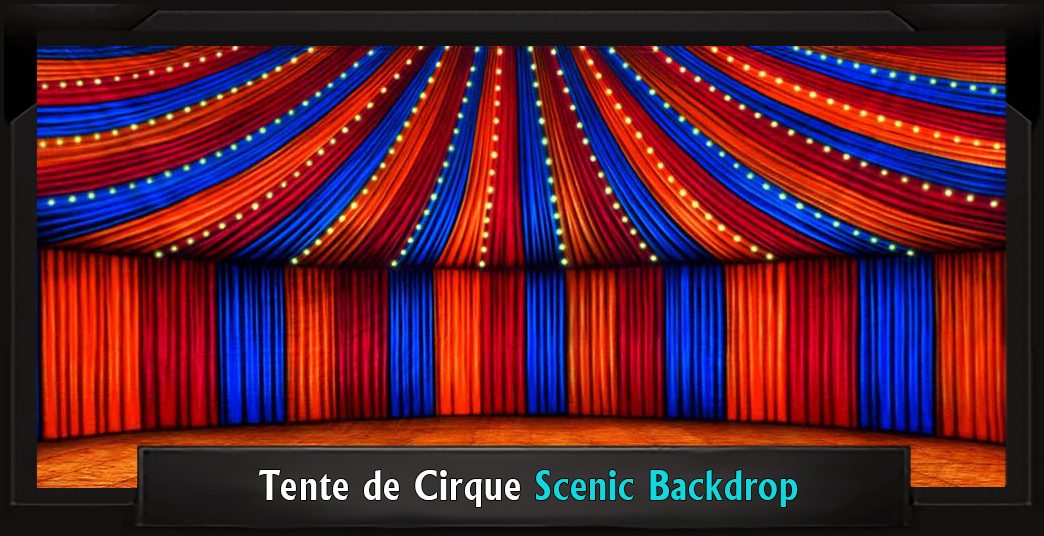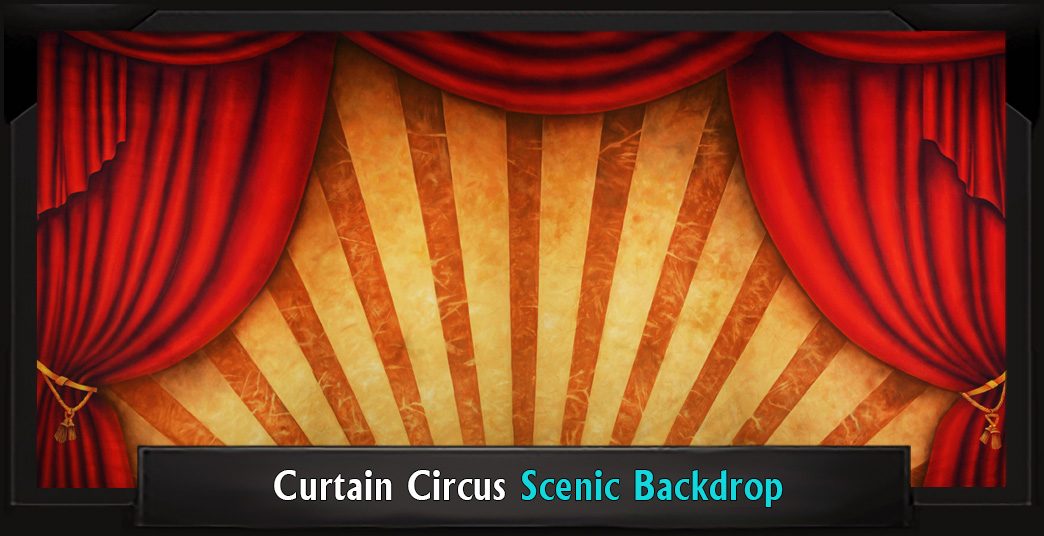 Horton gets auctioned off to the circus ("Egg, Nest and Tree"), where he runs across Mayzie again. He tries to give the egg back, but she's enjoying her freedom too much, and leaves him to return to her new life in Palm Beach.
TheatreWorld has lots of great circus options! Consider this Tente de Cirque backdrop, for example. The red and blue stripes gather up into a billowing tent ceiling, with white bulb details that suggest glowing lights. It would be a great backdrop for your set pieces.
This Curtain Circus backdrop is another great choice. A sunburst pattern evokes the circus tent stripes, while crimson drape details frame out the background.
Solla Sollew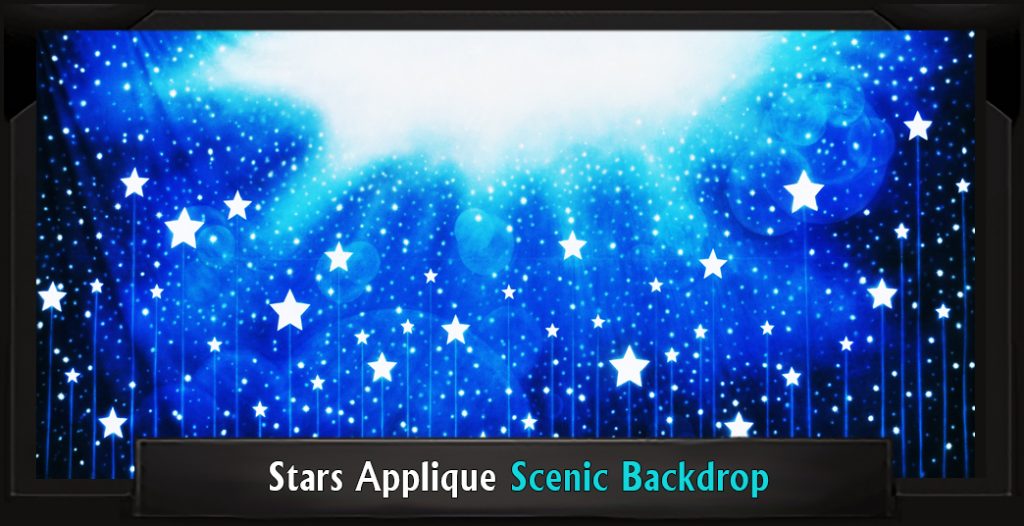 Horton devastated that he let down the Whos, especially Jojo – not to mention, that he's stuck with an egg to raise! He laments his woeful situation ("Alone in the Universe Reprise"). He then sings a song to the egg about a magical land, unaware that the Whos can hear him. Together, they long for "Solla Sollew".
Stars Applique is an ideal backdrop for a lullabye. The dark blues of the night sky, lit up with stylized and pinpoint stars, would evoke a dreaminess appropriate for Horton's reprise about a lonely universe, while also letting the characters and the audience dream about Solla Sollew together.
Jojo Goes to War/Horton's Trial
Meanwhile on Who, Jojo gets drafted into the army but refuses to fight in a war against the Lorax. He survives a terrible explosion, only to discover that he is lost and can't find his way home. The Cat appears and Jojo finds his way home by "Havin' a Hunch".
Gertrude then rescues Horton from the circus. She regales him with everything she did to get there, saving the best for last: she found his clover containing the Who speck! She confesses her love for him ("All For You"), but the evil monkeys and a Sour Kangaroo appear, up to their old mischief. They drag Horton and Gertrude back to the Jungle of Nool to stand trial for Horton's bizarre behavior.
The Cat stands as bailiff, but the trial is rigged and Horton has no chance against getting remanded to an insane asylum. Desperate, he calls on the Whos to make noise and prove their existence. Jojo invents a new word ("YOPP") that resonates beyond the clover ("The People vs Horton the Elephant"). With the reality of Who confirmed, Horton is acquitted! All the jungle animals commit to helping Horton protect the clover, and on Who, Jojo is celebrated as a 'Thinker, Non Stop'.
Trial Backdrops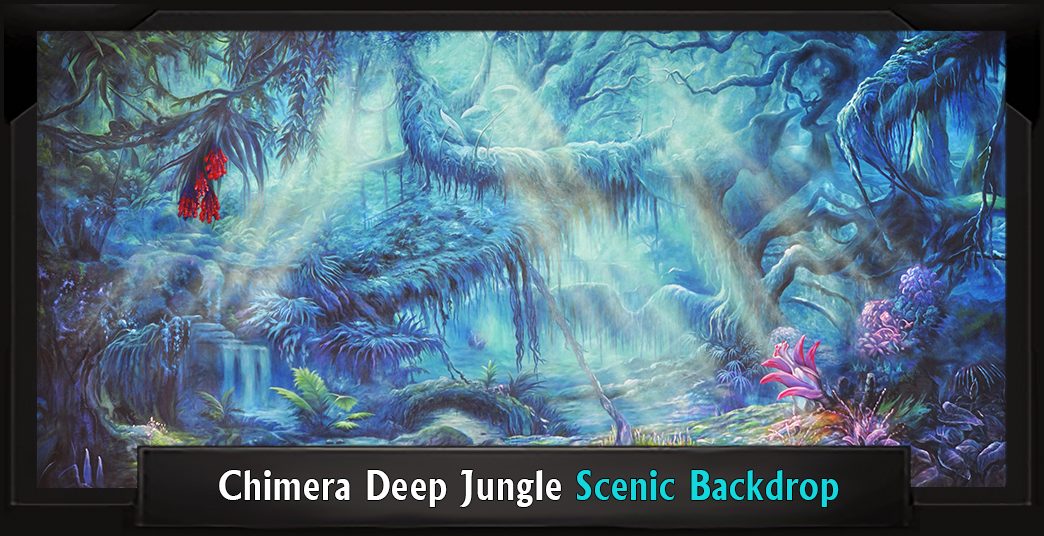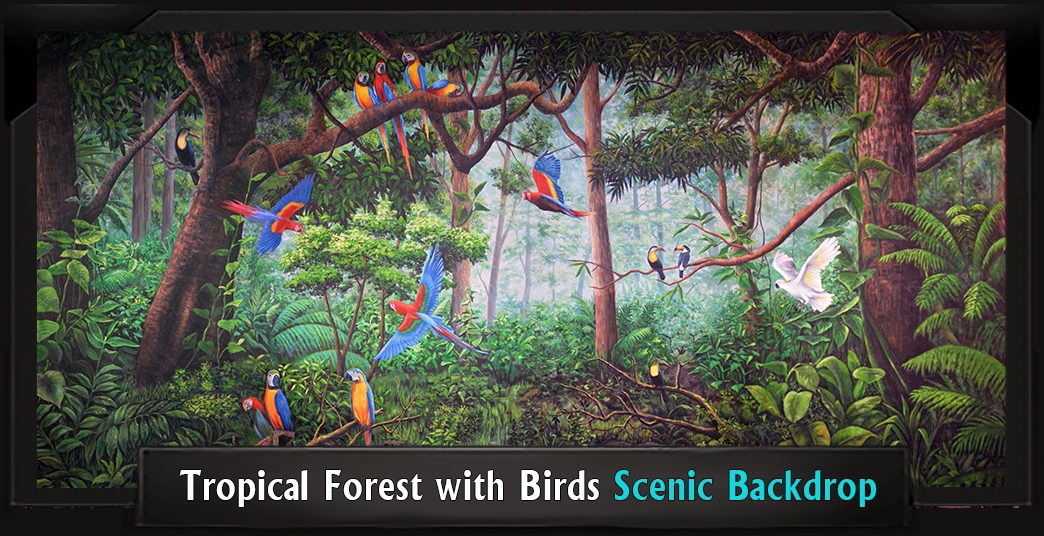 Really go for the drama here and use TheatreWorld's Chimera Deep Jungle backdrop as a background for this pivotal scene. Light beams stream through moss-draped forest limbs that are twisted and scary. It's a perfect setting for the corrupt trial.
If you want to keep the tone lighter, try this Tropical Forest with Birds backdrop. The brightly colored toucans and other jungle fowl could augment the chatty jury as Horton stands trial.
A Very Seussical Finale!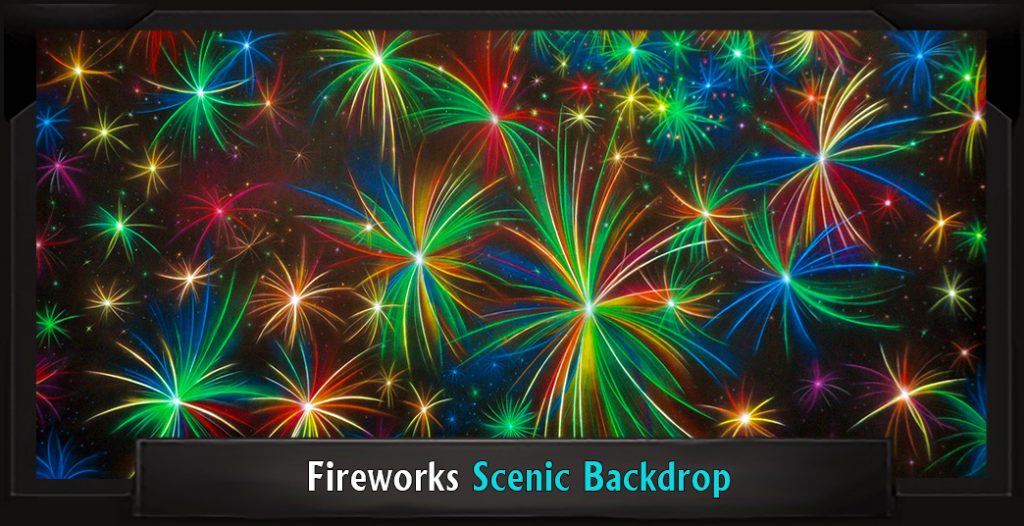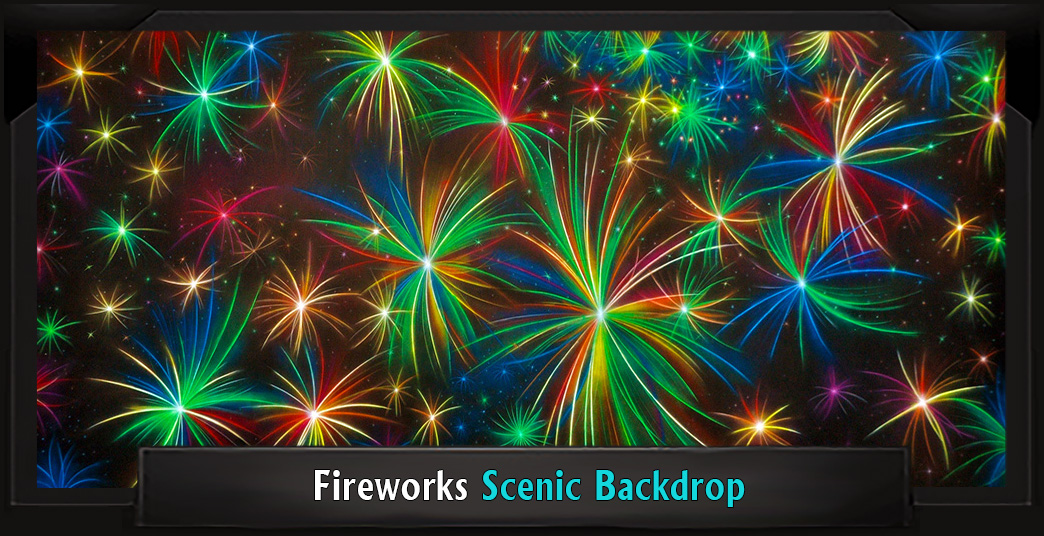 The egg hatches, and a bird/elephant emerges! Panicked, Horton asks for Gertrude's help since he cannot fly but she can. They agree to raise the child together, and the Cat wraps up the show with the whole ensemble ("Oh the Thinks You Can Think, Reprise").
Go for maximum impact during Seussical's fantastical finale with this Fireworks backdrop. Rainbow lights burst against a starry-sky background, bringing some serious pop to this happy ending!
***
There's no need to pick your favorite Dr. Seuss tale when you can bring all of them to your stage in Seussical! Adults will love seeing their beloved childhood memories come to life in song and dance, and the family-friendly themes will keep your ticket sales soaring. Dr. Seuss' unique use of cadence, alliteration, and rhyme is a natural fit for the stage – and your actors are sure to have as much fun staging Seussical as your audience will watching it!
You'll be amazed by all the "thinks you can think" when you think about Seussical backdrops! Contact TheatreWorld today and let your imagination run wild!