TheatreWorld Backdrops is Looking Forward to the USITT Backdrop Showcase
Our team is looking forward to going to heading to Cincinnati this March for the USITT Conference and Stage Expo. We are excited to be a part of the Stage Expo, and would love for you to stop by booth 233 to chat about set design, theatre or just to say hello. Like you, we are planning out which events and workshops we will attend and getting our team ready to hit the road. During the conference we will also be participating in the stage backdrop contest. (Which will be held on the Stage Expo floor.)
We spoke to many of our clients who have been to USITT before while preparing for the show. They told us that many backdrop rental companies bring drops that they design specifically for the show and are not in-line with the designs that actually make up their rental inventories. To be honest, that makes no sense to us at all.
The TheatreWorld Backdrops team is taking a completely different approach.  We will be bringing one of our late 2014 or early 2015 releases. The backdrop we choose will be representative of our true and consistent level of design and artistry. Since our inception, TheatreWorld Backdrops main artistic goals have been, and remain to be, to design and produce impactful, colorful and, where possible, architecturally correct masterpieces of art for our clients.  Our team is currently looking over our inventory to decide which of our stage backdrops to feature at the show. We have narrowed it down to a few of our favorite designs. We'll be selecting one of the following new releases for USITT Cincinnati:
Broadway Lights
Our Broadway Lights design is fun, slightly stylized and ready to support a variety of high-energy productions and events. By design, it features a selection of your favorite theaters and venues. The backdrop pays homage to vintage era Broadway themes.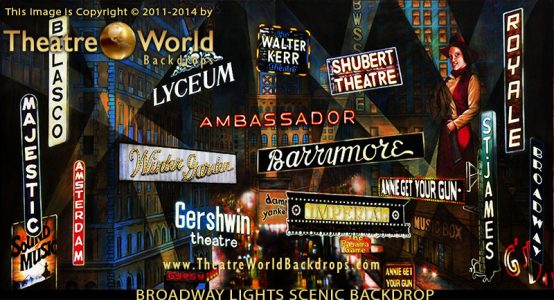 Mansion Foyers
When initially designing the foyer, our goal was to produce a backdrop that would speak to the scenery requirements of THE ADDAMS FAMILY.  Jokingly, one of our team members said, "Since so many other backdrop companies borrow inspiration from our designs after they are released, why don't we copy it now? We can change it up a bit so that we can offer not one, but three, foyer designs that support musicals from ANNIE to PHANTOM OF THE OPERA, and provide more options for dance and special event themes."  That sounded like fun to our design team and we are very pleased with the results.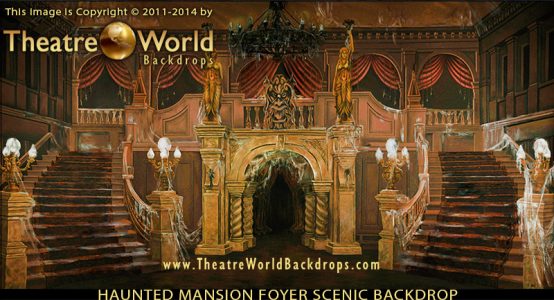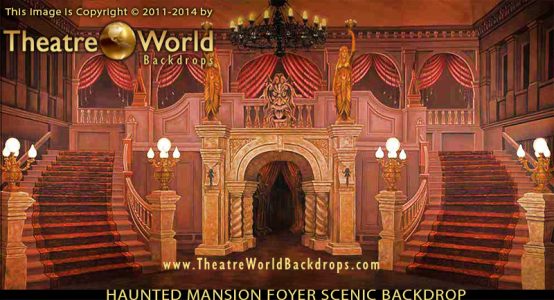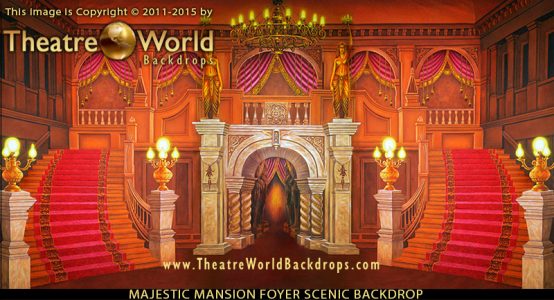 Olde World Candy Shoppes
When it came time to design backdrops for MARY POPPINS, we could not choose from the two final sketches that our Artistic Team came up with for the candy shoppe. We loved them both, so we went ahead and painted both so that our clients can have access to a greater variety of backdrops.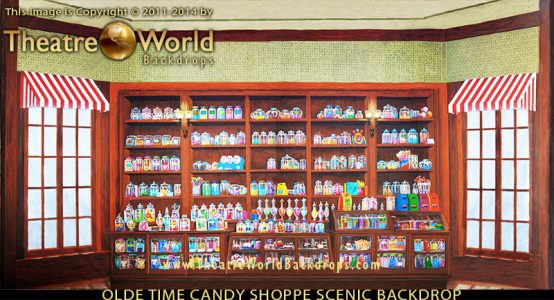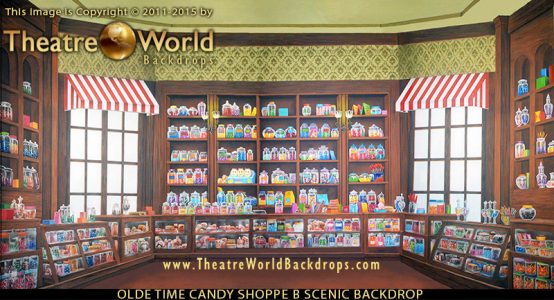 Saint Paul's Cathedral
Saint Paul's Cathedral is a magnificent, artistic rendition of St. Paul's Cathedral in London. This drop focuses on providing architecturally-correct and beautifully executed imagery.  It's a necessity for MARY POPPINS! This backdrop has also become popular with Event Professionals who are planning spiritual and destination themed events.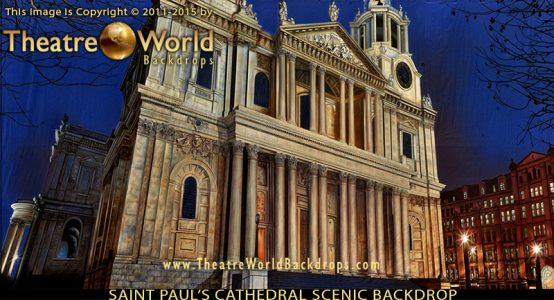 Victorian Palace Ballroom
We drew inspiration for our Victorian Palace Ballroom backdrop from the architecture of numerous European staterooms and halls. This backdrop adds majesty and sophistication to any stage production or drab venue. A large number of scripts call for such an interior. We designed this drop to further provide Directors and Set Designers with scenic options to suit every era and color pallet.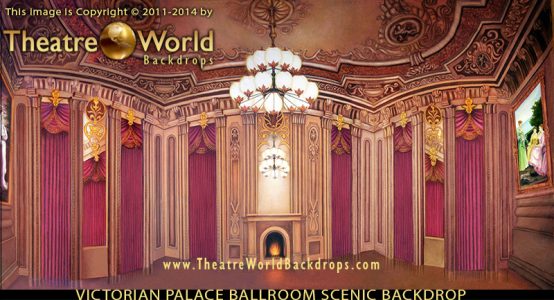 We're in the Money
After conversations with a highly respected client who wanted a "real show stopper" for his spring production of 42 STREET, our Artistic Team began sketching. We sough to create a stylized design that spoke to his needs, but would also provide a new level of backdrop imagery for dance recitals, concerts and more. The result is a stunning stage backdrop that will add vibrancy to any production. Our We're In The Money backdrop has been so well received that a sister design is already in the works.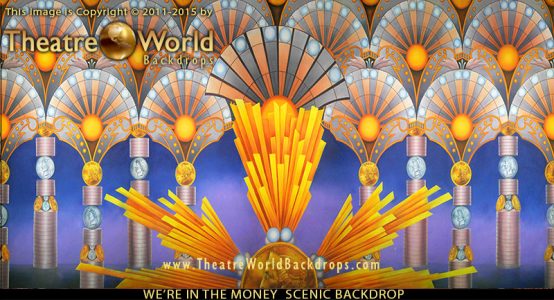 We have a tough decision ahead of us before we make our way to Cincinnati. We would love to hear from you about which design you like the best. Feedback from our clients is one of the most important things that we consider as we continue to grow our backdrop rental inventory. Don't forget to schedule a stop at the USITT Stage Expo during the conference. You will be able to evaluate our artwork for yourself, and have access to all of the latest innovations in set design, planning and more. See you in Cincinnati!