Going Beyond the Script
Written by: Melanie Simmons
Anyone who doesn't think "church" and "entertainment" go together hasn't seen the musical Sister Act! The musical was based on the original 1992 feature film, starring Whoopie Goldberg, but it underwent significant adaptation for Broadway. The stage version first premiered in California in 2006. It quickly went on to enjoy runs in the West End of London, Broadway, and all over the world. With rights now available through Musical Theatre International, there's no better time to bring these plucky nuns to your own stage.
The book, written by Bill and Cheri Steinkellner, follows the same basic story of the movie. However, the writers have set the time period to the late '70s and raised the comedy and sass level to the rafters! A whole roster of new musical numbers by Alan Menken (lyrics by Glenn Slater) showcase the humor and heart of this story of sin, faith, and redemption in a way that only live musical theatre can.
Focusing on powerful vocals and the charisma of its characters, Sister Act is relatively easy to stage in any venue — which means that adding just the right backdrops can take it up to the next level! Let's walk through the show and see how TheatreWorld Backdrops can provide all the settings you need for a Broadway-worthy production.
The Seedy Side of Philly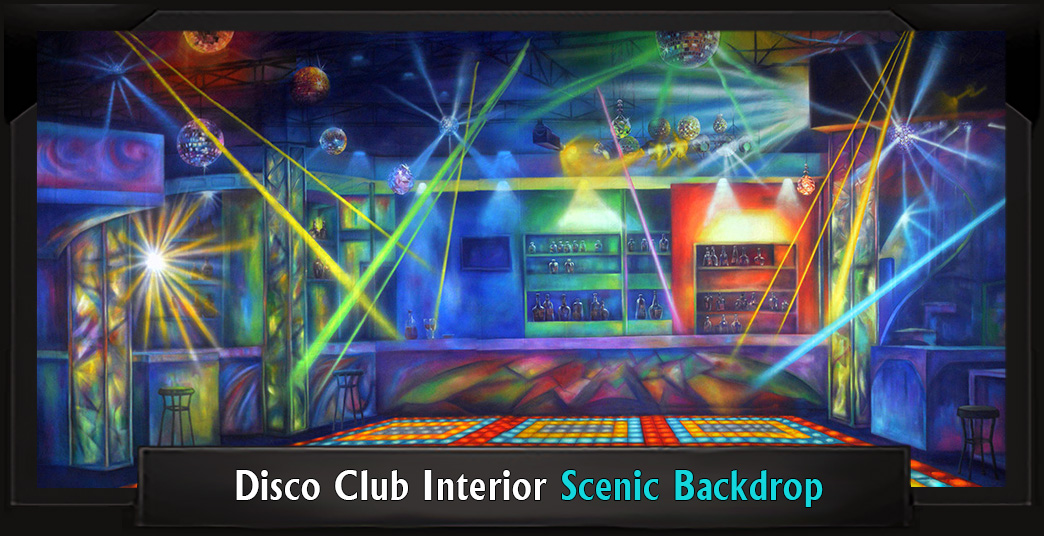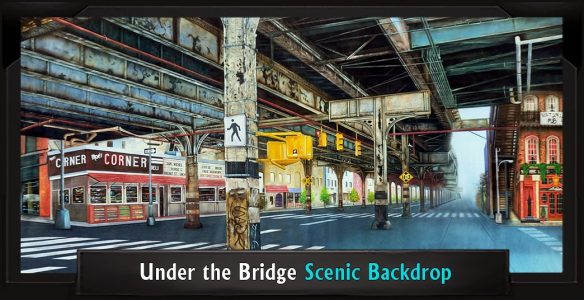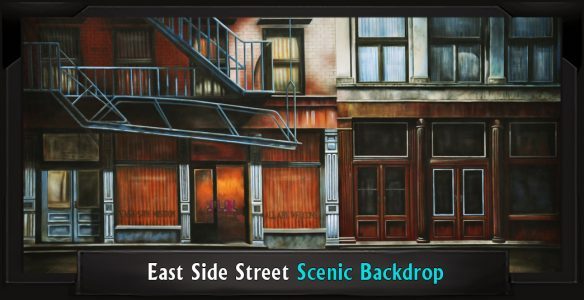 Act 1 opens in Philadelphia, PA in 1978, where Deloris Van Cartier sings her heart out in a groovy night club owned by her gangster boyfriend Curtis ("Take Me to Heaven"). She's got fabulous vocals and sky-high dreams ("Fabulous, Baby!"), but everything goes sideways when she stumbles on Curtis and his crew killing a guy who squealed on his squad. Afraid for her life, Deloris seeks shelter at the nearby police station, where an old school friend nicknamed "Sweaty Eddie" offers her safety in a witness protection program.
Be sure to channel the funky feeling of the 70's with this incredible Disco Club Interior backdrop. Multi-colored laser lights beam across a checker-board lighted floor. Bar details in rainbow colors will transport your audience straight back into the heyday of disco soul. It's the perfect place for Deloris to make her stage debut!
Make the best use of contrast by showing the grittier side of the City of Brotherly Love. This Under the Bridge backdrop features a city street dominated by an elevated train structure, giving it an underworld feeling. It's the perfect setting for Curtis and his crew to slither around.
Or you could use this East Side Street backdrop to set the antagonists in a side-street/alley. With deep shadows and darkened doorways, this would be just the kind of spot for stumbling on the kind of crime that sends Deloris running for her life.
Going Undercover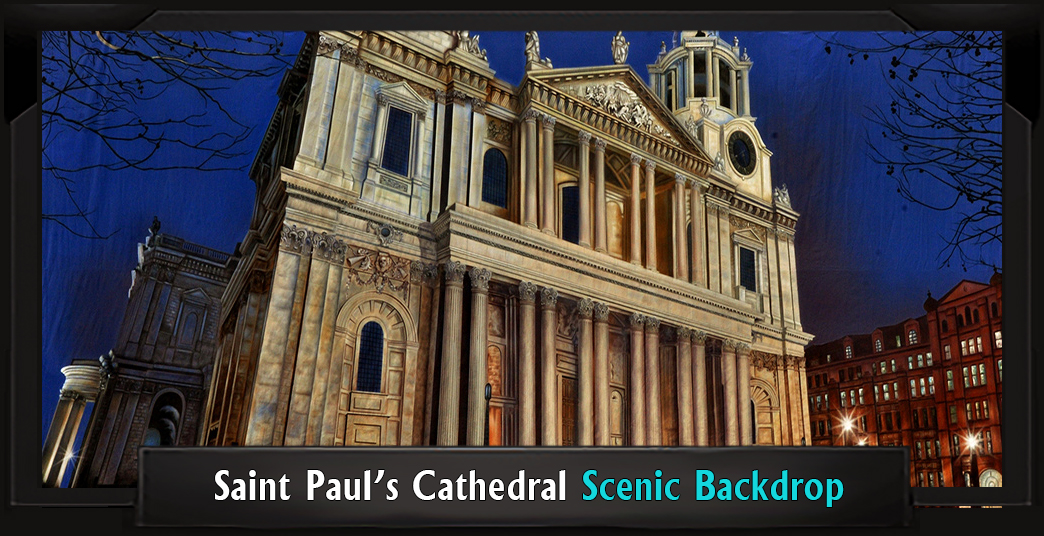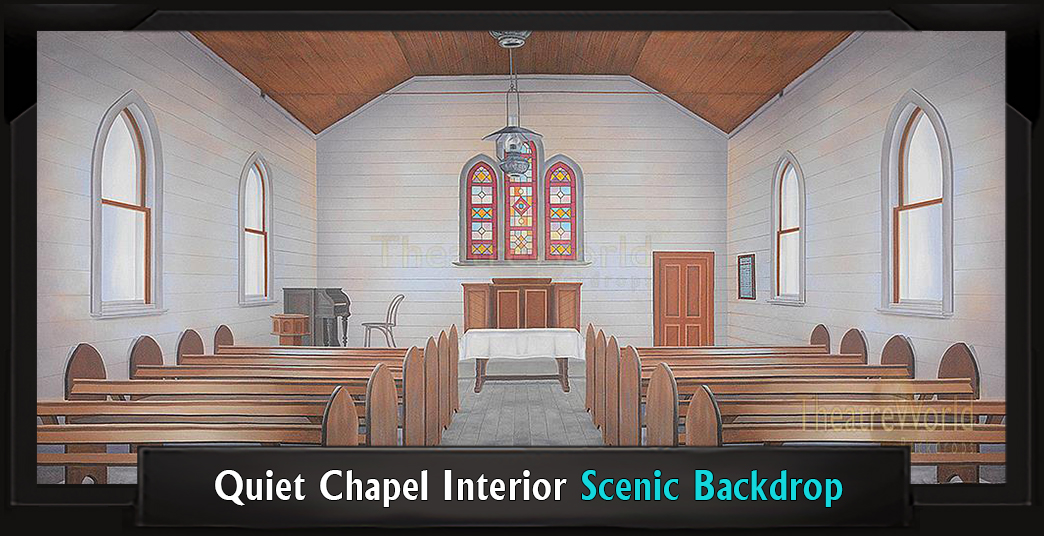 Deloris is dismayed to find out that her safe haven will be among the puritanical nuns of the The Holy Order of the Little Sisters of Our Mother of Perpetual Faith. Deloris enters this haven like a record scratch, immediately butting heads with Mother Superior's endless rules ("Here Within These Walls"). Still, with few options, Deloris – under the pseudonym Sister Mary Clarence – attempts to bond with the other nuns over dinner ("How I Got My Calling"), crafting a cover story while getting to know her new church-mates.
Choose a pristine setting for the church. It will contrast wonderfully with the disco style and street grit utilized in the scenes so far. St. Paul's Cathedral backdrop, with its cream-colored walls reaching into a clear blue sky, would do just the trick. Equal parts inspiring and imposing, it strikes just the right tone for the convent. The city setting and aging stone work at the base of the church fits well. It's a glorious building that has seen better days.
Try this Quiet Chapel Interior backdrop for the scenes inside the church. The light-toned wall stones and humble furnishings further reinforce the sense of a building that has fallen on hard times. Beautiful stained-glass windows and rows of pews provide the familiar setting of a house of God. This could easily be a smaller chapel within the larger building. (Which would allow for a bigger sanctuary reveal later on in the show.)
When Worlds Collide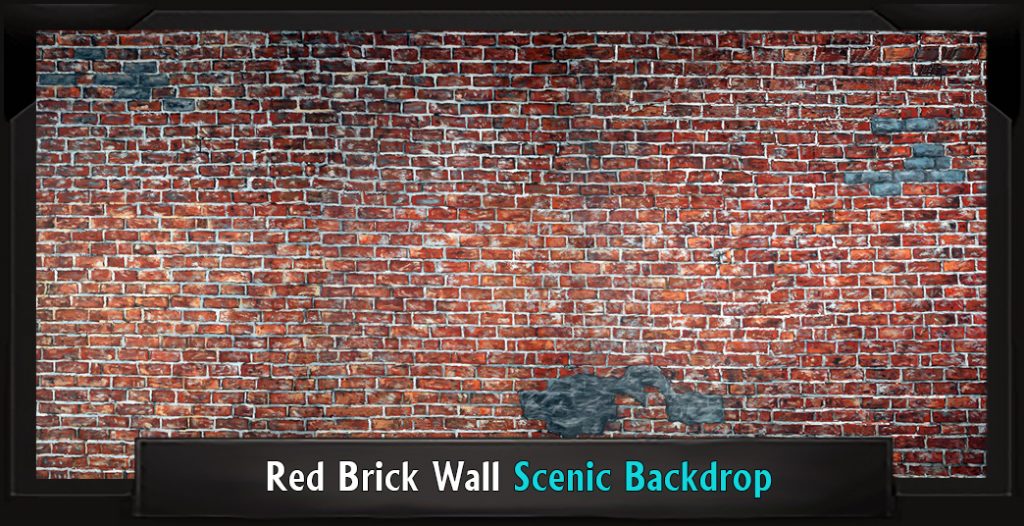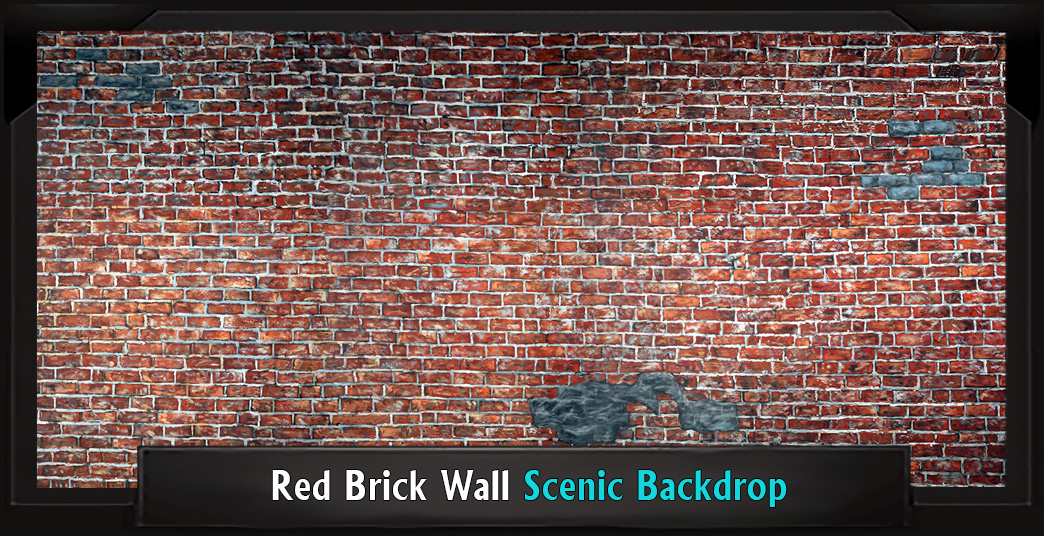 Curtis struggles to find Deloris ("When I Find My Baby"). Meanwhile, Deloris continues to chafe under the strict boundaries of convent life. She sneaks out to the local bar for a drink, under the auspices of "saving souls". Overly-friendly Sister Mary Patrick follows her with meek and mild Sister Mary Robert in tow. Hilarity ensues as both worlds collide ("Do the Sacred Mass"). And collide they do! Curtis' crew shows up at the same bar. The men recognize Deloris. With a bit of divine luck, she and the other nuns escape as a bar fight breaks out. Shaken, Deloris agrees to fall in line. Eddie, meanwhile, dreams of one day winning her heart ("I Could Be that Guy").
Crashing opposite worlds together is a strong theme in this show, so take the bar setting as far in the other direction of the church as possible. This Red Brick Wall backdrop gives you endless opportunities to stage this scene. Use some moving set pieces and creative lighting changes to set the scene. The brick details in uneven rows, patched and aging, provide just the right backdrop for a basement dive bar. Go from a bright wash to amber-colored spots for some shadowy effects. A few bar tables and chairs, and this hilarious and pivotal scene would come to life right before your audience's eyes!
Inside the Church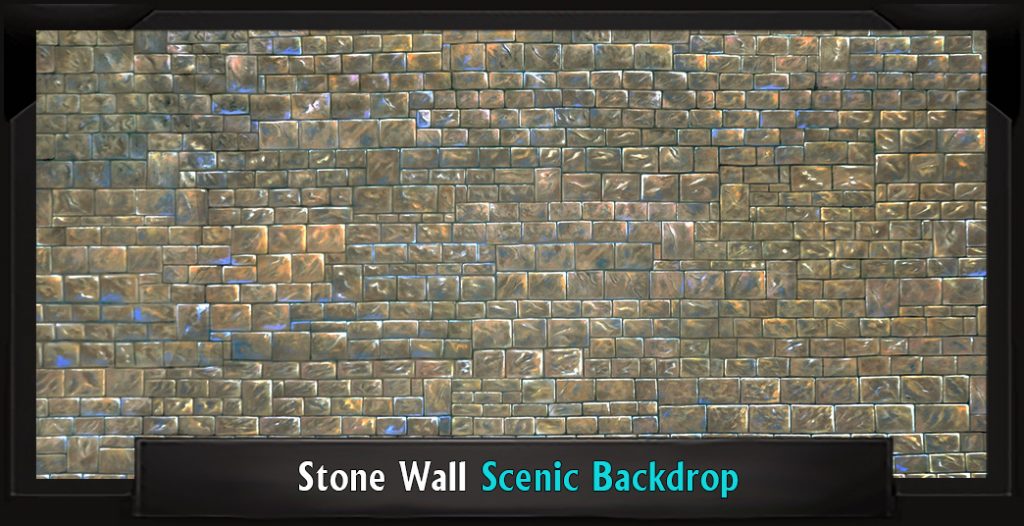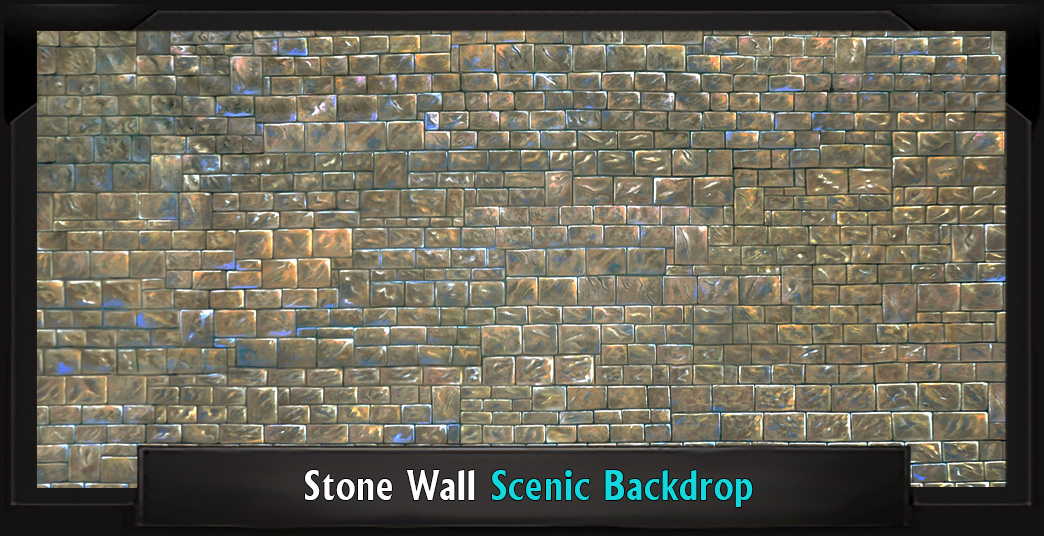 Deloris tries to fit in better by joining the choir. However, she immediately recognizes that they're absolutely terrible. Inspired, Mother Superior suggests that Deloris lead them. Initially daunted, Deloris quickly shows an aptitude by bringing some soul into the singing sisters and breaking Sister Mary Robert out of her shell ("Raise Your Voice"). That next Sunday, they raise the roof with a lively rendition of "Take Me to Heaven". The nuns are delighted, the church is rejuvenated, and Mother Superior is utterly horrified.
A great option here would be to use the Quiet Chapel Interior backdrop again for the rehearsal scenes, but you'll want something really intimate for Deloris' soul-searching moments and Sister Mary Robert's ballad. This Stone Wall backdrop would make an excellent "blank canvas" that still matches the church aesthetic. The light-colored stones are a good match, and with creamy amber and cool details, it offers a lot of lighting options.
Curtis on the Hunt
At the top of Act 2, the charismatic choir is growing wildly in popularity ("Sunday Morning Fever") – which presents a problem, as Deloris is still trying to stay under cover. Indeed, Curtis recognizes her from a publicity photo and orders his crew to pick her up ("Lady in the Long Black Dress"). Meanwhile, the nuns find out that their church will be visited by the pope and nervously look forward to their biggest performance yet ("Bless Our Show"). However, Deloris won't be able to enjoy it as her cover is blown and she needs to leave the church as quickly as possible. She finds herself unexpectedly reluctant to leave, having bonded with the nuns, even Mother Superior ("Here Within These Walls (Reprise)").
On her last night in the convent, Deloris is visited by an inspired Sister Mary Robert ("The Life I Never Led"). Panicked, Deloris dreams of resuming her singing career ("Fabulous, Baby! (Reprise)"), but realizes how much she really gained at the convent and what she stands to lose ("Sister Act").
The next day, Curtis and his crew don nun's attire and hunt for Deloris. A wild cat-and-mouse chase ensues, as the nuns desperately try to protect their newest Sister. Curtis catches Deloris, however, and puts a gun to her head. Before he can pull the trigger, the nuns show up and stand before her, ready to die for her ("Sister Act (Reprise)"). With a last-minute rescue by Eddie, Curtis and crew get arrested and Deloris is saved. She and the Mother Superior come to terms, and Deloris – under her real name now – leads the choir in a rousing final number in front of the Pope himself ("Spread the Love Around").
Finale Backdrops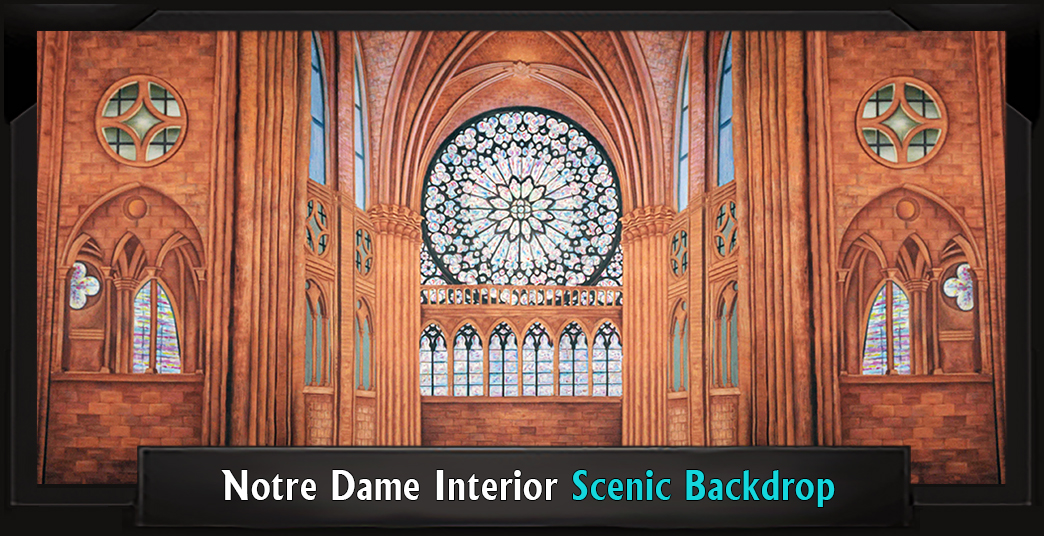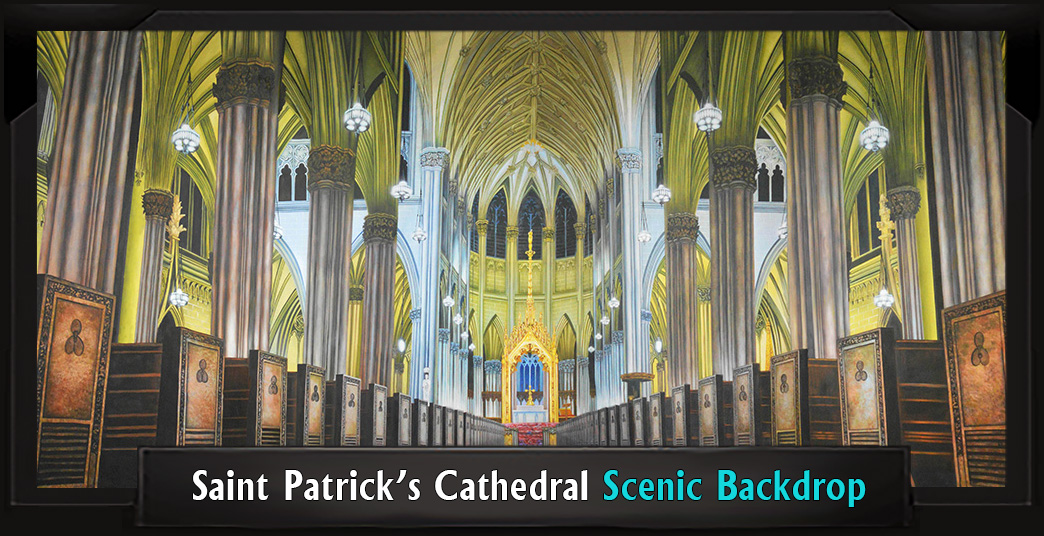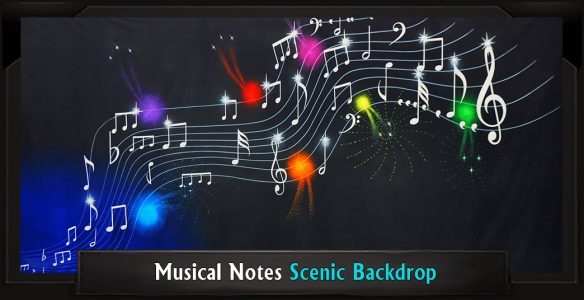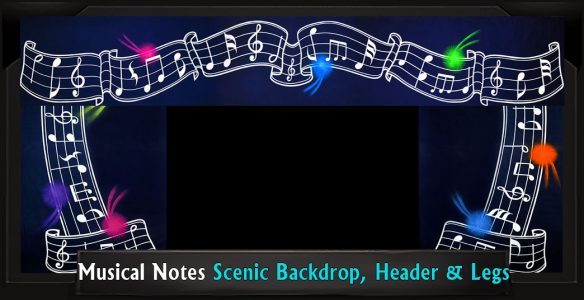 Sister Act has so much heart and soul, enough to raise even the hardest of hearts to the heavens! You're going to want to go big for the finale. Try this Notre Dame Interior backdrop for a truly impressive interior upgrade that still works within the exterior structure displayed earlier. Lofty arching ceilings frame enormous stained glass masterpieces, showing what this church looked like in its glory days – which are fast returning! The light pouring in from outside is an appropriate image for this church that has found renewed inspiration from on high.
For some really otherworldly grandeur, consider this Saint Patrick's Cathedral backdrop. Talk about raising the rafters; these vaulted ceilings disappear out of sight! Lighter tones work well for the established church look. Rows of stately pews vanish into the distance, and one could easily imagine the Pope himself standing at the front of the forced-perspective aisle, enjoying the saintly songbirds' finest performance yet.
One final option that would work beautifully for this show is to go a bit abstract. This Musical Notes backdrop, with corresponding header and legs set, channels the melodious message of this heavenly performance. Multi-colored balls of light dance along staves with sparkling notes, set against a lapis and indigo faded background. Just the right amount of whimsy for this fabulous modern-day redemption story!
***
In the stress and strife of the modern world, everyone is looking for a little inspiration. Though it's set in the 70's Sister Act still rings true today and never fails to lift the spirits of cast, crew, and audience alike. Don't miss the chance to bring this divine distraction to your own stage. Talk to TheatreWorld today and put together your own package of drops for a heavenly production no one will soon forget!