Going Beyond the Script
Monty Python's Spamalot Backdrops and Scenery Perspectives
Written by: Melanie Simmons
Arthurian legends have captured imaginations for centuries and there's no shortage of stage adaptations based on such romantic and adventurous lore. However, one stands alone as an unruly, unabashed crowd-pleaser suitable for any theatre company's repertoire— Monty Python's Spamalot!
Spamalot utilizes Monty Python's singularly brazen sense of humor to tell the story of beloved characters like King Arthur, the Lady of the Lake, and the Knights of the Round Table. They embark on a series of hapless adventures sure to have your audience roaring! The musical is based on the 1975 movie "Monty Python and the Holy Grail". Spamalot combines Monty Python's trademark British humor with a raucous score, creating a theatrical experience unlike any other. Let's take a look at how this multi-award-winning hit can come to life on your stage, with the help of TheatreWorld's incredible stable of backdrop options.
Staging Monty Python's Spamelot – Opening Scenes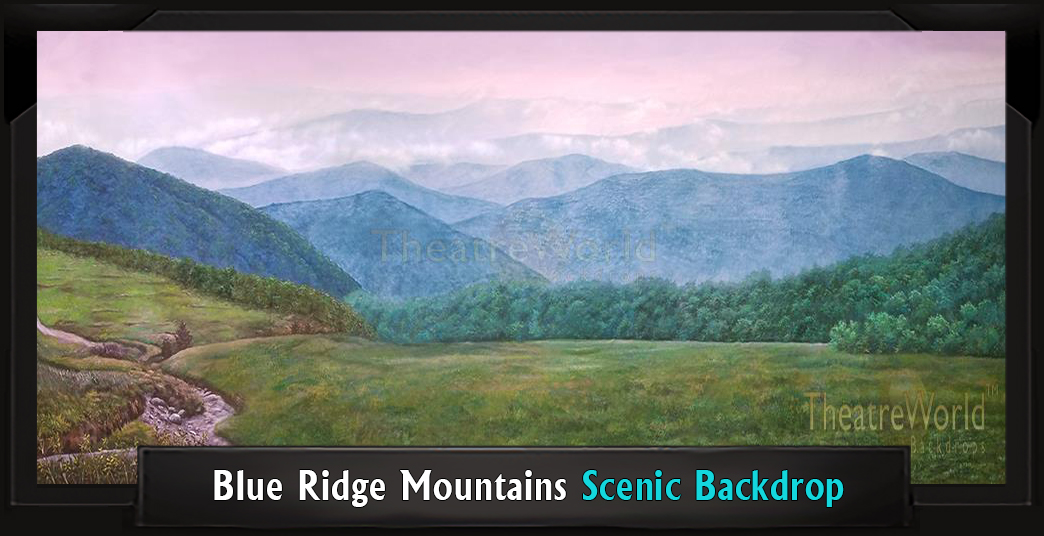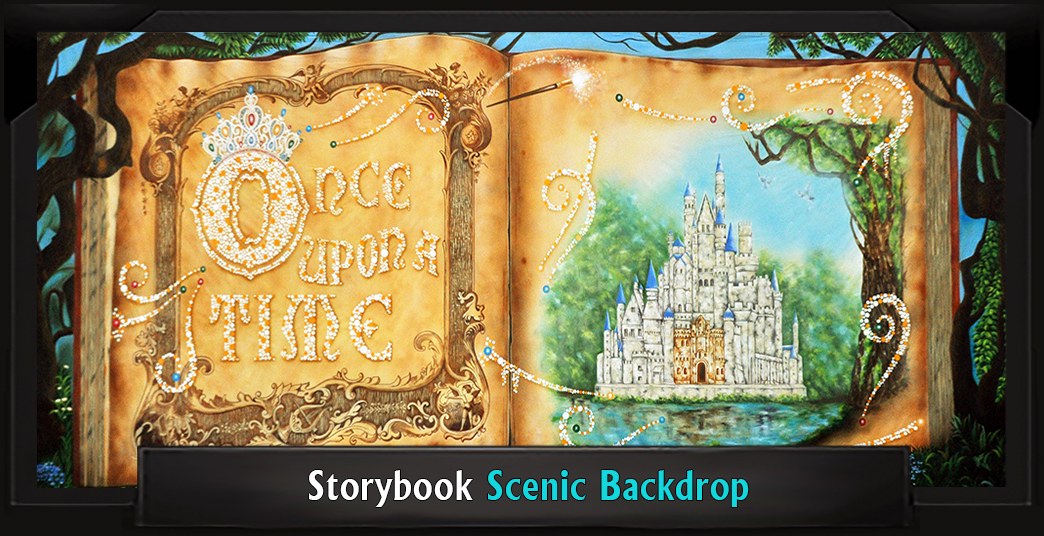 The show opens with an Historian narrating a brief history of medieval England, where the play is set. Hilarity happens right off the bat, as the actors misunderstand and sing about Finland (Fisch Schlapping Song). From there, the play follows the Monty Python movie's plot line through a dreary village. (Complete with Latin-chanting monks and coconut-shell horses, of course!)
This Storybook backdrop would be a fun way to open the show! Monty Python specializes in bringing out the absurdity from the typical, so setting up the show with a fairy-tale feel would be one way to lull your audiences into complacency right before hitting them with all the fun twists this show takes! The Finland song would play hilariously against this drop, with its romantic castle, glittery lettering and storybook details.
For the sudden shift to dreary, rural England, try this Blue Ridge Mountain backdrop. Indigo-hued mountains fade into soft purples, as washed-out greens and grays in the foreground contrast delightfully with the extravagant details of the previous drop. Some cottage set pieces would instantly transform your stage into a tired, run-down British village wholly unprepared for their King Arthur to visit.
Introducing the Lady of the Lake!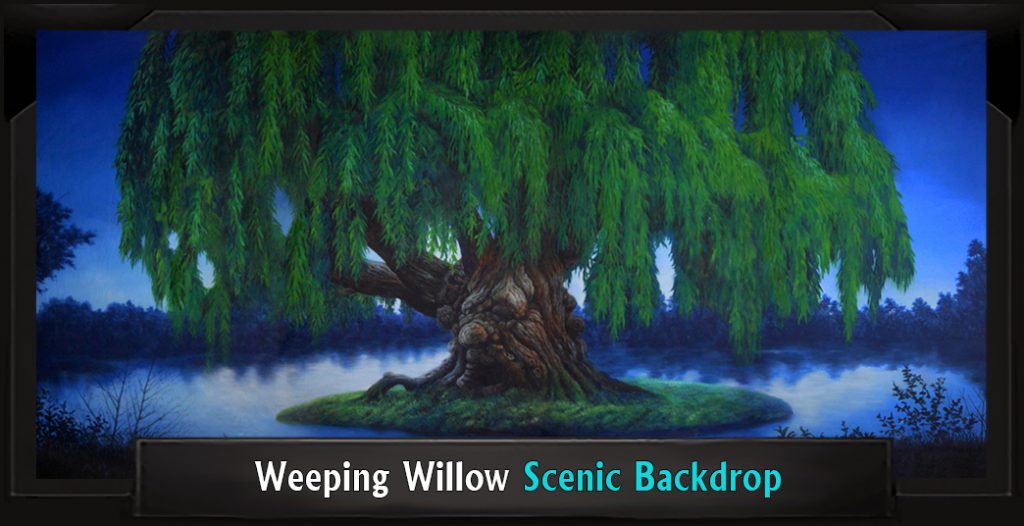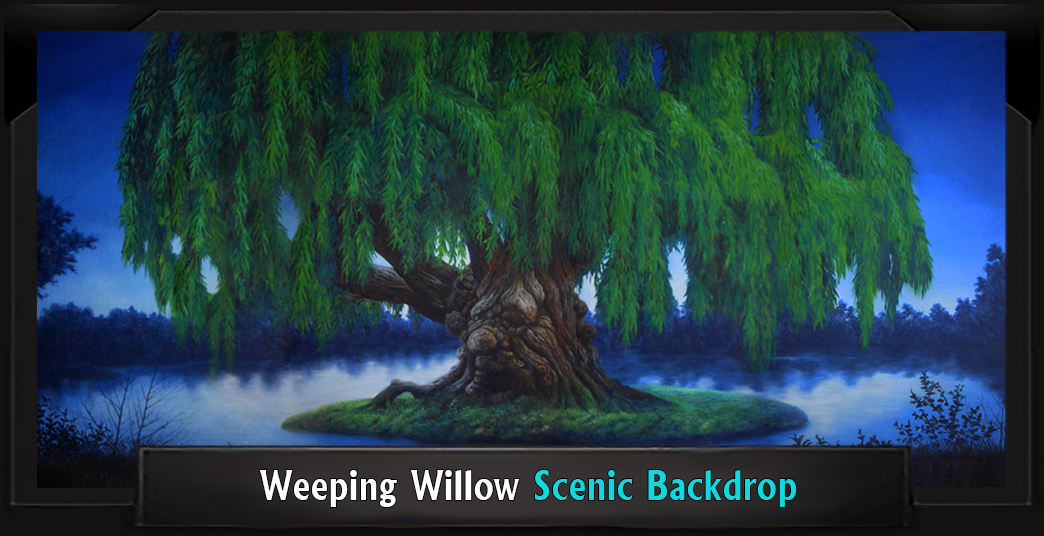 King Arthur is travelling the land trying to recruit Knights for his round table in Camelot. He comes across Sir Robin and Lancelot. They argue over whether or not a sickly villager is still among the living (He is Not Dead Yet). Arthur's search meets more resistance on his next encounter. Dennis Galahad and his mother are political radicals who reject Arthur's dubious source of authority. So, Arthur calls out the Lady of the Lake and her Laker girls to prove his royalty (Come with Me/Laker Girls Cheer).
This Weeping Willow backdrop would be a great choice for the Lady of the Lake scene. The ancient willow, gnarled and knotted into the suggestion of a weathered old face, offers a magical feel. It dangles its sleepy boughs over a mysterious lake, framed with deeply shadowed undergrowth. It would make an excellent setting for the Lady and her Laker Girls to appear and vouch for Arthur's ascendancy.
Camelot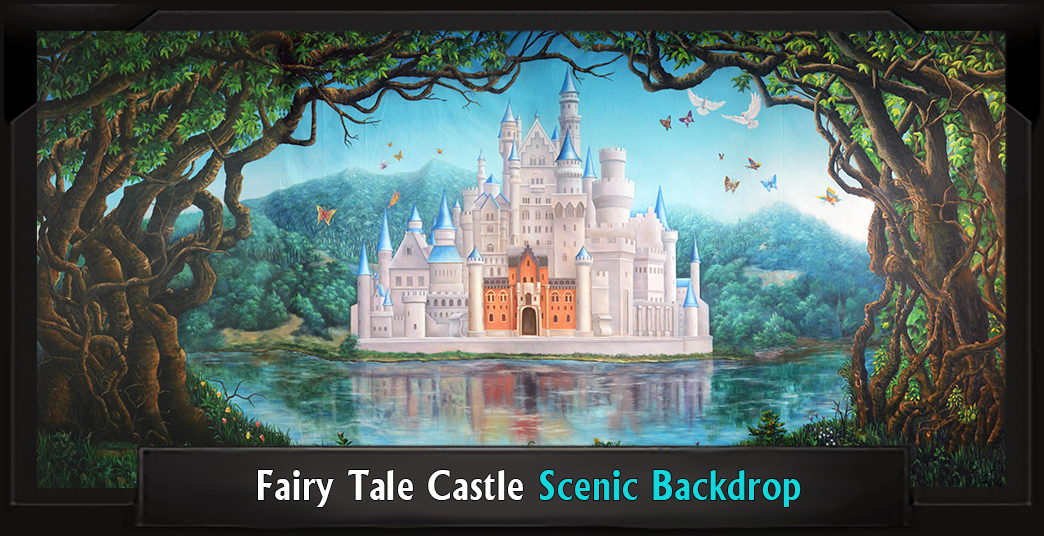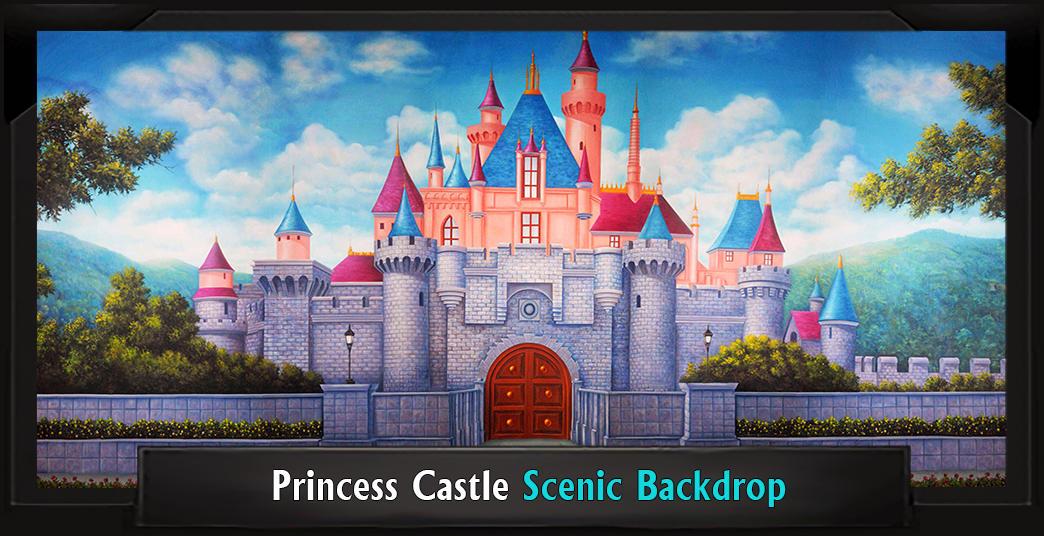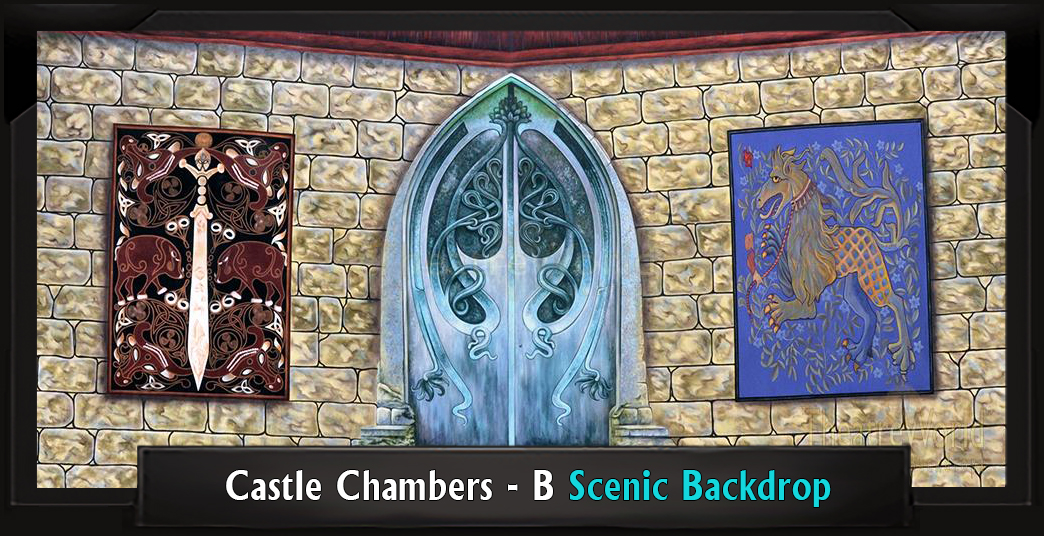 Galahad is knighted. Together with the newby Sir Belvedere and another knight who promptly leaves the show after joining up (a Quixotic Sir Not-Appearing-In-This-Show), the Knights of the Round table are assembled (All For One). They gather in Camelot (Knights of the Round Table / The Song That Goes Like This), but, before long, receive a mission from God (Find Your Grail).
Camelot has long stood as a veritable heaven-on-earth, so go big with this Fairy Tale Castle backdrop and let its intricate details do all the work for you! The shining white castle (echoing the one from the Storybook drop) sits alongside a placid lake, reminding your audience of the magical qualities of King Arthur's reign. The gauzy sky is full of fluttering birds, but a tangle of dark foliage foreshadows the harrowing adventures still to come!
Another option would be to capture the fun of Camelot with this Princess Castle backdrop. Camelot is a silly place, so picking a fanciful drop like this would play beautifully against the newly-minted Round Table Knights. Bright pinks, blues, and purples dot the soaring turrets of this pristine castle, nestled cozily against a background of placid hills. Delicate flowers dot the surrounding wall and powder-puff clouds float lazily across an azure sky.
These musical numbers are showy, with a Las Vegas flair. Try this Castle Chambers-B backdrop for an interior setting that would play beautifully against the actors. Intricately-detailed tapestries depict a stylized dragon and a mystical sword, framing a magical doorway. Imagine your lighting designer creating a dazzling display for the singers and dancers on stage, contrasting the stateliness of the drop with the flamboyant performance. (But hey, what happens in Camelot, STAYS in Camelot.)
At the Foot of the Castle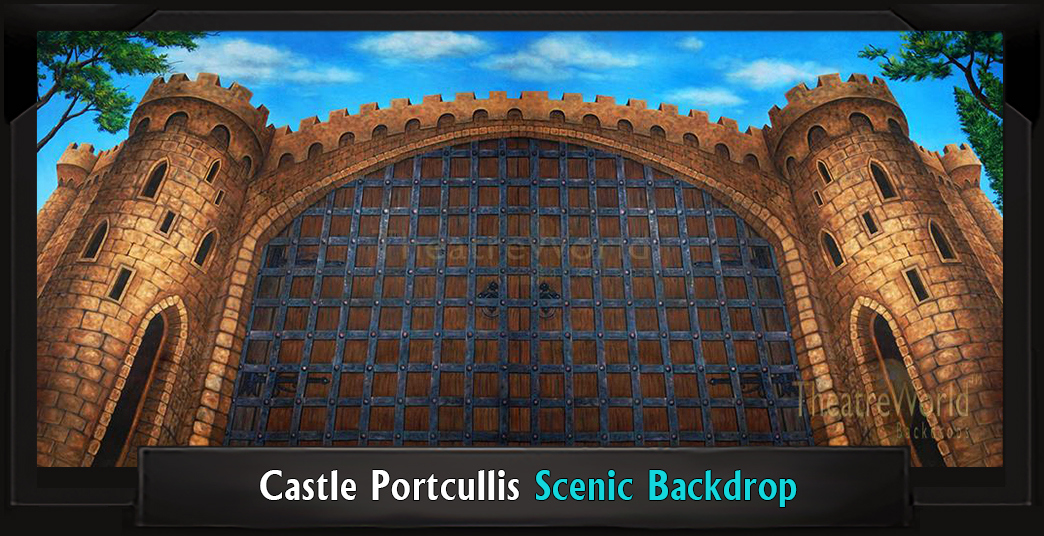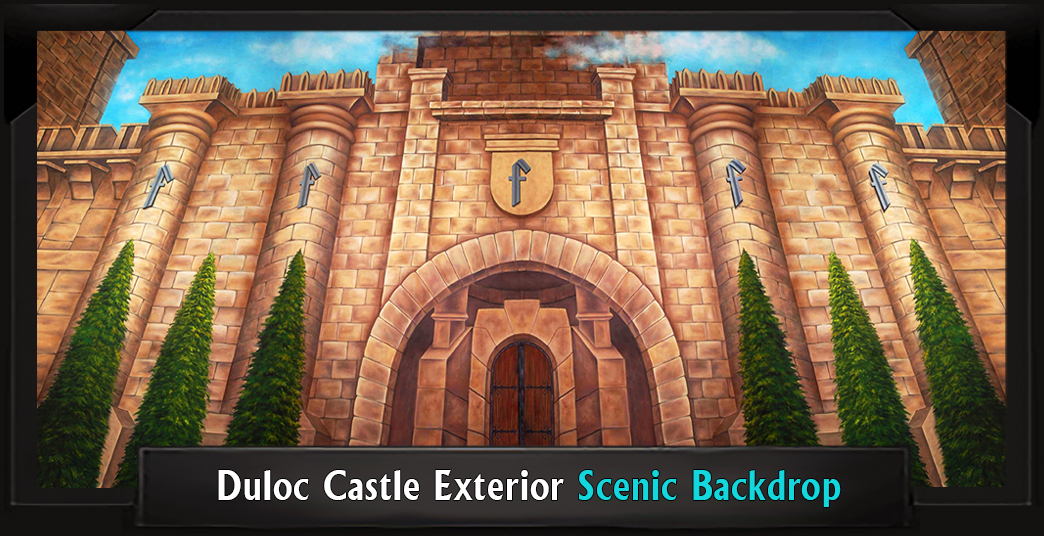 Off Arthur and the knights go on their quest! However, they soon run into some taunting Frenchmen guarding a castle (Run Away!). This scene comes straight out of the Monty Python movie, complete with childish taunts and ridiculous accents. Try this Castle Portcullis backdrop to provide the forbidding obstacle that sends Arthur and his brave (?) knights fleeing in defeat!
Another option would be this Duloc Castle Exterior backdrop. The embellished "F" details could easily stand for "French"! Soaring perspective lines make these castle walls loom over Arthur and his paltry band. The drop also provides plenty of high walkways for the baudy Frenchmen to line up along as they hurl insults.
And thus the Act ends, not with a bang, but with a hilarious wimper!
Dark and Very Expensive Forest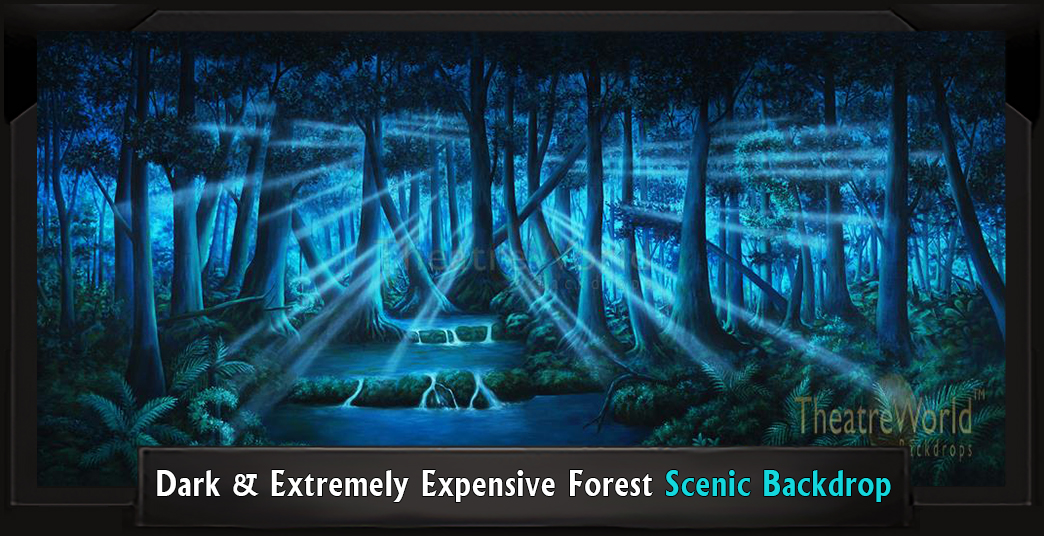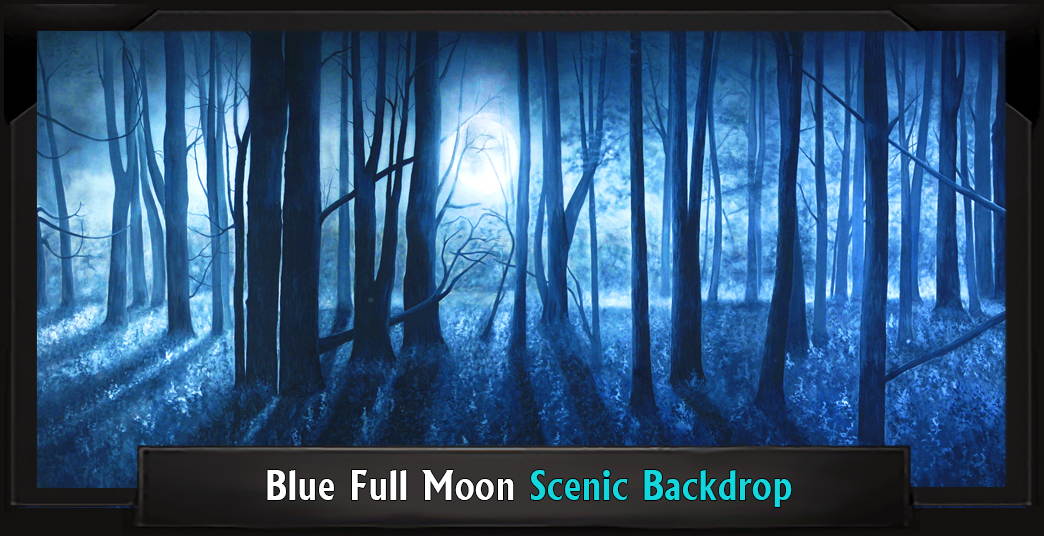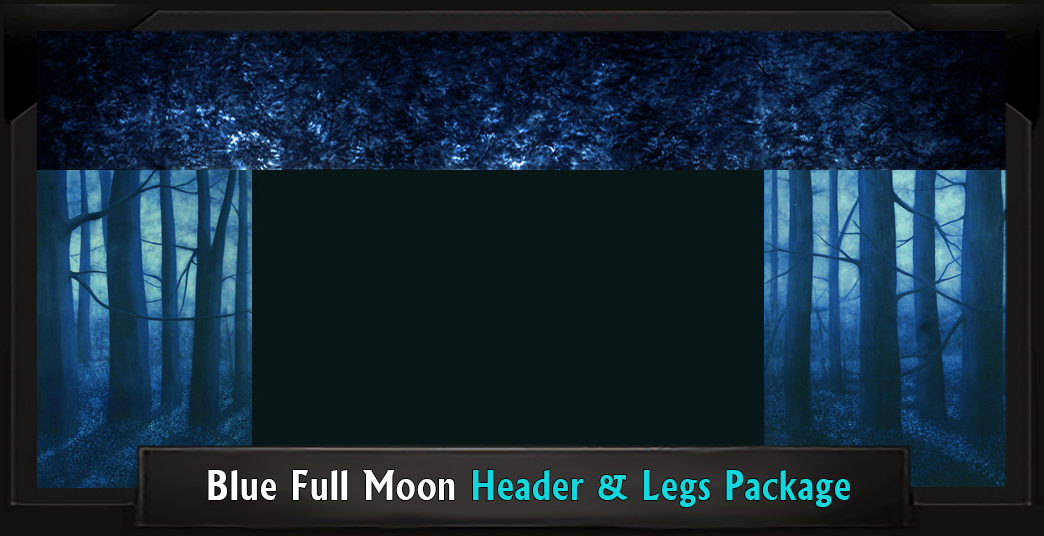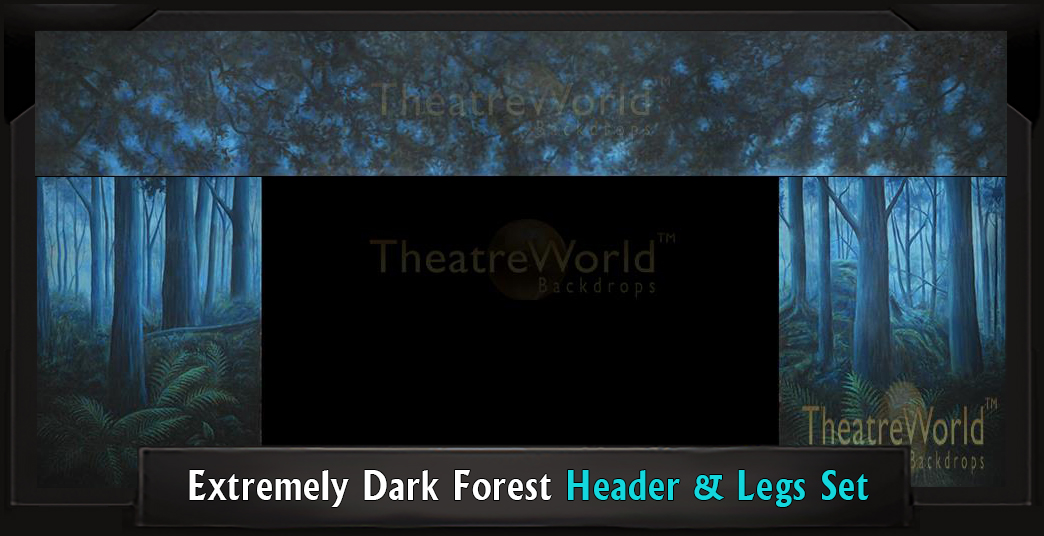 The knights scatter into a dark and "very expensive" forest, where Arthur encounters the Knights Who Say Ni. These dauntingly ridiculous characters demand a shrubbery for passage. Arthur is discouraged, since he does not have one. However, his faithful aide Patsy cheers him up (Always Look on the Bright Side of Life). Elsewhere in the forest, Sir Robin wanders around with his minstrels before coming across the Black Knight. Arthur appears and defeats the Black Knight in order to bring the Knights Who Say Ni their shrubbery.
For the purists of staging and internal referencing, this next set is a no-brainer. Taking a line right out of the show, this Dark and Extremely Expensive Forest backdrop takes the scary forest theme and adds in tons of fun details. Beams of moonlight, pools of murky water, and sparkling, magical orbs provide a dynamic ambiance for the quest for this Holy Grail. And don't miss the clever $ symbols woven into the backdrop itself, right there to not-so-subtly remind the audience of this priceless easter egg!
However, TheatreWorld has a huge range of forest drops, headers, and legs for you to pick from! The Blue Full Moon backdrop, with legs set and header to match, offers a brightly-lit nighttime forest with a full moon glowing strong. Your actors will pop against the luminous background.
Another option is The Extremely Dark Forest backdrop. Shades of navy, coal, and deep green tones provide the spooky and mysterious atmosphere appropriate for Act 2. Beams of light streaking through the underbrush provide that pop of highlight in the center, setting off your onstage action nicely. For greater depth, add the coordinating Extremely Dark Forest header and legs set.
A Quest and A Diva's Lament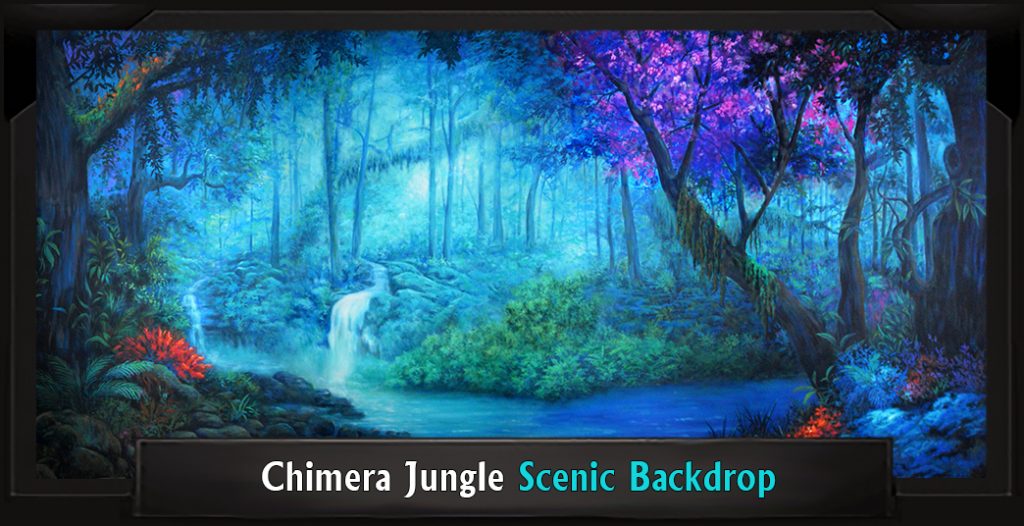 The Knights Who Say Ni are not satisfied with the shrubbery however, and insist Arthur put on a Broadway-style show. Sir Robin insists that it can't be done without Jews (You Won't Succeed on Broadway), so they set off on a new quest to find Jews. The Lady of the Lake appears briefly, to complain about her lack of stage time (Whatever Happened to My Part).
For a dynamic shift suitable for this magical character, try this Chimera Jungle backdrop. Pops of purple and red bring a feminine feel, while the water features provide just the right place from which the Lady can emerge.
His Name is Lancelot!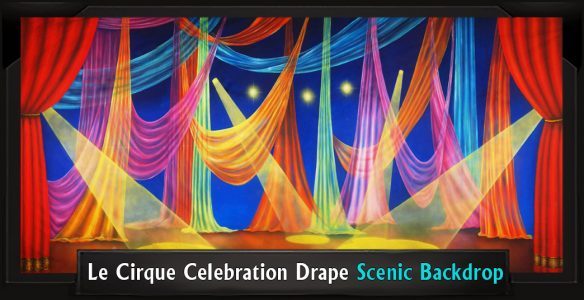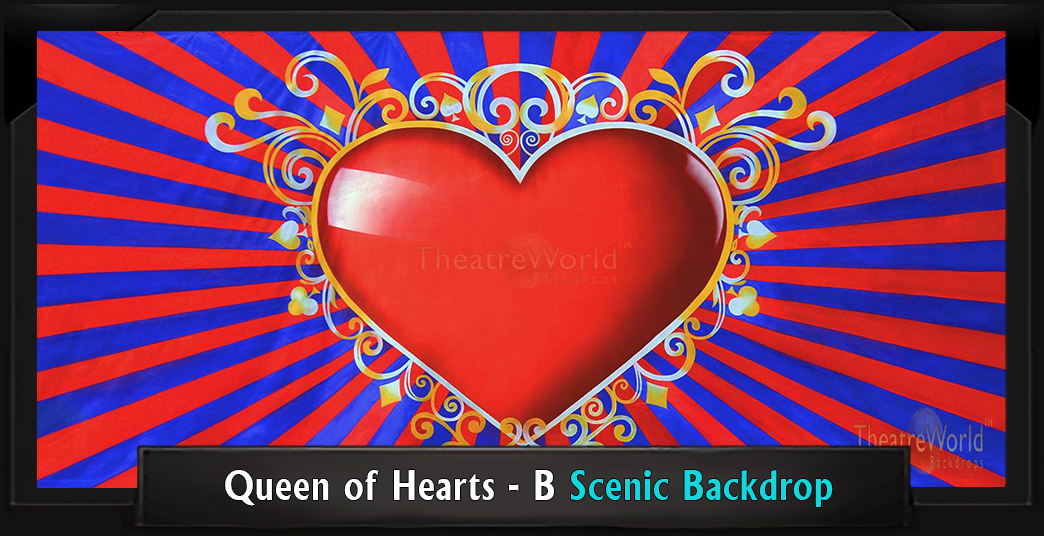 Sir Lancelot receives a missive from what he believes to be a damsel in distress and immediately sets off to rescue her. Instead, he finds an effeminate Prince Herbert (Where Are you? Here Are You) who does indeed need rescuing from an arranged marriage. In doing so, Lancelot is outed as a homosexual. He performs a dazzling disco number (His Name is Lancelot), wildly contrasting the violent machismo he has portrayed up until now.
This number is all about flamboyance, so go for some major backdrop power! This Le Cirque Celebration Drape backdrop features rainbow-colored drapery elements, complete with spotlights. Add your own lighting effects and some fabulous costuming. This number will be a highlight of the show!
For some added comedic effect, consider this Queen of Hearts – B backdrop. Sunny, streaming blue and red bands of color surround an enormous red heart. What better way to capture Lancelot's coming-out song?
Killer Rabbits!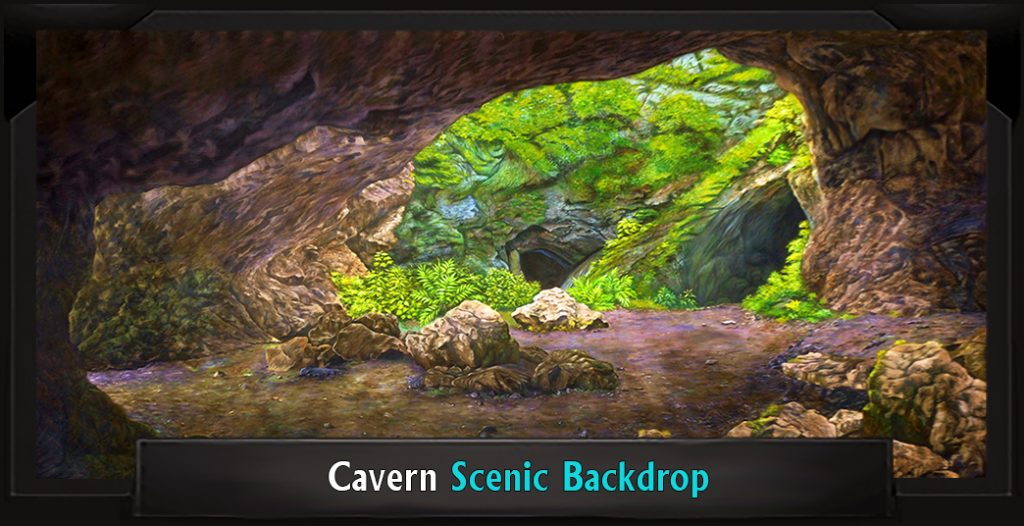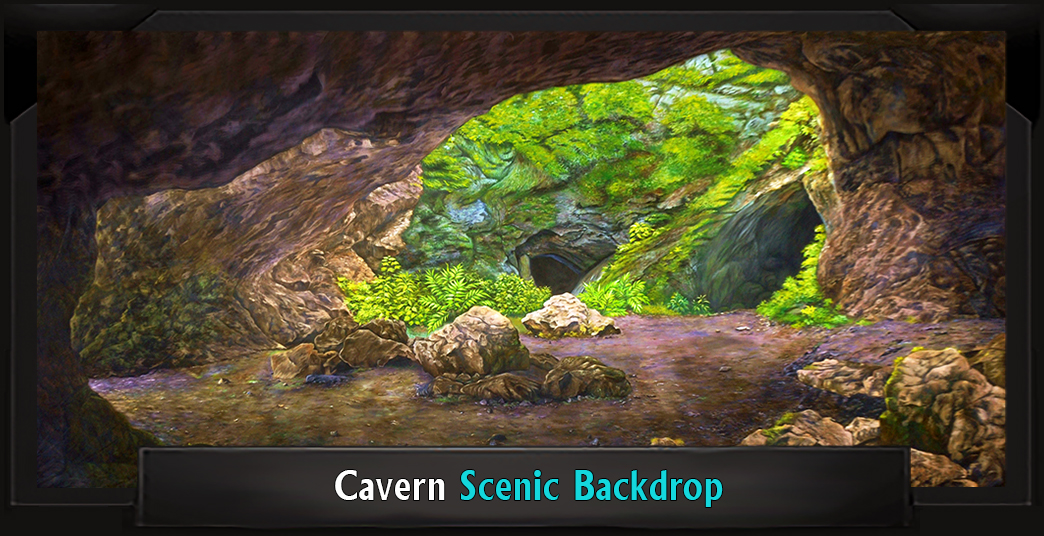 Arthur begins to despair of completing his mission to stage a musical, but the Lady of the Lake appears and assures him he's already in one. He decides to marry the Lady as soon as he finds the Grail (Twice in Every Show). Reunited at last with his Knights, Arthur meets one final obstacle: Tim the Enchanter warns them of a killer rabbit on the road ahead. Try this Cavern backdrop for the hermetic Tim's hideaway. Rocky details in a shadowy foreground are set off by brightly-lit greenery in the center. One can easily imagine the killer rabbit emerging from one of the ominous, dark clefts.
Arthur defeats the rabbit with a Holy Hand Grenade. However, he needs some help from God to solve the final problem. God points them towards the audience. Miraculously, the Grail is found under one of the seats (The Holy Grail). Arthur and the Lady – whose name turns out to be Guinevere – get married. Lancelot marries Herbert. Sir Robin decides to pursue an acting career, and everything ends up in a mashup of chaotic good, in true Monty Python. (Act 2 Finale/Always Look on the Bright Side of Life – Company Bow).
Monty Python's Spamalot's Happily Ever After Ending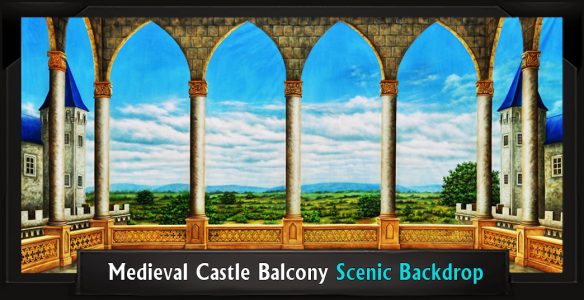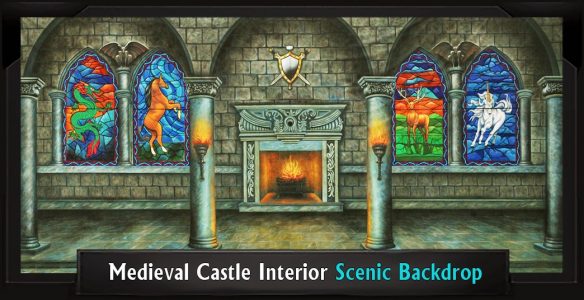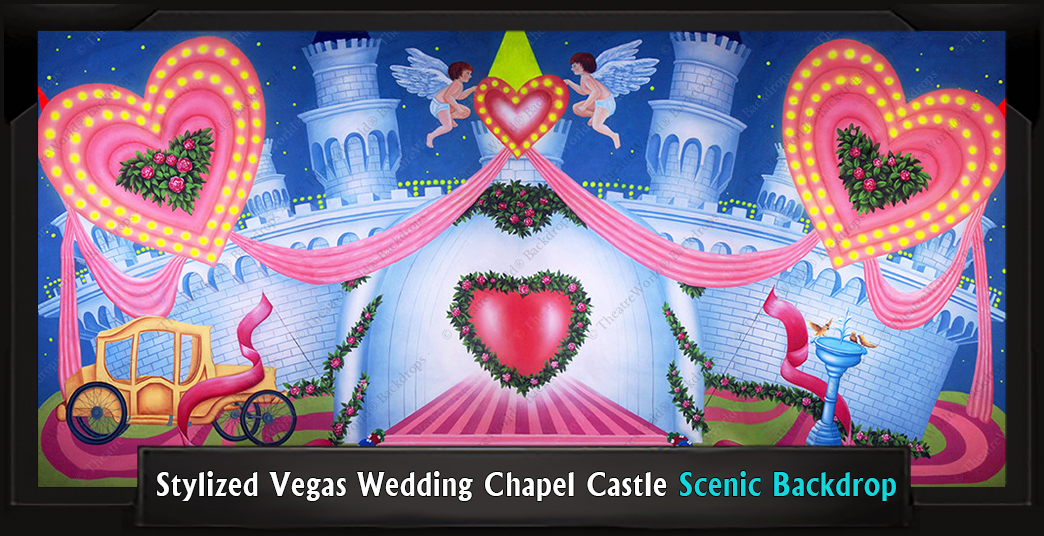 This Medieval Castle Balcony backdrop would frame this finale beautifully. The high archways look over a pastoral land and a beautiful blue sky. Hints of the castle peek into view on either side. The expansiveness of this drop would be well suited to the final bows of this large cast.
For a more intimate feel, try this Medieval Castle Interior backdrop. Strong stone walls show off a castle great room, complete with stained glass windows featuring mythical creatures. A warm fire crackles in the center. It's just right place for King Arthur to complete his convoluted journey back at Camelot with his Holy Grail.
There's no such thing as overdoing the ridiculous when it comes to Monty Python. So go WAY outside the box and consider this Stylized Vegas Wedding Chapel Castle. What better way to stage a happy ending than to ramp up the romance in true Vegas style! From the pink hearts ringed in neon lights, to the gauzy pink drapery, to the adorable floating cherubs, nothing will take your finale over the top more than this fantastical castle composite.
***
Monty Python's take on King Arthur is a decades-long cult classic. (And it only gets better with age.) This hysterical Broadway adaptation is a guaranteed to be one of the highlights of your season. It's packed to the hilt with recognizable references, inside jokes, side-splitting humor and musical revelry. You really can't go wrong with Spamalot!
Call TheatreWorld to put together your legendary drop package today!