New Dance and Event Backdrops Bring More Versatility to TheatreWorld
Through the first three years of our journey in the backdrop industry, TheatreWorld has sought to provide the highest caliber of scenic backdrops for theatrical productions and stage shows. Our devotion to highly detailed scenery has led toa host of friends in the theatre community. However, it has also introduced us to a variety of talented Designers and Planners from the Dance, Event and Party Planning industries.
We are pleased to announce that TheatreWorld will be adding to our production capacity during 2015 and beyond. This will ensure that everyone has access to the imagery they seek. In addition to releasing theatre backdrops, our Creative Teams will also embark on a mission to develop innovative new dance and event backdrops this year. This move will not take away from our plans for theatrical designs. Rather, it will work to increase the number of drops that we will have in our rental inventory over the foreseeable future.
New Dance and Event Backdrops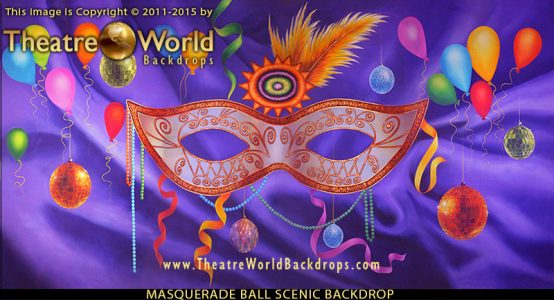 We recently released several new event backdrops for Mardi Gras and Carnivale themes. Event Planners have expressed interest in this theme. Additonally, Dance Instructors looking for new recital ideas have shown interest in these vibrant drops.
We developed our recently released Music Alley backdrop according to a similar thought process. Many dance recitals pay tribute to a variety of musical and dance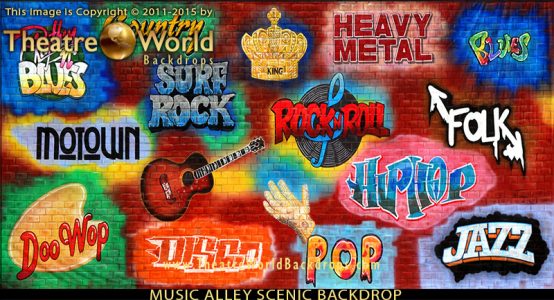 styles. Why not deploy a backdrop that does the same?
Our recently released Haunted Mansion Foyer and Haunted Mansion Foyer B backdrops take this a step further. Both feature an immaculately detailed mansion foyer with differing levels of spookiness. We will be releasing another variation of this same drop in coming days. The newest design will focus on elegance, as opposed to a macabre feel. This approach affords you a highly detailed and realistic backdrop design that can set a variety of scenes and themes.
Our teams are currently in the process of developing even more scenic options that speak to the dance and event communities. Keep in touch with our Latest Backdrops page so that you can be the first to see all of the new imagery as it rolls out.
TheatreWorld Backdrops Welcomes New Cabaret Series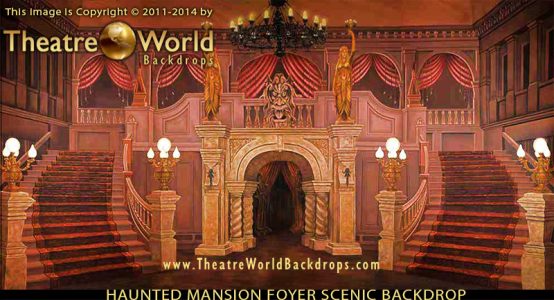 One of the first ways we can increase our backdrop offerings is size. We have always developed new drops that measure 40' x 18', best suited for Traditional Stages. We then began introducing 48' x 20' drops for Large Stages. These also work very well in larger event venues. To make sure that no staging area or venue goes without, we have recently introduced our Cabaret  and Black Box Series. Cabaret drops measure in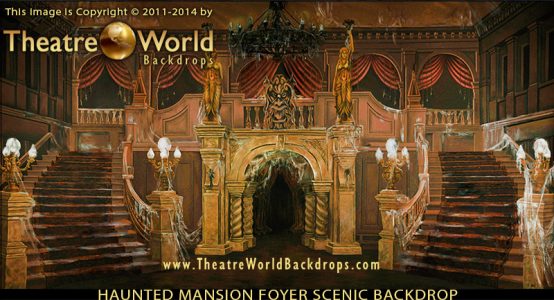 at 20' x 10' and our Black Box drops are 25' x 15'.
We are happy to be able to provide our highly detailed imagery to theatrical troupes, dance organizations, professionals and venues of all sizes. Many Planners have opted to use multiple Black Box-sized drops at a single event. This allows them to establish their theme throughout the entire venue. Choreographers planning recitals in their private studios have also taken advantage of our Cabaret series. This allows them to stretch their budgets while making sure that their dancers have background imagery that matches their talent.
Get in Touch!
We are beyond excited to share these new additions to our rental inventory with you. The creativity that exists in the Dance and Event industries has provided us with so much inspiration. We would love to hear what you have planned for your upcoming productions and  events. As we release new drops every week, we recommend call us if you don't see exactly what you're looking for. We might just have the exact imagery that you have in mind on the drawing board!