Nutcracker Backdrops – 2022 Season Update
There are few holiday traditions as beloved as The Nutcracker ballet. Each December, dozens of our dance customers present this classic tale of Clara, a young girl who receives the gift of a wooden nutcracker one Christmas Eve and is transported to a magical land of sweets, princes, and fairies. Whether you favor an elegant presentation or a more colorful, childlike one, TheatreWorld has all the backdrops you need for a memorable production!
What's New in Nutcracker Backdrops This Year?
Brand New Land of Sweets Design!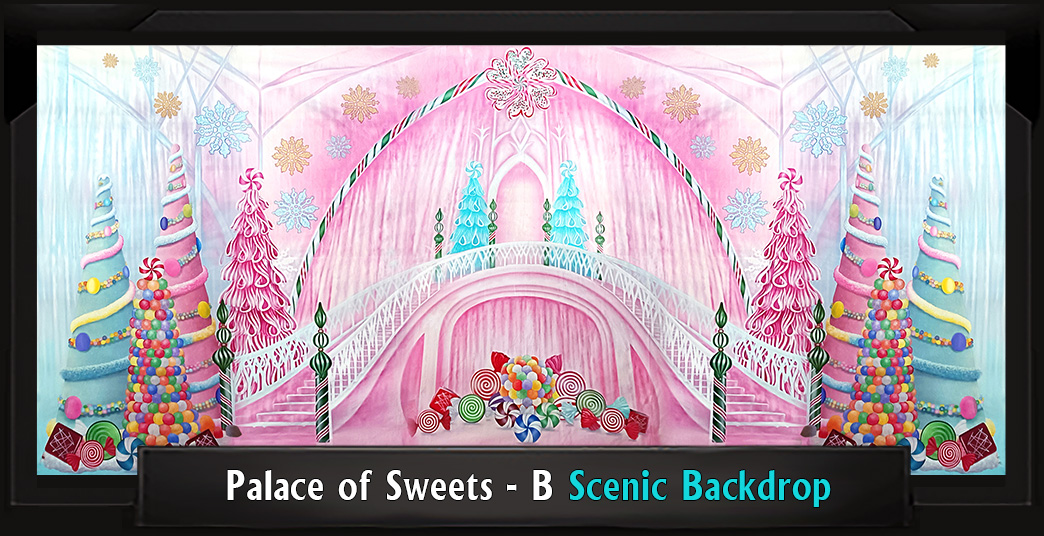 Even if you rent Nutcracker backdrops from TheatreWorld every year, there's always something new to discover! The most exciting update to our Nutcracker collection is the addition of a BRAND NEW Palace of Sweets design, Palace of Sweets – B.
Palace of Sweets – B features a delectable throne room made of pink and blue sugar. This design is perfect for those seeking a feminine, yet playful candy palace that walks the line between sophistication and whimsy. Wander through the forest of candy trees, made of gumdrops, ribbon candy, and frosting. Try and catch delicate sugar snowflakes as you slide down the elegant banister. We hope you love this brand new backdrop as much as we do!
Old Favorites in New Sizes
Additionally, in response to customer feedback, we've added a few new copies of Nutcracker favorites in brand new sizes. Our main goal was to add copies of some Holiday favorites in our black box and cabaret sizes for the first time. We have also added more copies of existing sizes across multiple holiday designs. While this limited seasonal inventory is in extremely high demand, we are hopeful this will help us serve an even greater number of customers this holiday season.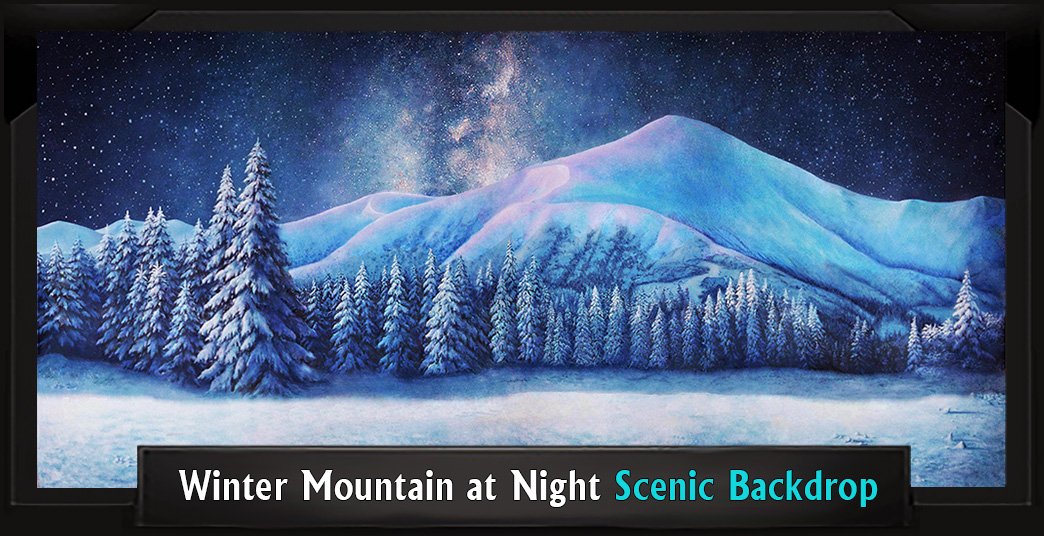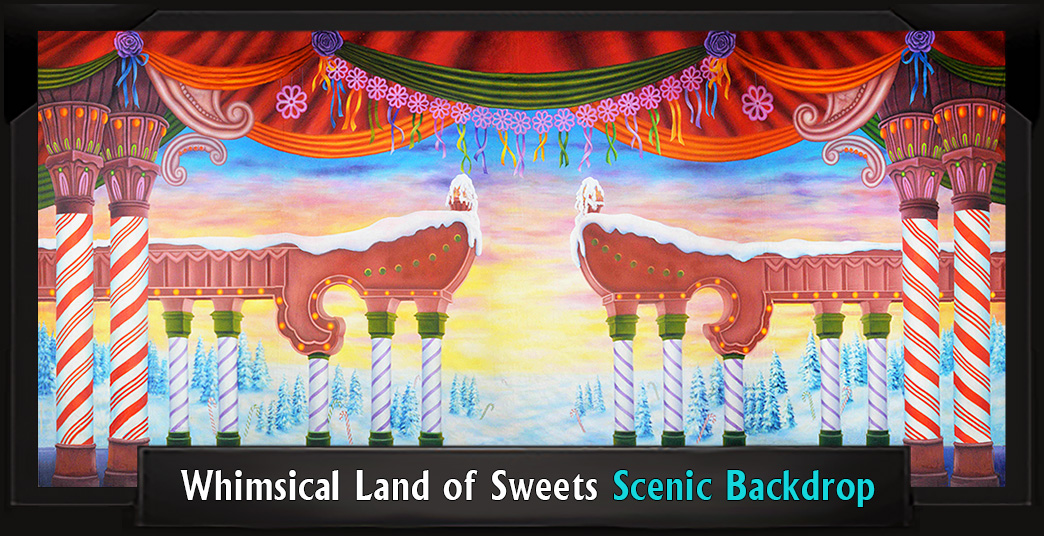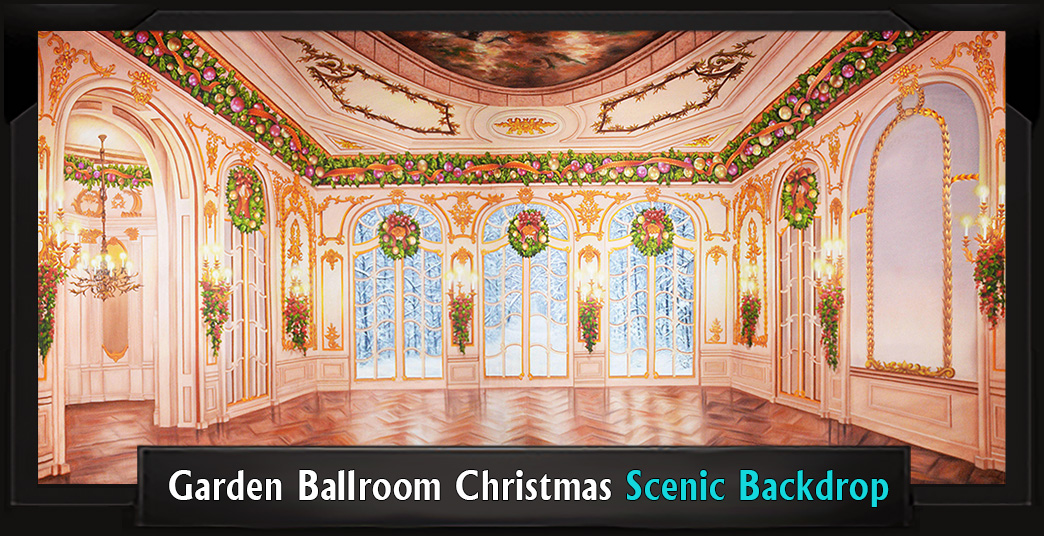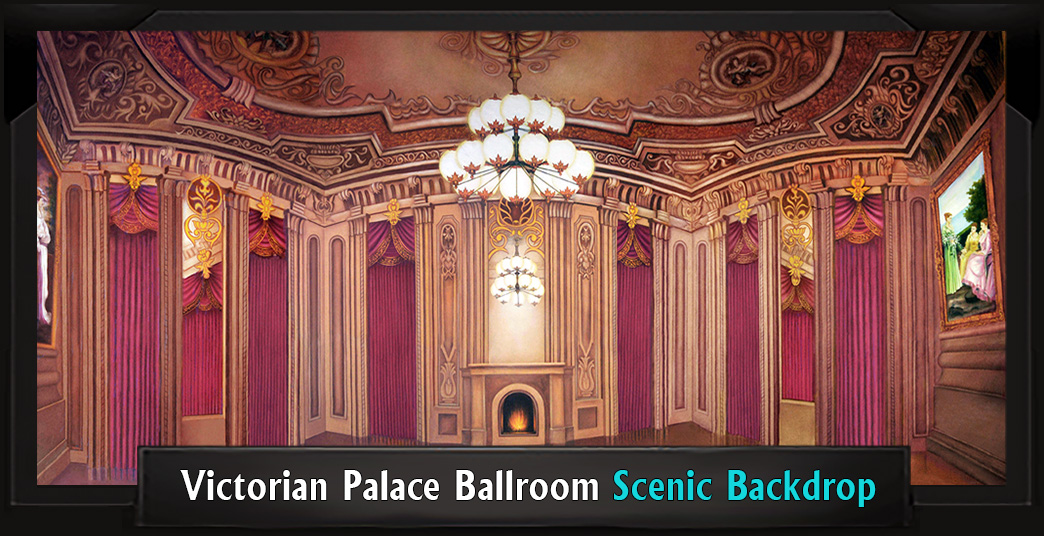 Winter Mountain at Night – this serene nighttime snowscape is now available in our large stage size.
Whimsical Land of Sweets – now available in our cabaret size, perfect for special events and the smallest stages.
Garden Ballroom Christmas – an in-demand backdrop featuring an elegant ballroom that looks out upon a snow-covered garden, now available in our black box size.
Victorian Palace Ballroom – this perennial favorite is now available in our black box size, to serve mid-size stages.
Frequently Asked Nutcracker Backdrop Rental Questions
When Should I Order My Nutcracker Backdrops?
Seasonal inventory is limited, so we recommend ordering ASAP for the best chance at your first choices. While we still have many, many Nutcracker backdrops available at this point in late summer, some of our more popular designs are already fully committed for this coming holiday season already, especially in our large stage size.
Generally speaking, if you place your order over the summer, there's a strong chance that your top choices will be available. Once school is back in session, which can be as early as the first week or two of August in parts of the country, we tend to start booking up quickly. By late October, we generally will still have backdrops available, but there's a good chance you'll be down to at least your third or fourth choice and our largest and smallest sizes are likely to be fully booked. After that, while we'll be more than happy to help you brainstorm some ideas, you're likely going to need to be open to less conventional designs.
Can I Order My Nutcracker Backdrops for Next Year Now?
Yes, absolutely! It's never too early to think about next year! Per our policy, any backdrop can be reserved well in advance of your event. If you're ordering over six months out, you are welcome to put down a $100 per backdrop deposit to secure the rental. If your event is fewer than six months away, payment is due in full within three days of placing the order.
Do You Offer Nutcracker Backdrop Packages?
TheatreWorld does not have a set "package" for The Nutcracker. However, we do allow you to create your own customized backdrop package, in a sense. We offer discounts to any customers that rent more than one backdrop at a time. Our discounts start at 10% off of two items and increase as you add more items to your rental. We also offer discounts to customers who rent backdrops for two or more consecutive weeks.
Can You Create Custom Nutcracker Backdrop for Me?
We would love to create a custom Nutcracker backdrop for you! We can create nearly any backdrop for you for custom purchase, from your own design to a duplicate of one of our designs and everything in between. Unfortunately, it's too late to create one for this season, but it's not too early to start talking about next year! Insider tip: the earlier you order, the better price, generally, we can offer you. To learn more about purchasing a custom backdrop, go here.
Do You Rent or Sell Growing Christmas Trees?
No, unfortunately, we do not carry any growing trees, either for rent or purchase. We also cannot create a custom growing tree for purchase.
What Happens if My Production is Cancelled or Postponed?
TheatreWorld understands that sometimes plans may change and we want to be as flexible as possible. You may cancel your reservation up to two days prior to the scheduled shipment date. Cancelled orders forfeit the $100.00 per backdrop non-refundable deposit. For any order that is cancelled two or fewer business days before your scheduled ship date, the full rental amount will be forfeited.
If your event is postponed and needs to be rescheduled, we can absolutely help. Do note that rescheduling is subject to availability, however, and that the closer we get to your event, the less likely that we'll have Nutcracker backdrops available. Also note that if your drops have already shipped, we may not be able to adjust your rental period. The bottom line? Let us know as soon as you can if you think your plans may need to change. The earlier we hear from you, the more likely we can help.
If I Change My Mind, Can I Switch My Drops?
Yes, absolutely! However, do note that this is dependent upon availability. The closer we get to your event, the less likely it is that we'll have Nutcracker backdrops available. We are, of course, always happy to check and see what we can do for you.
How Does Holiday Shipping Work?
In order to accommodate as many customers as possible, during the holiday season, all Nutcracker backdrops ship via the most cost-effective three day shipping method. Our TheatreWorld team will figure out which day to ship your order so that it arrives on the first day of your rental period. Weather and UPS delays, of course, are out of our control, though we do our best to anticipate them.
Why is My Nutcracker Backdrop Rental More Expensive This Year?
Unfortunately, due to risings business costs, TheatreWorld has had to make the tough choice to raise rental prices for the first time in several years. Our new pricing has been in effect since July, which is why you may notice different pricing on some of the same items you rented previously. Additionally, UPS has raised shipping prices fairly dramatically over the past year, which is why your "Shipping and Insurance" line item may look higher this year. We thank you for your understanding.
Where Can I View TheatreWorld's Nutcracker Backdrops?
View our entire collection of Nutcracker backdrops here!
We look forward to supporting you and your production!