Going Beyond the Script
Written by: Melanie Simmons
While early holiday decorations displayed in retail stores may feel like a crime, in theatre, prep time is everything. It's never too early to start thinking about putting on a classic holiday show, with warm fuzzies and nostalgia for everyone! Nothing fits that bill quite like a double-header of White Christmas and Holiday Inn. Based on the Paramount pictures of the same respective titles, these two shows are short enough to stage together on one night, separated by an intermission. Each show packs in plenty of song, dance, and holiday spirit! The main benefit of staging a combined production is that the similarities between the stories lend to backdrops that can be used for both productions.
Let's take a quick look at each show, and which drops TheatreWorld offers to help bring the yuletide charm to your stage!
White Christmas
Bob Wallace and Phil Davis, recently released from the Army, have a successful song-and-dance act. But life is lonely for two bachelors on the road ("Love and Weather"). When they come across dazzling duo, Betty and Judy Haynes ("Sisters"), Bob and Phil are smitten with their talent and beauty. Bob and Phil follow the girls to the Columbia Inn, a quaint Vermont lodge that has seen better days. Galvanized by the plea of an old Army buddy ("What Can You Do with a General?") and hoping to win over the sisters' hearts, Bob and Phil agree to join the girls to put on a spectacular Christmas show at the lodge. In the end, the characters save the inn, find love, and all share the Christmas spirit ("White Christmas / I've Got My Love to Keep Me Warm").
Holiday Inn
Jim Harvey, Ted Hanover, and Lila Dixon are a successful Broadway trio "(Steppin' Out with My Baby"). Jim, looking to retire and live the quiet life away from the lights ("The Little Things in Life"), proposes to Lila and buys a farm in Connecticut. But the limelight still calls to Ted and Lila, who embark on a 6 week tour, leaving Jim to settle down on his own.
Jim is depressed that his derelict farm and missing fiance are hardly the cozy dream he'd hoped for, until he meets Linda, a talented schoolteacher ("Marching Along with Time"). Linda and Jim throw a Thanksgiving party, and hatch a plan to merge Broadway lights and small town charm. Jim will live the quiet life most of the year, but will throw big holiday festivities that are open to the public. This plan would generate revenue and scratch his creative itch. All seems perfect until Lila and Ted show up. Love lines get crossed, hijinks ensue, and Linda takes off for Hollywood. In the end, true lovers unite, the inn is a hit, and everyone lives happily ever after ("White Christmas").
The similarities between the shows are obvious, which makes staging the two together entirely feasible. Furthermore, the differences will help bring out each show's unique charm. Here's some ideas on how to maximize your drop choices to serve both stories!
Double Duty Drops for both Holiday Inn and White Christmas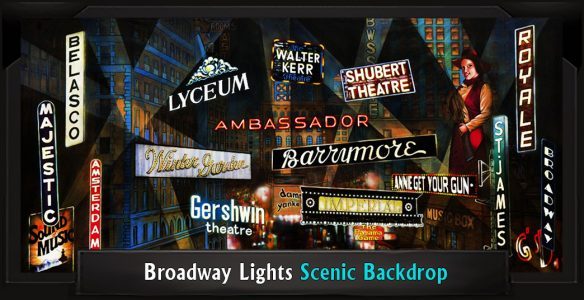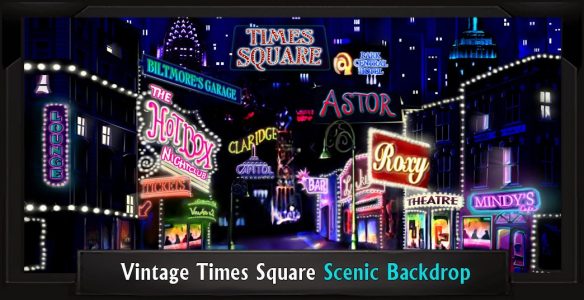 Let's start by taking a look at the drops that would work well for both shows. Each story features Broadway at some point, and TheatreWorld has some fabulous homages to the birthplace of American theatre! Our Broadway Lights backdrop is full of luminous details. It features renowned venues, such as the Royale and the Barrymore, that pop against a dark-toned background. TheatreWorld's Vintage Times Square backdrop features timeless details, like the Chrysler building peeking up in the background. Blues and pinks highlight performance venues and show titles. Either drop will fit your show aesthetic and transport your audiences instantly to Times Square!
Show Drops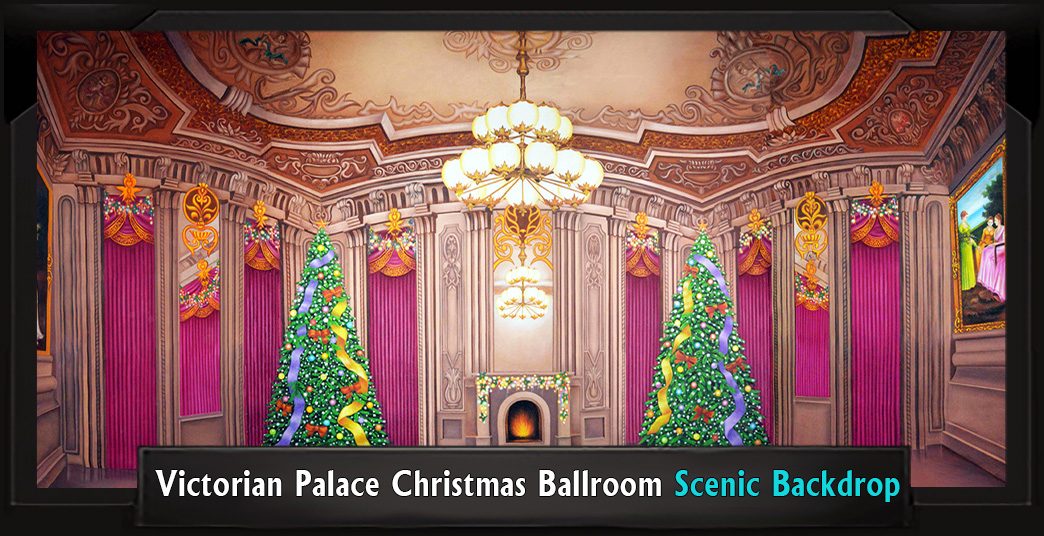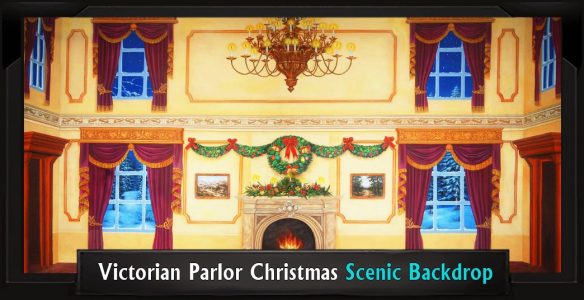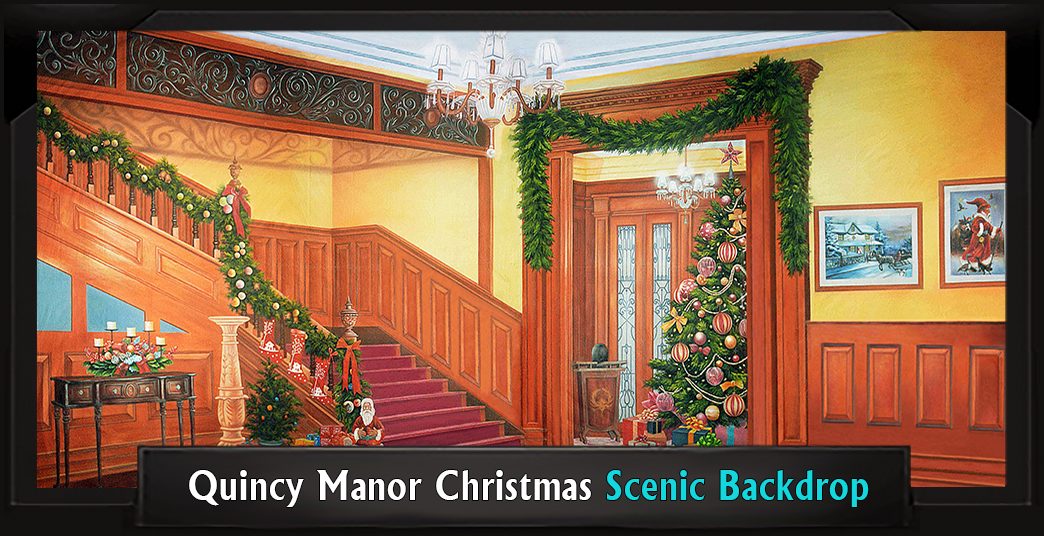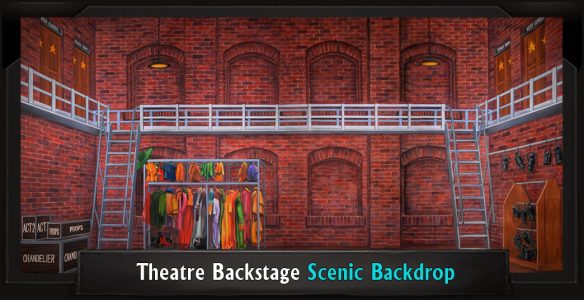 Neither show would be much without… well, a show! Each story has pivotal moments that take place on stage during a Christmas Day performance. (Not to mention countless moments behind the curtain as well.) For Christmas Day, try using this Victorian Palace Christmas Ballroom backdrop. It works equally well as a lodge or inn stage space and captures the season with decorative details, including fully-decked Christmas trees. If that's a bit too ornate for your vision, you can get the same old-fashioned feel on a more modest scale with the Victorian Parlor Christmas backdrop. Wreaths and garlands bring the holiday cheer and compliment the warm color tones and welcoming fire.
Want something even more intimate? Try TheatreWorld's Quincy Manor Christmas backdrop. A sweeping staircase can lead off to rooms in either the lodge or the country inn. The gaily-decorated tree peeking through the parlor door is inviting and seasonal.
The Theatre Backstage backdrop is an excellent go-to for off-stage settings, with costume and lighting details and dressing rooms aloft. It would work equally well as a behind-the-stage setting in either a run-down lodge or a converted farm stage space.
Peaceful Country Settings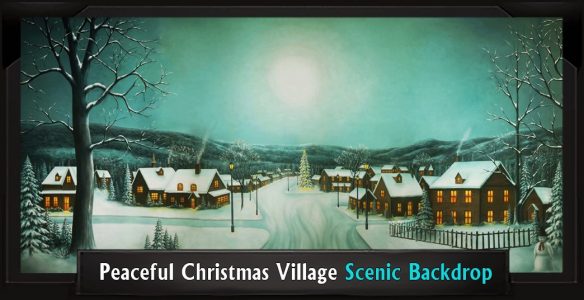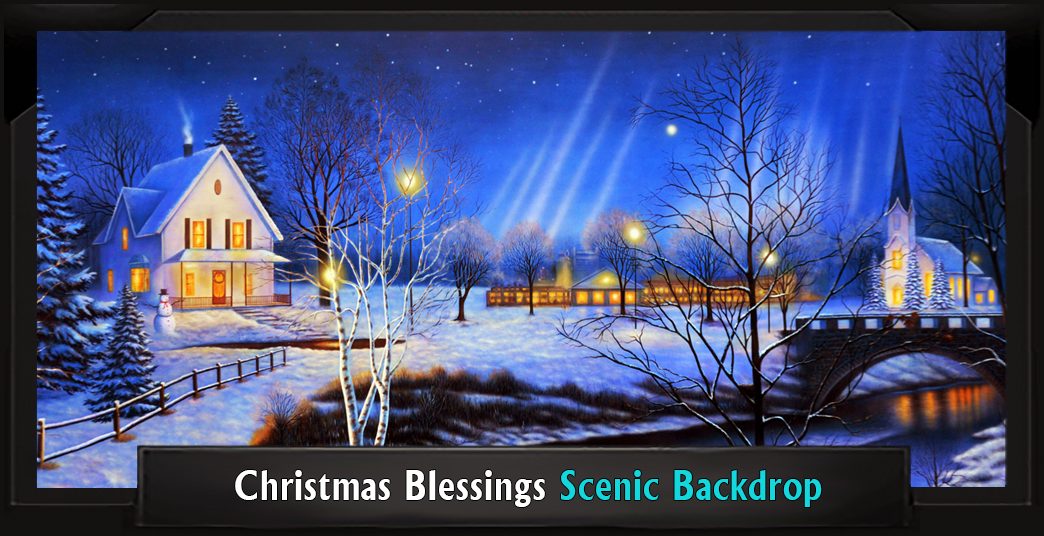 Whether it's in the hills of Vermont or a quiet corner of Connecticut, both stories spend a significant amount of time in sleepy little country towns. Take a look at these cozy winter drops. Peaceful Christmas Village – B displays a sleepy town tucked under a blanket of snow. The bright moon above shines down on the decorated Christmas tree in the center of town. Our Christmas Blessings backdrop also features small town buildings covered in snow. Instead of a moon, twinkling winter stars combine with amber street lights to light up a church decorated for the holidays. Pine tree details keep the yuletide feeling without incorporating a fully decorated Christmas tree.
Snow Drops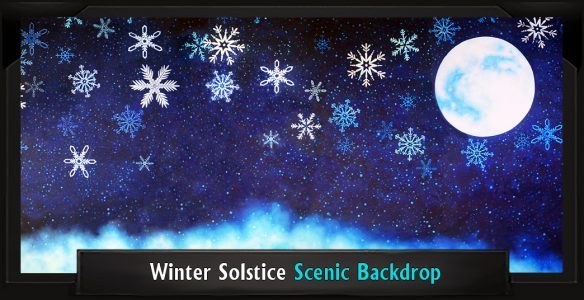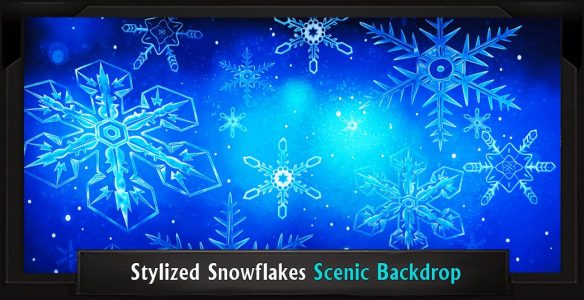 While Holiday Inn spans several holidays besides Christmas, winter is still an important season for both shows. For establishing backdrops that can be used in multiple scenes, try the Winter Solstice backdrop. It features snowflakes and a moon, with wispy details at the bottom that could either be clouds or fog, depending on your staging. It's a great option for bringing the season to your stage. If you're going for a more abstract look, Stylized Snowflakes is unmistakably wintry. Its geometric details pop against the dark blue and aquamarine background.
Specific Drops for Holiday Inn and White Christmas
Now let's walk through all the scenes that are unique to each show. While their similarities do make for a great combo, you'll want to play up those differences to keep the audience engaged and give each story its chance to shine.
White Christmas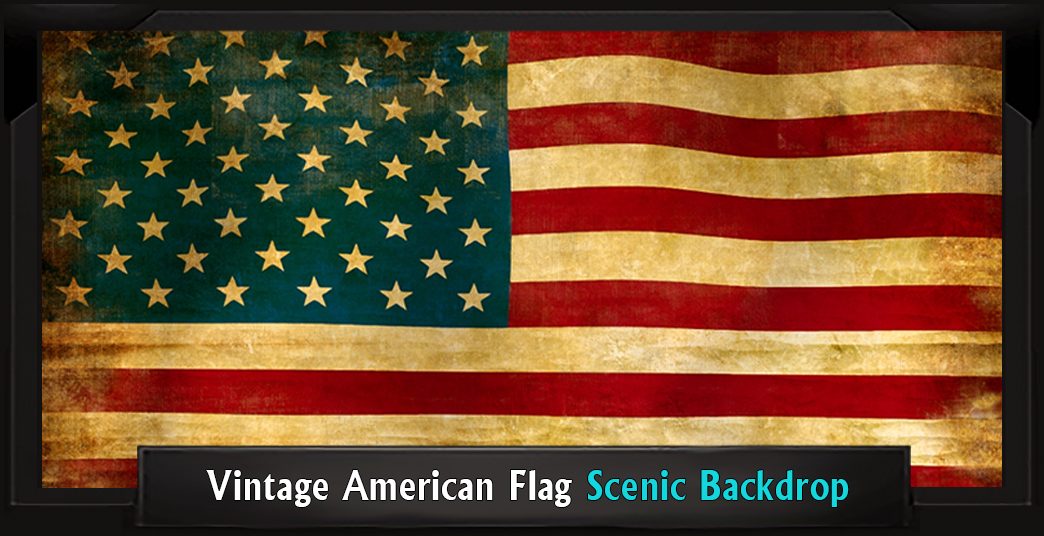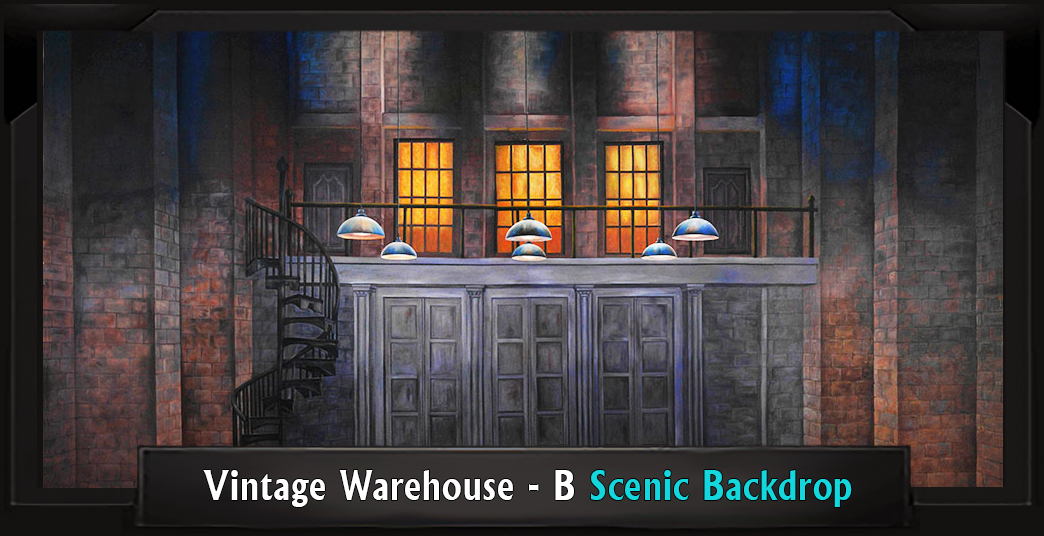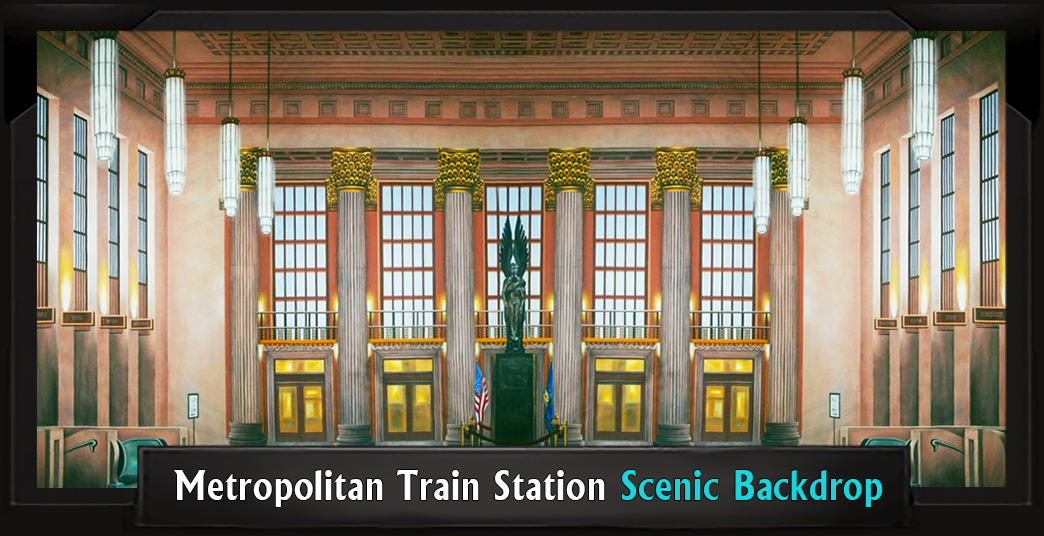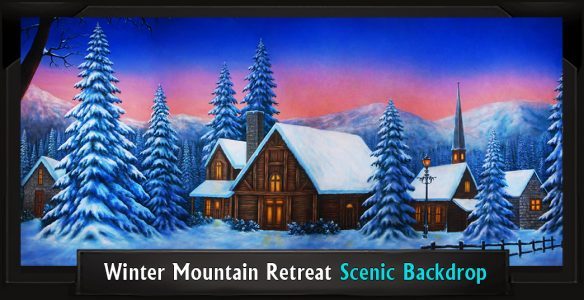 While White Christmas doesn't spend much time on the war, the story does feature the Army. (In fact, it opens the show.) The juxtaposition of the gritty war against the cozy song choices ("Happy Holidays/White Christmas") would be great against this Vintage Warehouse – B backdrop, which could be used as an Army outpost. Or go for this patriotic Vintage American Flag backdrop to embellish a tired Army corp eager for some sense of home. (This flag drop works great for the 4th of July scene in Holiday Inn, too!)
In order to continue their romantic pursuits, Bob and Phil follow Betty and Judy onto the train that takes them into Vermont. Try staging this comedic and charming scene against this Metropolitan Train Station backdrop. The lofty ceiling and bright windows suggest Grand Central Station in its heyday!
That train ride leaves our protagonists in the snow-covered mountains of Vermont (the delightfully repetitive "Snow"). Don't pass up the chance for a great establishing scene for the first time our love birds set eyes on the Columbia Inn! Try this Winter Mountain Retreat backdrop for just the right effect. The drop features gentle snow-covered pine trees and towering mountains in cool blue hues. The amber glow from the lodge itself combines with the pink horizon of a fading sunset to create a truly romantic ambiance.
Holiday Inn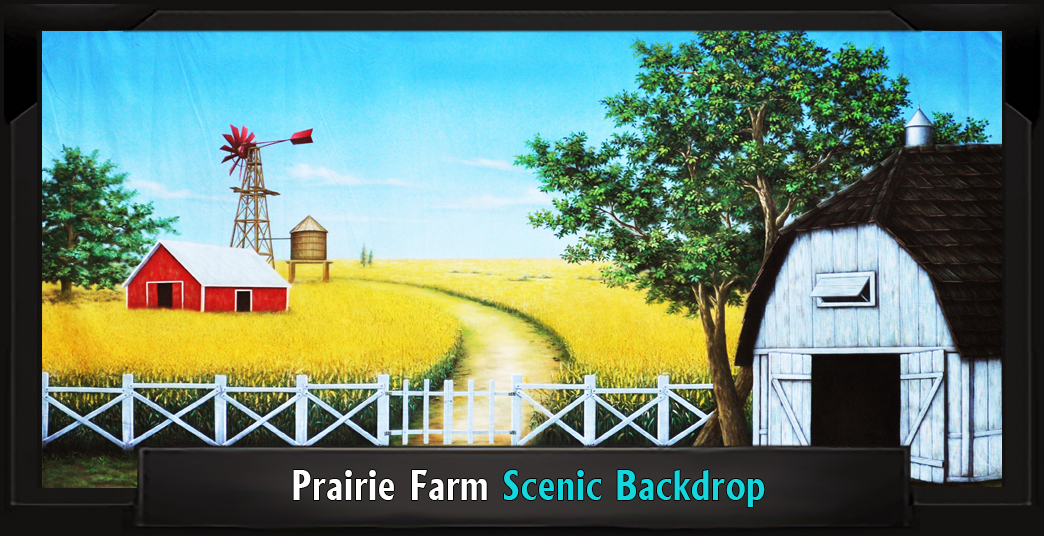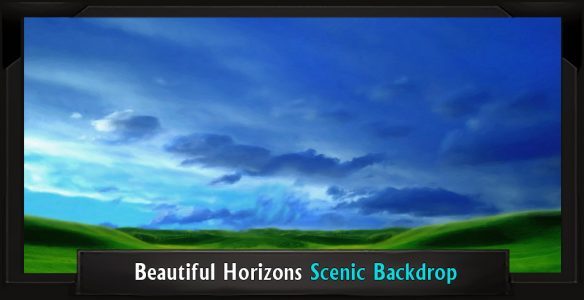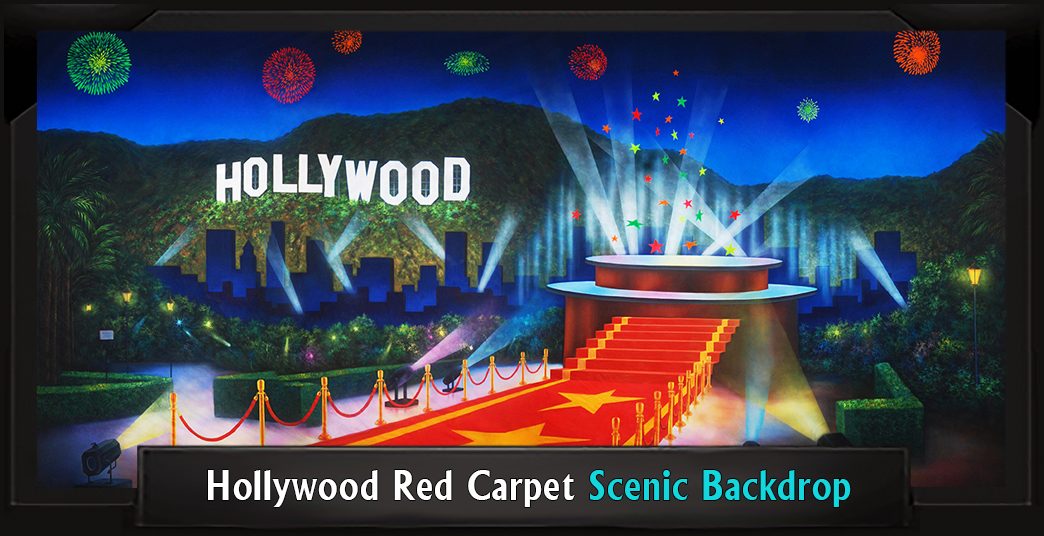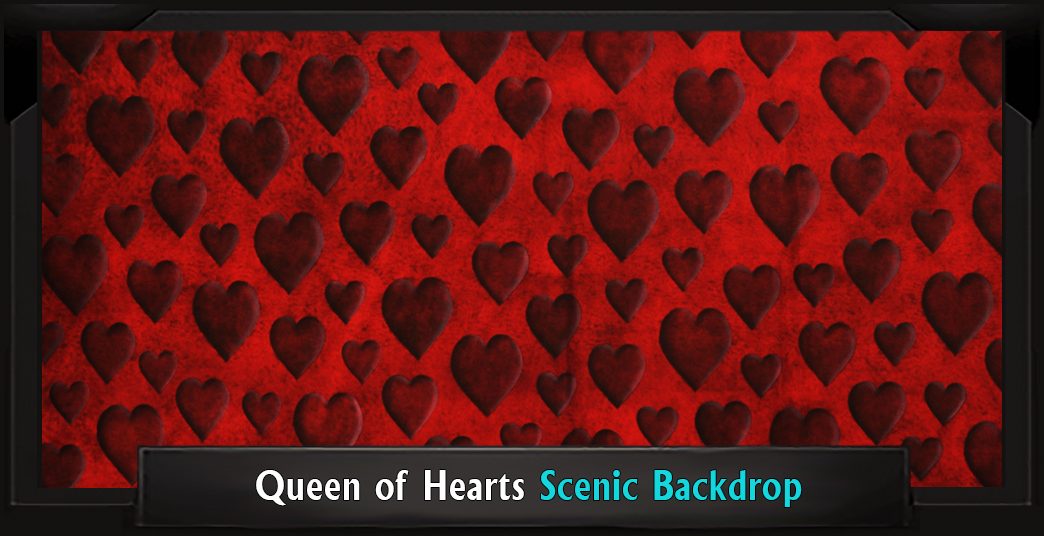 The staple setting for this show is the Connecticut farmhouse. This colorful Prairie Farm, with its rolling, golden corn and countryside, is an excellent change from the busy Broadway drops. Vintage details like the windmill and the red country farmhouse in the background add charm. It also features a bold whitewashed barn in the foreground. It would easily make a great exterior for the Holiday Inn setting! For a more set-heavy production, this Beautiful Horizons backdrop provides sweeping blue skies and rolling green hills. Let the drop bring the open, homey country feel, while your set pieces do the rest to bring the Connecticut farmhouse alive.
Holiday Inn features many holiday parties, which can all be done with ease when you have the right backdrop! For example, this Queen of Hearts backdrop would be an excellent choice for Valentine's Day. It's during this scene that Jim realizes he loves Linda ("Be Careful, It's My Heart"). Meanwhile, Ted realizes he must have Linda for himself ("Cheek to Cheek"). This drop of deep red hearts floating on a rippling background would be perfect for these love shenanigans!
Linda gets her big break in Hollywood, but a lonely Jim finds he cannot live without her. He dashes off to La La Land to win back his true love. This romantic gesture deserves an equally dramatic backdrop! Try this Hollywood Red Carpet backdrop for some pizzazz. Stars are in the air as fireworks go off in the darkening sky above Tinseltown and its iconic sign.
A Warm and Nostalgic Holiday Tradition
The winter holidays are all about family, love, and tradition. What better way to bring families together than by sharing these two timeless tales with a new generation? Along with the Christmas spirit, White Christmas and Holiday Inn invite nostalgia and classic Broadway charm. Light up faces as well as Christmas trees with this dynamic duo of a holiday production!
The holiday rush has already started for those of us in dance and theatre. Call TheatreWorld Backdrops today and place your order before our holiday drops are all gone for the season!