2023 New Holiday Backdrops
TheatreWorld's 2023 new holiday backdrops have arrived–and we couldn't be more excited to share them with you! In addition to adding more copies of many of the existing backdrops in our Holidays and Snows category, we welcome four BRAND NEW designs this year: Christmas Tree Path Daytime, North Pole, Nutcracker Christmas Tree Legs, and Vintage Midwest Town Christmas.
Christmas Tree Path Daytime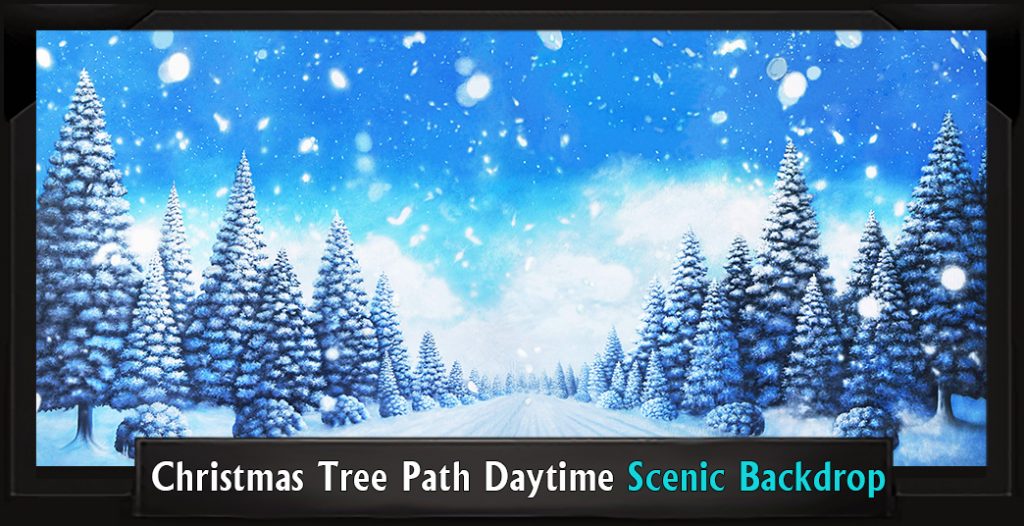 Our design team created Christmas Tree Path Daytime to provide a fresh, new take on our Christmas Tree Path and Christmas Tree Path – B backdrops. While these drops feature a golden sky, Christmas Tree Path Daytime boasts a vast blue sky with a flurry of gentle snowflakes. One look at this sprawling forest, dense with pine trees, and you'll instantly feel as though you're hiking up a mountain in search of the perfect Christmas tree. Christmas Tree Path Daytime would be a spectacular choice for holiday concerts and winter wonderland-themed events.
North Pole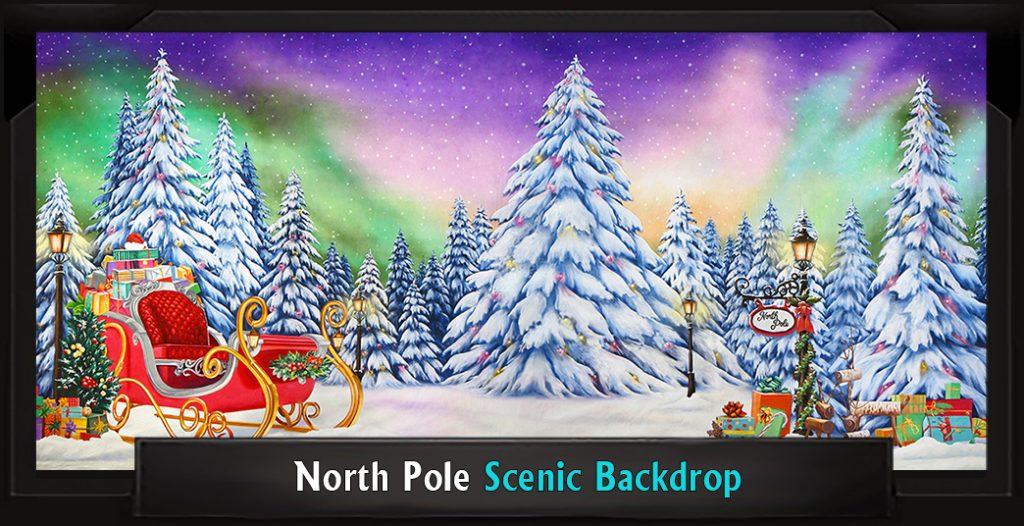 Santa Claus is coming to town! What better backdrop to use for your Santa breakfasts and photoshoots than North Pole? The foreground of this colorful backdrop is a collection of all the decorations you need to bring Santa's workshop to your venue, including a crimson sleigh, mountains of presents, and even a sign confirming we are in the North Pole. Tall snow drifts and a forest of snow-covered pine trees, decorated for the holiday with colorful lights, fill out the rest of the backdrop. A starry purple sky, tinged green, pink, and orange by the Northern Lights, is the cherry on top of this cheery, festive drop.
Nutcracker Christmas Tree Legs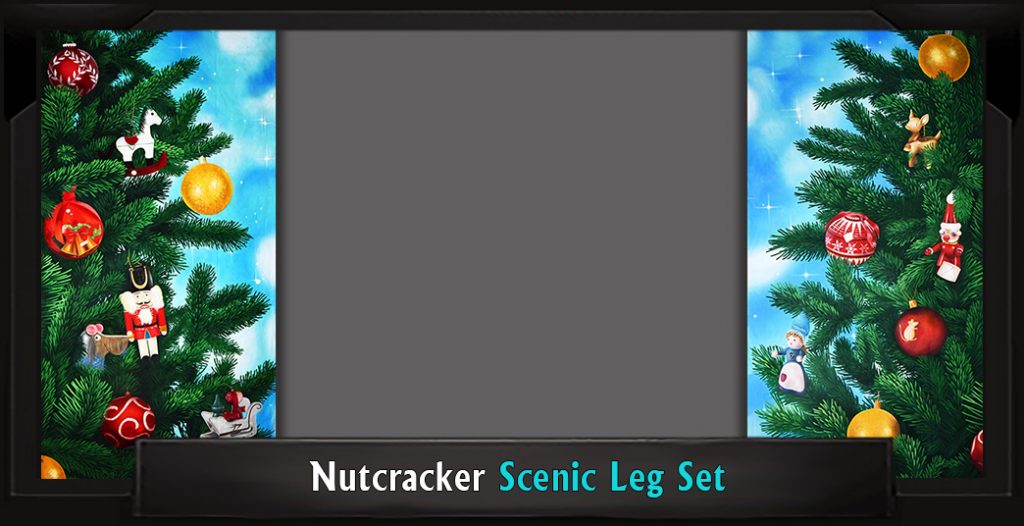 The Nutcracker is possibly the most beloved of all holiday tales — so, of course, we couldn't fail to create a new design with this perennially popular ballet in mind! Nutcracker Christmas Tree Legs depict thick pine boughs outfitted with an assortment of vintage Christmas ornaments. For the scene where the Nutcracker comes to life to battle the Mouse King and save the day, use our Nutcracker Christmas Tree Legs to create the illusion that the Christmas tree has magically grown enormous. The legs would also look fantastic framing the stage for your annual holiday choral program or holiday pops concert.
Vintage Midwest Town Christmas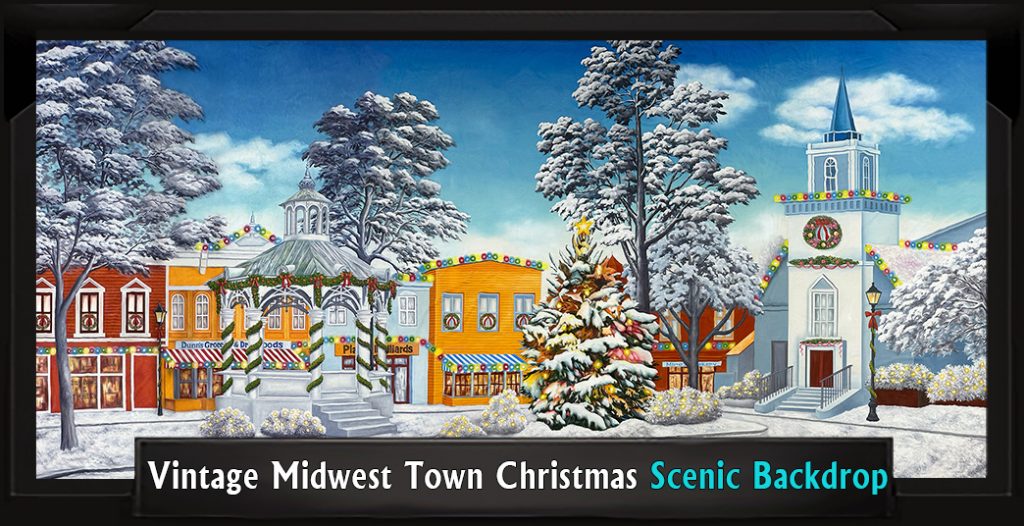 There's no place like home for the holidays–and our new Vintage Midwest Town Christmas will transport you there in an instant. This idyllic small town is fully decked out with wreaths on every window, strings of colorful lights, a garland-covered gazebo, freshly fallen snow, and, of course, the official town Christmas tree standing tall in the middle of it all. Vintage Midwest Town Christmas is perfect for It's a Wonderful Life's Bedford Falls, but it's equally wonderful for any snow-covered hamlet. It's also a enchanting choice for corporate holiday parties and charity events.
***
It's not too late to order your holiday drops, but inventory is filling up extremely fast. At this point in the season, we recommend having a few options in mind when you call in case your first choice is not available.
Don't wait another day to inquire about booking your holiday drops. Our Customer Service Team looks forward to hearing from you soon!