Thomas Armour Youth Ballet
Celebrates its 40th Anniversary of The Nutcracker

In Collaboration with New World School of the Arts
At the Miami-Dade County Auditorium
December 2016

Thomas Armour Youth Ballet – Creating Dancers for Life
Nothing promotes the holiday spirit more than the classical tale of The Nutcracker. It evokes childhood imagination and wonder and is brought to life through the dedication and diversity of a talented group of individuals. One such especially talented group is Thomas Armour Youth Ballet (TAYB), who has been gracing the stage with boundless talent since 1949. As Miami's oldest ballet school, TAYB has impacted the lives of thousands of underprivileged students through the art of diversity and classical ballet.
For children who live in the poorest neighborhoods, an after-school program or summer camp can mean safety and security. Ruth Wiesen, Executive Artistic Director of TAYB and life-long advocate of the arts, wholeheartedly embraces this. Through TAYB, she creates a welcoming space where all children can learn and grow into remarkable young people. Ruth has been honored by the Arts and Business Council for her contribution to encouraging diversity in the world of dance in Miami-Dade County and for her impact on the lives of so many talented, underprivileged students.
"Only a few kids are going to go on to dance professionally, so what they're taking with them from studying any art discipline are life skills — the discipline, the focus, attention to detail, being able to work well with others. This really is about helping them for life and using dance as a vehicle for success." – Ruth Wiesen, Miami Herald article, October 27, 2016.
Special Backdrops for a Very Special Nutcracker
Thomas Armour Youth Ballet's production of The Nutcracker is Miami's oldest presentation of this holiday classic and has been enjoyed by over 300,000 audience members. Its cast is a celebration of Miami's diversity. The ballet features students from all five TAYB outreach locations, advanced dancers from New World School of the Arts, and internationally-known guest stars. After 39 years of spellbinding performances, Ruth and her team decided to update and replace the original backdrops and set pieces.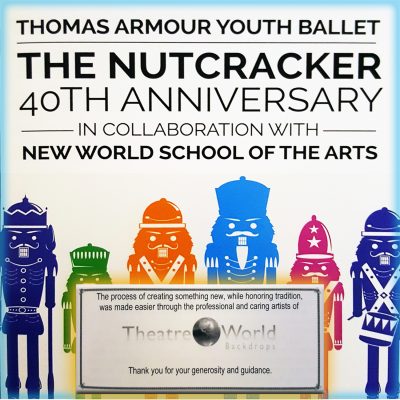 TheatreWorld Backdrops was lucky enough to become a part of this amazing group of volunteers, board members, dancers, choreographers, directors, and enchanting community. Ruth tells us, "I looked at a few different companies, but after talking with [TheatreWorld] on the phone, I knew this was the one." She talks about the feeling of becoming like family and how it touched her that TheatreWorld really wanted to hear about the outreach programs that TAYB was doing in the community. Ruth says that she could feel the passion of the TheatreWorld directors. She told her Board of Directors that there was no need to look elsewhere.
Over the course of a year, Ruth and the TheatreWorld team shared countless conversations, renderings, photos, and sketches. The goal was to "create something new, while honoring tradition". We at TheatreWorld couldn't be more proud of our team of artists!
Finally, after months of production and preparations, TheatreWorld delivered the backdrops to Ruth and her team in Miami. The completed backdrop package totaled nearly 40 individual pieces!
Curtain Up on The Nutcracker
December arrived. The stage was set; the lights were dimmed. Ruth entered the stage and took the spotlight with the full humility and grace that only a genuinely kind woman can possess. Ms. Wiesen described how, over the past few days, more than 6,000 students from all around Miami-Dade County came to watch The Nutcracker and were able to see dancers who looked just like them. Some of the children in the audience were classmates of the dancers on stage. Many children had never seen anything like this production of The Nutcracker before, but they left knowing that they, too, could achieve greatness.
First, Ms. Wiesen thanked all the donors and the people that helped make the production possible. She introduced and thanked her Board of Directors, who stood and waved from their seats. She also acknowledged and thanked the TheatreWorld team, whom she had graciously invited to see their wonderful performance. As she exited the stage, she welcomed everyone to experience the magic… and the curtains rose.
A Look at TAYB's Backdrops
For each of the following three scenes, TheatreWorld produced one main backdrop and two alternating sets of headers and legs. By doing this, we were able to create an extraordinary scene that was five layers deep! (Good news for TheatreWorld fans — we are enhancing our header and leg packages for some of our most popular Nutcracker backdrops for the 2017-2018 season based on some of the presentation styles below!)
Additionally, TAYB had a special request for their ballroom scene – they wanted to honor their founders' legacies. TheatreWorld was able to build in portraits of the founding directors on four of the backdrop legs. From left to right, the front legs portray Thomas Armour and Martha Mahr. From left to right, the back legs portray Robert Pike and Renee Zintgraff.
The Thomas Armour Youth Ballet Mission
The mission of the Thomas Armour Youth Ballet is to create a pathway to educational and professional opportunities for the youth of Miami-Dade County, through the study and performance of dance. They serve interested youth, regardless of income level, reflect the diversity of the community in all programming and productions, and facilitate the removal of obstacles that may impede success in life.
TAYB encourages all who perform and attend to "be the first" in their endeavors. Be the first black or hispanic dancer in a classical ballet company. The first to graduate from college. The first to get a full scholarship, to travel the world, and to enlighten all those you encounter. Furthermore, TAYB's faculty and mentors do not merely teach the difference between a plié and a pirouette; they encourage and help to create successful individuals and serve as role models for their whole families and the neighborhoods that they live in.
TheatreWorld is thankful to Ruth Wiesen and the whole creative team at Thomas Armour Youth Ballet for their confidence in us and for allowing us to share our talents with such an admirable, accomplished, and altruistic "family." We look forward to working with many other ballet and dance companies across the country. We'd love to refresh and enhance your custom backdrop collections, whether it's The Nutcracker or any other major production.