Going Beyond the Script
Written by: Melanie Simmons
Nobody loves Christmas more than Buddy! Elf the Musical, Jr., based on the beloved movie of the same title, was adapted for the stage by Bob Martin and Thomas Meehan and was scored by Mathew Sklar and Chad Beguelin. Brimming with joy, humor, and infectious holiday spirit, Elf is a must-do musical for the holiday season.
The North Pole – The Story of Buddy the Elf





Our show begins with Santa (who else!?) introducing us to his hometown of "Christmastown". Inhabited entirely by cheerful elves who are always happy, it's also home to Buddy, the tallest elf in town. Only Buddy isn't an elf at all—he's a human! After overhearing some of the elves talking about him, Buddy learns he crawled into Santa's toy sack as a baby and mistakenly absconded to the North Pole.
Christmasland Backdrop Ideas
TheatreWorld's stunningly detailed Santa's Village backdrop, featuring primary colors and bold lines, would be an excellent setting for Christmasland. The clean, simple structure would appeal to younger audiences, while details like the teddy bear in the window and the glittering Christmas tree lights add charm to this wintry scene.
This Santa's Workshop backdrop is similar in structure and design and matches the aesthetic of Santa's Village perfectly. The addition of delicate, lacy snowflakes (not to mention the toys that look ready to spring to life!) adds a touch of magical whimsy.
Or, TheatreWorld's Old Time Christmas Village backdrop, with a snowier feel and softer, more pastel palette, would be a lovely alternative. The cheerful snowmen on the stoop look ready to greet Santa's elves as they sing and dance in the opening numbers.
Another option for Santa's Workshop is this Olde World Toy Shoppe backdrop, chock full of toys and colorful details. The cozy fire dancing happily in the hearth adds warmth and depth.
For a complete change of pace, this snowy Gingerbread Village backdrop also features softer colors and a magical feel. It would work well for all of the North Pole scenes, from Santa's opening monologue to Buddy's determined departure.
Elf in the Big Apple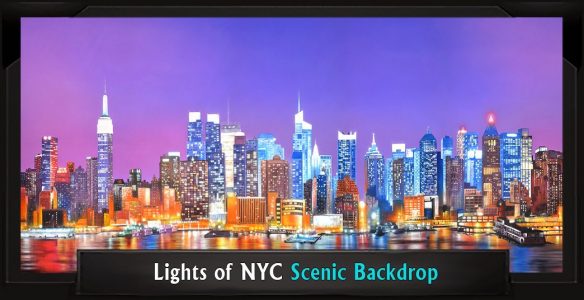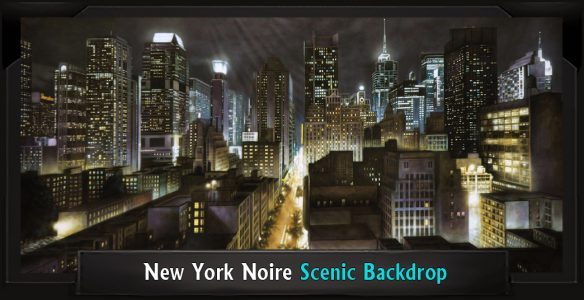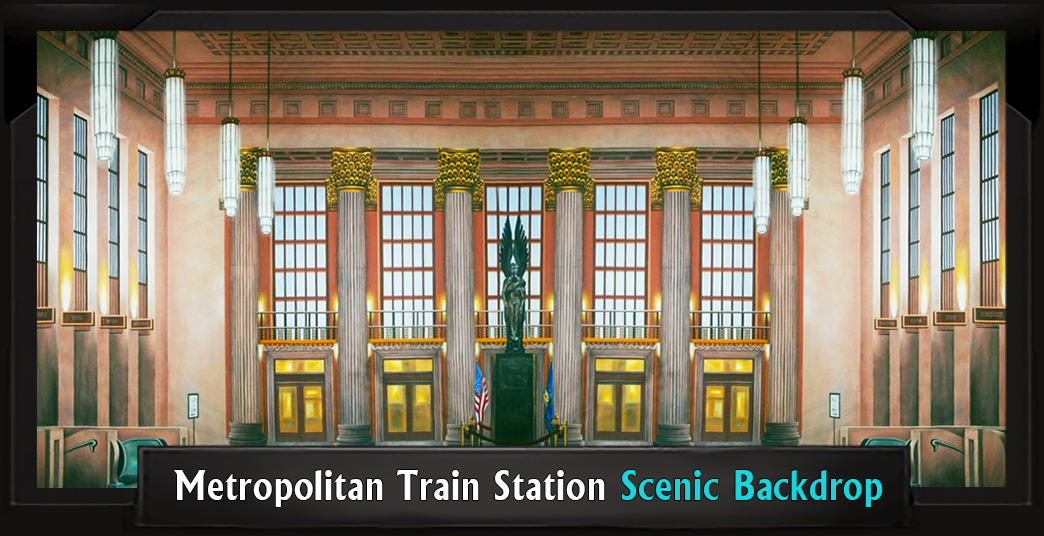 As if finding out he's human wasn't enough of a shock, Buddy is horrified to discover that his real father, Walter, is on the naughty list. Determined to save "The World's Greatest Dad", Buddy heads to Manhattan. When he shows up at Walter's posh uptown office claiming to be his son, however, a horrified Walter has the police escort Buddy from the premises. Unsure of where to take Buddy, the cops drop him off at Macy's. There, Buddy immediately falls in love with Jovie, a Macy's employee who is as jaded about Christmas as Buddy is cheerful. They strike up an unlikely romance and Jovie agrees to go on a date with Buddy.
New York City Backdrops
Though Elf begins at the North Pole, the majority of the story takes place in New York City. It's a big town with a big reputation, so don't be afraid to go BIG! This stunning city skyline (TheatreWorld's Lights of NYC Backdrop), with its luminous highlights reflecting off the river, would be a perfect contrast to the snow-covered charm of Christmasland.
For a bigger impact, consider this Stylized Manhattan backdrop. The stark buildings against an ocher and carnelian sky would deliver a huge aesthetic leap from the opening scenes. Buddy isn't in Kansas….er, the North Pole any more!
For a similar departure in theme that's still realistic, choose this gorgeous backdrop of Manhattan at night (New York Noire), whose features are as shadowy as the opening drops are bright. The washed-out grays against the amber and silver highlights produce a slightly gauzy effect, which would keep the cold feeling of winter while still creating contrast.
For everything from Buddy and Jovie's first hot dog date to the musical's climactic scene with Santa and his sleigh, this Snowy Central Park backdrop is a must-have. The delicately arching bridge, glowing sky line, and romantic sunset are evocative and versatile.
Macy's Backdrop Ideas
Even though it's just one scene, the events that take place at Macy's are essential to this story! It's here that Buddy first meets Jovie and here that he first succeeds in spreading his special brand of Christmas cheer. It features one of the biggest musical numbers in the show, not to mention a scene with Santa that will have the audience rolling in the aisles. Here are a few drops that will do this pivotal scene justice.
Take this Santaland backdrop, for instance. From the candy cane pillars to the toys all around, it would frame the scene with holiday fun. The two Christmas trees with lights strung between them look like they're just waiting for Santa to show up and take some pictures with shoppers' children!
For a grander scope, try this Metropolitan Train Station backdrop. Some clever set pieces could bring in the holiday feel and frame your specific staging. Fly in a banner featuring the store name and a lot of tinsel and garlands and you've got a perfect Macy's Christmas set.
Buddy the Elf Meets His Human Family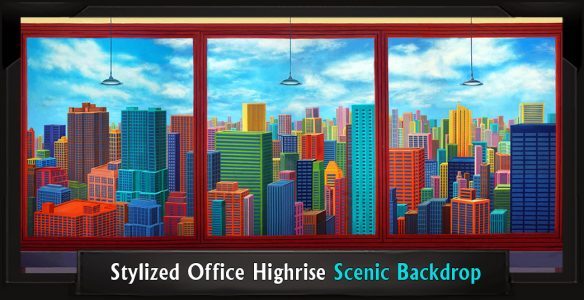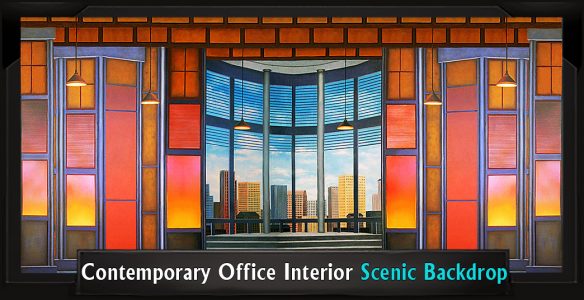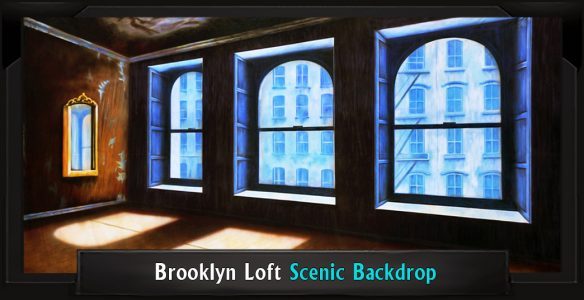 The cops are called once again when Buddy has an altercation with a "fake Santa". This time, he is escorted to Walter's city loft home, where he is introduced to his new stepmom, Emily, and stepbrother, Michael. Buddy tries to cure their lack of Christmas spirit by encouraging them to write letters to Santa. Their letters reveal their true desire is to spend more time with Walter ("I'll Believe in You"). Walter comes home and is furious to find Buddy there, but, thanks to a DNA test, must accept Buddy as his son.
The next day, Walter is forced to take Buddy to work with him. Things start to go south when Buddy accidentally destroys a manuscript that could save Walter's career and Walter blows up. Buddy's first date with Jovie goes well, but he blows the second date by accident. Dejected, Buddy leaves a farewell note for his family and decides to return to the North Pole.
Walter's Home and Office Ideas
Santa's workshop, where Buddy and the elves create happiness and joy for children every year, could not be farther from the oppressive, fear-driven office where Walter works. You'll want to show that in your staging. Try this Contemporary Office Interior. Its bright pastel paneling will work well with any artistic direction. The looming city, seen through the window, adds depth.
For an even greater effect, go bold with this Stylized Office Highrise backdrop. The bright colors would pair well with the drops from the opening scenes. The city skyline, visible through the window, adds a looming, impersonal feel that evokes the challenges Buddy has to overcome.
Walter's home is also a key setting. This city loft backdrop, with its dark main wall and the cold, blue light shining through, captures much of Walter's cold, imprisoning worldview. Bits of brown and amber hint at warmth, for Michael and Emily still have a spark of imagination left in them.
Buddy Saves the Day!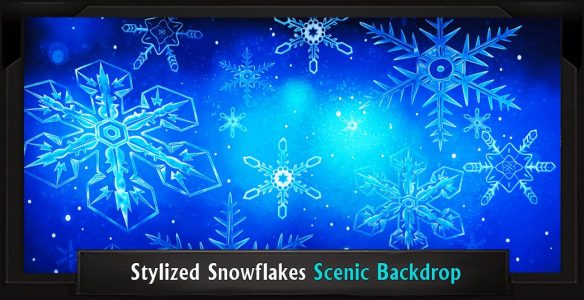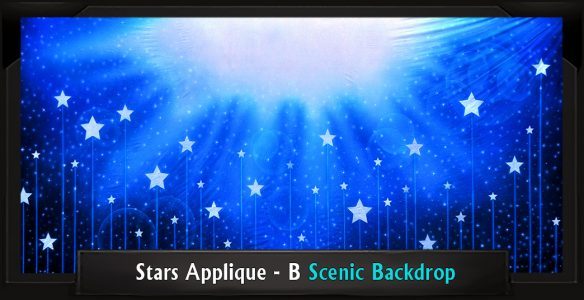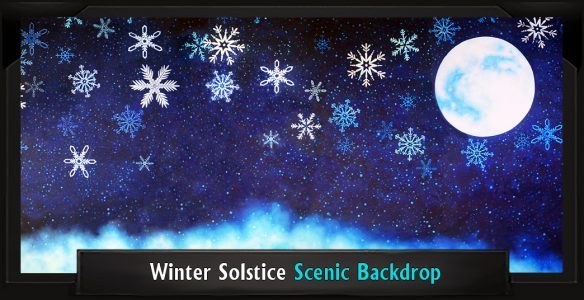 Emily and Michael find Buddy's note. While reading it, they see Santa flying outside their window ("There Is a Santa Claus") and become believers. They rush to tell Walter, who is still struggling to find a story to present to his boss, Mr. Greenway. Buddy shows up and presents a new idea, "The Story of Buddy". Mr. Greenway loves it, but wants Walter to spend Christmas Eve and Day writing it down. Realizing what's really important in life, Walter quits on the spot to be with his family.
The family rushes to Central Park, where Santa has been stuck because too few people believe in him to make the sleigh fly. Together with his family—and with a little help from a local news reporter—Buddy leads everyone in singing "A Christmas Song – Reprise". The song restores Santa's sleigh back to working order and he takes to the air as everyone sings, their Christmas wishes fulfilled!
Thematic Backdrop Ideas
If you've got the luxury of building many set pieces and you're simply looking to augment your staging with some thematic background imagery, TheatreWorld has several options.
It's just not Christmas without snow, so you can't go wrong with lots of delicate, floating snowflakes. The crystalline blues and aquas fairly leap off this Stylized Snowflake backdrop. It's sure to put your audience in the holiday mood.
Of course, it also wouldn't be Christmas without presents! Use these Christmas Present Legs to augment the Macy's scene. Alternately, they would be a nice addition to the final scene, where Santa makes everyone's Christmas wish lists come true. Pair it with this Le Cirque Header in red for an extra holiday feel!
The starry background on our Stars Appliqué backdrop would also give your stage a wintery, Christmas feel. It's available in two variations, one with darker accents for greater contrast or in a smoother palette for a more light-hearted feel.
Finally, this lovely Winter Solstice backdrop is an excellent drop for any holiday production. The gentle moon, the fluffy snowflakes, and the mist curling delicately along the bottom edge all evoke the quiet magic of winter.
This holiday season, give the gift of joy with Elf the Musical, Jr.! The musical's themes of family, love, staying young-at-heart, and never being too old to let happiness into your life, will warm you and your audience from the inside out. Let TheatreWorld Backdrops help you spread that holiday cheer in the way only Buddy and his friends can.