Turnaround Arts Gives the Theatrical Community a Boost
Everyone who is involved in the Fine Arts knows how much value they bring to society and how much they help children develop into well rounded adults. Unfortunately, those who aren't directly involved don't always understand the profound effects that Fine Arts education can have on other areas of academic and social development. That is why we're glad to keep hearing about updates from Turnaround Arts. This fantastic program is a federally sponsored initiative to bring Fine Arts education to the schools that need it most.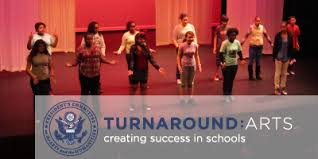 Turnaround Arts exists within the President's Committee on the Arts and Humanities. Their mission is to identify "turnaround schools" that could use additional funding and planning in their Fine Arts programs. They provide mentoring, licensing to scripts, and musical instruments. They even pair celebrity partners with individual schools. Furthermore, this assistance really affects change and produces some incredible results. Turnaround Arts reports that schools that they work with have benefited from a 36% increase in academic test scores in the nation's capital. They have also seen math and reading tests scores improve by three times the state average in New Orleans' turnaround schools. Moreover, these accolades represent just some of Turnaround Arts' many achievements.
What we love seeing is that they focus a portion of their efforts on musical theatre. We all know that funding for and existence of musical theatre programs around the country is not on the top of everyone's list. This effort is directly helping to revive, and even create, drama departments in schools. Music Theatre International recently got involved as well. They are providing complimentary scripts and licensing of show selections from their Broadway Junior Collection to participating schools. The Junior Collection takes full scripts and pares down and simplifies the length and score for younger casts. It's the perfect choice for school aged actors who are new to musical theatre. Not every school has a huge budget. Every penny that a smaller program can save is vital. By providing complimentary licensing MTI is making it that much more possible for smaller programs to participate in musical theatre.
TheatreWorld's Cabaret Series: Smaller-Scale Backdrop Options
Here at TheatreWorld we have been watching this and similar programs develop for some time now. We think it's truly phenomenal to see money is being put back into the Arts. As a result, many months back, our creative team set out to develop a collection of smaller sized stage backdrops. We call them the Cabaret Series. We specifically developed this drop to provide themed, yet general, scenery. The thought is that if we can provide a smaller
drop that can apply to an entire show at a price that is attainable by even a small theatre department, then we can help support more theatrical troupes nationwide. At 20' x 10', these drops fit in small theaters, but are also ideal for cafeterias and other impromptu staging areas. (Exactly the kind of performance space that smaller programs create on the fly.) We just felt we had to do more for smaller programs. Why shouldn't they be able to put on a performance with professional production values?
We are willing to make the switch to help support smaller schools and theatrical departments, even if it means limiting the production of some of our larger backdrops. So far we have several backdrops that can individually support Junior level theatrical productions. Shows supported include BEAUTY AND THE BEAST, ALICE IN WONDERLAND, INTO THE WOODS and more. In addition to smaller backdrops, our Creative team has set out to produce a breadth of more generalized imagery in larger sizes. We promise our artistic standards haven't changed. We've simply opted to release these backdrops at a more moderate price than selections from our Signature Series. We look forward to planning even more designs and have many scheduled for production in the next few months.
Let Us Know About Your Experience
We would love to hear about how you or your organization has seen this or similar programs improve the artistic and academic climates in your community. Proactive plans like this are a breath of fresh air, considering all of the hits that lack of funding has delivered to The Arts in years past. Furthermore, the arts do more than provide entertainment. They expand the minds of young people and help with overall academic development. We are happy to support Fine Arts education!