Use Shading to Your Advantage With Black and White Backdrops
Colorization is one of the most important aspects of scenic design. A careful combination of the right shades and tones can turn already great designs into stunning pieces of imagery. Our Creative Team tastefully blends a variety of vibrant colors to visually convey an overall feeling and tone. Recently, however, we realized that we hadn't been paying a certain family of colors its due. While bright blues, reds, and yellows can and do create incredible imagery, grayscale and black and white backdrops also have a very powerful visual effect.
Black and white or grayscale backdrops have a variety of uses. Some productions and events need a good dose of antiquity in order to really convey a vintage vision. Other times, our clients seek an ominous feeling for a particular scene or even their entire event. While we do have a variety of vividly-colored backdrops that can assist with these needs, adding in a selection of drops that rely on more muted tones will only improve our ability to provide the best selection of stage and event backdrops in the industry.
Even though our Artists might not have as many colors on their palette, monochromatic drops require no shortage of artistry. Precise blending and shading are of the utmost importance when painting these backdrops. We could talk about the benefits of these backdrops all day, but hey, it's imagery so let's take a look.
Developing Our Dragon's Lair Backdrop
Our Creative Team originally developed our Dragon's Lair as part of our SHREK THE MUSICAL backdrop suite. Based on the underground chambers of the Chillon Castle, this drop is the perfect home for Dragon. The drop has also found a part in productions like BEAUTY AND THE BEAST and at a variety of themed events. The original design favors the look of the brownstones of Chillon Castle. In order to update the design for clients with different visions, our Artistic Team reproduced the brownstone design using combination of gray and black. Then, they added in just a touch of sunlight to help the architecture stand out.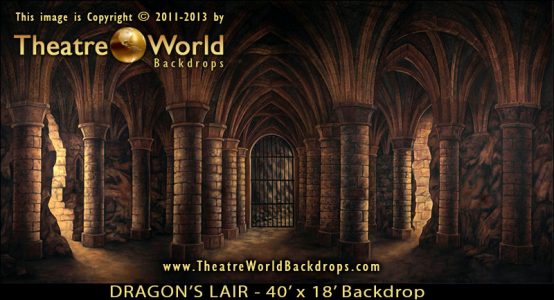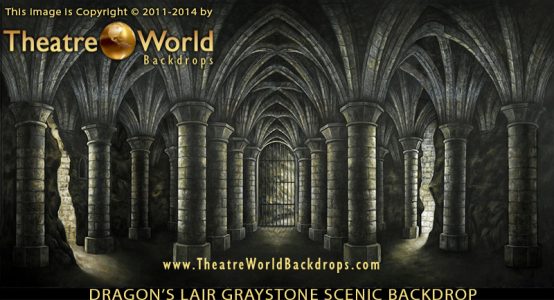 General imagery plays an important part in many productions. Our intricately-detailed drops are often designed to reduce the amount of set pieces necessary to set a scene. However, some Directors' visions call for imagery that truly represents the background and the background alone. With this in mind, our Creative Team developed a series of backdrops that depict rural landscapes. As details are constantly important, we have three different options to choose from: our Black and White Wheatfield, Black and White Cornfield, and our just released Black and White Soybean Field.
Different crop choices allow you to give your stage or event either a vintage or even spooky tone. These backdrops can work just as well for setting the scene for Auntie Em's farm in THE WIZARD OF OZ as they can for creating an eerie tone. Combine with balanced lighting and jack-o-lanterns to create great Halloween event backdrops. We look forward to learning how our clients intend to use black and white imagery to their advantage.
Looking Forward with Black and White Backdrops
These newest black and white and grayscale designs are just the beginning. Our Creative Team is looking for more scenes and analyzing trends in the dance and event industries right now in order to identify even more designs that can be beautifully portrayed in these color schemes. Expect more to come just as soon as we have wrapped up production on entire show packages for a trio of popular productions!