TheatreWorld Customer Wins 2013 Daytime Emmy Award
TheatreWorld Backdrops would like to sincerely congratulate Matt Tognacci, Art Director for CBS' daytime talk show, The Talk. Matt and his entire team won a Daytime Emmy Award for Outstanding Achievement in Art Direction!
The Talk stars hosts Julie Chen, Sara Gilbert, Sharon Osbourne, Aisha Tyler, and Sheryl Underwood. The show selected an Alice In Wonderland theme for last year's Halloween episode. Tognacci reached out to TheatreWorld for a themed backdrop. Ultimately, Matt chose our Wonderland Gate as the centerpiece of the set. His team built a brilliant ALICE IN WONDERLAND themed set that brought the classic tale to life.
"I had the pleasure to use TheatreWorld Backdrops last year for our annual Halloween episode of The Talk. The theme was Alice in Wonderland and we used the backdrop 'Wonderland Gate' as the focal point of our set," Tognacci said.
"The colors of the backdrop radiated in 3D and blended perfectly with our stage props, set dressing and special effects. We couldn't have been happier. This past May, my team and myself took home the Daytime Emmy for Outstanding Art Direction/ Set Decoration and Scenic Design. This was attributed mostly from the special Halloween episode we put on and I credit TheatreWorld Backdrops for having a big part in it."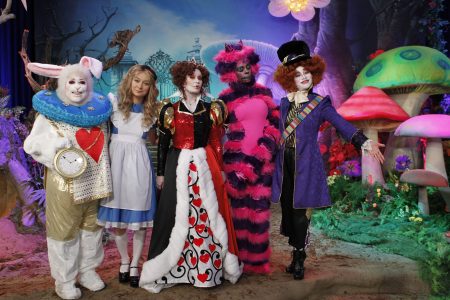 TheatreWorld and The Talk – What's Next?
We are humbled and pleased to support Matt and his team. As you can see, their work raised the bar for set designers everywhere. Furthermore, we are delighted to  announce that TheatreWorld will provide The Talk with two backdrops for this year's Halloween episode! We can't let the proverbial cat out of the bag on the exact theme this year. However, we can tell you that it will feature one of our brand new backdrop designs! We can't wait to debut it!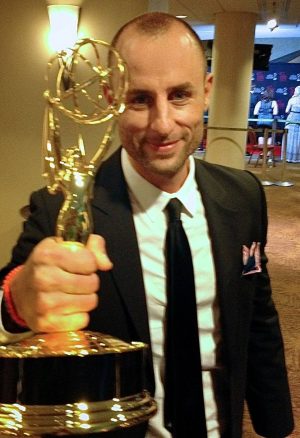 Congratulations once again, Matt!  Hopefully this year's effort  will result in the "other book-end"! We look forward to seeing how you and your team's creativity will once again set the standard for set design and visual excellence.  Stay tuned for more information about this exciting episode! (Coming soon!)