Going Beyond the Script
written by: Melanie Simmons
Lewis Carroll's classic story of Alice and her reality-warping journey down the rabbit hole is a childhood mainstay. Nearly everyone is familiar with the Cheshire Cat, the Queen of Hearts, and the eponymous Alice herself. Carroll's story has been frequently re-imagined on stage and screen and audiences have delighted in watching Alice's adventures play out in countless ways over the years. Whether you favor a classic interpretation or something a bit more twisted, TheatreWorld Backdrops provides all sorts of ways to bring your unique version of Alice in Wonderland to the stage.
Most of us have fond memories of watching Disney's animated Alice in Wonderland as children. It's a fun, family-friendly way to tell a story that holds more sophisticated themes than might be readily apparent to a child. This provides many opportunities for exploration on stage. If you are presenting Alice and Wonderland as children's theater, TheatreWorld has many perfect choices for you. Let's take a tour through some of the colorful and playful backdrops that can help you bring Wonderland to life for the youngest of audiences!
Disney's Alice in Wonderland Jr.
This delightful adaptation is sure to bring joy and nostalgia to kids and parents alike! Just like the animated feature, the musical opens with Alice listening to her sister reading aloud on a drowsy summer day. This field full of daffodils is a wonderful backdrop to an opening scene characterized by summer languish and the broad horizons of possibility.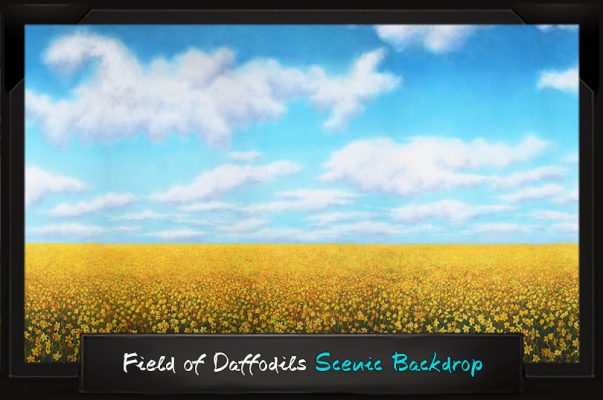 In no time at all, Alice's reverie is interrupted by the perpetually-late Rabbit. She watches as he sails through the scene in a near-panic. Intrigued, Alice follows this curious creature and finds herself tumbling headlong down the rabbit hole. Swirling lighting effects, coupled with this fantastical backdrop, will capture this dreamlike transition from the real world into a whole new world of mystery and adventure.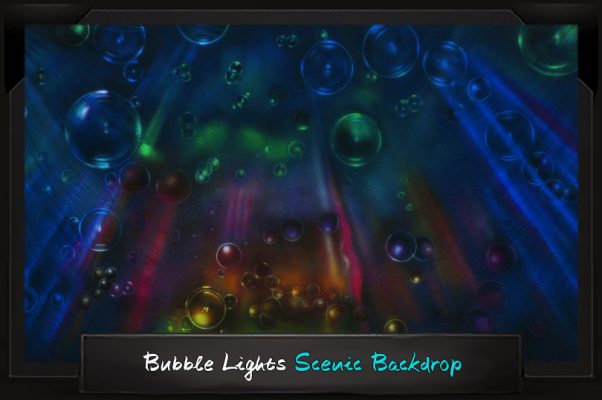 As soon as Alice arrives in Wonderland, she faces her first challenge: a locked door and no apparent way to get through. With the help of a bit of Wonderland magic, Alice manages to fit through the keyhole. Recreate this iconic scene with a backdrop covered in oversized keyholes. Additionally, you can use creative set pieces to show how Alice grows and shrinks as she tries to solve this puzzle and move forward with her quest.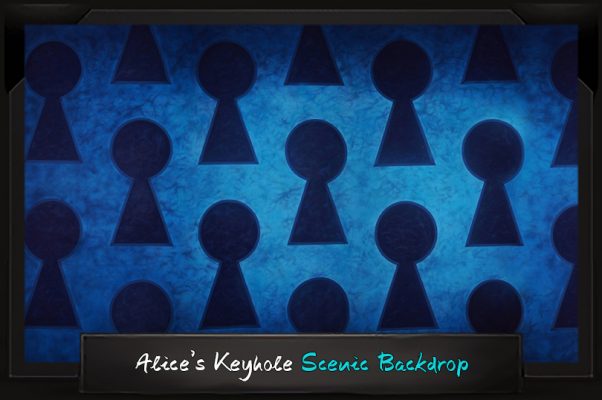 A Whimsical Wonderland
With the first challenge solved, Alice finds herself thrown into the madness of the Caucus Race, where she encounters the first of many creatures strange and bizarre—and her journey grows "curiouser and curiouser." Whether you seek to capture the general aura of magic and mystery that is Wonderland with a single drop or choose a different feel for each character and scene, TheatreWorld has plenty of options for you to play with. Take this fanciful forest, for example: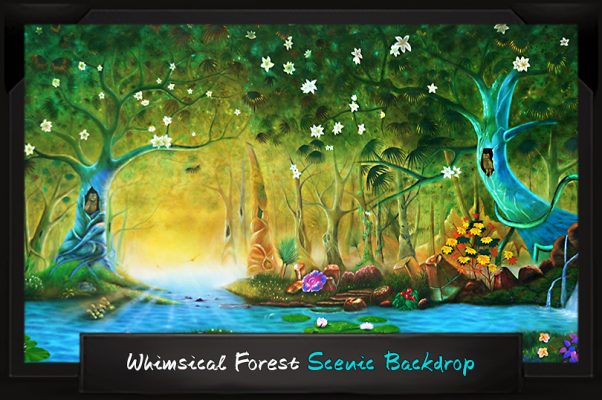 This forest scene, with its many mysterious doors, is another great choice. It would be perfect to serve as a single backdrop for meeting multiple Wonderland characters.
The bright colors of these lively mushrooms and fanciful flowers practically leap off the stage. They're sure to delight audiences young and old.
The cryptic Caterpillar could easily be at home amongst these colorful mushrooms. While the vivid flowers seem cheery at first glance, they can turn vaguely threatening in the right lighting. Meanwhile, it's not hard to imagine the Cheshire Cat grinning from the shadows as he watches Alice struggle to find her way back to her own world.
The Queen of Hearts
With the Cheshire Cat's help, it isn't long before Alice runs straight into the Queen of Hearts. Place this backdrop behind her fearful subjects, who will be busy trying to appease her quick temper by "Painting the Roses Red." The deep maroon hearts against the blood red background, will perfectly capture the queen's favorite color—and her dark side.
To minimize the queen's potential scariness, especially for very young audiences, choose something bright and extravagant. (Much like the Queen of Hearts herself!) Darkness still hovers at the corners, for the Queen is a true villain. However, focusing on her glittery narcissism instead of her bloodthirsty ways can make her much more palatable for children's theatre.
Alice fights her way out of Wonderland with a plucky courage that makes audiences far and wide adore her. She's relieved to return home unscathed, reassured by the knowledge that it was all a dream—but was it? The lines between dream and reality are blurred when Alice finds the White Rabbit's watch in her pocket. Regardless, all is well as show ends and the whole cast takes a happy bow.
A Darker Side of Wonderland
Of course, there is more than one way to tell any tale. You can always channel your inner Tim Burton and tap into Alice and Wonderland's darker themes, which will appeal to a broader audience.
Instead of opening in a field of flowers, you could start your story in this wooded cave. The sunlight is pushed to the background, which suggests that light and airy themes are soon to be left behind. The looming cave threatens to swallow your audiences into deep recesses of the earth and to tap into subconscious fears and desires.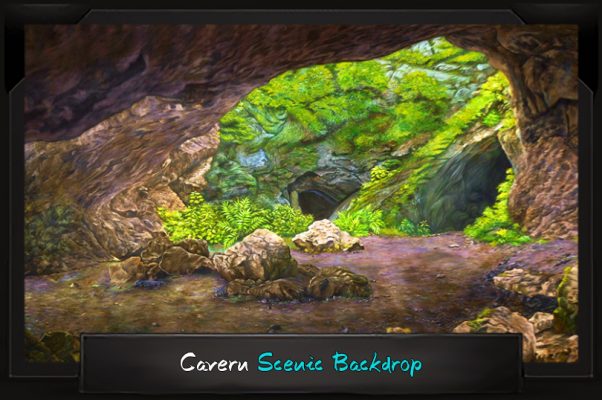 Inside a Nightmare of a Wonderland
This Wonderland, likewise, is more reminiscent of a dream that has turned into a nightmare. Imagine Wonderland's colorful characters in more twisted costumes, with dappled lighting in cooler tones that hint at mystery and danger. Here, even lighthearted moments like the tea party can seem mildly threatening. Alice will be overwhelmed navigating this strange world, which seems ready to turn on her at any moment.
The Caterpillar's jaunty tune could serve as a temporary relief from Alice's mind-bending adventures. When you look at this backdrop, you can just picture the Cheshire Cat waiting for the right moment to "help" our heroine by sending her directly into the path of the Queen of Hearts. The closed gate in this backdrop suggests that, while the way ahead may look clear, dangers lie ahead.
Alice Meets the Queen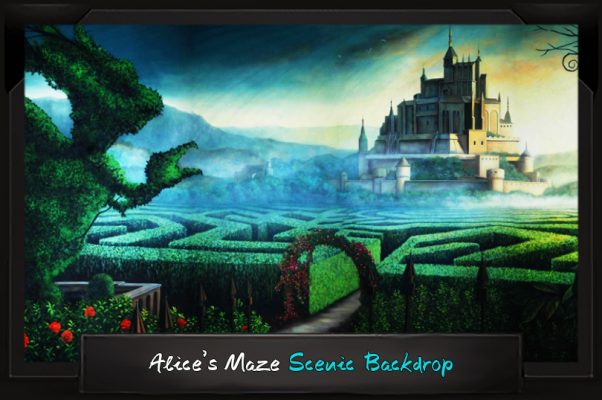 Imagine Alice's big confrontation with the twisted Queen playing out in front of this imposing backdrop. The mist-shrouded maze and foreboding castle maintain a sense of dread. They provide a dynamic canvas against which the story's weird and wonderful climax can play out. In the foreground, Burton-esque topiary figures loom, capturing the Disney feel, but with a decidedly ominous twist.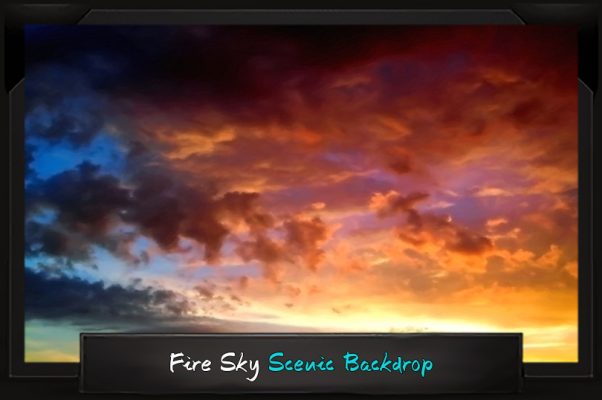 ***
Don't be afraid to let your imagination run wild. There are few tales more suited to the outlandish and paradoxical than Alice in Wonderland. Be adventurous with your choices! Audience members of all ages will be filled with the wonder of theatre magic. Our Signature Series of backdrops and designs will help give your audiences an experience they'll never forget. Click on chat or call us today to see how we can complement your production.