Kicking Off the New 2016 – 2017 Season with Big News

Announcing TheatreWorld's Highly Discounted Backdrop Collection – "Island of Misfit Backdrops!"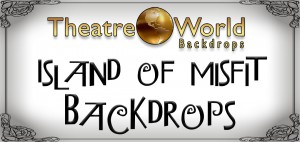 During the past 5 years, many of you have asked if we had any backdrops that were not up to our high quality, New/Like New, standards that we could provide at a discount. Our answer until recently has been "no". The few that we did have were taken out of our rental inventories temporarily while they awaited repairs. During this summer, our teams completed a full analysis of all 1200 plus backdrops in our rental inventory and applied our high quality standards to each and every unit.

For any backdrops requiring attention, we scheduled a session with our repair artists. As a result, our team downgraded approximately 50 individual backdrop from a condition code of 5 to a code of 4 or 3. Additionally, we added a new section to our website to support these slightly lesser quality backdrops. Our Misfits will be offered at highly discounted rental or purchase rates. This section of the site is now up and running and we should have all the downgraded units fully displayed for you by the end of September.
Photoshoot for the Misfits
Each and every backdrop scheduled for downgrade was taken to a local theater to be photographed. We took fresh images of each backdrop to provide you with an accurate image of the current condition of that unit. Our team has provided a full explanation of the condition and reasons for downgrading that particular backdrop. The damages or repairs on Misfit backdrops, in many cases, will not be visible by an audience. Furthermore, Misfit backdrops are eligible for package discount programs. You may include Misfits with any combination of Theatre Backdrop rental units to build your show package or you can build a package with all Misfit backdrops.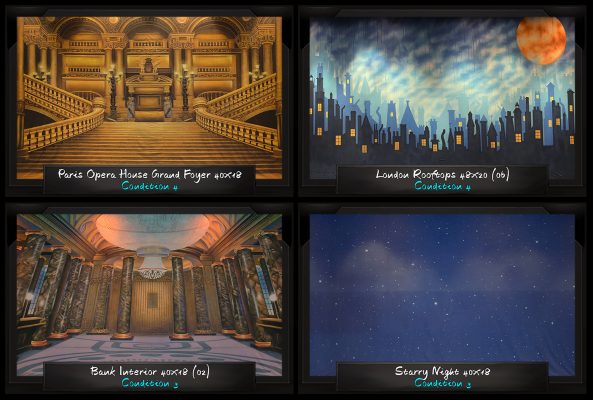 In addition to this major project, we have significantly modified our support systems and procedures to enhance the monitoring of all TheatreWorld rental backdrops with each and every rental. Our goal, as always, is to ensure our backdrops are of the best condition and quality available anywhere every time you rent from TheatreWorld. Our teams take great personal pride in the condition and quality of every backdrop unit we ship to our valued customers.
Stage Directions Magazine Highlights TheatreWorld Backdrops
Tammy was recently interviewed by Stage Directions Magazine. The September issue will feature the results of the interview. The topics discussed span backdrop values, ease of use, backdrop quality, and our new Island of Misfit Backdrops. We hope you all read the article and we look forward to your feedback.
Major New Designs in Production
The summer of 2016 continues to be one of the busiest in TheatreWorld's history. Our design and production teams have introduced approximately 30 new designs. About 12 are still in development and will be released over the next 6 weeks or so. The new designs support many stage shows, including several which are new for TheatreWorld. Customers have already scheduled some of these new backdrops to support events, dance recitals, TV productions, etc. We hope you all like the new designs and consider them as you plan the 2016 – 2017 season.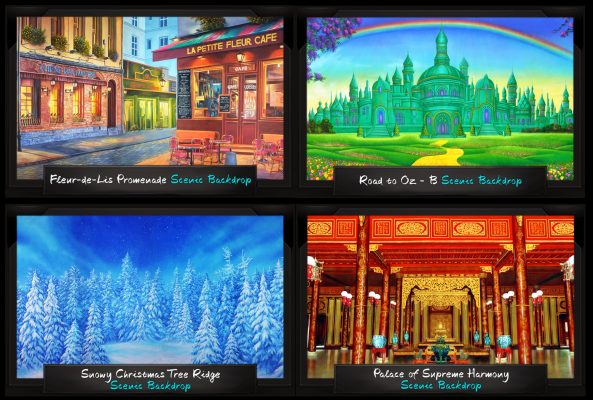 2016 Client Custom Orders Set Seasonal Production Records
TheatreWorld's team has also produced some 45 backdrops to fill Client custom orders. Our custom backdrops support Touring Groups, Colleges, Dinner Theatres, Dance Companies, major Ballet Companies, TV productions, etc. We appreciate everyone's confidence in our quality and look forward to serving many more of you in the future.
Introducing New Team Members
We have added several new team members during the summer months to assist us in supporting you and your production teams. To meet the new team members, click over to our TheatreWorld Team section of our website. We look forward to working with you during the 2016 – 2017 production season. We invite you to try our "Wish List" function when planning your productions. Additionally, we encourage you to let us know what features would help you during your production planning activities.
In closing, we hope everyone had an enjoyable summer and we look forward to speaking with you soon. Please order the backdrops for your next production as early as possible. Our teams are standing by to assist you.
Look for our season kick-off advertisements in Stage Directions, Dramatics, and Teaching Theatre magazines!