Going Beyond the Script
Written by: Melanie Simmons
If you're looking for some Gothic good times heading into the fall season, what better choice than the darkly delightful musical Sweeney Todd: The Demon Barber of Fleet Street. The origins of this musical thriller go all the way back to the 1800's, where urban legends conceived of an evil barber who did dastardly deeds with his straight razors. A penny dreadful serial tapped into this public fascination by creating Sweeney Todd, a homicidal barber who operated on Fleet Street.
Over a century later, this tale caught the eye of playwright Christopher Bond, whose play was later adapted by none other than Stephen Sondheim and Hugh Wheeler in 1979. This gory tale of gruesome revenge and twisted justice became a smash hit, winning a Tony for Best New Musical and Drama Desk and Olivier Awards. Later, it would go on to be performed worldwide. The 2007 film adaptation by Tim Burton revived interest in this sordid tale, as did the sensational 2005 Broadway revival. There's no better time to bring it to life than the months leading up to Halloween!
TheatreWorld loves to take a walk on the dark side, so let's stroll down some of their detailed drops showcasing the seedier side of London. TheatreWorld can't wait to help bring this twisted treat to your own venue!
On the Docks of London/Fleet Street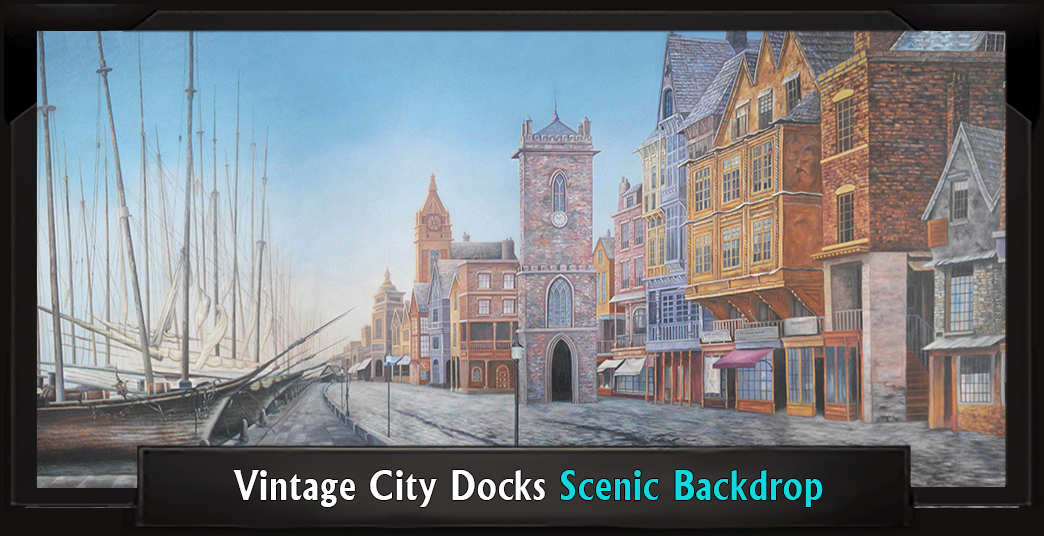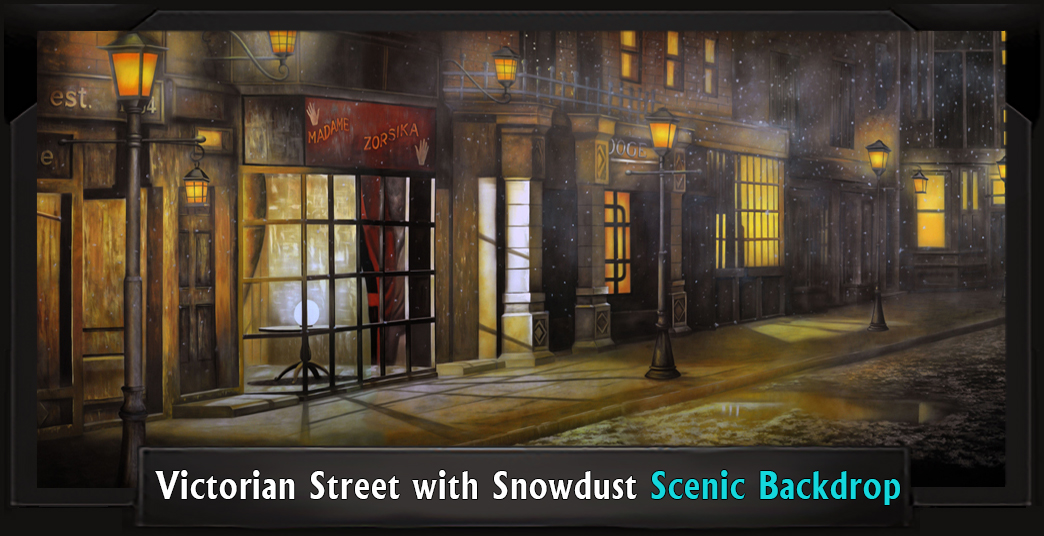 The show begins on the docks of London in the year 1846. Benjamin Barker, a sullen barber with a dark past, arrives with fresh, young sailor Anthony Hope. Barker was falsely convicted and exiled by Judge Turpin, a corrupt man who desired Barker's wife Lucy. Finally home, Barker is obsessed with finding out what happened to his beloved wife and enacting revenge on the man who tore them apart.
A gritty tale needs a gritty setting. This Vintage City Docks backdrop has just the right details to set the tone. Vintage schooners line the cobblestone walkways of the London waterfront. Brick and stone details on the home and storefronts that line the walkway easily bring to mind the 18th century. A brick tower stands tall among the clustered buildings, perhaps standing for the pious leaders of the city, who, like the gaping black archway, also harbor dark depths.
Barker adopts the alias "Sweeney Todd". He returns to his former workspace and resumes his old barber profession ("My Friends") above Mrs. Lovett's Pie shop. Known for making the "Worst Pies in London", Mrs. Lovett herself has an oddness about her that will have twisted implications later. Try this Victorian Street with Snowdust backdrop to capture the strangle little corner where these two odd characters hunker down. Amber glowing street lamps are drawn with just the right detail so as to be gas or flame, perfect for the time period. Moody lighting on the shop fronts give the setting a mysterious air, and the hints of snow also bring in a coldness, which mirrors the lack of conscience displayed by many of the protagonists and antagonists alike.
Judge Turpin's Home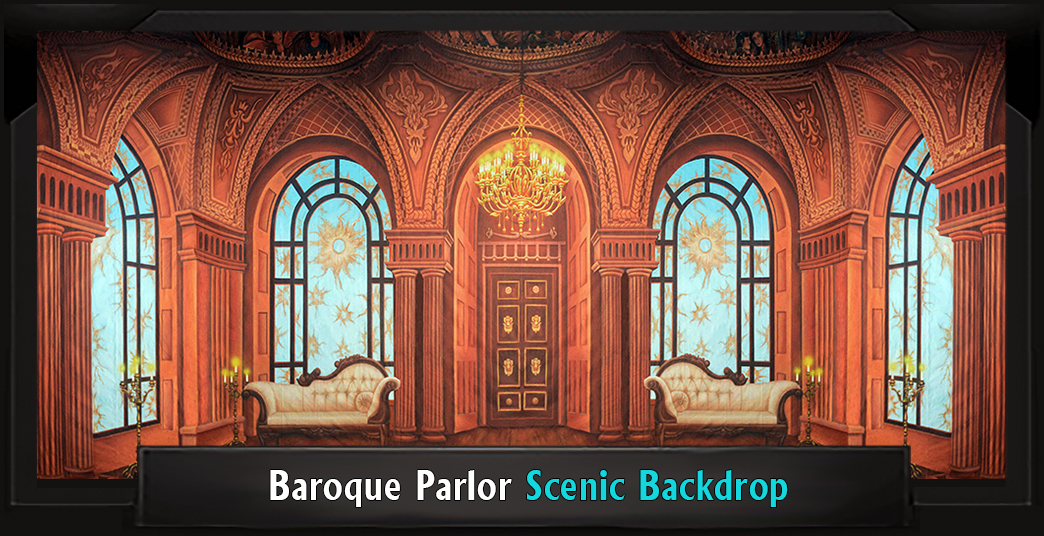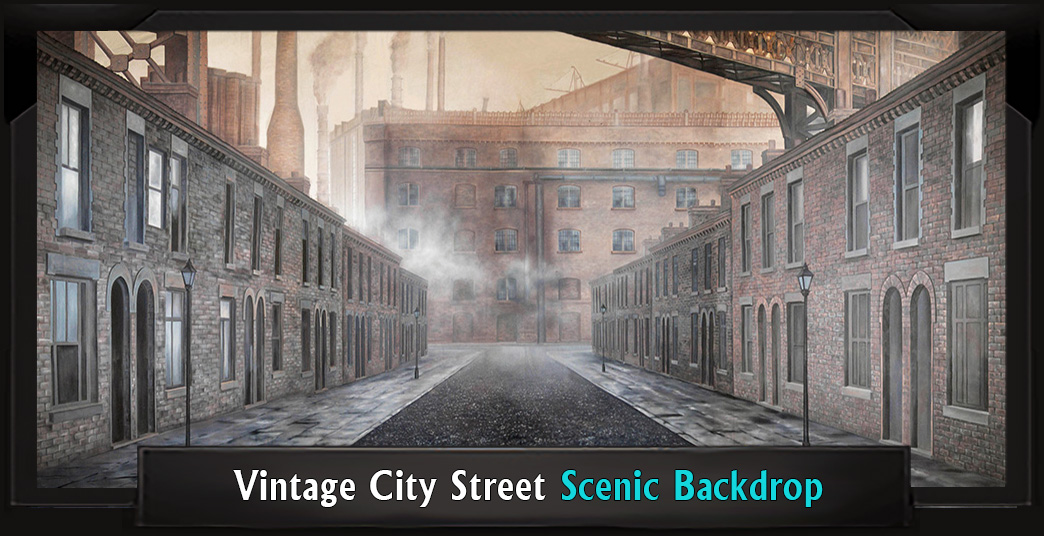 Now settled, Sweeney Todd becomes obsessed with his daughter Johanna, who was only an infant when Turpin raped Lucy and banished Sweeney ("Poor Thing"). Now Turpin's ward, Johanna is unaware of the gruesome details of her childhood and blissfully innocent, although the lurid attentions of her guardian scare her. Todd isn't the only one who becomes drawn to this lovely little dove; youthful sailor Anthony Hope sees Johanna one day singing at her window and instantly falls in love ("Ah, Miss").
Turpin, a corrupt man who still commands great wealth and influence, lives in the nicer side of the city. Even though the mood and should remain dark, you'll want to show some difference between Turpin's world and Todd's, without departing too far from the show's gritty aesthetic. Try this Vintage City Street backdrop to show some more symmetry and clean lines, without sacrificing the dirty, smoke-filled elements of this ancient city on the cusp of the Industrial Revolution.
For the interior of Turpin's house, however, don't be afraid to go for plenty of contrast. This Baroque Parlor backdrop offers tons of ornate, Baroque details that showcase the depth of Turpin's pockets, while still conveying the poverty of his soul. Arched windows rich with carvings and gilding frame a golden chandelier. Notice the contrast of the brightly-lit windows with the deep shadows of the high ceilings.
The Contest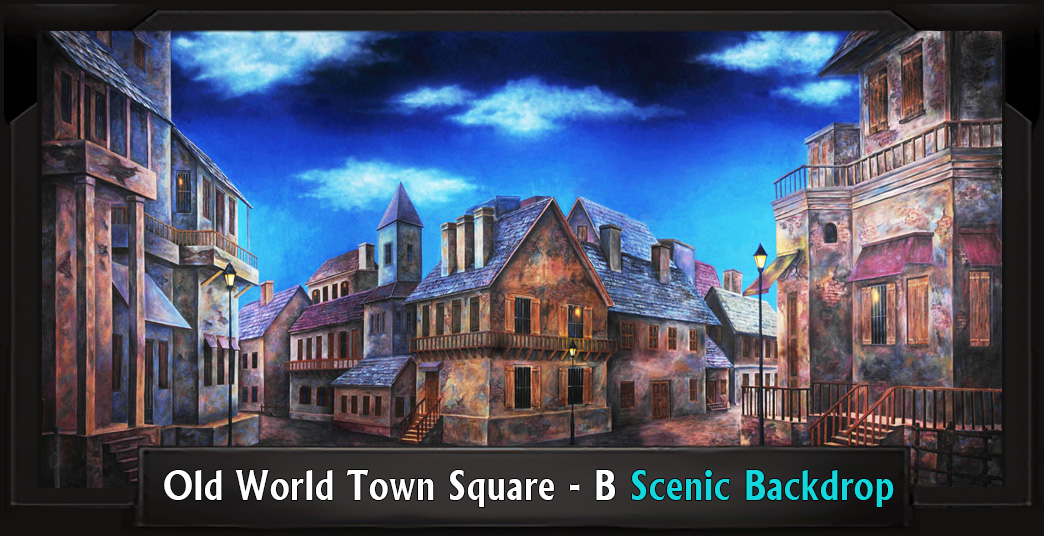 Meanwhile, a flamboyant Italian barber, Pirelli, and his simple assistant boy, Tobias Ragg, prompt Sweeney to engage in a shaving stand-off ("The Contest") on the streets of London. Sweeney's deft skill catches Turpin's eye, and soon the judge seeks his own shave at Sweeney Todd's. Try this Old Town Square – B backdrop to capture the seedier side of Victorian London. Buildings crowd around a rough stone-paved square, perfect for staging a public face-off.
God, That's Good!/Mrs. Lovett's Parlor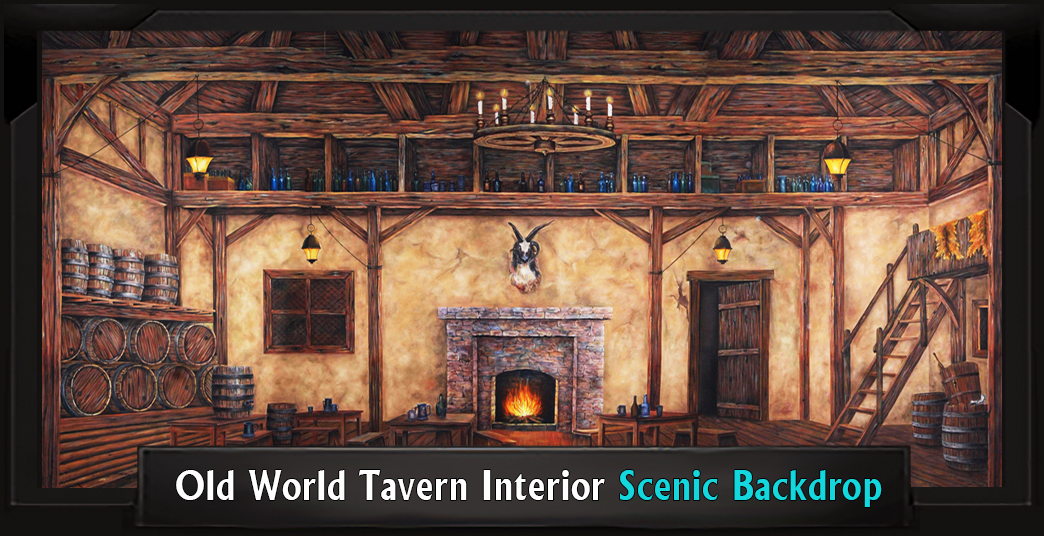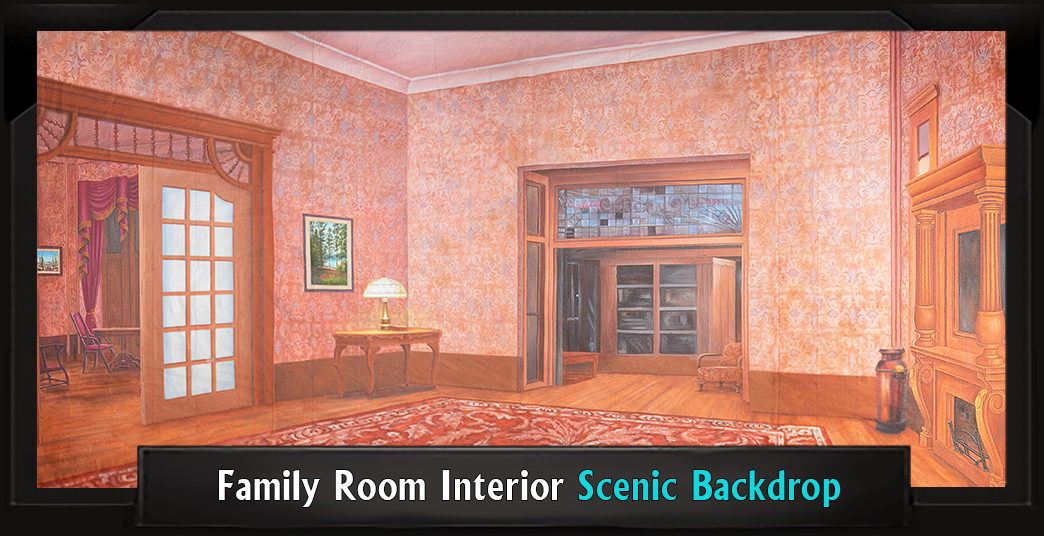 After Pirelli mysteriously disappears, Tobias becomes Mrs. Lovett's assistant. Sweeney shaves Turpin and savors this moment, which he has been waiting for for years. However, just as he's about to slit his throat with his silver straight razors, Anthony bursts into the shop, proclaiming his intention to elope with Johanna. Enraged that his plan has been foiled, Sweeney swears revenge on the whole world ("Epiphany"). He goes on a killing spree, killing every customers that comes through his door. To dispose of them, he and Mrs. Lovett hatch a plan ("A Little Priest"). Sweeney dumps them through a trapdoor under his barber chair and Mrs. Lovett hides the bodies in her pies, which become wildly popular with her unsuspecting customers ("God, That's Good!).
Try this Old World Tavern Interior backdrop for Mrs. Lovett's Pie Shop, as it transitions from a neighborhood joke into a gruesomely popular culinary hotspot. The rough-hewn wood, mounted animal head, and too-small fire in a dark fireplace project just the right mix of boisterous tavern and macabre eatery.
Mrs. Lovett is not without a heart, although it turns out to be just as dark, twisted, and full of secrets as Sweeney's. Still, this Family Room Interior backdrop can bring a little warmth to this grisly tale. Wallpapered walls in rose tones combine with rich walnut wood accents and give some temporary comfort. It's perfect for Mrs. Lovett's twistedly domestic number "By the Sea" and her nervous singalong with Beadle Bamford.
The Dark Underbelly of the Pie Shop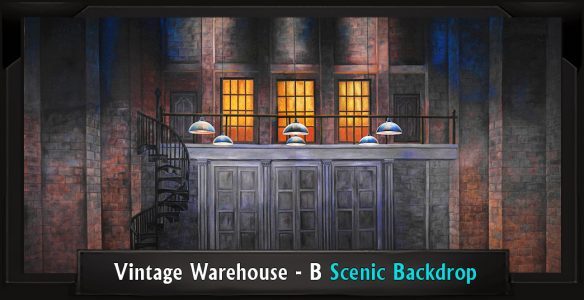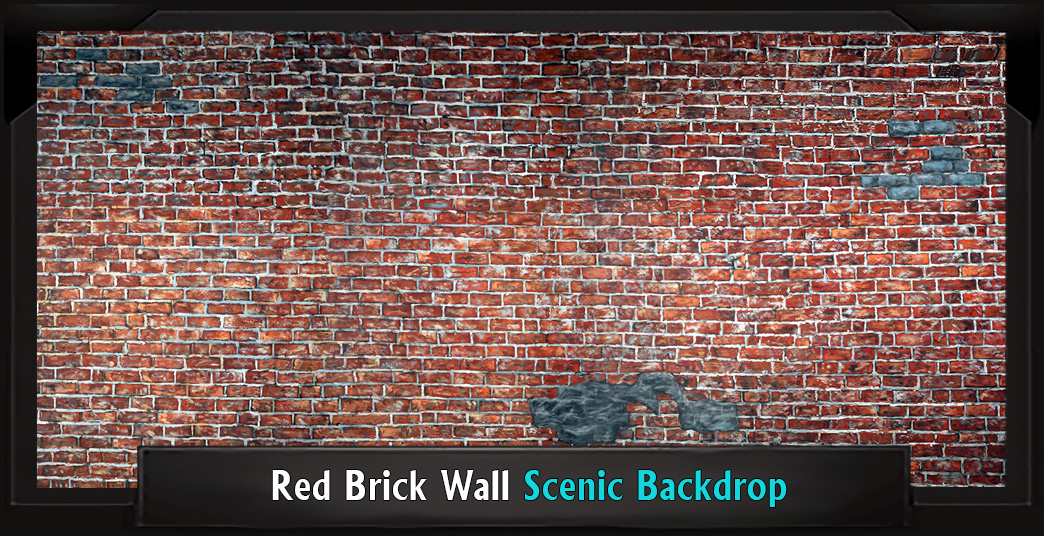 Of course, one of the most important settings in the show is the basement into which Sweeney Todd dumps his hapless victims. There, below the dirty streets, Mrs. Lovett grinds up the corpses into her now-delicious pies. It's also the site of some of the show's most pivotal murders and the place where Toby, who figures out exactly what Sweeney Todd and Mrs. Lovett are up to, loses his mind. Try this Vintage Warehouse – B backdrop, with its basement feel and twisted stairway. It gives a production-line feel to this cannibalistic enterprise.
Or, go with something a little starker and let the blocking take center stage. This Red Brick Wall backdrop provides a great "blank canvas" against which the action could play out in silhouette. Combine with some lighting effects to throw shadows across the blood-red bricks as the show reaches its frightful finale.
In the end, Sweeney is able to kill the lecherous Judge Turpin. His triumph is short-lived, though. He soon discovers that his beloved Lucy has become one of his victims, unrecognizable now as an insane, filthy beggar woman. However, the body count doesn't stop there. When a distraught Sweeney finds out that Mrs. Lovett lied about Lucy in order to keep him for herself, he dances Mrs. Lovett into the bakehouse oven. Cradling his dead Lucy's body, with nothing left to live for, he lets a now-deranged Toby slit his throat ("Final Scene"), while Johanna and Anthony run away to find a happy life elsewhere ("The Ballad of Sweeney Todd").
London Streets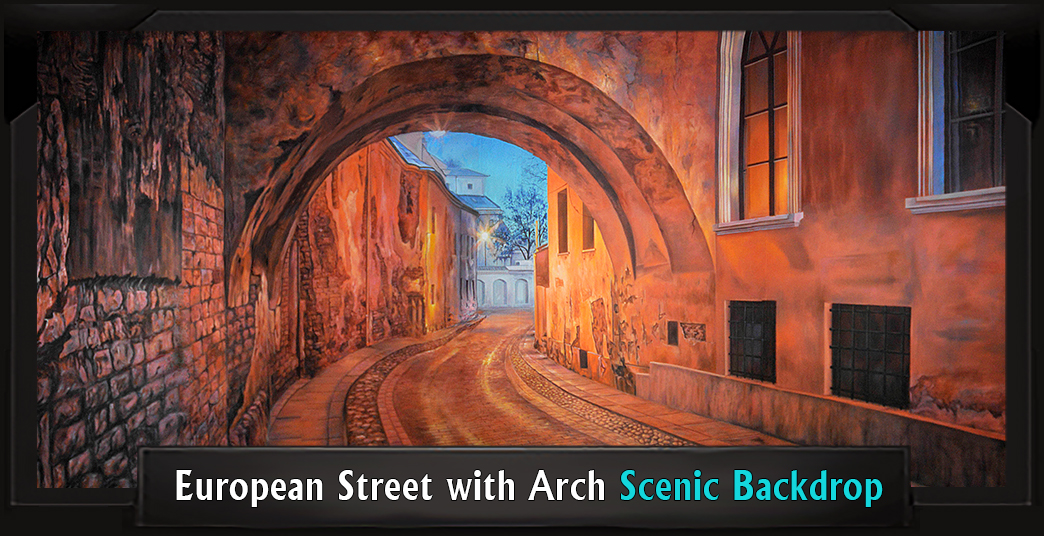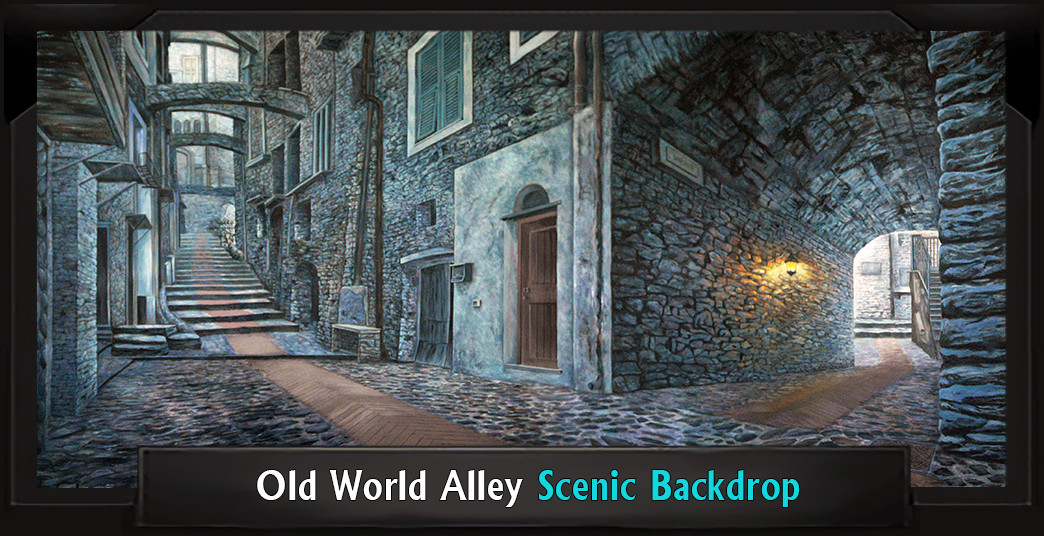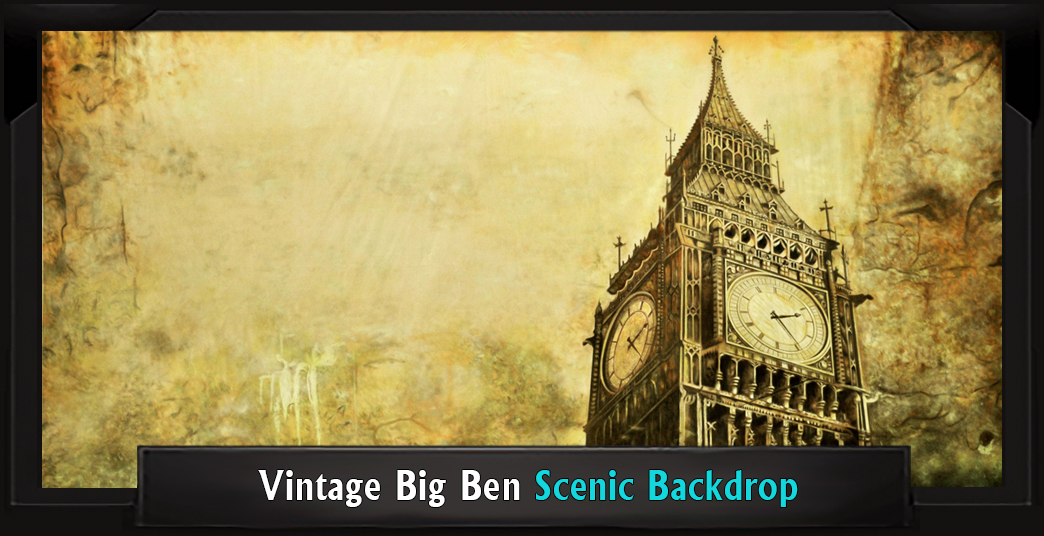 There's plenty of opportunities in this story to travel through a London most people don't get to see. TheatreWorld has lots of options to capture London during this particularly dismal time period. Take a look at this European Street with Arch backdrop, for example. The archway leads to what looks like a brighter, cleaner area of town, but first you have to travel down a darkened passageway bordered by a slumping stone wall, heavy with the ages.
This Old World Alley backdrop is just dripping with all the dark drama that the tale of Sweeney Todd requires. One can easily see Barker/Todd lurking down these narrow passageways, stalking Turpin and the lovely Johanna, his mind full of dark plots of revenge. Doors and windows peek out from all corners, reminding us that, in a city like this, someone is always watching.
Consider this Vintage Big Ben backdrop as a possible opening or closing drop. (Or even as a single drop for the whole show, if your space or budget prevents you from using multiple drops.) A stark outline drawing of the famous clock tower dominates the foreground. The open space is filled with distressed details that evoke parchment, old and withered with age.
Header & Leg Sets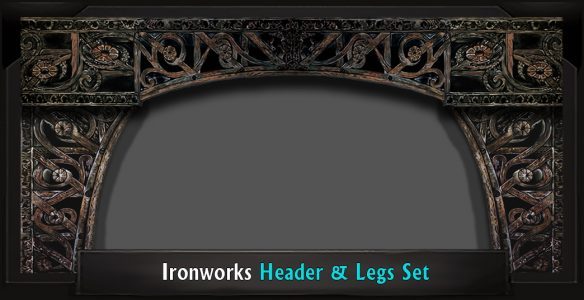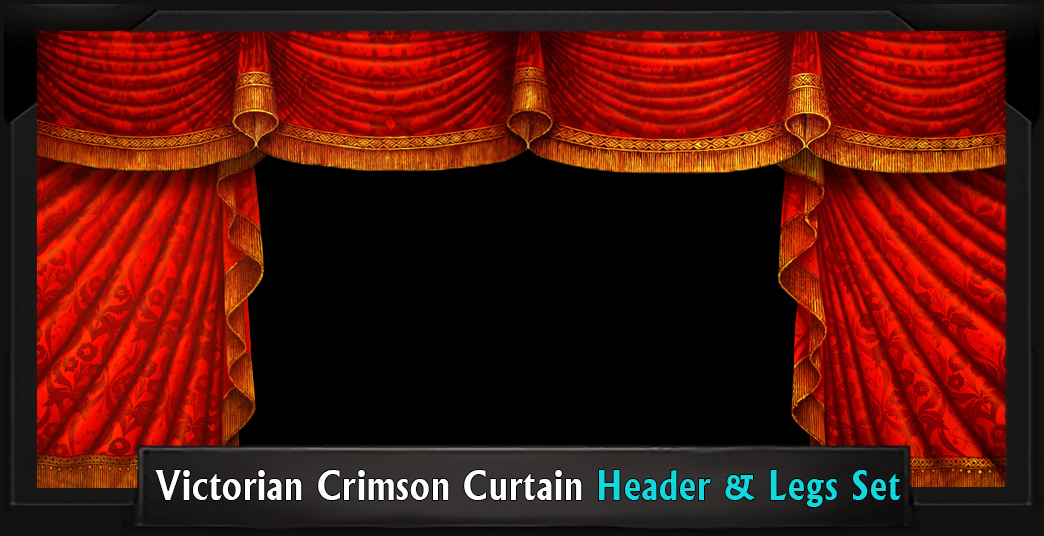 If you're looking to work with a lot of set pieces and just need something to add depth and set the mood, consider framing your entire show with this Ironworks Header & Legs set. The metallic detailing provides an Industrial-era enclosure to your stage, providing both a Gothic impact as well as a vague feeling of entrapment.
For some high drama, drape everything with the color of blood by using this Victorian Crimson Curtains Header & Legs set. Heavy draping is detailed in the deep shadows and crevices of the velvet-textured fabric, with gold fringe adding extra heaviness that mirrors the foreboding feel of this gloomy tale.
***
While there's no doubt that the fascination with the macabre that typified the Victorian era dramas was instrumental in the success of Sweeney Todd, the story wouldn't have staying power without more enduring elements. It functions as a commentary on the repression of the Victorian era and the seedy underbelly of politics and religion, themes which still ring true today. The greed and lack of human compassion of the burgeoning Industrial Revolution provided much fodder as an essay on the human condition, and for all its modern toys, the technological era has some relevant similarities.
Sweeney Todd is a splendid work on many levels, entertaining in all the ways theatre should be – evocative, challenging, providing a mirror by which society can look at itself. So bring some gothic horror as well as social commentary to your show lineup, and let TheatreWorld Backdrops create the perfect world for your next hit show!