Going Beyond the Script
Thoroughly Modern Millie Backdrops and Scenery Perspectives
Written by: Melanie Simmons
"Gimme Gimme" some BIG time musical numbers, old-school Broadway charm, and – of course – true love! Thoroughly Modern Millie roared onto Broadway the scene in 2002 and took the theatre world by storm. The story, set in the flashy 1920's, features Millie Dillmount, who makes her way to New York City to join the new wave of women in the workforce. But she's not just looking for a job – she's looking for a husband! Blending small town charm, big-city ingenuity, and a bunch of madcap adventures, Millie learns about the great wide world of friendship and love. The musical is based on the 1967 film of the same name. With a fantastic score showcasing dazzling dance numbers and a bevy of lovable characters, Thoroughly Modern Millie captures the enthusiasm of the Flapper age. It's an upbeat choice for any theatre company's lineup.
Let's take a closer look at Millie and the TheatreWorld backdrops that can bring her story to life!
Welcome to the Big Apple, Millie!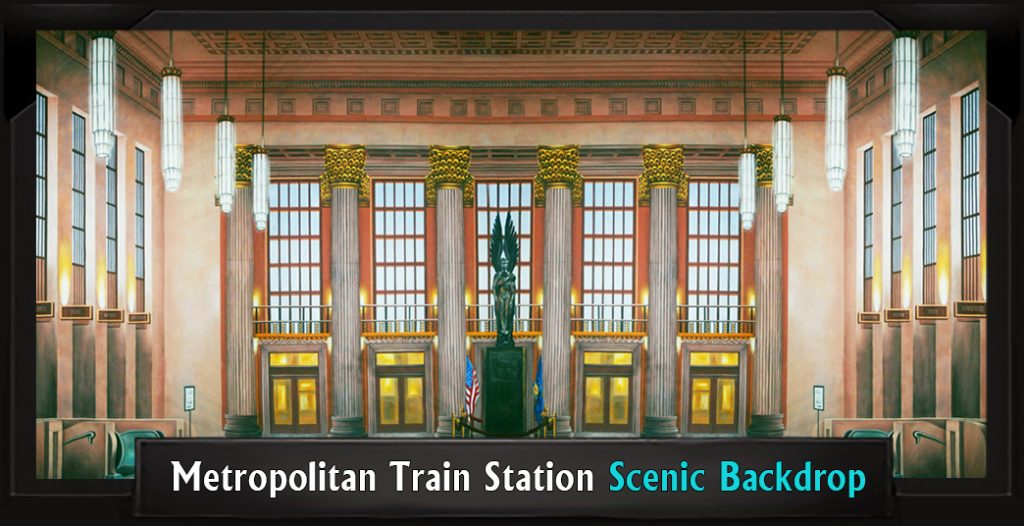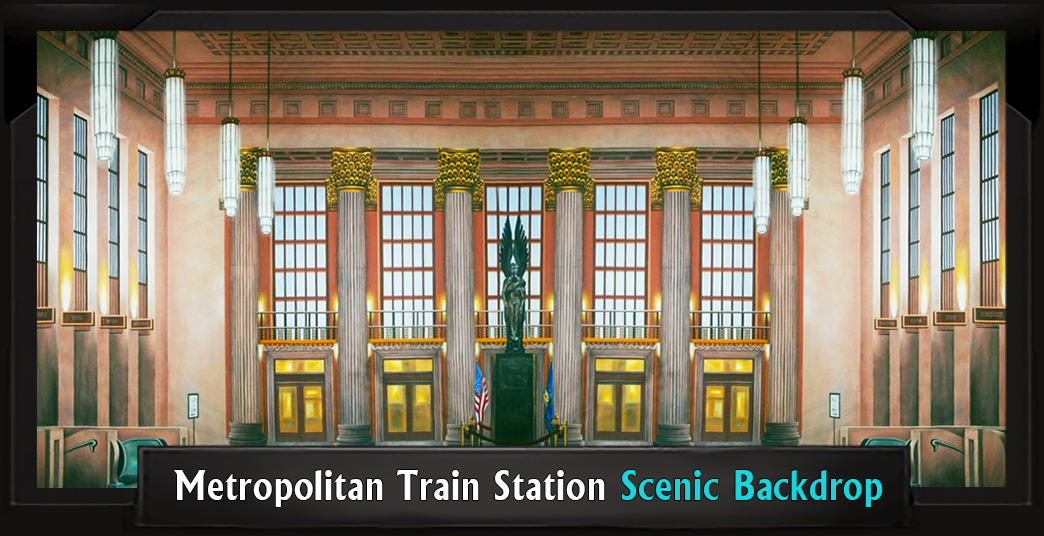 The show opens as Millie departs her hometown of Salinas, Kansas ("Not for the Life of Me"). She arrives in New York City ready to leave her small town roots behind. Millie gets a "flapper" makeover and reinvents herself ("Thoroughly Modern Millie") – only to be mugged almost immediately. A passing New Yorker, Jimmy Smith, tells Millie to go back home where she belongs… but that only makes her more determined to make her mark!
One thing's certain: the Big Apple has left an even bigger impression on our plucky heroine. Be sure to leave an impression on your audience too! Try this Metropolitan Train Station backdrop for some real big city bang. The drop is reminiscent of Grand Central Station. High ceilings and soaring windows suggest the grand city beyond, just waiting to be explored. Gold crowning and statues also evoke the grandeur of the 1920's, with timeless lighting fixtures suspended from the era-appropriate ceiling. It's just right for Millie's first adventure – and misadventure – in NYC!
The Hotel Priscilla for Single Women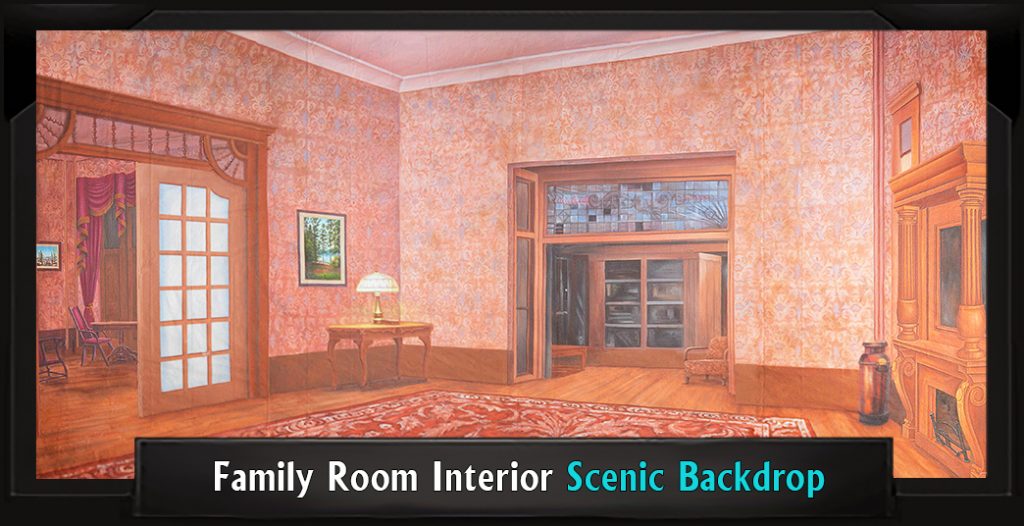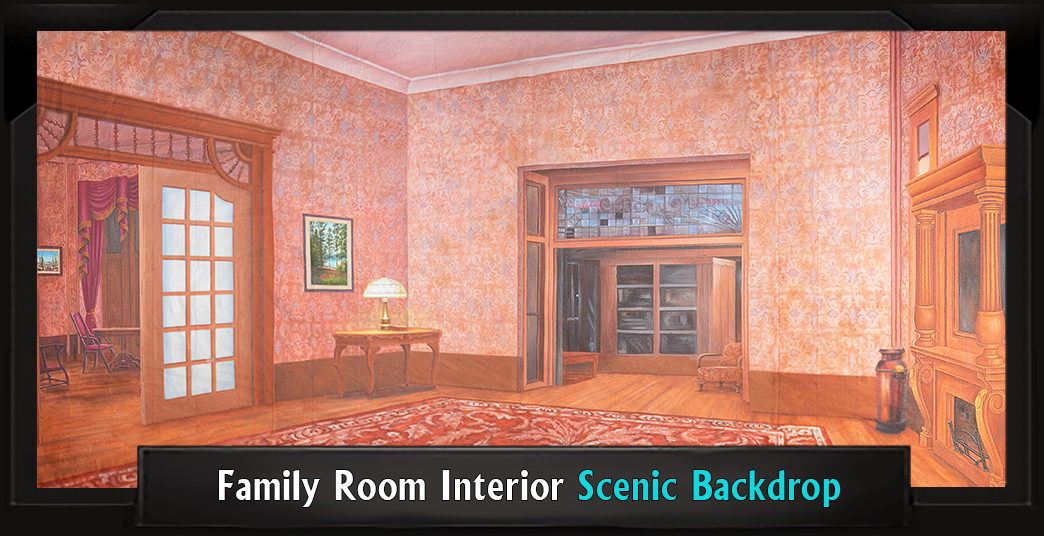 Though broke, Millie secures a room at the Hotel Priscilla for Single Women, a dubious establishment run by the equally questionable Mrs. Meers. With no way to pay for her room, Millie quickly befriends another NYC newbie, the lovely and wealthy Miss Dorothy, who wants to learn "How the Other Half Lives". But everything is not as it seems at the Hotel Priscilla. While Millie and Miss Dorothy quickly become fast friends and roommates, Mrs. Meers has other plans. It turns out she is running a white slavery ring, conveniently "evicting" the single women in her hotel and shipping them off to the Orient. She keeps two slaves, Ching Ho and Bung Foo, in her laundry room to do all her heavy lifting ("Not for the Life of Me (Reprise)").
This Family Room Interior backdrop would be a great choice for the Hotel Priscilla. Wallpaper details in pink hues give the room a feel that is both vintage and feminine. It easily captures the kind of boarding house one would find in NYC at this time period. Multiple glass-paned doors and draping details hint at hidden rooms and secrets kept within these seemingly-homey walls.
Millie and Miss Dorothy have almost nothing in common except for one thing: they're both looking for Mr. Right! However, while Miss Dorothy is looking to marry for love, Millie is far more practical. She wants a husband who is as rich as it gets! But in order to find someone appropriately affluent, she joins the workforce at Sincere Trust Bank. There, she impresses with her typing skills ("The Speed Test") and immediately falls for her new boss, Trevor Grayden III. Handsome and successful, he ticks every box on Millie's list.
Millie on the Job!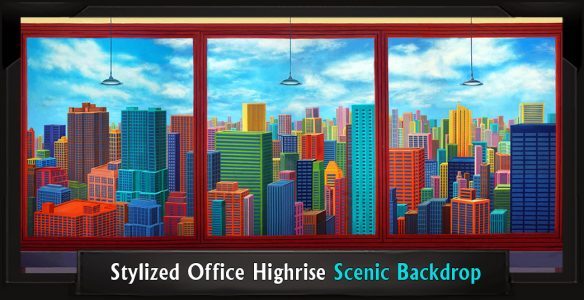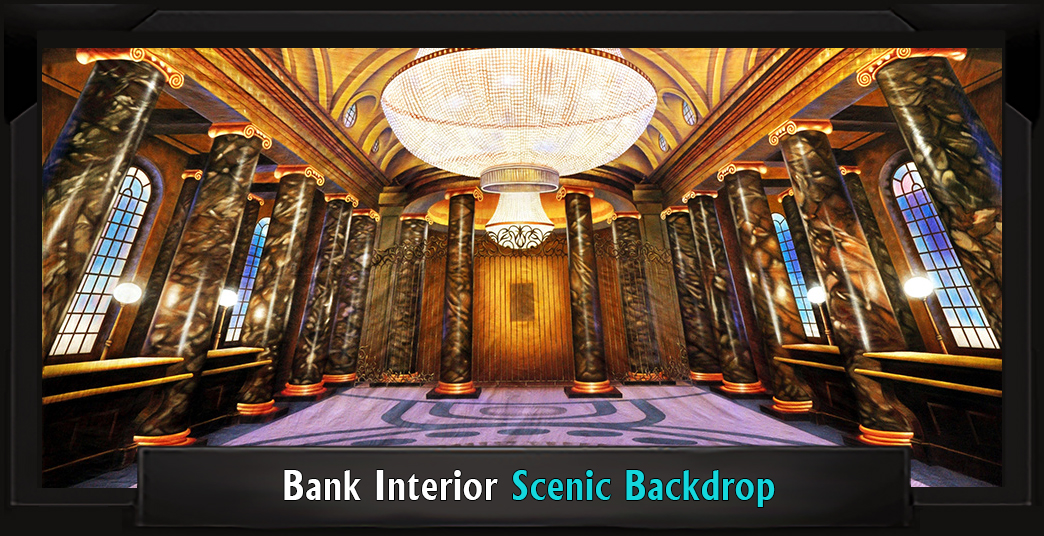 Opt for this Bank Interior backdrop for the Sincere Trust scenes. Let it bring all the high-value pizzazz that dazzles Millie! Lush dark marbled columns combine with arched golden ceilings to bring an abundance of wealth to any stage space. Thick carpeting beneath an enormous chandelier shows that this bank – and its handsome boss – can provide exactly the kind of opulent lifestyle Millie dreams of, if she can only seal the deal!
Or, you can try a more whimsical approach with this Stylized Office Highrise backdrop. Three panes of rich oak-lined windows look out over an idealized city skyline. Since this endeavor represents Millie's romanticized hopes for her future, have fun with the bold primary colors of the buildings that vanish into a sky blue horizon full of hope and sunshine.
Millie runs back home to tell her new best friend about her gleaming prospects, inadvertently foiling an Mrs. Meers' attempt to drug and abduct Miss Dorothy. The girls rush off to celebrate at a speakeasy, while Mrs. Meers laments her unseen genius criminal mastermind ("They Don't Know").
The Toast of the Town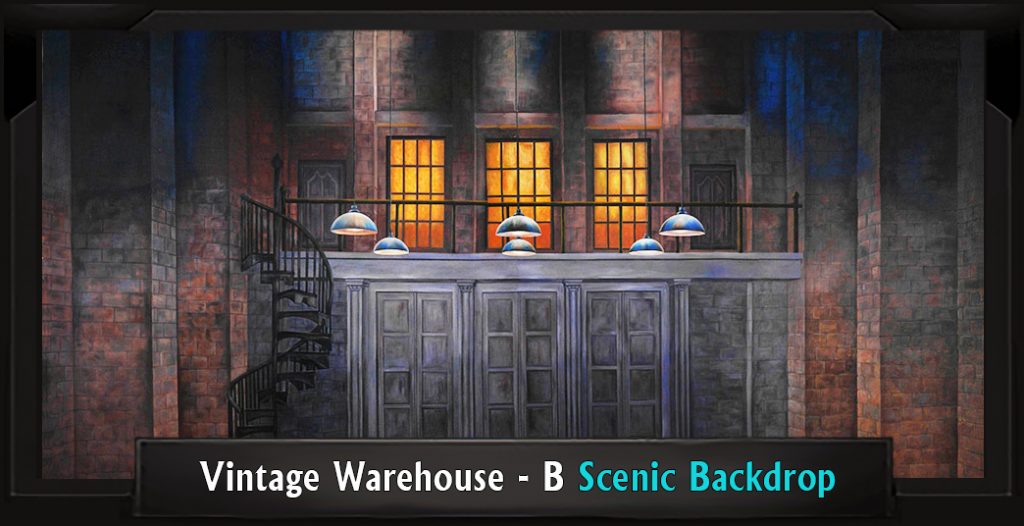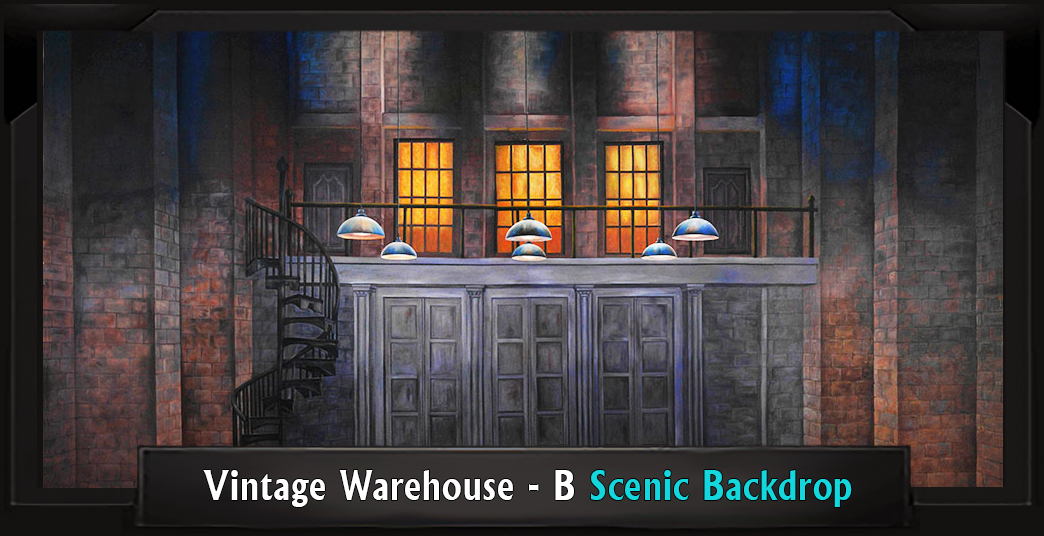 While out on the town, Millie and Miss Dorothy run across Jimmy Smith, the rude man at the beginning of the show who tried to get Millie to go back home to Kansas, and sparks fly. Jimmy realizes he's in love with Millie ("What Do I Need with Love") and invites her to a private party thrown by eccentric city socialite Muzzy von Hossmere ("Only in New York").
These two scenes complement each other in a particular way. The club in which the girls meet Jimmy is a questionable affair that quickly gets busted up by the cops. It's meant to contrast significantly from the Muzzy party. Use some simple set pieces and isolated, shadowy lighting to produce the effect of a basement-style, hidden club in a bad part of town. Add this Vintage Warehouse – B backdrop to really accentuate the working-class area where this club would be.
Muzzy's Home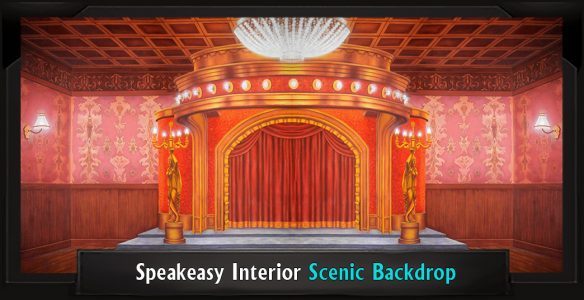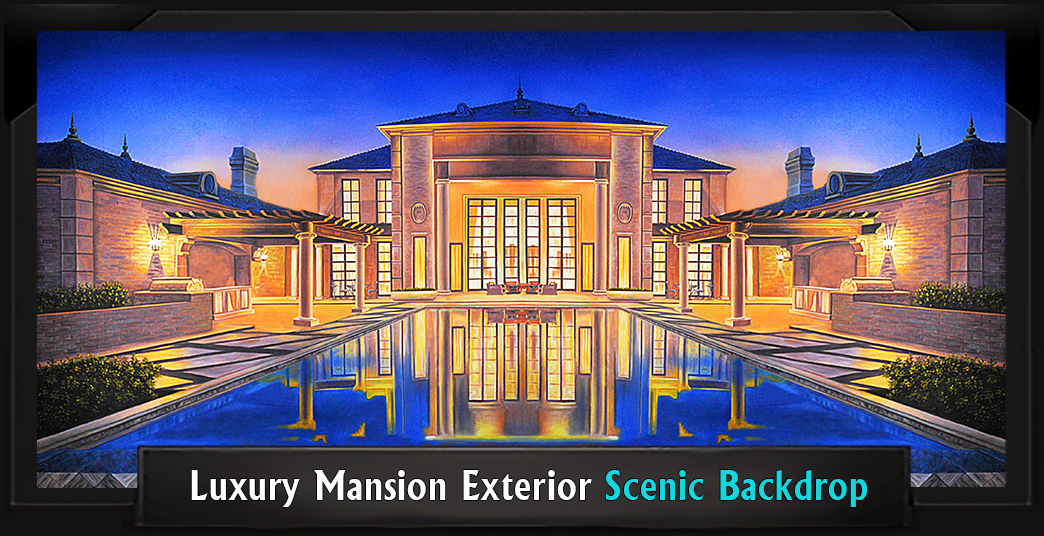 For Muzzy's posh home, try this lush Speakeasy Interior backdrop to showcase the high-class kind of party that only a NY socialite could pull off! Rich red tones highlight an intricately detailed stage, set in a 1920's-esque parlor room with chandelier lighting.
Another choice would be this Luxury Mansion Exterior backdrop. Easily set on Long Island or the rich coast of nearby New Jersey, this sprawling mansion setting would be perfect for an upper-class party. Gleaming lights break up a beautiful twilight setting, with a Gatsby-esque pool spread out for guests to mingle around and enjoy. Only on the rich side of New York could Millie get to enjoy this kind of social event!
Jimmy and Millie argue at the party, but he can't resist stealing a kiss before running away, leaving Millie to come to her own conclusions about her feelings for him ("Jimmy"). She goes home, only to overhear Miss Dorothy and Jimmy talking privately in her room and, assuming the worst, Millie decides she'll have nothing to do with Jimmy ever again.
Forget About the Boy
Back at work the next day, Millie does her best to "Forget About the Boy" and doubles her efforts to marry her boss. In a cruel twist of fate, Miss Dorothy comes to visit and falls in love with Trevor Grayden III the instant their eyes meet – and her feelings are immediately reciprocated ("Ah! Sweet Mystery of Life"/"Falling In Love With Someone"). Dejected, Millie accepts a dinner date to Café Society from Jimmy ("I Turned the Corner"/"Falling in Love with Someone(Reprise)").
Meanwhile, Mrs. Meers and her two lackeys double their efforts to abduct Miss Dorothy ("Muqin"). The evil landlord threatens Ching Ho and Bung Foo that they'll never see their mother again if they don't help her.
Elsewhere, Muzzy performs at Café Society ("Long as I am Here With You"), while Jimmy tries to woo Millie on their date. Millie refuses his advances, determined to marry for money. Later, Muzzy chides her for being a fool and Millie realizes that love is more important ("Gimme Gimme").
Millie at the Cafe Society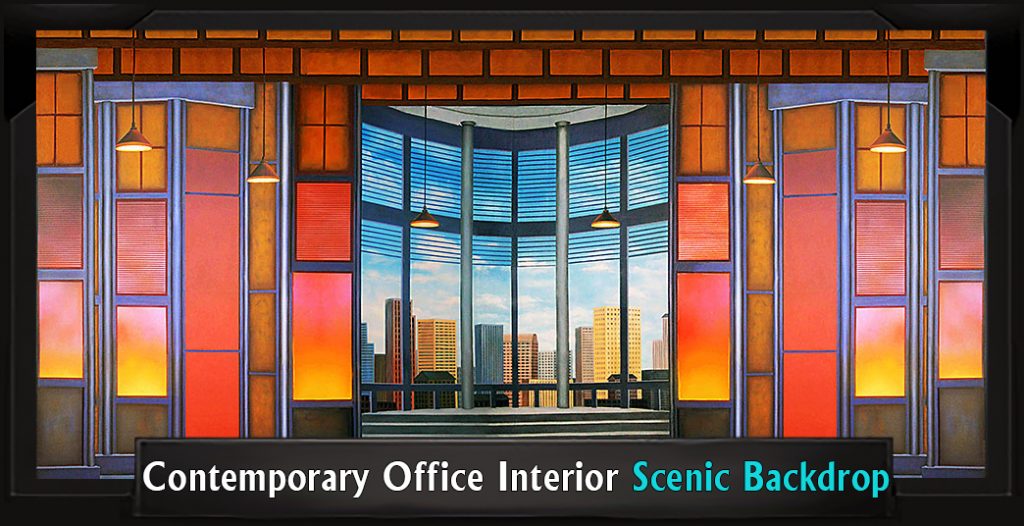 Try this Contemporary Office Interior backdrop for the Café Society. The windows in the center would make a great stage area for Muzzy to perform, while lighting and set pieces could set the stage for a romantic dinner for two between Millie and Jimmy.
Millie goes after Jimmy, but runs into a very drunk Trevor Greyson, who has been stood up by Miss Dorothy. When Millie learns that Miss Dorothy has supposedly "checked out" of Hotel Priscilla, she puts two and two together and they rush to Miss Dorothy's rescue. Mrs. Meers' evil crime ring is broken up. While everything is being brought to light, Millie finds out that Jimmy is actually Miss Dorothy's brother, Muzzy's stepson, and he's filthy rich! Millie and Jimmy end up together, Miss Dorothy pairs up with Ching Ho – who has won her heart while she was captured – and all ends happily and wealthily.
A Finale as Big as New York Itself!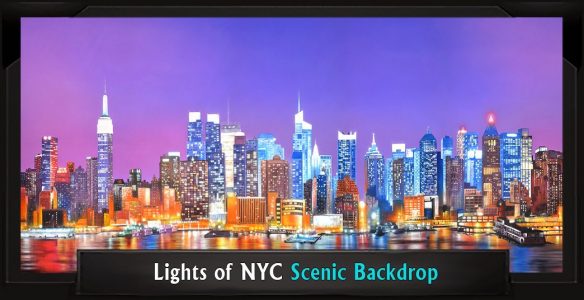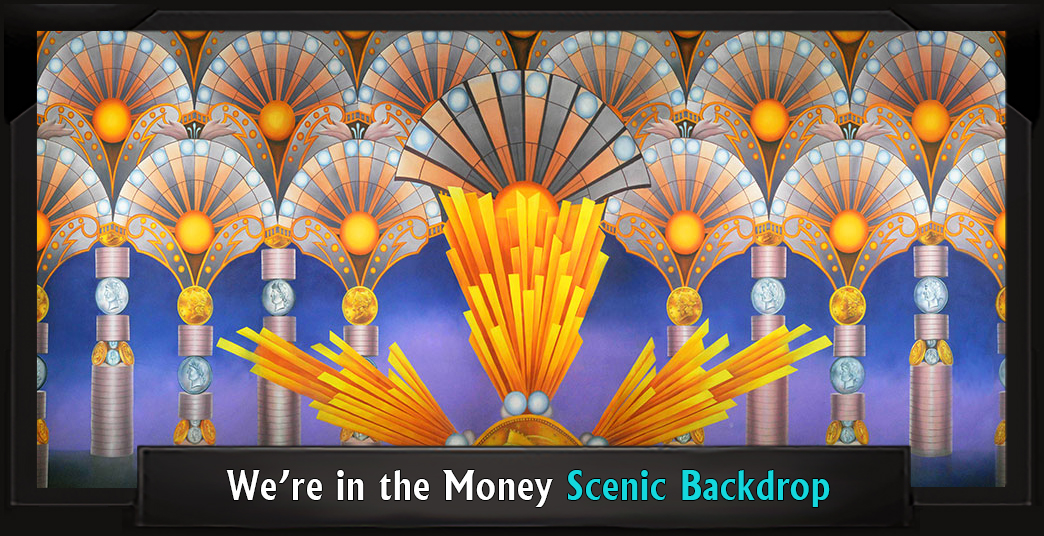 You can really go for the Big Apple nostalgia by using this Lights of N.Y.C. backdrop to bring the show to its grand conclusion! Lights of N. Y.C. features a brightly lit city skyline reflecting across the shimmering water. Happy endings would look amazing against this night time drop.
Another fantastic choice would be to really capitalize on the 1920's era art deco style. Do so in style with TheatreWorld's incredible We're In The Money backdrop! Golden beams and gleaming pillars showcase a tapestry of sunburst fan details, set against rich blues and pale pinks. It's an exciting way to end this madcap adventure/love story, and is sure to bring your audience to their feet!
***
Thoroughly Modern Millie is a show about idealism and youthful enthusiasm giving way to true love and the power of family and friendship. It's a charming story, one that appeals to young and old alike. The jaunty music, quirky characters, and at-times-cartoonish plot devices make this show a sparkling jewel in the cap of any troupe's season. Contact TheatreWorld today to bring your Modern Millie moxy to your own stage!