Going Beyond the Script
Written by: Melanie Simmons
In the 1940's, especially post-World War II, American musical theater trended strongly towards nostalgic themes. Broadway drew in audiences by embracing the American spirit, and Oklahoma! was among the first to set the standard. Oklahoma! was the very first musical penned by what would become the legendary team of Richard Rodgers and Oscar Hammerstein II. The musical opened on Broadway in 1943 and, by the time it closed, it boasted a record-setting 2,000 performances and multiple awards. (Including a Pulitzer Prize!) It has been reproduced countless times domestically and abroad, and its film adaptation won Oscars as well. The show has become an enduring national treasure. In the face of modern political uncertainty, there's no better time to bring this sentimental tale to your own stage!
Oklahoma's Plot
The story of Oklahoma! is a simple one: country girl Laurey Williams has to choose between two competing and polar opposite suitors. Good-hearted Curly is the boy next door. He tries to win Laurey's hand, but he bungles his flirtations just enough to keep her on the fence. Meanwhile, brooding loner and farmhand Jud Fry harbors a dark obsession with Laurey, which scares and attracts her at the same time. Act I centers on an upcoming social dance and which boy Laurey will take as her partner. In a feverish dream, Laurey realizes she loves Curly – but she remains too afraid of Jud to back out of his invitation.
In Act II, Curly and Jud square off over Laurey's affections. Everything comes to a head in a tense bidding war, which Curly wins. Furious, Jud tries to kill him (evoking the vision from Laurey's dream). Ultimately, Jud is foiled, but, later, he tries to confess his love, causing a frightened Laurey to reject and fire him. Jud becomes dangerously unhinged, but Curly comes to the rescue, and, in doing so wins her love. They marry, but it's not all happily ever after. At a celebration to commemorate the territory's statehood, Jud shows up and starts a drunken fight with Curly. Jud loses the fight, and his life, leaving Curly and Laurey finally free to start their life together in peace.
Oklahoma's simple story works because of the grand setting. The wide open Midwest expanse compliments the sweeping score and arching musical themes, weaving an intoxicating tale that elevates the mundane to mystical. Let's see how some of the perfectly detailed drops that TheatreWorld has to offer can bring the grandiosity to your own production!
Oh, What a Beautiful Mornin'! The Fields of Oklahoma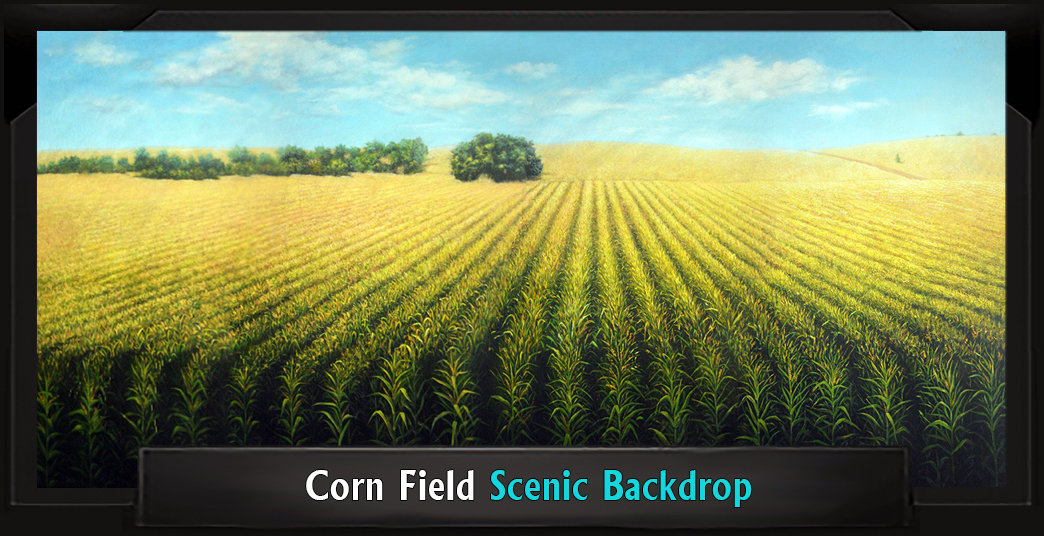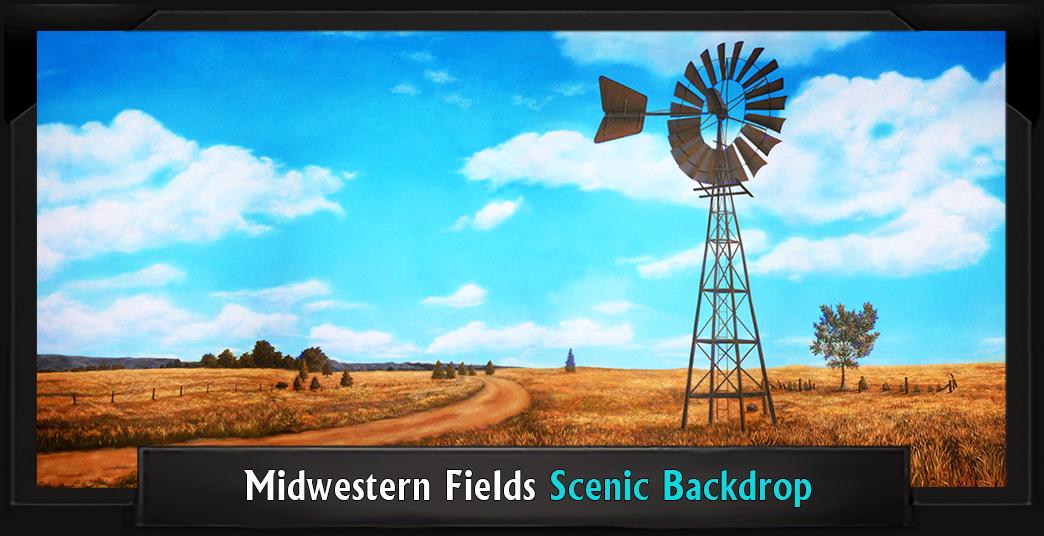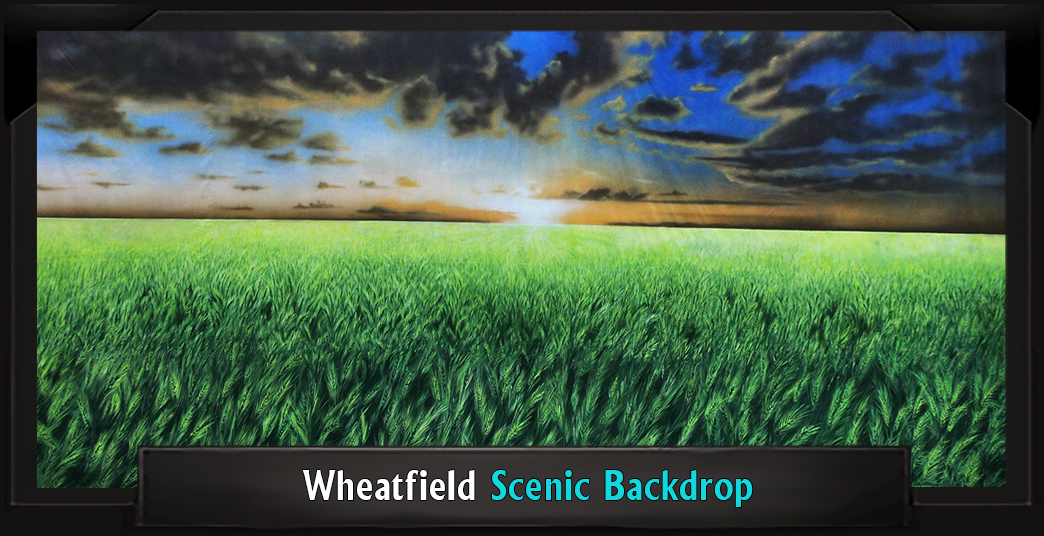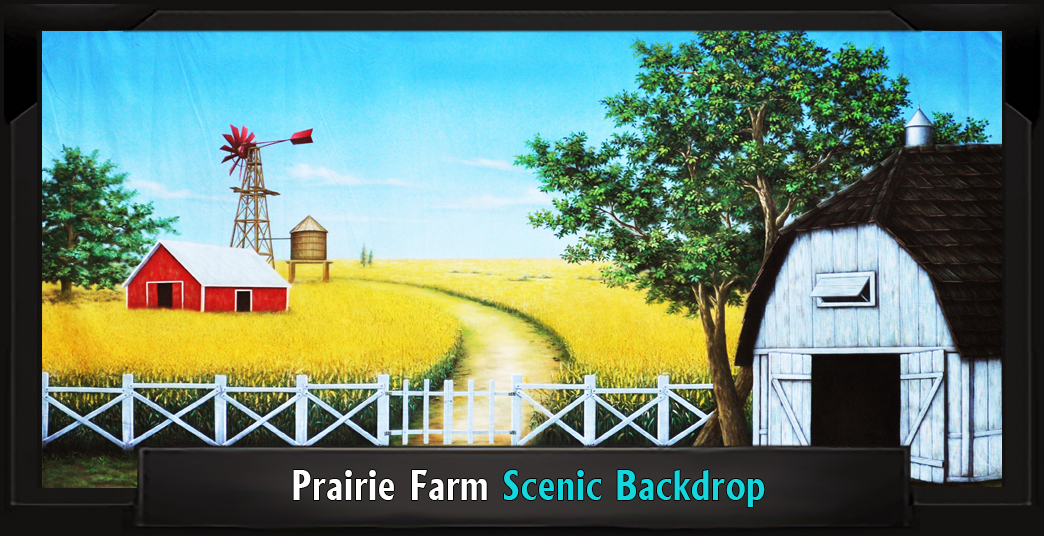 When setting your stage, you'll make the biggest impact by replicating the spacious feeling of the frontier. This Cornfield backdrop is an excellent choice. Rows of sprightly corn vanish into the distance, instantly creating a sense of vast openness beneath pale, wispy clouds. A hearty mix of tamed farmland and wild open prairie abounds. Emerald green tones and a rich blue sky make for a colorful, buoyant palette, just the right setting for the classic opening number "Oh What a Beautiful Morning!".
This Midwestern Fields backdrop is another excellent choice. A lonely windmill stands sentinel over the sweeping plains, as a single dirt road winds into the distance. Hints of settlement are present in the bits of fencing standing tall amongst the grasses. Distant hills shadow the horizon, suggesting dangers and adventures just out of sight. This might well be the road from "Kansas City" that brings the plucky Andrew Barnes back to woo Ado Annie, only to find out that she's being courted by Persian peddler Ali Hakim. Ado Annie's moral dilemmas bring light-hearted comedy to the show. (Especially the classic song "I Cain't Say No".)
Other Farm and Field Drops
Alternately, try this Wheatfield backdrop to add drama to this serene setting. Wild young wheat sways and ripples under an unseen wind, suggesting change and trials sneaking up on our young lovers. The bright blue sky is hampered by dark clouds, which may mean shade… or a storm brewing! It would be easy to imagine Curly riding through these fields in his "Surry with a Fringe on Top" to woo Laurey, while a troubled Jud looks on.
For a homey, family-friendly feel, you might want to consider this Prairie Farm backdrop, which combines many of the elements we've already discussed into one scenic backdrop. Golden wheat fields dance cheerfully beneath a clear blue sky, contained by a white picket fence. The dirt road still leads off into the distance, past a red farmhouse. The windmill proudly oversees this domestic view. A whitewashed barn looms in the foreground, its dark interior possibly containing hidden secrets. (For a starker aesthetic, this drop is also available in Black & White.)
Love Triangles and Dream Sequences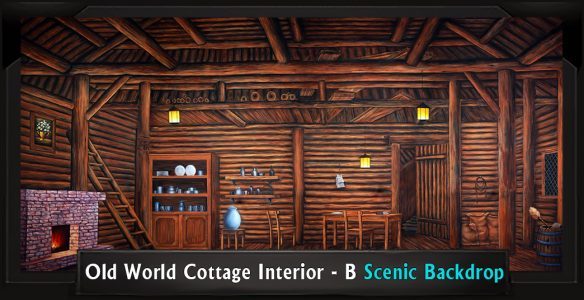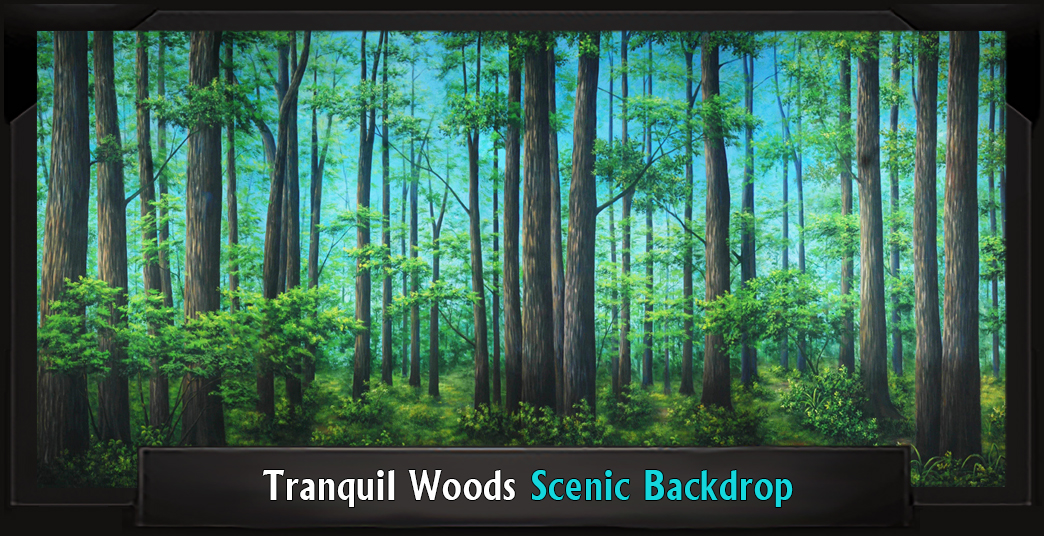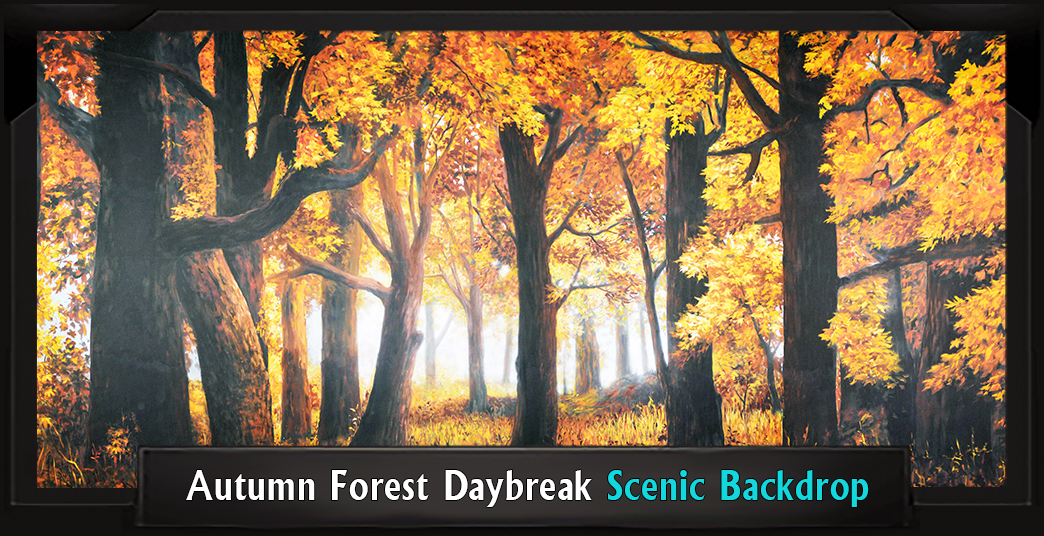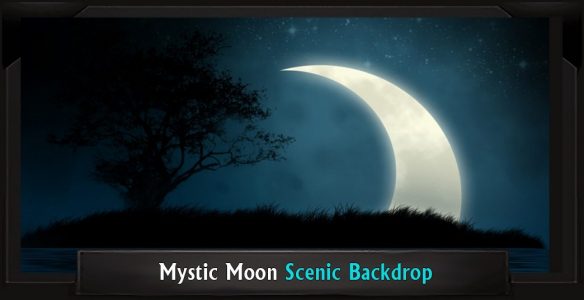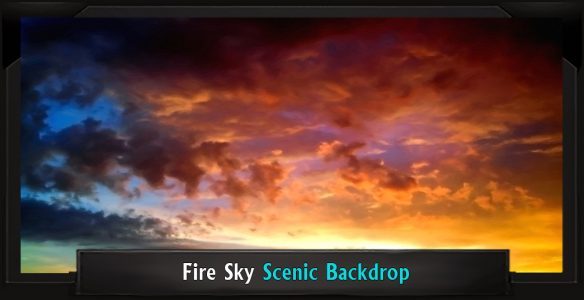 Jud spends a lot of time alone, pining after Laurey and nursing his dark obsession. Consider this Old World Cottage Interior – B backdrop for his "Lonely Room". The wooden logs lie in oppressive horizontal lines, giving a sense of enclosure and repression. Jud's confrontations with Laurey and Curly would feel especially risky with this backdrop adding to the looming danger.
The barely-tamed frontier region is not entirely open fields and rolling hills. Consider this Tranquil Woods or Autumn Forest Daybreak backdrop to bring some variety and put your own spin on this classic love triangle.
The "Dream Sequence" is one of the few scenes in Oklahoma! where you can really get imaginative with the setting. Take full advantage of this and choose a drop with big impact! This Mystic Moon backdrop features a dramatic crescent moon, rising behind a lone, sprawling oak, which stands alone in the middle of dark waters. This could easily evoke Laurey's internal dilemm, as she struggles to choose between Curly and Jud.
For some real drama, try Fire Sky as the backdrop to the dramatic ballet sequence. Vibrant colors explode across the stage as the dancers play out Laurey's worst nightmare!
Oklahoma Barn Backdrops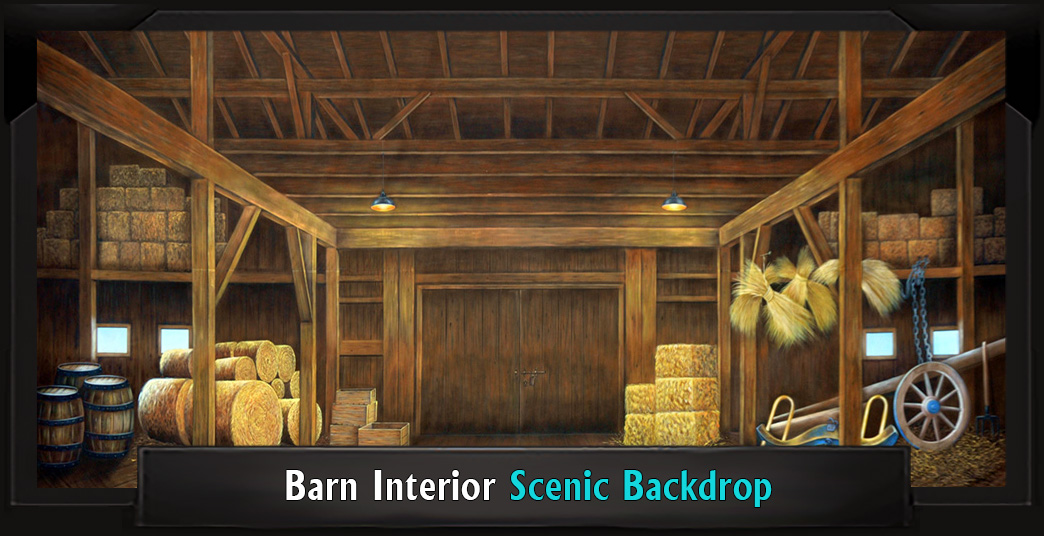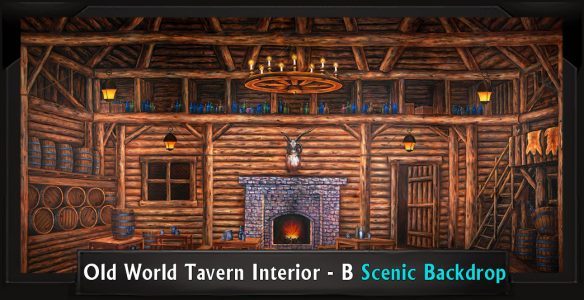 Act II of Oklahoma heavily features the barn square dance ("The Farmer and the Cowmen"), so you're going to need a barn! Skip the set pieces and give your actors and dancers plenty of room to move by letting this Barn Interior backdrop do all the work for you. Broad beams hold up the high roof, housing golden bales of hay against rich dark wood. A few ventilation windows add a practical element. Barrels and farm gear strewn about show this is a working barn, not just a social venue. Strew bales of hay about and add lighting effects to simulate streaming sunbeams. The audience will be drawn in to some good old Midwestern nostalgia in no time.
Another great option for the barn scene, or any farm house interior scene you might decide to use, would be this Old World Tavern Interior – B backdrop. The heavy log cabin walls match well with the interior of Jud's place, keeping the frontier feel. Candles and a large fireplace feature indoor lighting appropriate to the time period. The enclosed feeling juxtaposes with the expansive exteriors and will help emphasize the prominent musical themes.
***
Like the bygone frontier, Oklahoma! is brimming with beauty, passion, love, and danger. Despite the darker themes of jealousy, betrayal, and murderous intent, the show still ends on a note of hope for the future and for true love. For this reason, combined with the unforgettable score, this show is always welcomed on any stage. So let your imagination soar, and let TheatreWorld put together the perfect drop package to bring the American spirit to your own venue!