Going Beyond the Script
Written by: Melanie Simmons
The classic tale of Peter Pan has always resonated with audiences, and never so much as now. Who doesn't want to snag some fairy dust and go sailing off into the sky, away from all adult responsibilities?
Peter Pan the musical was adapted from the 1094 play written by J.M. Barrie. (Which he later novelized as Peter and Wendy, the book so many of us grew up reading.) The story was adapted many times, but it was the full Broadway musicalization in 1954 that really let the story soar! The musical's plot follows the classic tale of the ageless young boy (usually played by a woman, on stage) who lives in a place called Neverland. While visiting real-world Victorian London, Peter meets a young girl named Wendy and takes her and her two brothers with him to Neverland. This magical place seems idyllic, but the children find they have to battle pirates, crocodiles, and their own longings for home. In the end, good wins out… but Peter refuses to stay with Wendy after taking her home, preferring to return to Neverland where he never has to grow up.
With so many cares in the world, why not transport your audiences to a time and place where childhood lasts forever? Though the story is so familiar, there are several different ways to stage this tale. Let's take a look at a few different takes: one that captures an idyllic youthfulness, or some more nuanced takes on the story. Regardless of which direction you choose, TheatreWorld offers all the right backdrops to help you bring this high-flying adventure to your own stage!
An Animation-Inspired Production of Peter Pan
Our first take on Peter Pan is mostly in line with the family-friendly aesthetic immortalized by the Disney animated feature. Bold lines, bright colors, and lots of fun details make these drops really stand out.
Animated London Drops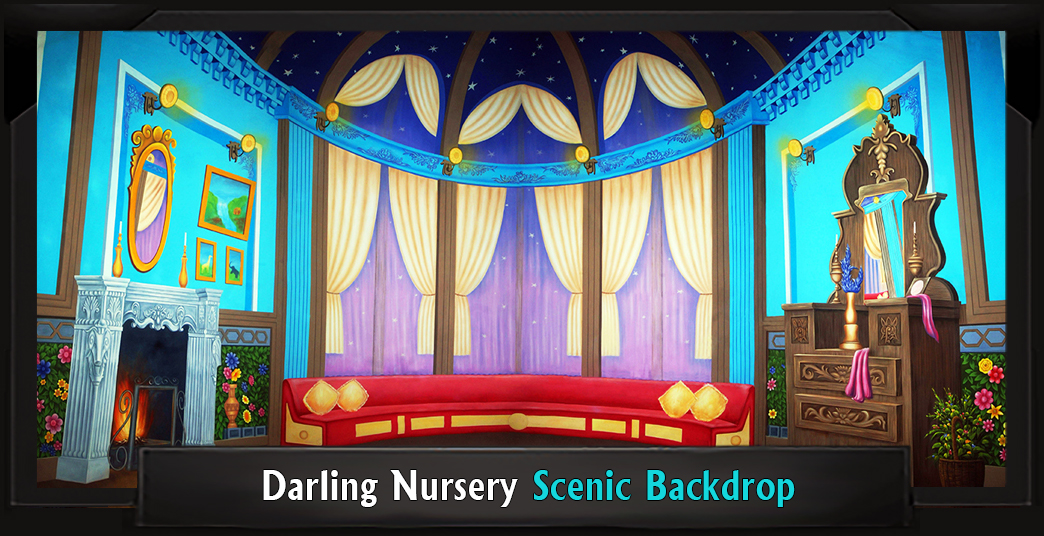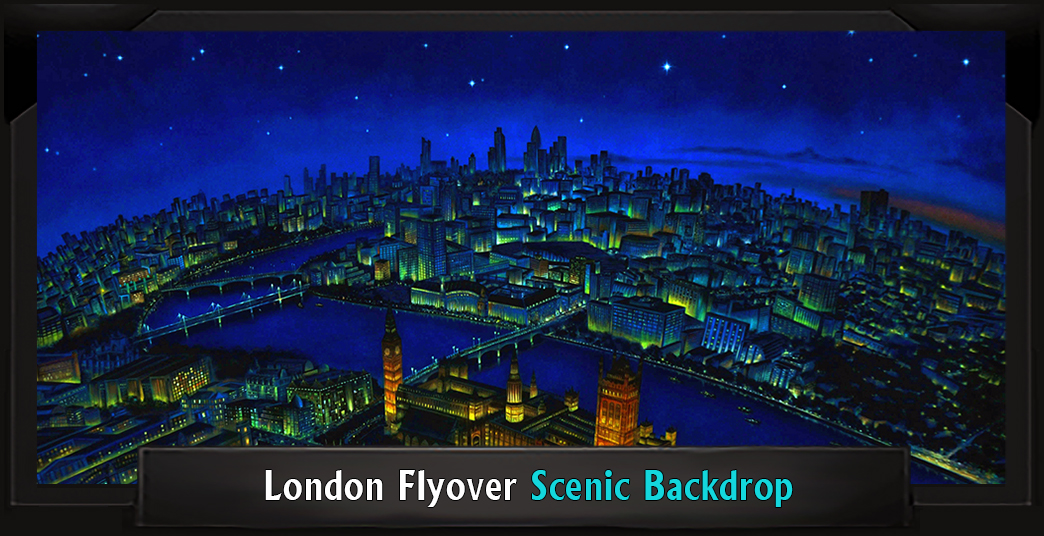 Take this Darling Nursery backdrop, for example. Pops of turquoise and crimson play against rich oak hues, combining the wonder of childhood with accents of Victorian architecture. A giant window fills the center, perfect for Peter Pan and Tinkerbell to fly through, followed later by the Darling children! Playful elements, like the floral wallpaper around the fireplace and bureau and twinkling stars painted on the ceiling, foreshadow elements of the story yet to unfold. Add a few set pieces for the Darling children's beds, and this scene is good to go.
One of the funnest scenes in the story is when Peter takes the children for a midnight flight over London. They're chasing the second star to the right, and straight on to Neverland! This London Flyover backdrop does most of the work here for you. The sleepy London town in laid out in nighttime blues and blacks, with amber and green highlights. A bit of forced perspective curvature lets the city vanish beneath the children – all you need to do is let them fly! If your venue doesn't allow for a cable system, then some clever fog and lighting elements, together with this drop, will do the trick nicely.
Animated Neverland Drops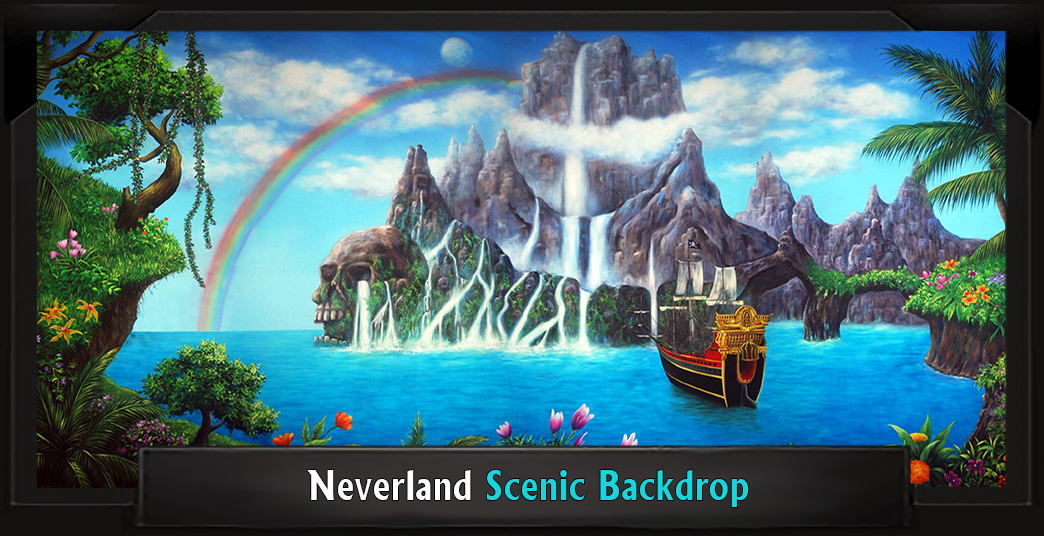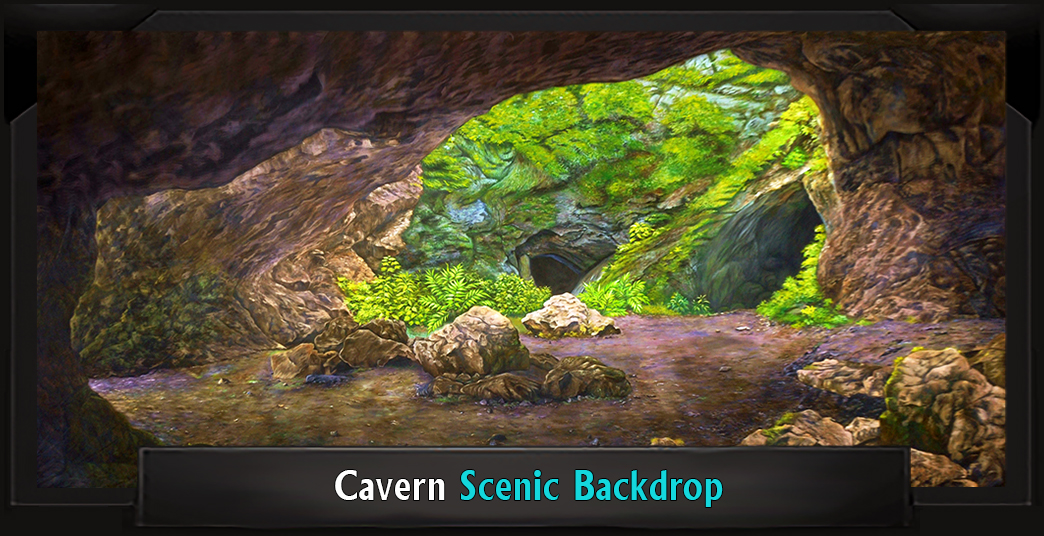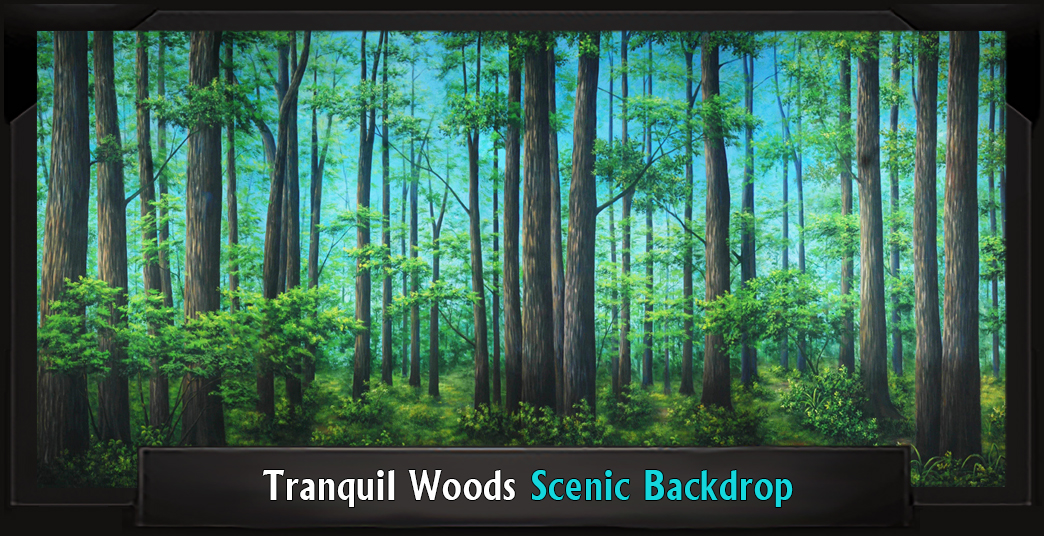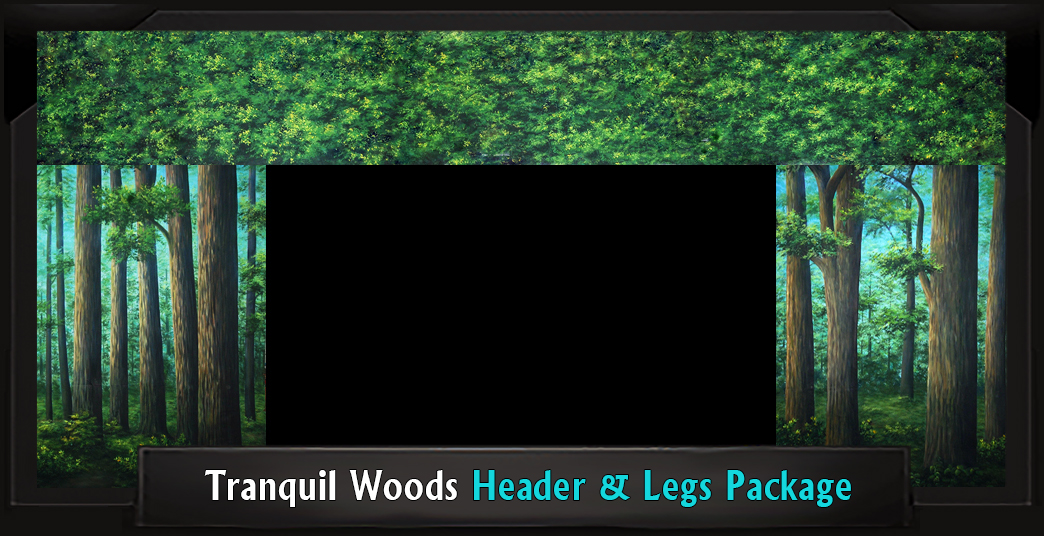 The first sight of Neverland should be one that makes your audience gasp in delight! That's why every possible bit of detail has been put into this Neverland backdrop, which was designed specifically for this show. Lush vegetation frames out the front, providing perspective. Neverland island itself is teaming with waterfalls. A rainbow curves colorfully against the horizon under a pale daytime moon… and, of course, there's Hook's ship just waiting in the harbor! Adventure surely waits around every corner with this delightful backdrop.
The Lost Boys weren't born under a rock – but they sure do live there! Try this Cavern backdrop for plenty of flexibility in staging the many scenes that take place here. The bright green backdrop highlights some cave openings, giving the impression of several entrances and exits to this still-hidden location. Some dark shadows up front frame out the drop, indicating that danger still lurks in the corners for these feisty boys and their newfound friends.
The lush forests of Neverland are another good place for the Lost Boys' adventures to unfold. This Tranquil Woods backdrop features primarily green foliage and aqua blue skies, making for a serene, yet mysterious setting. Tall tree trunks vanish into the distance, so there's still plenty of hidden places for danger – and pirates! – to lurk. Add the Tranquil Woods header and legs to complete the set. You'll create an immersive experience that draws your audience into the wild heart of Neverland.
On the Pirate Ship/Home Again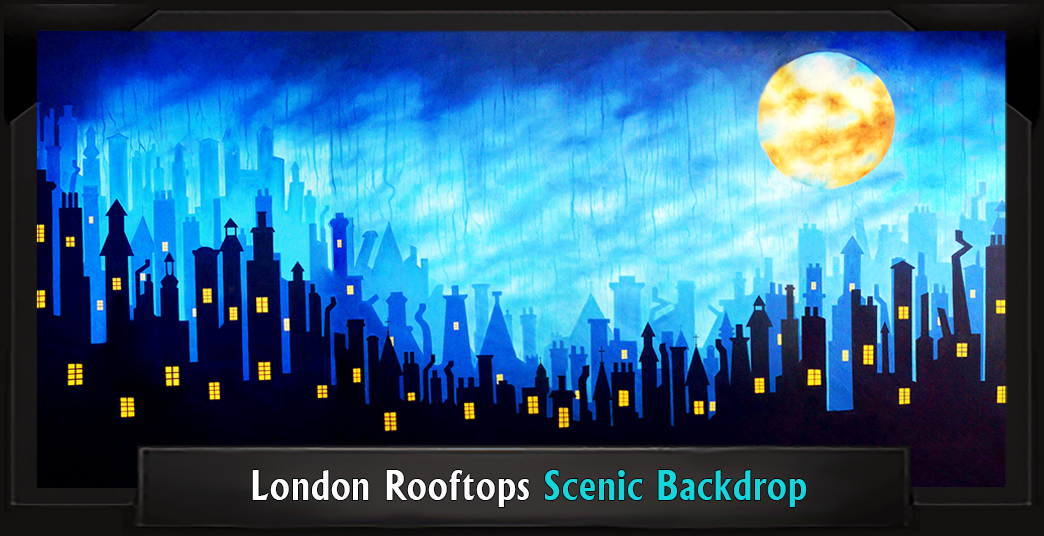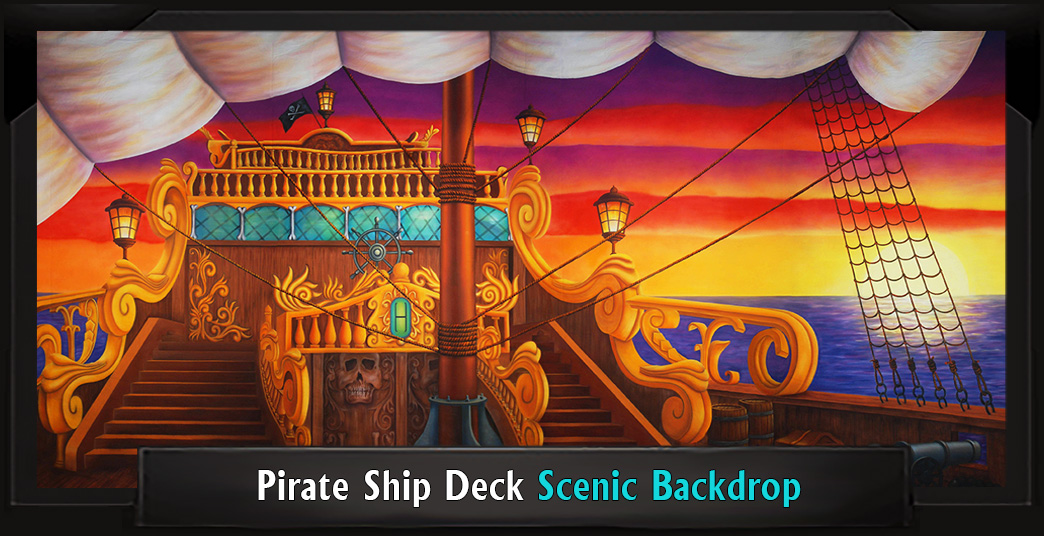 Of course, it wouldn't be Peter Pan without Captain Hook! This Pirate Ship Deck is perfect for this animated theme, with bold colors dancing playfully in every corner. Rich ambers accent the fine details on the ship itself, conveying the wealth of the pirate's past endeavors. A topsail billows ominously overhead, while the wooden deck stretches perfectly into whatever set elements you'd like to add. A golden sun sinks into the blue horizon in the background, hinting that the Darling children's time at Neverland is almost up.
Every good story must come to an end, so, their adventure finished, Peter flies Wendy and her brothers home again. This London Rooftops backdrop could be a fun way to end the show, bringing the children and the audience back to themselves. Deep blues outline the tops of the buildings, fading in ever-lightening shades into the distance. They provide a more intimate sense of perspective than before. The golden moon hangs reassuringly in the sky, promising the comfort of home.
A Historic Take on Peter Pan
Perhaps a more historical approach might be an innovative direction to take. The Victorian era is one of great drama and detail and is always fun to explore to its fullest. Choose costumes and set pieces with a Victorian feel. Round things out with some backdrops from a bygone era. Washed-out hues and vintage details give the following drops feeling of days gone by without skimping on playfulness.
Historic London Drops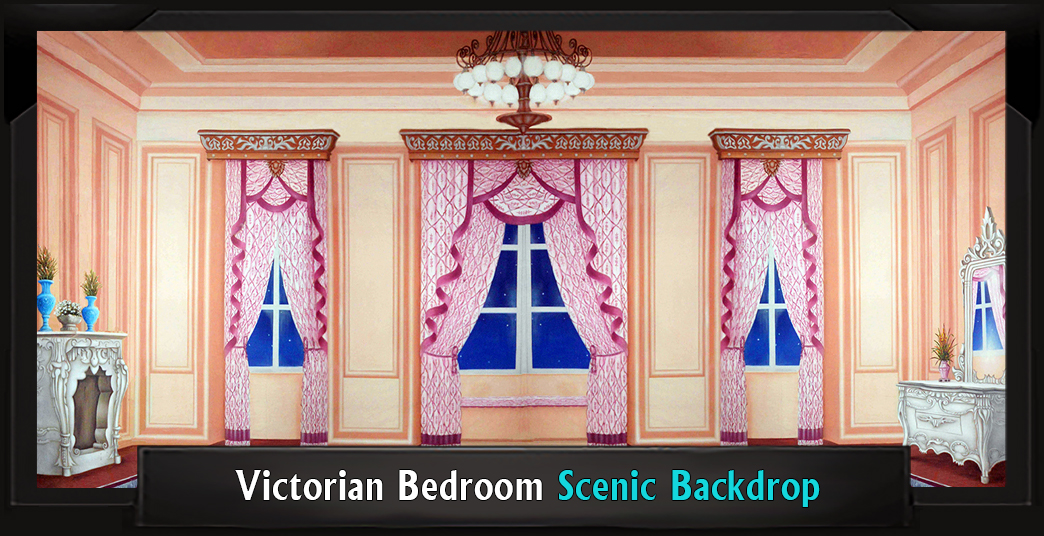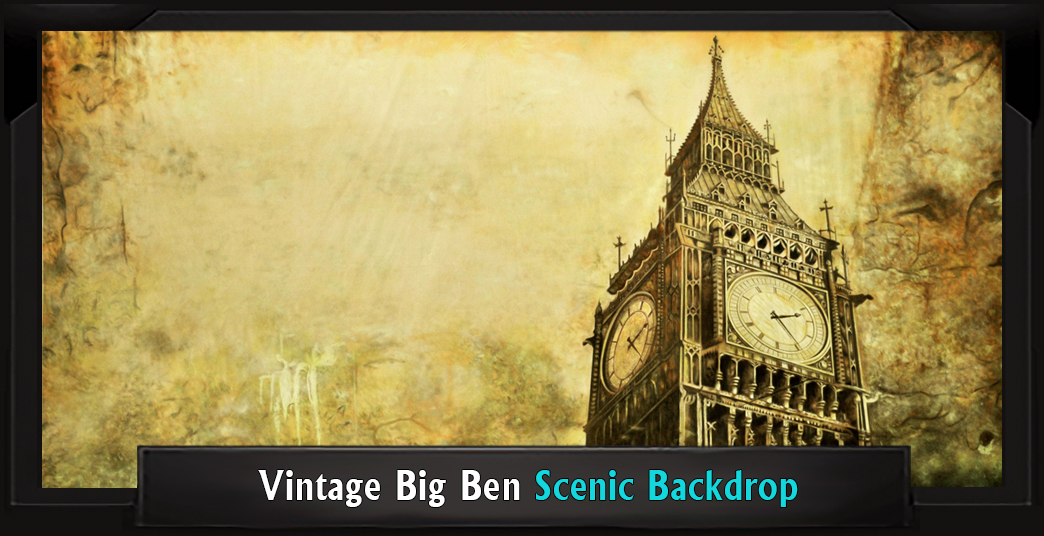 This Victorian Bedroom, for example, would make an excellent Darling nursery. Richly detailed furniture edges the pale pink walls, which highlight intricate molding well-suited to the Victorian era. The windows are still perfectly situated for a Neverland intrusion. Beyond them, the starry night beckons.
This Vintage Big Ben backdrop is a really different take on the nighttime flying scene! Shades of amber, cream, and espresso swirl together in a distressed technique that makes the drop feel like old parchment. It almost feels like the children are flying into an old fairy tale book, its pages crinkling with age.
Classic Neverland Drops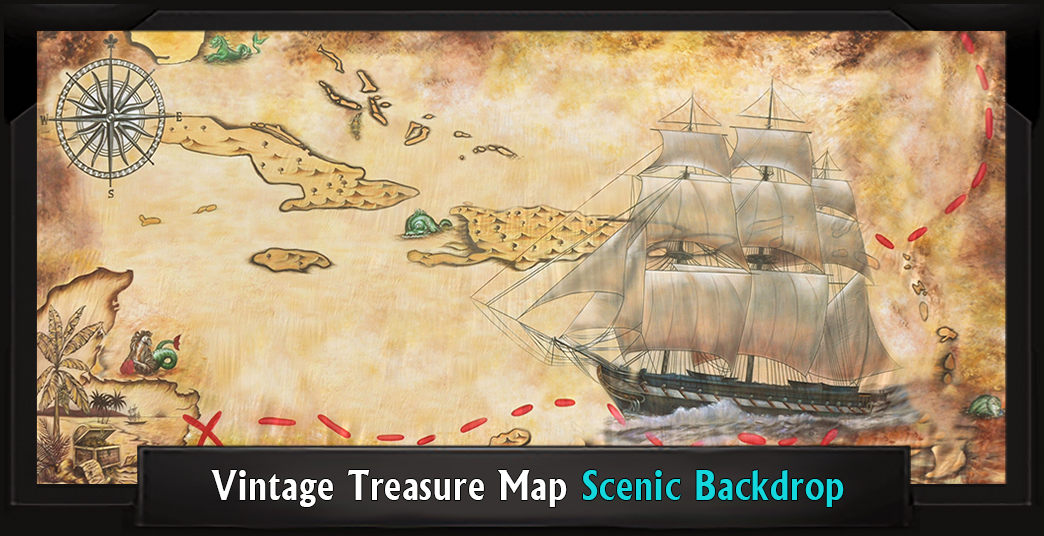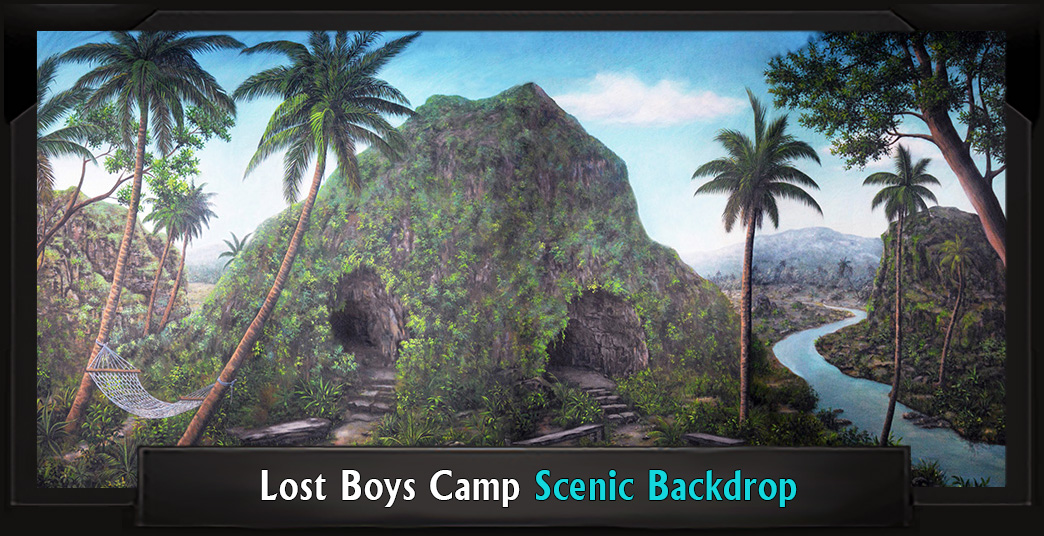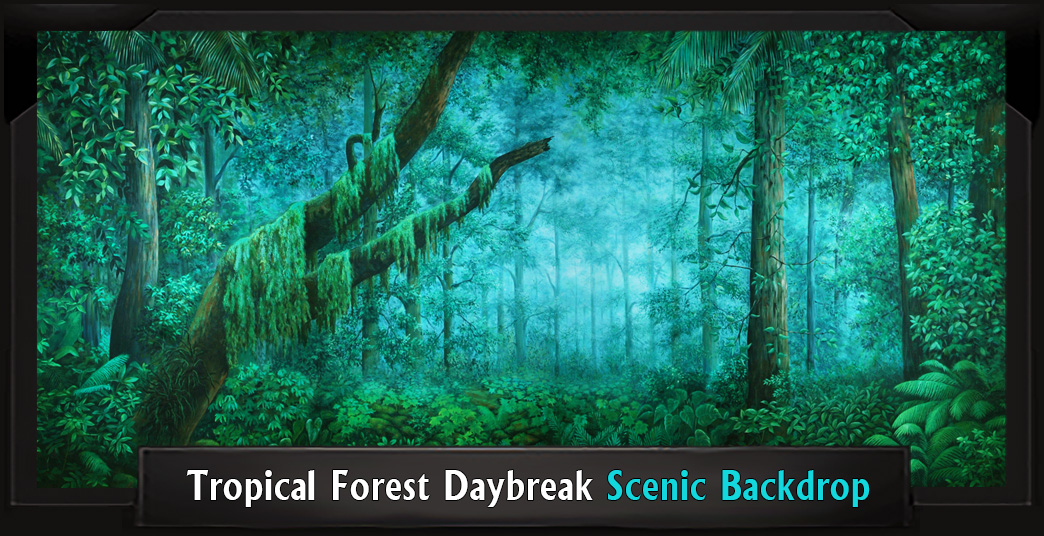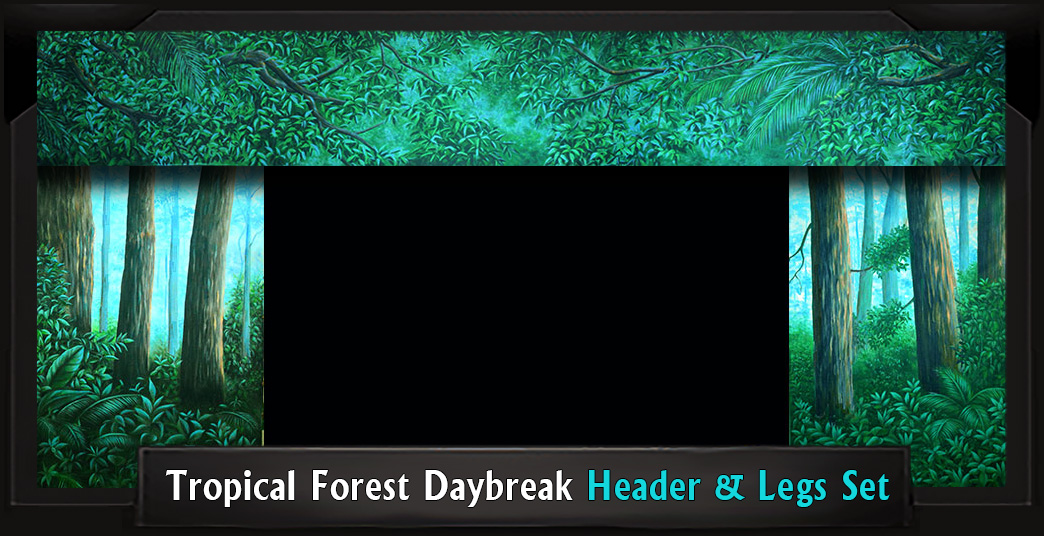 That same vintage paper aesthetic would pair very well with this Vintage Treasure Map backdrop. Another fun take on the Neverland reveal, this drop features remote islands in a nameless sea – any of which could be the mystical island of Neverland. An old sailing ship is prominently featured, which, naturally, would symbolize Hook's domain. Red dots lead along a tricky trail, until X marks the spot! A lovely mermaid lounges by a hidden treasure. Using this option would fully explore the "fairy tale story" feel and let the otherworldliness of Neverland really stand out.
TheatreWorld also designed the Lost Boys Camp backdrop specifically for this show. The washed-out colors would suit the vintage feel. The lush greens add color and texture. Multiple entrances bore into a sullen hill, while a hammock stretches playfully across two palm trees. The nearby river wends its way into the distance, indicating there is plenty of Neverland left to explore.
Let's choose a slightly darker kind of forest for this version of Neverland. The Tropical Forest Daybreak backdrop (also available with header and legs for that immersive feel) would be a great companion to the Lost Boys drop. It also brings out the emerald hues, while draping moss and deep shadows keep the mystery close at hand. This drop brings a slightly more dangerous tone to the Lost Boys' adventures.
Captain Hook's Ship and Back to Reality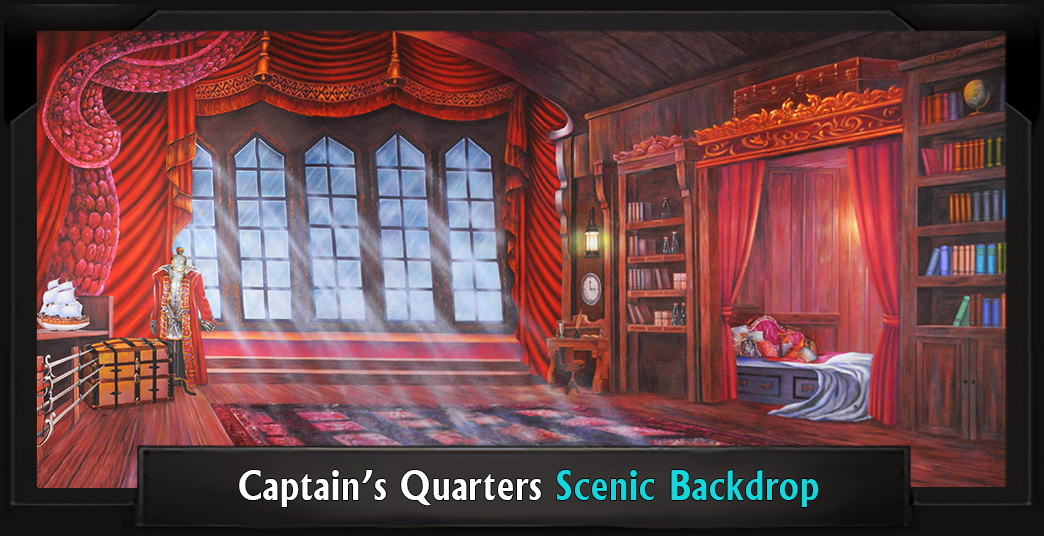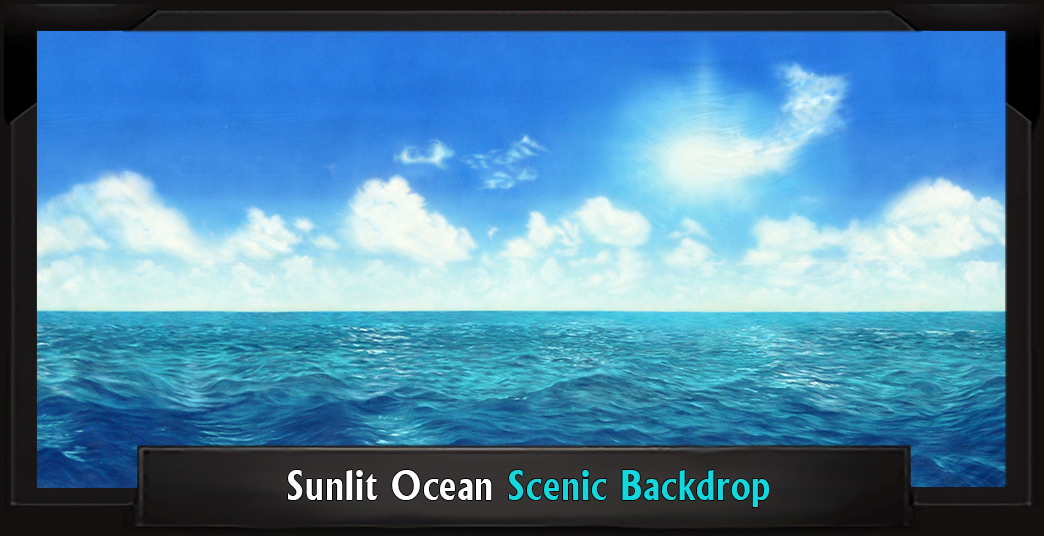 Captain Hook and his nasty pirates are a strong thematic change from the rest of Neverland. Use this Captain's Quarters backdrop to bring in a totally different color scheme to accentuate how different Hook is from his nemesis. While Peter Pan has all the forest and sky to explore, Captain Hook huddles in his enclosed ship's quarters. Reds are predominant here, emphasizing the flamboyant and enraged personality of Captain Hook, while the tall windows let him look out on a world he can never conquer. Whimsical details, like his signature red jacket, tiny ship mockup, pink pillows, and multicolored books on the shelf really give this drop a lot of personality – just like everyone's favorite pirate!
Wendy and her brothers are almost forced to walk the plank. But Peter and the Lost Boys rescue them just in time, and Captain Hook meets his watery end! This Sunlit Ocean backdrop is a great way to give yourself lot of options for staging all this action. Build your own ship desk, complete with a gangplank. Don't forget that crocodile just waiting to leap out and grab its meal. Rippling waves are drawn in such detail you can almost see them moving, as they vanish against an aqua blue horizon. Fluffy clouds hover low in the sky, promising a happy ending just around the corner.
A Darker Take on Neverland
Or really give Neverland an adult twist by channeling your dark side and honing in on some of the angstier elements of Peter Pan. These darker drops will really help you focus on the more adult themes and grow the story up a bit.
A Sophisticated London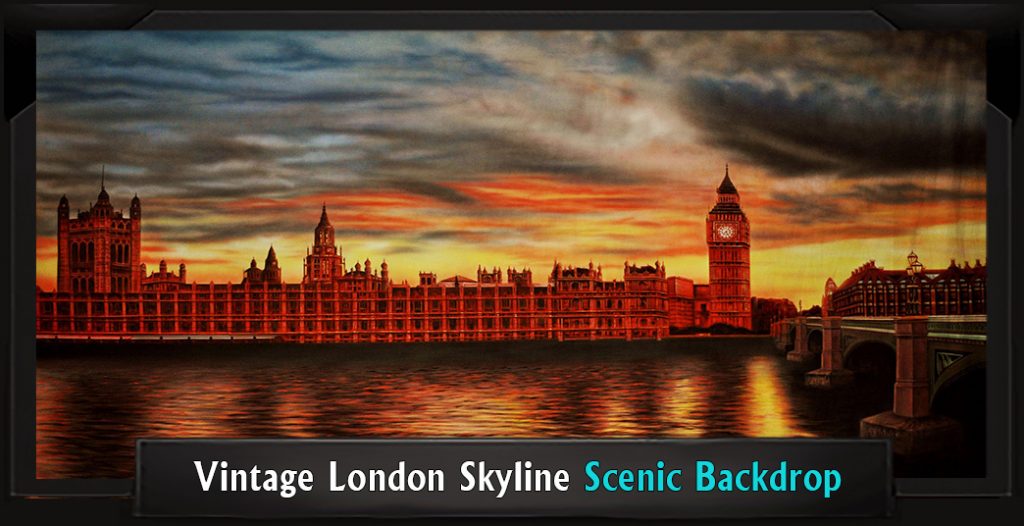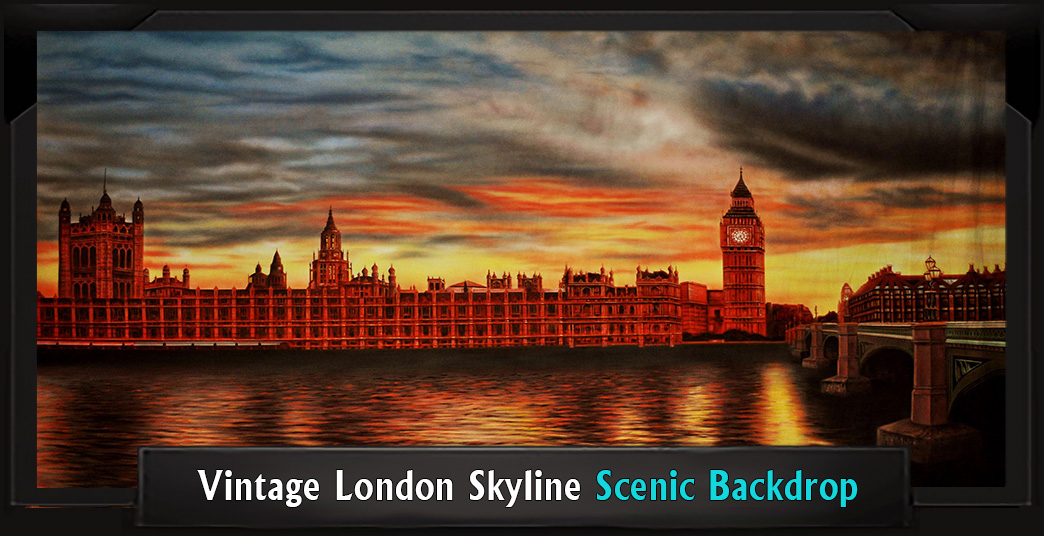 Take this Vintage London Skyline backdrop, for example. Incredible details bring the stern outline of Parliament, with Big Ben holding sentinel over the Thames at sunset. Instead of being full of stars, the sky is barely holding back a brewing storm while the sun sets in deep oranges and crimson.
A Darker Side of Neverland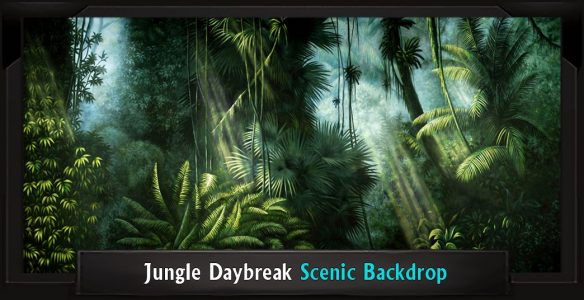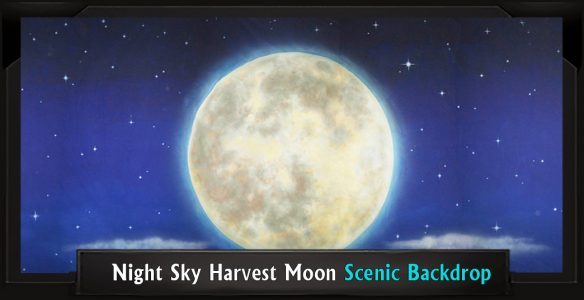 Take Neverland to the wild side with this Jungle Daybreak backdrop, header, and legs set. Deep shadows are prominent amongst the thick vegetation, with pale hints of sunlight that only deepen the shadows. Vine details enhance the thick, choking feel of the wild jungle.
Try this Pirate's Cove backdrop for the introduction to Captain Hook and his gang. Deep blue hues are broken up only by the pale moon, hints of amber from the ship's quarters, and the glint of golden treasure.
Finally, use this Night Sky Harvest Moon backdrop to support your Cove scenery. It's also a perfect drop to end the show. An enormous silver moon takes center stage on this drop, while a few stars break through the navy blue nighttime sky. Only a few wispy clouds hover on the very edge.
***
Whether you go for light and airy fun, or dark, angsty, grown-up themes, Peter Pan is a timeless tale. There's no doubt your production, will always have a special place in the hearts of your cast, crew, and audience members.
Let TheatreWorld do the heavy lifting for you! No matter which themes you choose, we'll help you find just the right backdrops to let your interpretation of this grand tale soar!