Going Beyond the Script
Written by: Melanie Simmons
Rock musicals are nothing new to the Broadway scene. With the success of shows like Jesus Christ Superstar and Rent, it's fair to say the genre is a modern phenomenon. However, no show rocks audiences quite like School of Rock. Based on 2003's offbeat hit movie of the same name, School of Rock boasts the talents of legendary composer Andrew Lloyd Webber and lyrics by Glenn Slater, with book by Julian Fellowes. The story of down-on-his-luck would-be rocker Dewey Finn has transcended Jack Black's engaging film performance and has made its home on Broadway. The show premiered on the Winter Garden Theatre stage in 2015. School of Rock was nominated for a host of Tony Awards and Drama Desk awards, including Best Musical.
This is a fantastic show to put on if your talent pool trends young. The stage version of Dewey's tale – where he masquerades as a sub in a prestigious private school and draws the musical talent out of his young pupils in order to win the Battle of the Bands – focuses more on the children and their stories than Dewey and his struggling rock career. It cleverly features the musical and singing talent of young actors typically between the ages of 9 and 15. Additionally, the material and music appeals to non-traditional Broadway audiences, so it's the perfect show to put on in areas unaccustomed to musical fare. Since the plot focuses mainly on character development, this is a great opportunity to keep the set pieces minimal and let the backdrops and the actors tell the story. Let's take a look at some of the backdrops TheatreWorld offers for this "kick ass" show!
Act One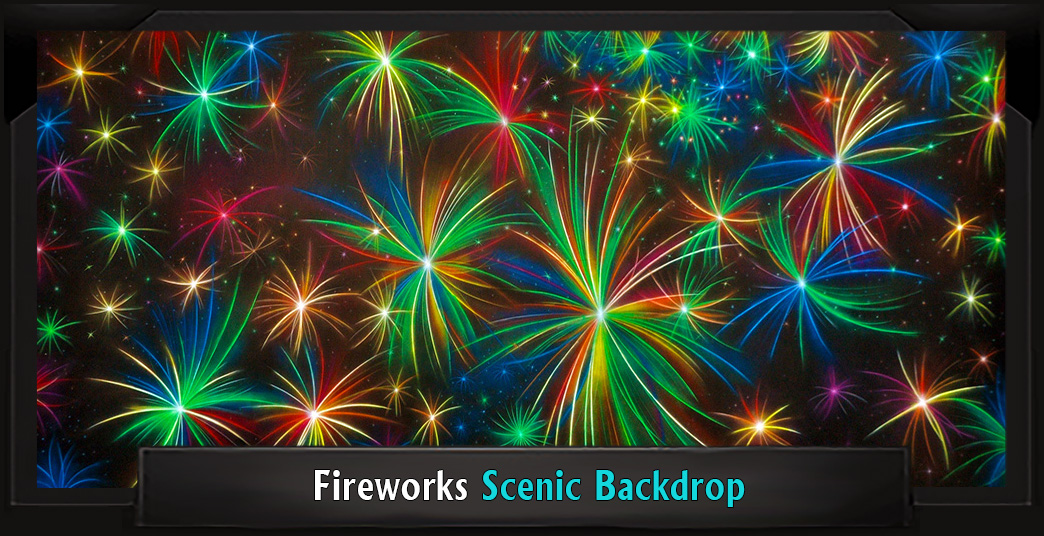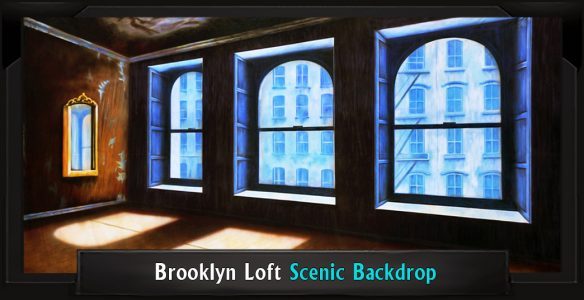 The story begins at a rehearsal for up-and-coming rock band No Vacancy, of which Dewey Finn is a member and founder. ("I'm Too Hot for You") Convinced he's the greatest talent in the band, Dewey tries to upstage the lead singer. His band turns on him, despite Dewey's insistence that the band would be nothing without him. Try this Fireworks backdrop, featuring bright bursts of color against a night sky. You'll set the tone for this colorful band of misfits shooting for the stars. The bright bursting details would compliment the incendiary member interactions nicely.
Dewey's run of bad luck continues back at home. He owes Ned, his friend/former bandmate/landlord, for his portion of the rent and has 30 days to pay. Then, Dewey accidentally intercepts a phone call intended for Ned. Desperate to come up with his rent money, he pretends to be Ned and accepts a substitute teacher job from a prestigious prep school in order to pay rent. Still, this is just a temporary fix for his immediate problems, as he still has big plans to conquer the rock world. ("When I Climb to the Top of Mount Rock") Try using this Brooklyn Loft backdrop to represent Dewey's apartment. The window details enhance the city setting, while the distressed details on the wall indicate Dewey's dubious place on the socioeconomic strata.
Dewy at Horace Green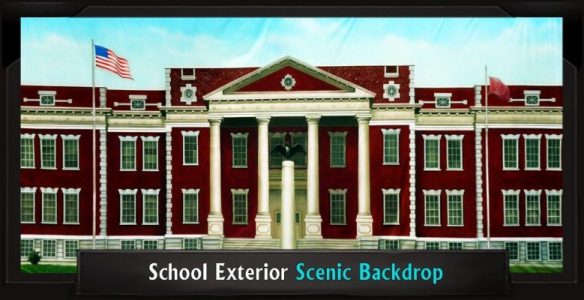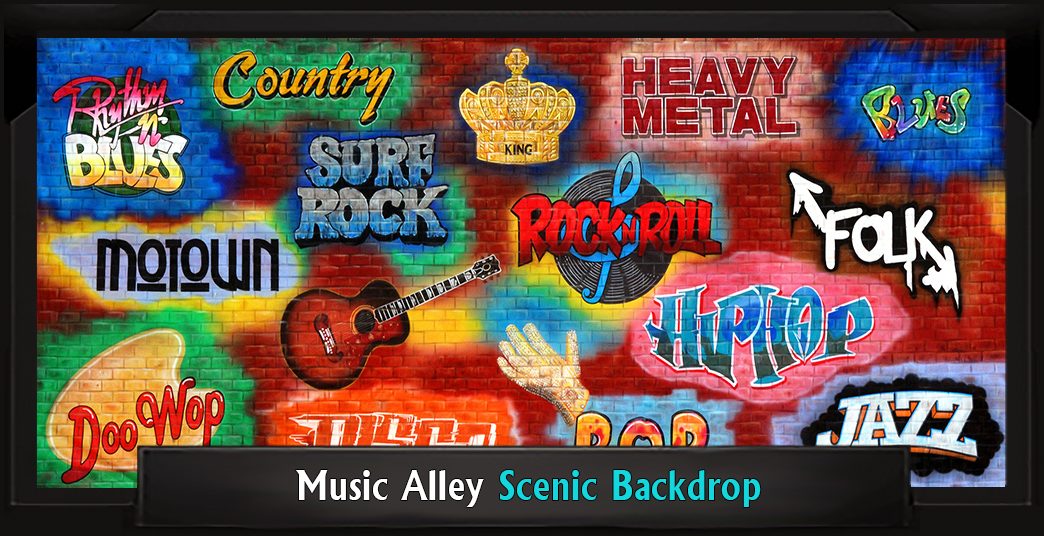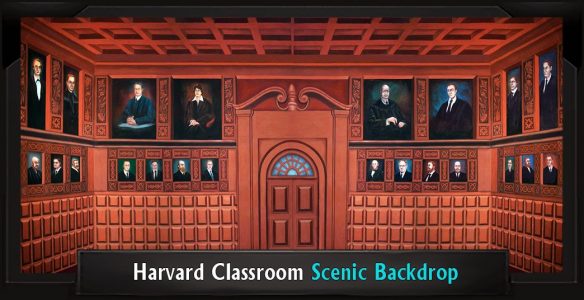 The next day dawns. At the Horace Green School, Rosalie Mullins, the lovely, yet uptight school principal, greets students and their parents. ("Horace Green Alma Mater") She lays out the school's exacting standards for Dewey/Ned, who makes a poor first impression by showing up late and hungover. ("Here at Horace Green") Choose this School Exterior backdrop to make sure the audience's first impression of the school is an intimidating one!
Dewey survives the first day of his pilfered job by doing as little of possible, while his students run amok. Back home, Ned and Dewey reminisce about their old rock band days. ("Children of Rock") Patty, Ned's domineering girlfriend, returns home and mocks their juvenile dreams. This Music Alley backdrop would be a great option for this scene, as it pays homage to a variety of musical genres.
Back at Horace Green, Dewey discovers Rosalie teaching several of his students in a music class ("Queen of the Night") and realizes that several of the youngsters are musically gifted. He quickly recruits them into his new band with the goal of competing in Battle of the Bands. ("You're in the Band") Since much of the musical takes place at Horace Green, try opting for this Harvard Classroom backdrop. Its high-ceilinged detail, looming portraits of former professors, and hard lines show the rigid and oppressive nature of the school, where these bright students struggle under heavy expectations. It would juxtapose nicely as Dewey encourages the students to break free and let their inner musical geniuses burst forth!
Home from School/Battle of the Band Auditions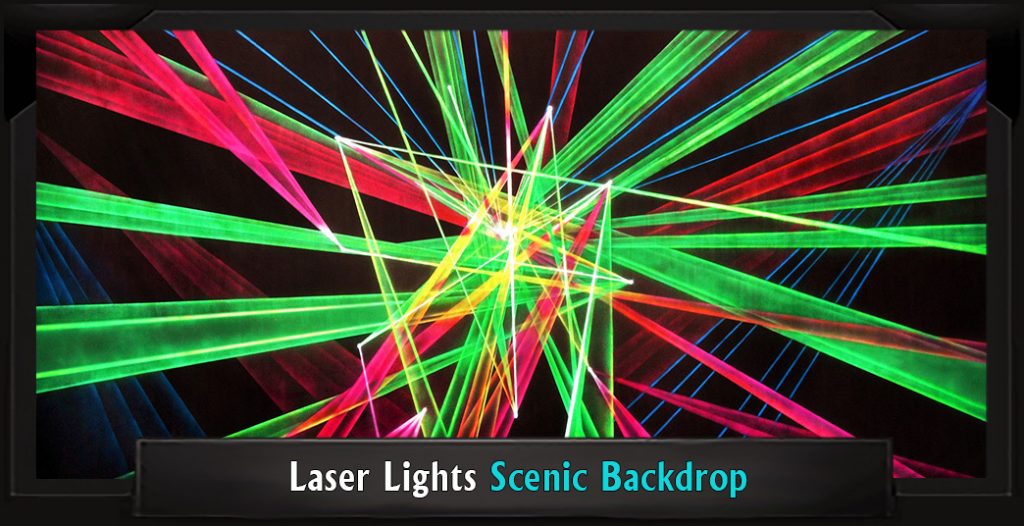 A montage sequence follows, in which we see several of the students' home lives. Each is a far cry from the healthy, nurturing environment children need. Zach, Tomika, Billy, Freddy, and others lament their parent's shortcomings. ("If Only You Would Listen")
Dewy's new band is christened "School of Rock". He composes an impromptu song for the group, "In the End of Time". In rehearsals, Dewey encourages his uptight students to let their wild side out. ("Stick it to the Man") Dewy and the kids sneak out of Horace Green and head to the Battle of the band auditions. Although they're late, Dewey talks his way into an audition and School of Rock qualifies to compete in The Battle of the Bands. For this scene, try this Laser Lights backdrop to highlight the high-octane energy of the newly minted band.
Act Two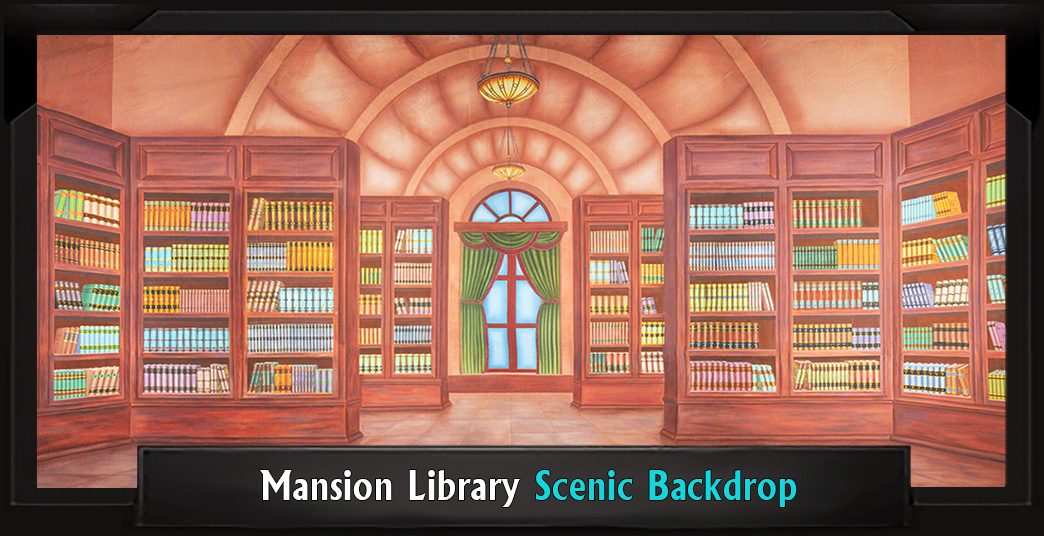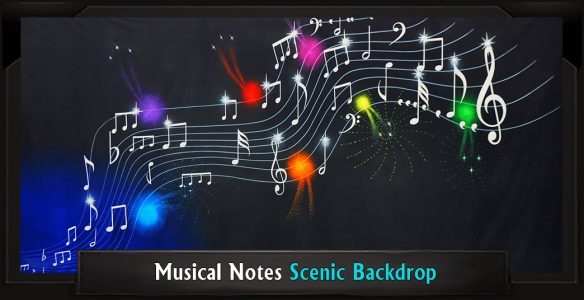 Dewey juggles the stress of preparing his young band for the competition and maintaining his cover. His students struggle with their new roles in the band as well. Billy's costumes are a flop, so he decides to go outside the box. ("Time to Play") Tamika blows everyone away with her "Amazing Grace" solo and shows she's really a lead singer at heart. And to Dewey's great surprise, he learns Principal Rosalie is a closet Stevie Nicks superfan.
This Mansion Library backdrop would make another excellent drop for Horace Green. The oversized dimensions would match the Harvard-style classroom drop. The books, lined up in rigid rows, would convey the strict regimentation that the School of Rock band is struggling against.
When Rosalie spontaneously decides to audit Dewey's class, he pretends to use musical methods to teach boring subjects. ("Math is a Wonderful Thing") At a bar after school, Rosalie laments that she's lost her own inner music and promises Dewey that she'll try to help him and School of Rock go to the Battle of the Bands.
Later, Dewey and his band practice a new song written by Zack, "School of Rock (Band Practice)". However, they are observed when an unsuspecting Rosalie brings their parents into rehearsal. Naturally, the children's parents are appalled. Dewey, who has truly connected with the children, launches into an impassioned rundown of each child's amazing talents. He nearly wins the parents over, until Patty and Ned show up to reveal Dewey's true identity. ("Dewey's Confession") The parents fly into a rage. Dewey and the kids escape during the commotion and race over to the Battle of the Bands. The spray of Musical Notes on this drop could be a playful backdrop to the pandemonium!
Let the Battle Begin!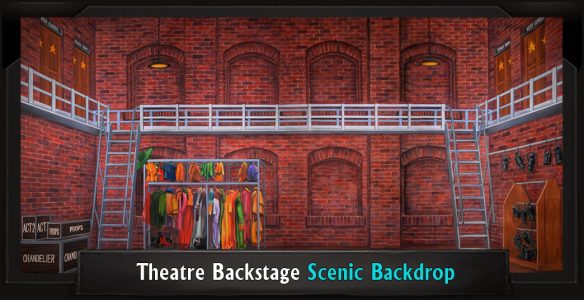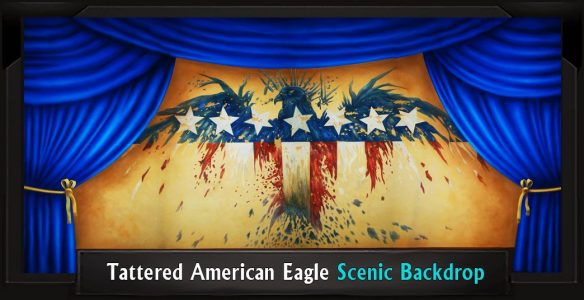 Rosalie buys time by distracting the parents. En route to the Battle of the Bands, the children bolster Dewey's flagging confidence. With Billy's new costumes and Zack's killer song, the kids find the confidence to confront their angry parents, who try to force their way backstage. After stunning their parents, who have been clueless about the way their children really feel, the School of Rock takes the stage.
This Theatre Backstage backdrop would be a great setting for this confrontation. The brick detail shows the venue off nicely. Dressing rooms right and left of the catwalk, and even some costume and lighting details, add a realistic effect.
School of Rock kills it, winning over the Battle audience as well as the parents, who stay to watch from the auditorium. Dewey is overcome with pride at what his students have become. Even though they lose the Battle, in the end, they find that winning wasn't the point anyway. Patty and the police arrive to arrest Dewey for fraud, but Rosalie saves him by insisting that Dewey is Horace Green's official Band Coach. The band plays an encore and even Rosalie joins in, heralding the changes and new horizons to come for Horace Green. ("Stick it to the Man (Reprise)", "Finale") Try this Tattered American Eagle backdrop as a patriotic flourish to a finale that brings out the rebel in everyone!
Bring Out Your Inner Rock Star with TheatreWorld Backdrops!
Breaking free of conformity and embracing your inner artist is a theme Broadway loves to celebrate. Few shows do it with so much charm and rock-n-roll spirit as School of Rock. The unique combination of the plucky anti-hero and his brilliant students "sticking it to the man" will resonate with families and misfits alike. The show is an excellent vehicle for nurturing young talent, but it still offers challenging roles to the adult cast as well. It's an all-around win!
Casting aside, don't be afraid to be a little rebellious in your staging and break out with some eye-popping backdrops. Whether your venue can boast a showcase of scene changes or you're looking for a few special accent drops to really bring your aesthetic together, let TheatreWorld Backdrops bring out the rockstar in you!