Going Beyond the Script
Written by: Melanie Simmons
The key to creating a great period musical is finding that magic combination of characters, music, and, of course, an evocative era. Few Broadway shows do this better than Dreamgirls. With music by Henry Frieger and lyrics and book by Tom Eyen, Dreamgirls took Broadway by storm in 1981. Based loosely on the rise and fall of R&B headline acts like the Supremes and James Brown, Dreamgirls pays homage to the incredible soul music of the 60's and 70's. With 13 Tony Award nominations, six Tony wins, a successful 2005 revival, and a motion picture to its credit, Dreamgirls has proven it's a theatrical powerhouse.
As befits a show about the music industry, the music in Dreamgirls is almost a character itself. With 21 songs in the first act and another 18 in the second, Dreamgirls is nearly operatic in scope. The characters are no joke either. The role of Effie has catapulted the likes of Jennifer Holliday and Jennifer Hudson sky high. The relationships between the three female stars of "The Dreams" – not to mention the people who help them rise and the ones that get left behind – are multilayered depths for actors and directors alike to plumb.
Act One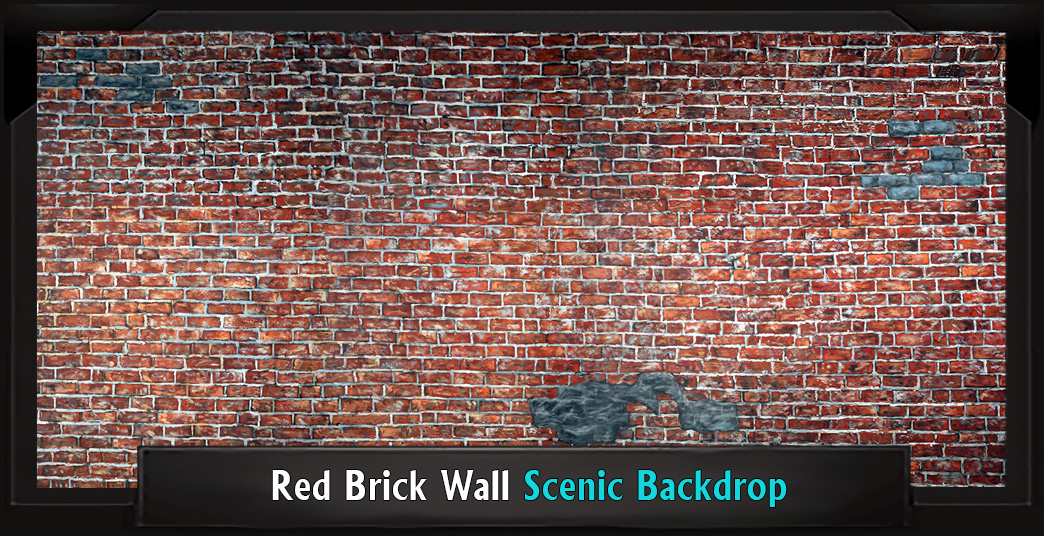 Our journey begins in Harlem, where the unknown female songbirds try out for Amateur Talent Night at the Apollo Theatre. Though the girls have humble origins, there's no reason you can't bring some spectacle to your opening scene. Try using This Vintage Nightclub Exterior backdrop, paired with our Red Brick Wall backdrop. The nightclub drop features a cutout door, perfect for the girls to enter through. At first, you'll just barely be able to glimpse the Red Brick Wall through the portal. Then, fly out the nightclub to display the full Red Brick Wall in all its glory. Frame with your own set pieces and accent with dramatic lighting effects. You'll easily create the appropriate drama for the opening numbers. ("I'm Lookin' for Something", "Goin' Downtown", and "Takin' the Long Way Home".)
The Dreamettes, comprised of powerhouse vocalist/diva Effie and best friends Deena and Lorrell, belt out "Move". The song, written by Effie's brother C.C., is guaranteed to get the audience's toes tapping. The girls fail to win the contest, but catch the ear of wannabe music manager Curtis, who is eager to put his car salesmanship skills to better use. Curtis lands the girls their first gig as backup singers to almost-famous R&B star Jimmy Early. Despite a rocky start, the new group begins to take off. They record C.C.'s new tune "Cadillac Car", which is promptly stolen by another group. Their next hit, "Steppin' to the Bad Side", finally hits the pop charts, thanks to some tenacity and payola. Use this Vintage Recording Studio to capture this stage in the blossoming starlets' careers.
The Dreams Find Their Sound/Rise to the Top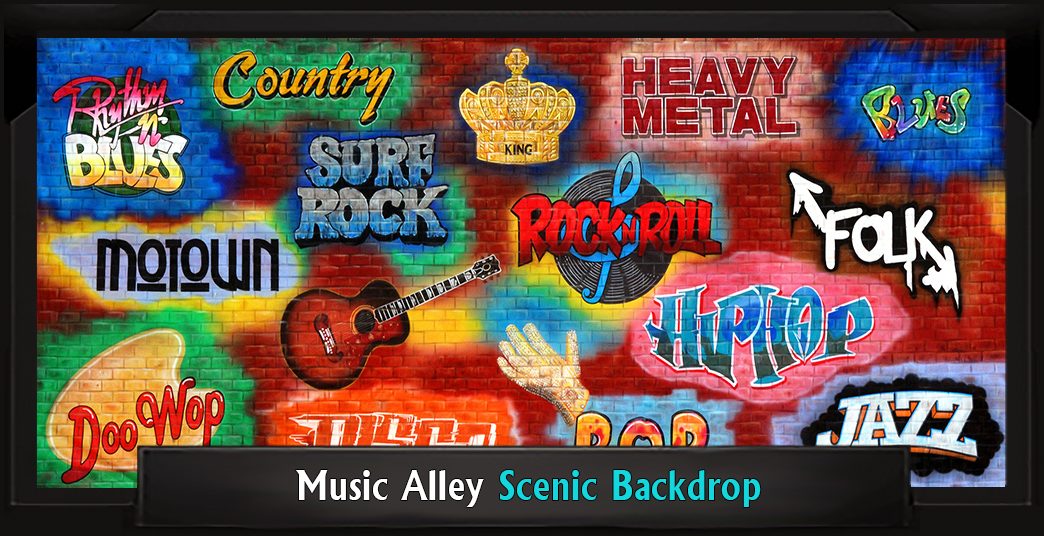 For the next several scenes and musical numbers, the girls and managers alike explore different styles, searching for the magical sound that will catapult the group to the top of the charts. An excellent option here would be this Music Alley backdrop, featuring many musical genres in colorful detail.
Curtis grabs more and more control of the group. He drives off Jimmy's original manager and makes Deena the figurehead of the newly-minted "The Dreams". The debut of their first single "Dreamgirls" at the Crystal Room does the trick, and the "Press Conference" that follows sets off their meteoric rise in fame. Effie is furious at being sidelined, but lets Curtis convince her that they're "Family" and nothing will ever drive them apart. Try this Diamonds Are Forever backdrop, in royal blue and purple hues, to represent the Crystal Room, and watch your cast sparkle!
After another name change, Deena Jones and The Dreams hit the big time in Las Vegas. Tensions within the group boil over as the often-ill (and secretly pregnant) Effie finally gets edged out of the band she started in the first place. Her legendary solo "And I Am Telling You I'm Not Going" is a show-stopper, even as Curtis and his newly-minted dream team leave her behind with their song "Love Love Me Baby". TheatreWorld has the perfect Las Vegas Nights backdrop for this stage of their journey. With bright colors against a pitch-black background, the vibrant florescent lights represent the glaring difference between the spotlight and obscurity.
Act Two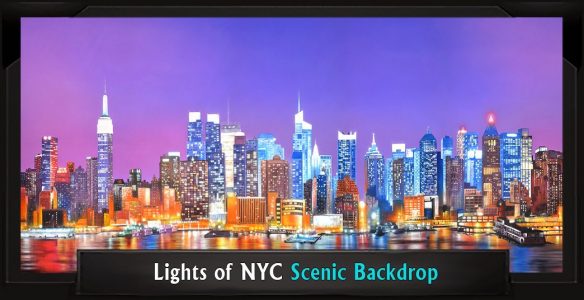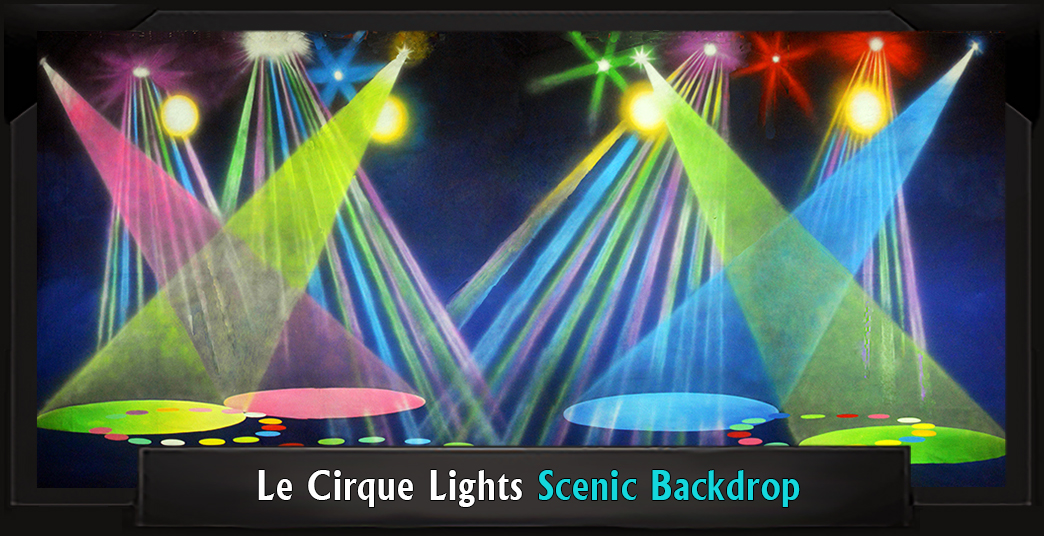 It's a new decade, and Deena Jones and the Dreams are sensations, a household-name. Deena has married Curtis. Jimmy has become a has-been. Effie is alone in Chicago raising her secret love child and trying to get back into the business. After a long, soul-searching struggle, Effie discards her diva antics and makes a comeback with her hit "I Am Changing". Meanwhile, Deena begs Curtis to let her switch from singing to acting, which he firmly discourages. ("One More Picture Please"/"When I First Saw You".) C.C. is also chafing against Curtis' iron-clad control, wanting to create a new sound with his emotional ballad "One Night Only".
TheatreWorld has several drops that dazzle with the glitz and glamour of A-list fame. The Lights of N.Y.C. backdrop features a stunning skyline against a twilight sky, with the city lights gleaming off a bustling city harbor.
This Le Cirque Lights backdrop would add a funky feel to The Dreams' musical numbers! The 70's-inspired multicolored spots and beams of light, combined with your own light and fog effects, would make the audience feel like they were at a premiere music performance venue.
Another option is this Music Hall of Fame backdrop. With it's gilded wall, covered in gold, silver, and platinum hits, you'll really convey the lofty heights to which Deena and Curtis have risen.
Success and Struggles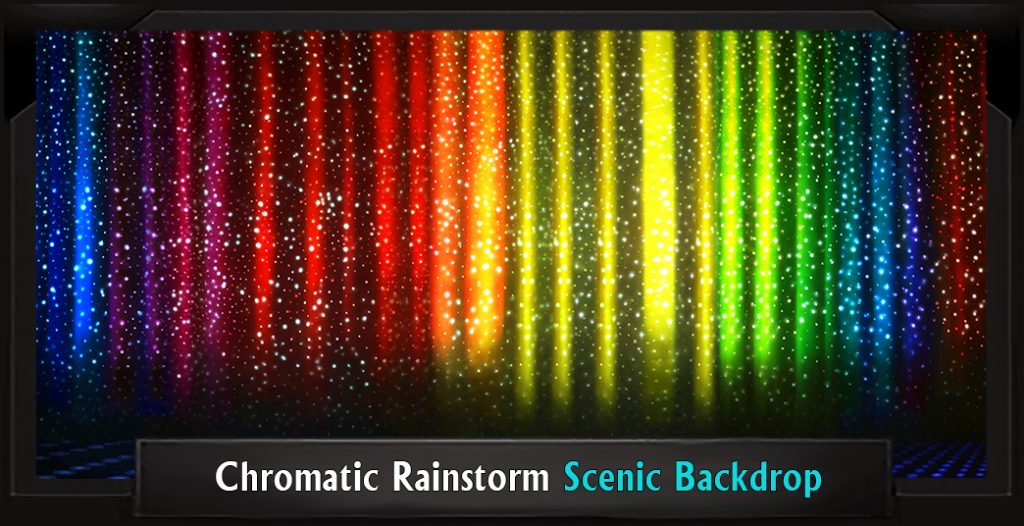 Of course, the pressure at the top is enormous, and the cracks quickly begin to show. Jimmy and Lorrell's tumultuous affair spills over into Jimmy's performance of "I Meant No Harm" at a fundraiser event. Deena tries to quell everyone's frustrations during "Quintette", prompting C.C. to find and reconcile with his sister, Effie. Meanwhile, Jimmy's meltdown goes into overdrive as he breaks into an improvised song ("The Rap"), which morphs into a bizarre strip performance. Curtis promptly fires him, and the unravelling of the dream team begins.
For this segment, consider this Chromatic Rainstorm backdrop. The sparkly rainbow colors would represent the supposed glamour of life at the top, while with dark accents would be a nice compliment to all the underlying tensions festering within the group. Its cheerfulness would be an interesting counterpoint to the storyline, as everything eventually crumbles into dust.
Effie's Change of Heart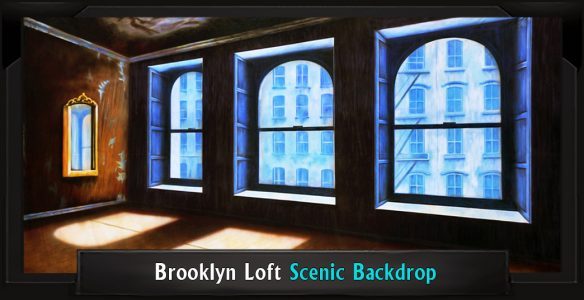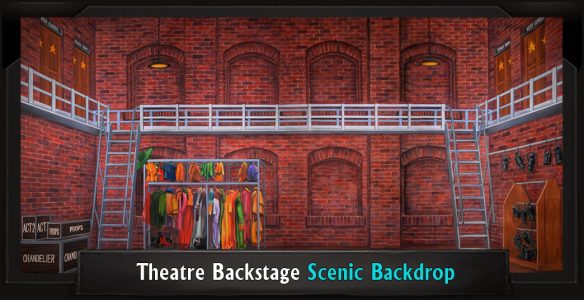 C.C. finds and reconciles with Effie, who records the original ballad version of his song "One Night Only", which begins to climb the charts. Curtis finds out and launches a heavy payola campaign to get Deena's version of the song to squelch Effie's. Effie, C.C., and Jimmy's old manager, Marty, learn about the scheme and confront Curtis backstage at a Chicago gig ("I'm Somebody", "Chicago/Faith in Myself"). Deena finds out not only what kind of a man Curtis is, but, also, that Effie's child is his. She finally finds the backbone to leave Curtis for good.
("Listen 2")
This Brooklyn Loft backdrop would make a great backdrop for the Effie/C.C. scenes. The dark accents and faded paneling would evoke the tough times Effie has been through, alone with her child and her broken dreams. The light streaming in large windows could show the hope for the better future that comes from reuniting with her brother.
For the confrontation scenes, in which Effie, Deena, and Curtis finally come into their just desserts, try this Theatre Backstage drop. With red brick details, starred dressing rooms, and costume racks in the background, it could easily be the backstage area of any venue The Dreams would play. It's simple enough not to distract from the important character developments and plot twists this sequence reveals.
Dreams Come True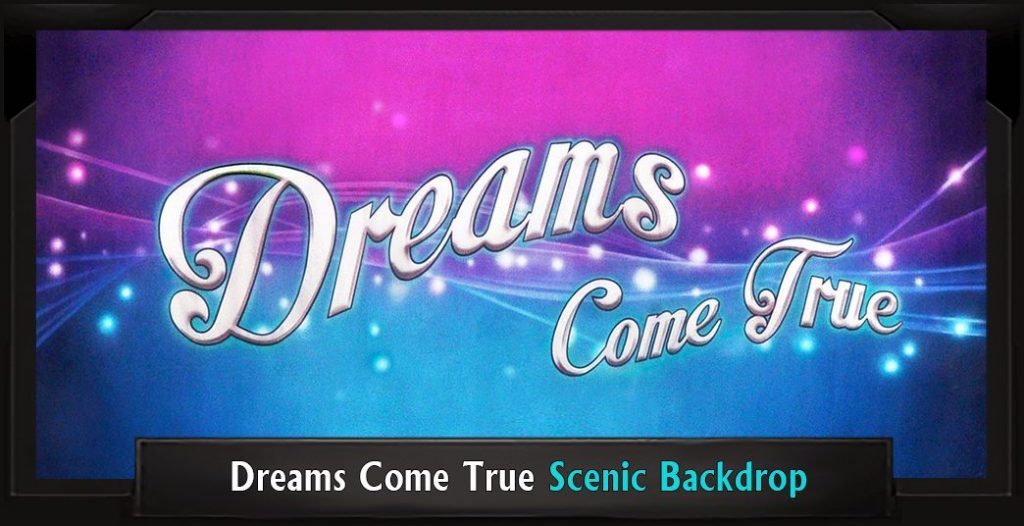 With Curtis curtailed, The Dreams take the stage for a final, farewell concert. Effie rejoins the group, as she was always meant to be – a headliner with powerhouse vocals. All four Dreams sing their trademark song "Dreamgirls (Reprise)". This number never fails to bring down the house, so go big with this incredible Dreams Come True backdrop, which summarizes this show perfectly.
Whether you're looking to present a crowd-pleasing good time, a socially-conscious morality tale, an R&B homage, or a star-making sensation, Dreamgirls is sure to deliver that much and more. In a day and age when racial boundaries and social revolution is at the forefront of cultural commentary, there's no better time to try your hand at this outstanding piece of work. Let TheatreWorld Backdrops help you make your own Dreams come true!