Going Beyond the Script
Written by: Melanie Simmons
What could be better than a cruise on a luxury ship full of love, mischief, and mistaken identity? How about all that, plus the music of Cole Porter to boot?
Anything Goes is one of the oldest and most cherished shows in the Broadway repertoire. The show has gone through countless incarnations and revivals in its near 80-year history. Anything Goes was originally penned by Guy Bolton and P. G. Wodehouse, but it was Howard Lindsay and Russel Crouse's drastic rewrite that transformed the show into the convoluted tale of tangled love lines and wanna-be hoodlums that we know and love today. The cleverly amusing storyline, paired with timeless, classic songs by the inimitable Cole Porter, is enough to fill any theatre to capacity.
Let's take a cruise through the stunning backdrops offered by TheatreWorld to set this show on a smooth sailing to ticket office success!
All Aboard for Anything Goes!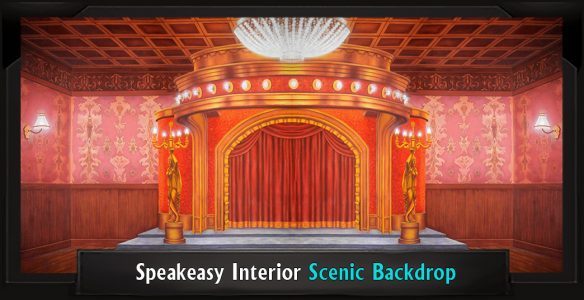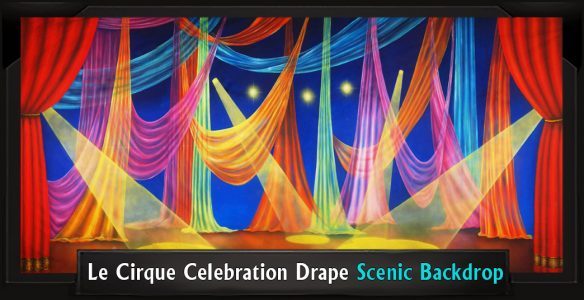 Anything Goes doesn't go anywhere without a ship! This Cruise Ship Deck – B backdrop, featuring warm-toned wood decking and large smokestack, is the ideal choice. The design features life rings and other details that set the ambiance without committing to a specific time period.
Reno Sweeney is an unforgettable femme fatale, and she needs a stage to show her off! This Speakeasy Interior backdrop works splendidly as the well-appointed show room of a luxurious cruise liner. Sumptuous red tones mixed with amber and highlights on the painted light fixtures will make Reno's musical numbers sizzle.
To add drama to the dance breaks in unforgettable songs like "Blow, Gabriel, Blow" or the eponymous "Anything Goes", try this Le Cirque Celebration Drape. The brightly colored drapes feature bold tones. Combine with flashy costumes to bring those highwater moments over the top.
Sky Backdrops
Set pieces can go a long way in a show like this. Use an evocative sky backdrop to set off your staging. Select a range of colors to channel the emotions of the scenes.
Day Sky Backdrops




TheatreWorld's Feathered Fairy Tale Sky backdrop, with its dreamy, soft clouds and playful bubble accents would add a whimsical feel to "I Get a Kick Out of You".
Alternately, try this Blue Sky Sunburst backdrop, which features cool tones accented with white sunbeams. Use to convey an endless sky brimming with hope. It's easy to imagine dreams coming true just over the horizon. "Bon Voyage" or "Sailor's Chanty" would be great against this drop!
Similarly, this Breaking Through the Clouds drop features centered beams of light with a richer palette, accented with aquamarine.
This Sunkissed Blue Sky backdrop features a fully beaming sun, perfect for illuminating the deeper motives and heartfelt emotions of the characters. Great as a standard day backdrop for the entire show or a stunning contrast to the night sky drops.
Sunset and Night Sky Backdrops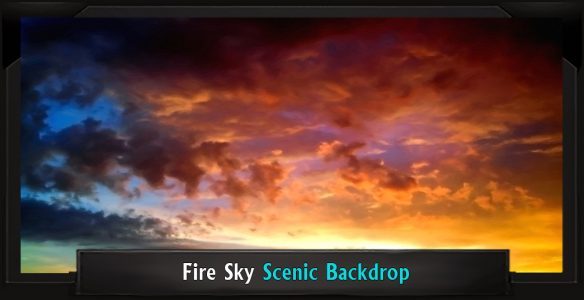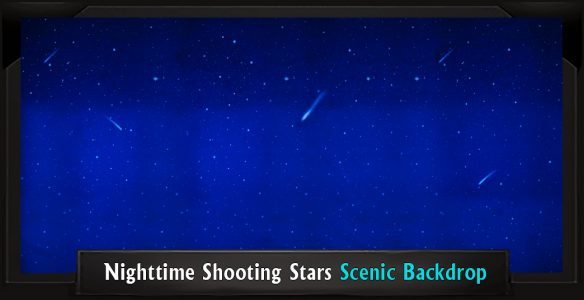 This Fire Sky drop, with its gauzy sunset clouds and rosy hues, would set off the romantic songs like "Easy To Love" or "You're the Top" beautifully.
Anyone who's been on a cruise knows how stunning the night sky is at sea! TheatreWorld offers a backdrop full of stars (Starry Night), with optional shooting star details (Nighttime Shooting Stars) for added drama. Either look is a must-have for numbers like "All Through the Night" or "Goodbye Little Dream, Goodbye".
An Alternate Ending for Anything Goes – Mansion Backdrops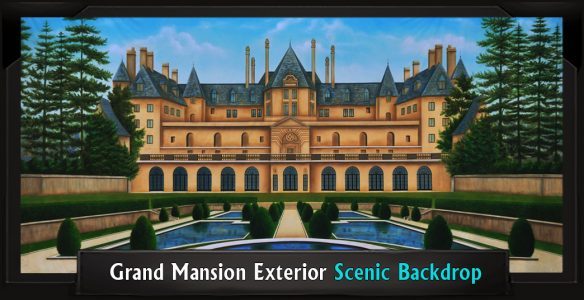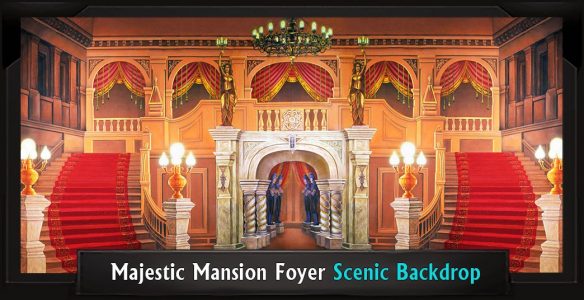 Clever direction and staging can allow for companies with smaller budgets and limited performance space to perform the entire show on the decks of the cruise ship. However, if you want to go for extra drama, add in the finale drama of the original libretto. The 1934 book dramatically ends the show at the Oakleigh Estate. Show this easily with the use of one of these sweeping drops. The Grand Mansion Exterior backdrop shows off the sprawling wealthy of Lord Evelyn, and shows exactly how much is at stake for our star-crossed lovers. For an interior staging of this throw-back ending, the Majestic Mansion Foyer backdrop captures the same opulence and makes staging this grand climax a breeze.
Anything Goes has enjoyed countless revivals, most recently featuring Sutton Foster and Colin Donnell, and garnered many award nominations. Now is the perfect time to bring this beloved musical to your own stage. You won't be Public Enemy Number One (Or 13, for that matter!) with a Cole Porter classic like this in your season lineup!
Remember, in this show, more so than many others, Anything Goes! Let TheatreWorld's expert consultants put together a drop package that will suit your budget and your unique voice.