Going Beyond the Script
Written by: Melanie Simmons
When it comes to choosing a crowd-pleasing show,Guys and Dolls is a safe bet! Since its debut on Broadway in 1950, Guys and Dolls has achieved enviable immortality. The show is a throwback to a simpler time, one of adventure, faith, and love. The 1955 film version, featuring Frank Sinatra, cemented Frank Loesser's timeless music into American culture. Despite endless mangling by lounge singers everywhere, songs like "Luck Be a Lady" and the title song "Guys and Dolls" are forever woven into musical theatre culture. Even all these years later, the musical's catchy tunes are guaranteed to get you audience's feet tapping.
Guys and Dolls has been reignited on stage in countless revivals. The combination of lovable, flawed characters, a playful book, and over-the-top campiness guarantees Guys and Dolls will light up any stage it graces.
Let's explore some of the drops that TheatreWorld has designed specifically for this show!
Guys, Dolls, and the Big Apple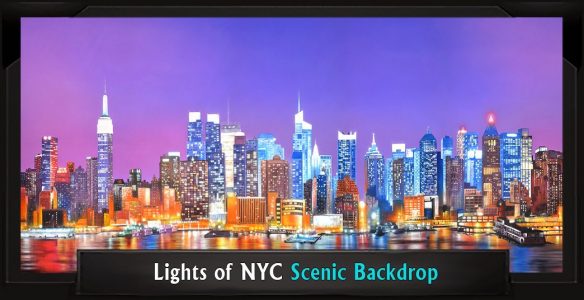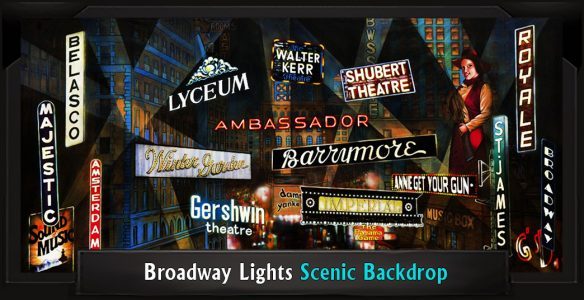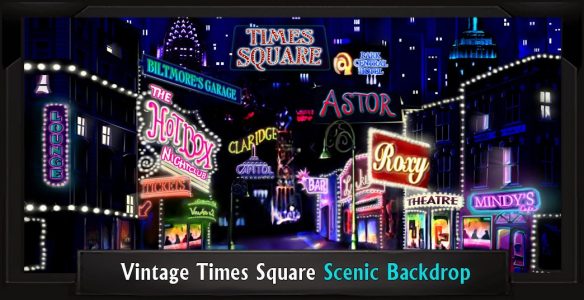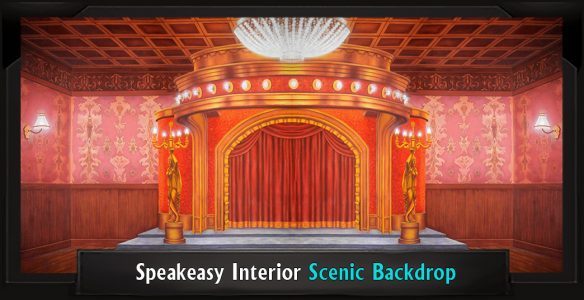 Guys and Dolls is as much about the Big Apple as it is about love and gambling. The story and its characters are inseparable from the city of New York. TheatreWorld also has a love affair with the capital of American theatre, and we've got the backdrops to prove it! Let's start with this New York skyline, set against the rich blues and violets of sunset. The vivid details of this Lights of N.Y.C. backdrop capture the blinding beauty of New York City's grandeur.
Few things scream New York City like Broadway itself! For a city-centered, yet whimsical, take on NYC, you could opt for this Broadway Lights backdrop. As an opening number stunner or a grand finale celebration, the details of beloved shows will leave your audiences brimming with Broadway nostalgia.
For a more nostalgic feel, this Vintage Times Square backdrop would do "Nicely Nicely"! Fluorescent light details against deep cobalt blues make the show marquees pop! Notice the Hotbox marquee, showcasing the venue where Miss Adelaide and her Chickies headline. For groups with smaller budgets, this drop would make an excellent single-drop choice for the entire show. For shows on a grander scale, use this drop as an opening number stunner!
Speaking of the Miss Adelaide, she needs a place to shine! Try staging her adorably strident numbers in this sumptuous Speakeasy. Red and amber tones against vintage pink wallpaper will bring numbers like "Take Back Your Mink" over the top!
Havana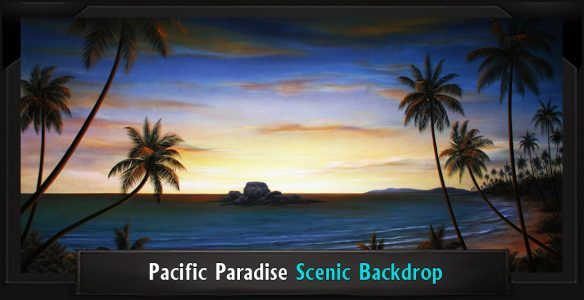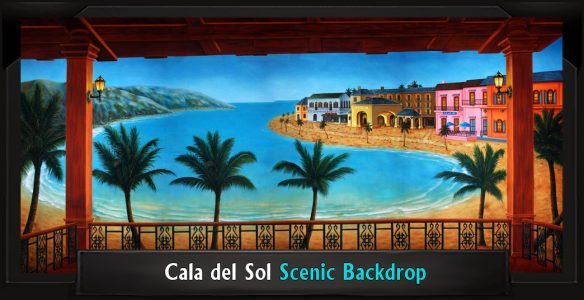 One of the highlights of the storyline is Sky's plan to abscond to Havana with Sarah. TheatreWorld has a great selection of sultry Caribbean drops to make this steamy scene come to life on your stage! Try this Pacific Paradise backdrop, with its romantic sunset and swaying palm trees. Use set pieces to create a sultry beachfront cafe, perfect for sipping adult beverages and wooing uptight moralists.
If it's pop and color you're after, look no further than this Cala del Sol backdrop. With bold hues and Caribbean-inspired pinks and yellows dotting the background houses, you'll instantly transport your audiences to Havana. The slanting roof and wrought iron railing would do all the setting for you; just add a few cafe tables and some salsa dancers and let the scene sizzle!
From Streets to Sewers – Back in New York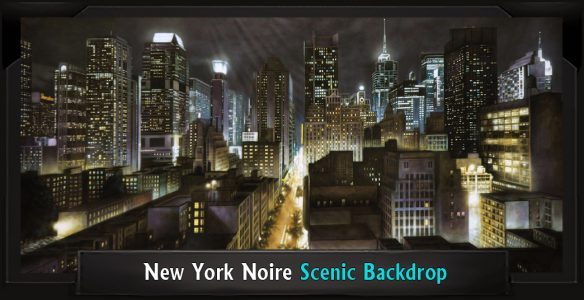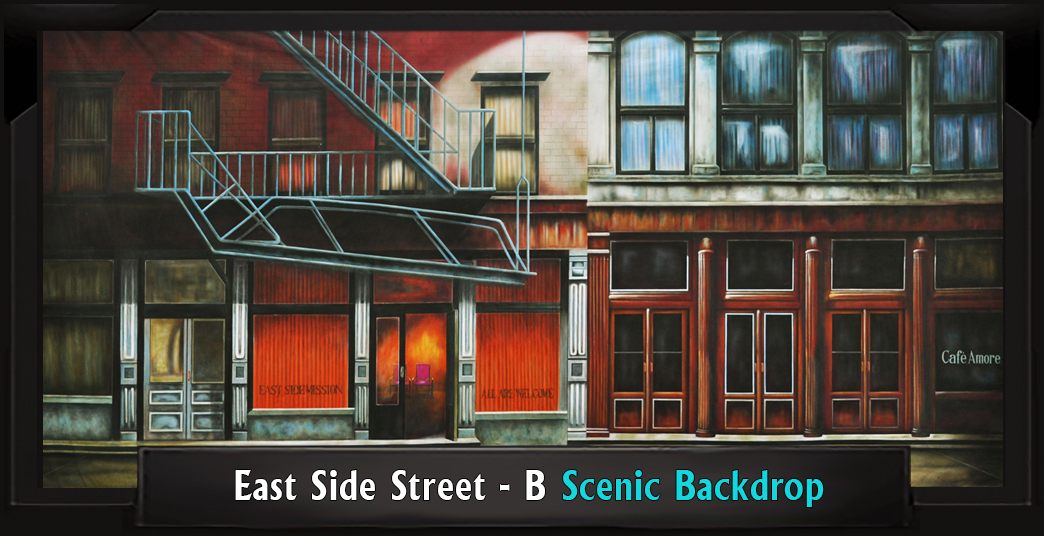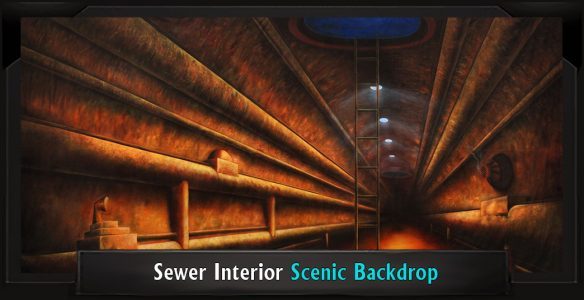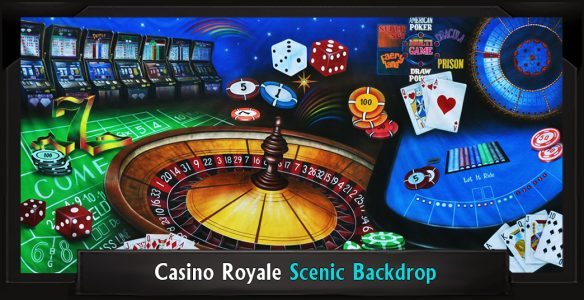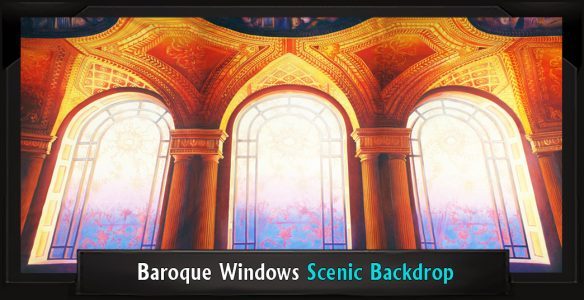 Back in New York, Sarah's head stops spinning just as Sky begins to lose his. In a rare confessional mood, Sky describes his world and then tentatively brings Sarah into it ("My Time of Day/I've Never Been in Love Before"). Use this New York Noire backdrop to capture the slumbering city in the wee hours before dawn. The monochromatic palette is accented by the very ambers and golds Sky croons over and will help your audience fall in love right along with our characters.
For a more intimate feel, you could stage the same scene on this cozy East Side Street. The rich colors and darkened windows, lit by a single street lamp in the center, would encourage the characters to feel like they're the only two people awake in the whole city. An empty stage with some bare lighting could amplify the mood, bringing Sarah and Sky and the whole audience under the spell of love.
Luck Be a Lady
Another pivotal scene is, of course, the gambling scene where Sky puts everything on the line. This Sewer Interior is an easy choice. Forget the set pieces — leave your stage clear for your dancers and let this drop do all the work for you.
If you'd like to go for a less literal and more flashy/abstract interpretation of this scene, why not try this Casino Royale backdrop? With details including dice, poker chips, roulette, and with ironic touches like the bright yellow "prison" lettering, you'd capture the frenetic joy of this scene while also reminding the audience how much is at stake. "Luck Be a Lady" is such an iconic song – why not take this number over the top!
Sit Down, You're Rocking the Boat!
Arguably one of the funnest numbers of the show is "Sit Down You're Rocking the Boat" — which takes place, ironically, in a prayer meeting. This is the scene where all of our gamblers (literally or figuratively, depending on the character) "see the light". You could achieve this with simple lighting and an elaborate set, or your could really go for gold with these Baroque Windows to amp up the drama. Set your humble prayer meeting against a scrim. Then, reveal this drop just as the song "Sit Down You're Rocking the Boat" really heats up, and you'll have your audiences feeling the spirit of this hilariously playful mass "conversion"!
Less Traditional Options for Guys and Dolls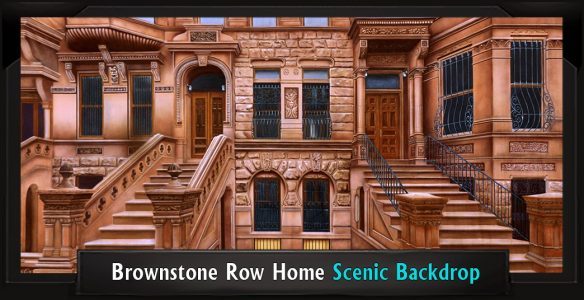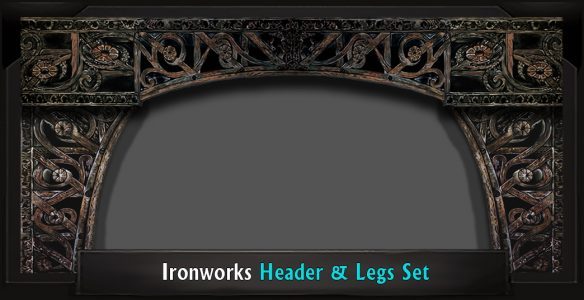 Guys and Dolls has been restaged countless times and always finds fresh appeal for audiences. Don't let traditional staging get in the way of your vision! TheatreWorld has plenty of options for you to put your own twist on this stage favorite.
For example, instead of city skylines you can opt for a more personable street backdrop. Try this Brownstone Row Home backdrop, with its neutral palette and intricate crenelations and iron work railings, as a cozy setting for the home Miss Adelaide dreams of. (And which Nathan assiduously avoids!)
Perhaps you want to bring a weightier, industrial element to offset the comedy and caprice of the show. Dramatic lighting and angular set pieces, framed by this Ironworks header and legs set could bring a darker twist.
***
A love story for New York City and the human condition, Guys and Dolls is sure to endure for another half century and beyond. Don't pass up your chance to make your mark on this enduring classic. Whether you go big and bold, bright and dramatic, or dark and edgy, you're guaranteed to win big with the house!
Contact TheatreWorld today to put together your own customized show package and get ready to roll the dice on a sure bet!