Going Beyond the Script
Written by: Melanie Simmons
Nobody expected a Disney Channel movie to take the world by storm, but that's exactly what happened with High School Musical! This pop musical sensation, directed by Kenny Ortega, captured the hearts of countless teens and tweens and spawned a franchise that launched two sequels. This youthful re-imagining of Romeo and Juliet serves as this generation's Grease. A decade later, it remains the most successful Disney Channel Original Movie ever produced.
HSM follows Troy and Gabriella, two teens whose unconventional friendship challenges stereotypes and cliques in the halls of East High, a typical high school where peer pressure runs rampant. When Troy – the top Jock and captain of the basketball team – and Gabriella – Brainiac and new girl in school – fall for each other, their attraction to one another (not to mention their love of singing) challenges the status quo of their entire school. With themes of peer pressure, fitting in, chasing your dreams, and challenging public expectations, High School Musical is as timeless as it is timely.
Act One High School Musical Backdrops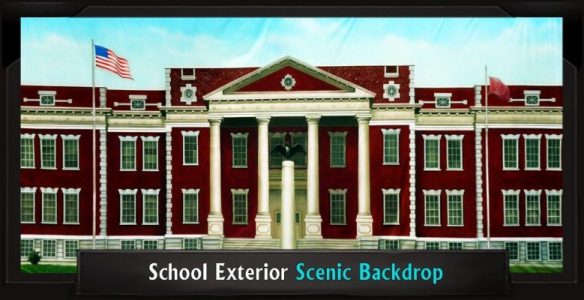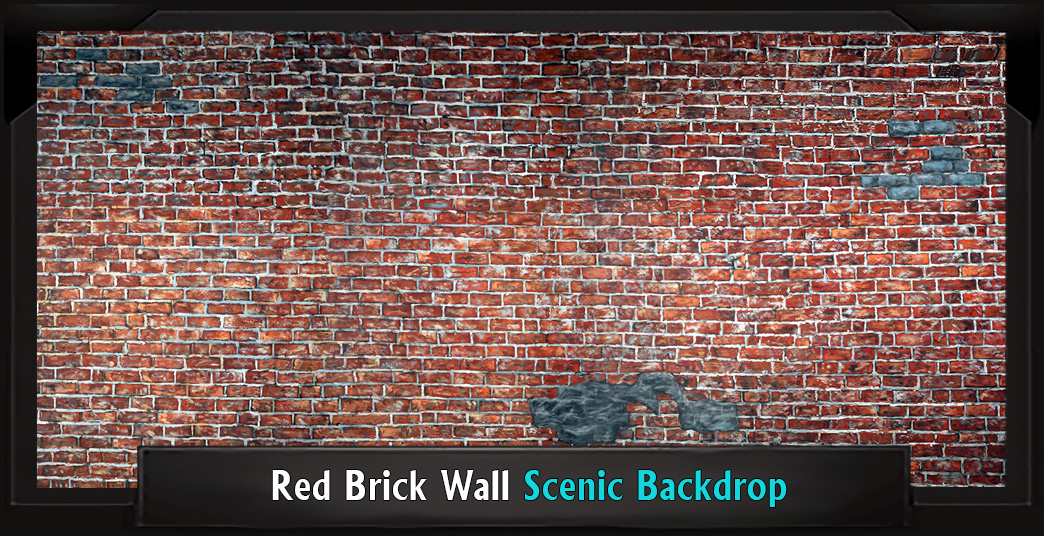 Our show opens on the front steps of East High, where the students perform the rousing opening number "Wildcat Cheer". The audience is introduced to our four main cliques, the Jocks, Brainiacs, Thespians and Skater Dudes. Each group has specific, defining characteristics and no one ever crosses the lines. With so many characters on stage dancing around, you'll want to keep set pieces to a minimum. This School Exterior Backdrop is just right for setting the tone of the show, while leaving the stage open for all your enthusiastic performers.
For something a little more imposing, use this Highrise Building Exterior. Add some school-themed set pieces to introduce East High and its high-energy students.
If you've got some really talented set designers itching to make their mark, go all-out with set pieces against this simple Red Brick Wall to give East High your own personal spin.
The Start of Something New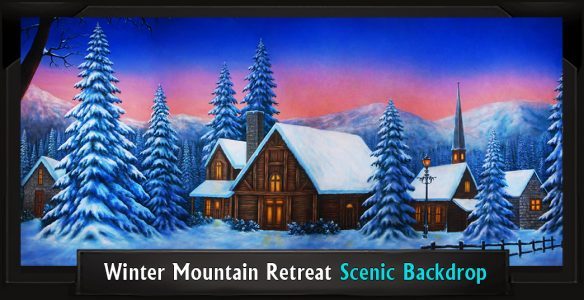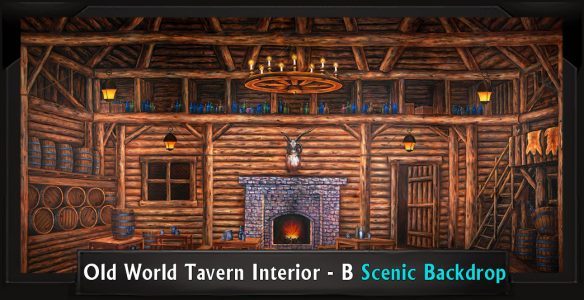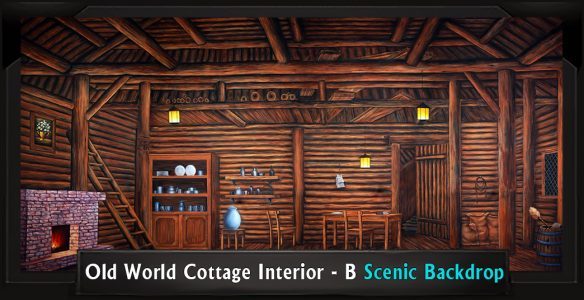 We also meet Troy Bolton and Gabriella Montez, both Juniors. Gabriella is the new girl, while Troy is the established sports star. We learn that this unlikely pair met over Christmas Break in a ski lodge, where they sang karaoke together ("Start of Something New"). Despite their differences, they are both drawn to each other.
Try this Winter Mountain Retreat backdrop, coupled with a set piece that frames the drop as an exterior view. (Another option would be the Old World Cottage Interior – B, with its wooden planks and cozy fireplace, or Old World Tavern Interior – B, which is done in a similar style. ) Add some simple lighting changes and this flashback scene will be a piece of cake. Then, smoothly transition back into the halls of East High. The soft blues and pinks contrast nicely with the bright reds and ambers of the school's interior – and suggests the romantic spark ignited by our two romantic leads.
Get'Cha Head in the Game!
In Mrs. Darbus' homeroom, Troy and Gabriella reconnect and discover that the winter spark they felt has smoldered. Although Gabriella is shy and Troy has every reason to maintain his "Jock" persona, they convince each other to attend Mrs. Darbus' musical auditions. They meet immediate resistance from Sharpay, who is convinced she's already the star of the show, and Troy's dad, who pushes his son to focus on sports. Troy's best friend, Chad, and all their teammates also pressure him to "Get'cha Head in the Game". Meanwhile, after Gabriella displays her brains in math class, Braniac Taylor recruits her to join the science decathlon team.
East High Interior Backdrops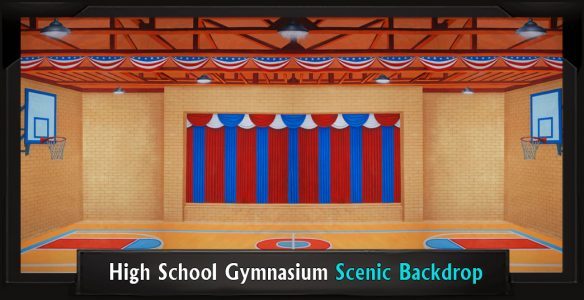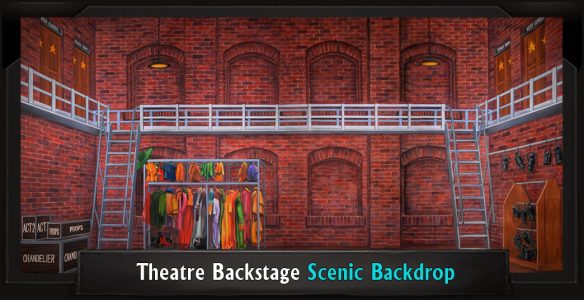 TheatreWorld has two drops that will prove essential to staging HSM. Use the Classroom Interior backdrop for both math class and Mrs. Darbus' homeroom. The addition of desks and chairs, as well as alternating doorways as standalone set pieces, can easily change this room for use in multiple scenes.
Likewise, you can use this High School Hallway backdrop for several scenes. It's perfect for everything from callback notices, to Sharpay's sneaky plotting, to transition scenes. Those musical notes, top and center of the drop, are no accident either.
The gymnasium where Troy's basketball team practices is another essential locale. It's also the setting for the tournament that dominates Act Two. TheatreWorld's High School Gymnasium backdrop coordinates perfectly with the High School Hallway drop. The bold red, white, and-blue colors are patriotic and inspiring – perfect for such an important element of HSM!
Of course, another key scene is the eponymous musical audition itself. Let this Theatre Backstage backdrop do the work of setting the tone, leaving your performers free to fill the stage! This is where Sharpay and her twin brother, Ryan, try to convince Mrs. Darbus – and the audience – that they've got "What I've Been Looking For". (Too bad their audition falls flat.) This drop also perfectly suits Mrs. Darbus' unique detention methods.
Stick to the Status Quo
Troy and Gabriella both arrive too late to audition, but, as luck would have it, they still get a shot at singing the same song as Sharpay and Ryan. Their obvious chemistry brings the number to life! It also wins them a call-back, which leaves the whole school talking ("Cellular Fusion") and makes Sharpay see red. She's not the only one, though. The Jocks and the Brainiacs try to convince the stereotype-busting couple to "Stick to the Status Quo". They're unsuccessful and the show goes to intermission.
Act Two High School Musical Backdrops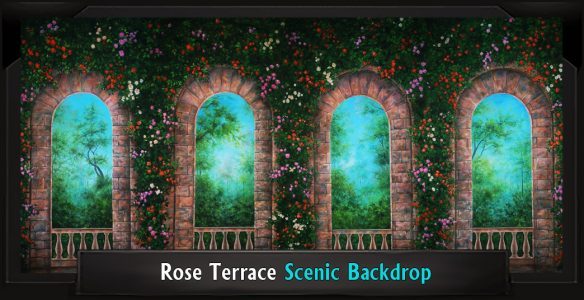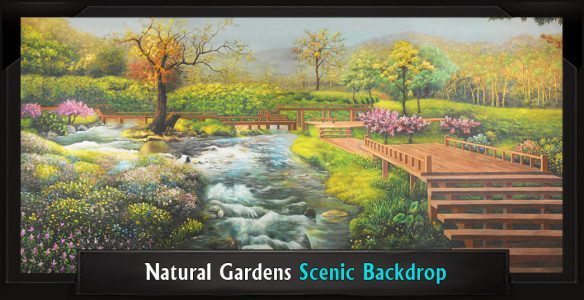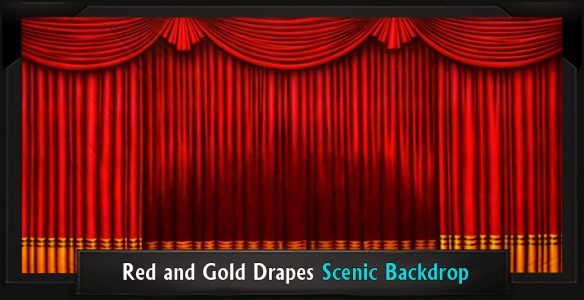 The second act opens with Troy and Gabriella, who are falling more and more in love ("I Can't Keep My Eyes Off of You"). Gabriella remembers what it was like to be younger, when everyone felt free to be who they were instead of who they are expected to be. Use the Rose Terrace backdrop to bring the audience into the mood for love. This Natural Gardens drop, with it gauzy feel and pastel color palette, would also be a great backdrop for such innocent reminiscing.
Meanwhile, forces are conspiring against the young lovers. The Jocks and the Brainiacs plot to keep their star players to themselves. Meanwhile, Sharpay plans to sabotage their chances at the musical. During a basketball practice, Gabriella overhears Troy talking about her to his teammates. Knowing that Gabriella is listening, they make it sound like Troy thinks she's unimportant. Hurt, she tells him she won't attend the callbacks after all. Troy's teammates immediately regret their part in the misunderstanding ("When There Was Me and You"). Troy chases Gabriella down at her house, and they reconcile ("Something New – Reprise").
Chagrined, Chad and Taylor team up to set things right. They help Troy and Gabriella make it to the callbacks, which are scheduled at the same time as the science decathlon and Troy's big basketball game ("We're All In This Together"). Their plan works – almost! Troy and Gabriella arrive too late once again. However, the passionate enthusiasm of all the cliques supporting the duo moves Mrs. Darbus. She eventually agrees to let them sing anyway. They deliver the pivotal song "Breaking Free", and Mrs. Darbus promptly gives them the lead roles.
TheatreWorld's Red and Gold Drapes will provide just the right triumphant feel for the callback performances.
We're All in This Together!
With everything back as it should be, all that's left is for Troy to win the basketball game and for Gabriella and the science team to dominate the decathlon. The whole school comes together and realizes that no one fits into a box. Before the curtain falls, everyone triumphantly brings down the house with the "We're All in This Together – Reprise"!
Musical Notes Backdrop, Header, and Legs Set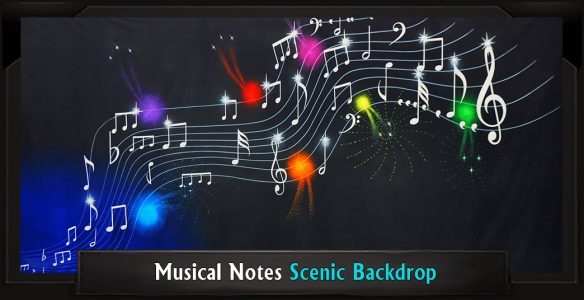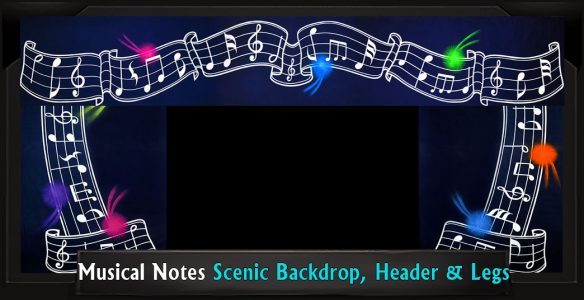 For those final musical numbers, what better way to go out with a bang than with one of these Musical Notes backdrop, header, and legs sets? TheatreWorld has great deals on multiple backdrop rentals and this is just the right time and musical to go for the biggest visual impact. To add pizzaz on a budget, use the header and legs to frame for the entire show and rely on set and lighting changes to highlight scene shifts.
With 11 roles, plus ensemble parts, High School Musical is a perfect choice for any youth theatre group or school. There are few musicals that are better suited to a young cast, are as highly enjoyable to audiences of all ages, or that have the passionate fan base to pack your houses like High School Musical! Whether you're looking for lavish drops for each scene or a just few key backdrops, TheatreWorld Backdrops can help you bring this unforgettable tale of love and hope to your very own stage!
Spring is right around the corner – the timing is right to order your backdrops! Contact a TheatreWorld Backdrop specialist today. We're happy to provide personalized assistance to help make your production of High School Musical the smash hit it is destined to be!