Going Beyond the Script
Written by: Melanie Simmons
Before they became the go-to team for Disney, Howard Ashman and Alan Menken took the theatre world by storm with their quirky story of a carnivorous alien plant bent on world domination. Little Shop of Horrors is based on a black-comedy film of the same name from 1960. The musical tells the unlikely tale of a clueless florist employee, Seymour, whose life is turned upside down when his favorite plant, Audrey II – named for his crush, the flighty Audrey – begins feeding on the flesh and blood of humans. Little Shop boasts a small cast, relatively simple orchestration, and limited settings. The show is ready for theatre companies large and small to revive once again. Let's take a look at how TheatreWorld Backdrops can "feed" your appetite for dark comedy!
The Setting – Skid Row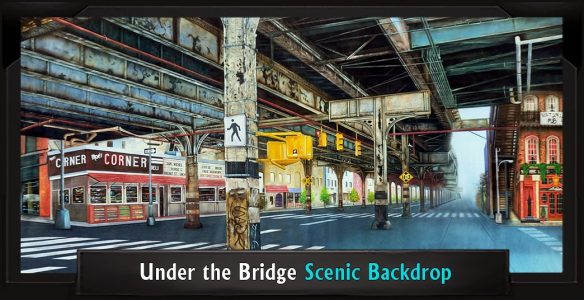 While the original Little Shop film was set on Skid Row in Los Angeles, the Broadway version takes place in New York City. Regardless, the main idea is to start the story in as gritty and depressing a location as possible. TheatreWorld has a range of backdrops to help you transform your stage into the infamous Skid Row!
Let's start with this Vintage City Street – B backdrop, which is perfect for the opening number. Chiffon, Crystal, and Ronette will pop against the washed-out palette and looming structures, as they set up the story line with all their doo-wop sass in "Prologue (Little Shop of Horrors)".
If you want to add a little more color and pizazz while keeping the urban city feel, try this Under the Bridge backdrop. Its pops of primary colors on the storefronts and street signs will showcase the gritty underworld while mirroring the show's colorful characters. The rundown bridge dominating the top half of the drop adds depth while conveying the feeling of oppression. Your audience will practically feel underfoot. (Which is a perfect way to mirror Seymour's meek and defeated demeanor.) Meanwhile, a tiny patch of sky reminds us of the outer forces of the universe that conspire to bring Audrey II to life!
Mushnik's Flower Shop and Orin's Dentist Office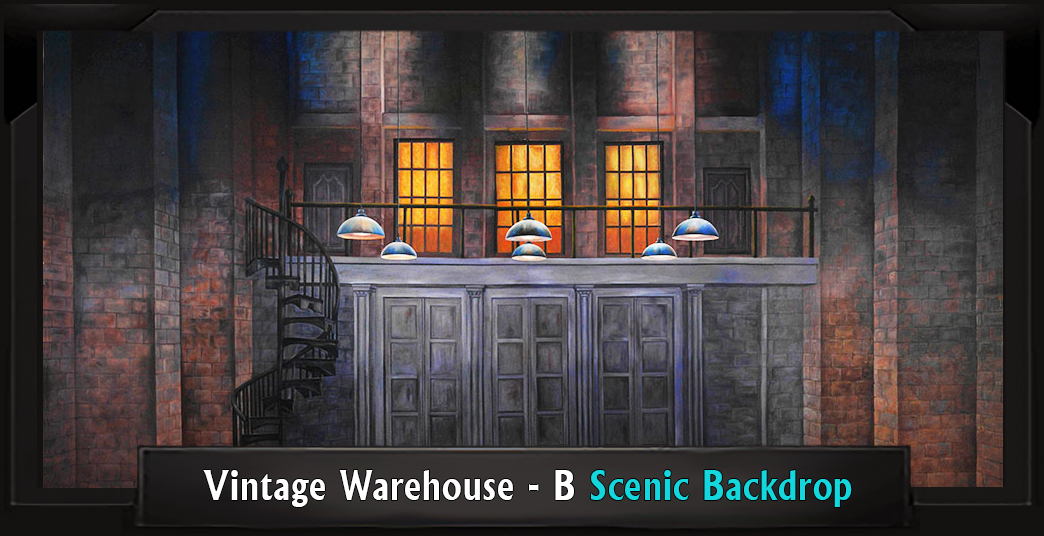 Flower Shop
Of course, Little Shop needs a shop! TheatreWorld has designed a Flower Shop Interior just for this show. The muted pastels and droopy plants create just the right setting for Mushnick's, where most of the story takes place. With doorways on both sides, the drop allows for easy staging. Try utilizing a freestanding door set piece to define the main entrance where you can easily add "Mushnick's" name. Audrey II, in all its various sizes, can be placed on the opposite side of the stage from the door or even center stage. Use this drop as the anchor set and you've already staged half your scenes!
For a more versatile option, try this Vintage Warehouse – B backdrop. It's a great backdrop for the scenes where Audrey II manipulates its prey into its gaping maw! This is a vacant space where dire secrets are kept. Emphasize this with an otherwise empty stage and gloomy lighting. Add some follow spots for dramatic effect and handle everything from Audrey's latest meal to its last transformation with ease!
Dentist's Office
Orin, Audrey's violent boyfriend and the main obstacle to Seymour's hopes for romantic bliss, is a sadist of the first order. He expresses this in the most socially acceptable way possible – by being a dentist! "Dentist" is one of the funnest songs in the show and it deserves a fitting backdrop. The muted pastel tones of TheatreWorld's Dentist Office backdrop match the aesthetic of the flower shop scene. Like in the flower shop, all you need to bring this torture chamber to life is a dentist chair.
Transitions and Other Scenes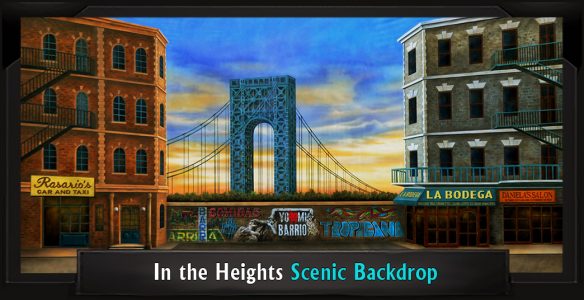 Not every scene in this show is bleak and dismal. Feel free to explore some of TheatreWorld's brighter urban options. For transitional scenes like those between Seymour and Audrey, or Seymour's radio interview, don't be afraid to go big and colorful! The flashback scene, where Seymour recounts his discovery of Audrey II during the solar eclipse, would look great set against this In the Heights backdrop. Add some set pieces to represent market booths and place brightly-colored fake flowers everywhere. A lighting blackout and some spotlight effects would illuminate this pivotal scene.
Transition Moments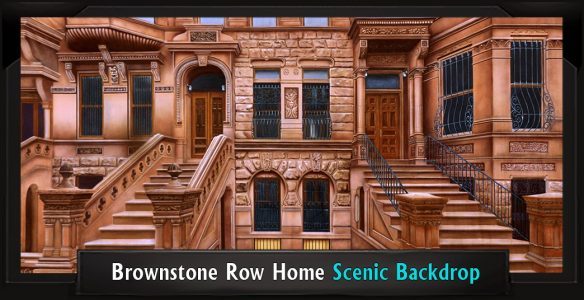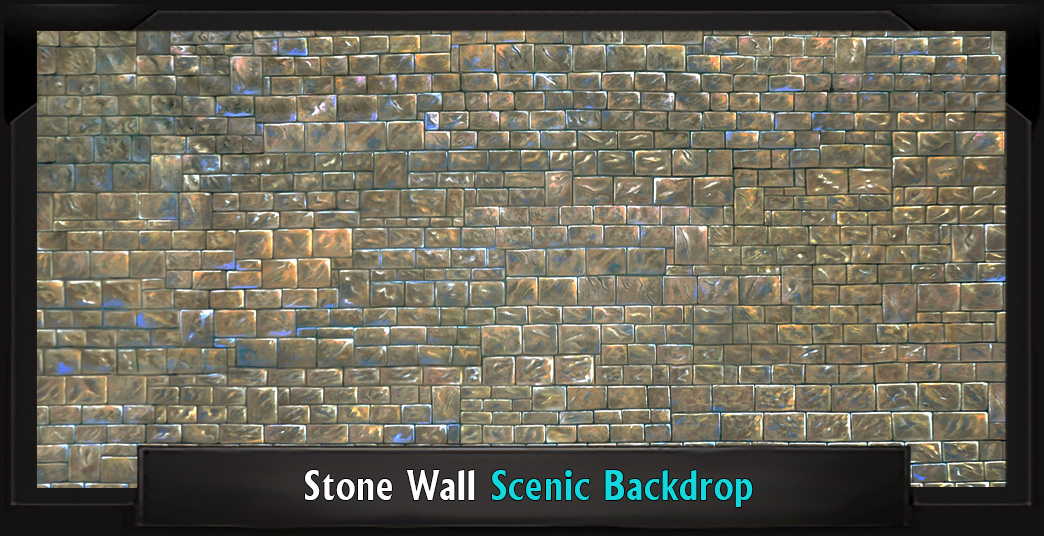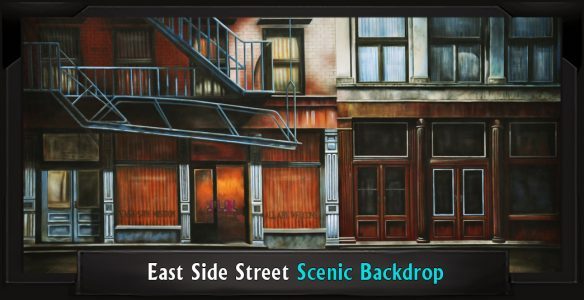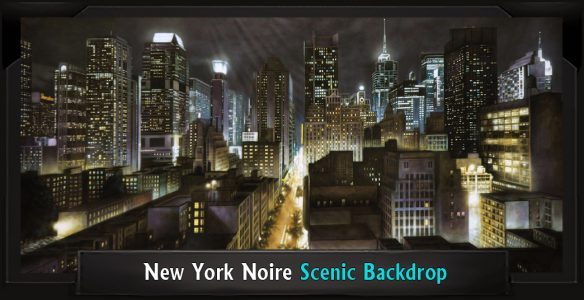 A few other scenes – such as those sweet scenes between Seymour and Audrey and some of the other transition moments – can be staged with a little bit more creativity. Use TheaterWorld's Brownstone Row Home or this Stone Wall backdrop, for example. You'll keep the same look and feel of the show. However, you'll gain the creative freedom to add distinctive set pieces and special lighting to create memorable onstage moments in a different way.
For the scene where Seymour and Audrey declare their love, try TheatreWorld's East Side Street – B backdrop. This inner-city scene features looming red brick buildings. Light accents show that, even in the inner city, hope still shines!
This city skyline drop conveys the grit and glamour of New York City on a grand scale. The dark tones suit the black comedy feel of the show well, but the avenues, brightly lit in amber, add a little light. Nothing matches unstoppable Audrey II's size and ambition like the skyline of the Big Apple. Throw TheatreWorld's New York Noire backdrop in behind your grand finale for a huge send-off!
A Modern Take
Don't be afraid to go modern and bring Little Shop right to Bleeker Street. The bright pops of color and forced perspective will draw audiences into the story, as Seymour tries unsuccessfully to separate his fate from Audrey II's.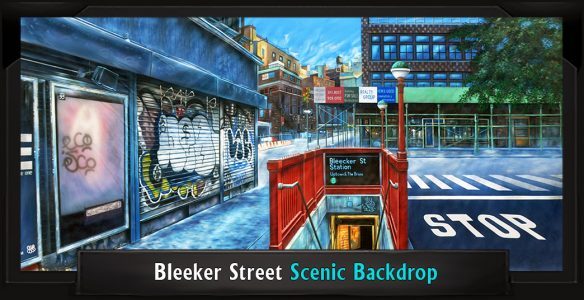 Whether you're a professional theatre group looking to make your own mark on a classic, or an ambitious amateur troupe looking for an audience-pleasing good time, Little Shop of Horrors is a show that's guaranteed to pack the house! With its catchy songs, relatable themes, and off-the-wall dark humor, Little Shop and its cast of plucky characters will make a great feather in any performer's cap. Don't wait for a total eclipse of the sun – call TheatreWorld's team of scenic advisers today!