Going Beyond the Script
Written by: Melanie Simmons
Oh my god, you guys – what better way to ring in the new year than with some Blonde ambition! And there's no better Blonde ambassador for any stage than Elle Woods, star of Legally Blonde: The Musical. Like its plucky protagonist, Legally Blonde: The Musical – and the Reese Witherspoon film on which it is based – surprised everyone with its box office success. Based on the novel by Amanda Brown, Legally Blonde is the tale of a sorority blonde, Elle, whose looks are no rival for the brains hiding in her pretty little head.
With music and lyrics by Laurence O'Keefe and Nell Benjamin and book by Heather Hach, the show got its turn on Broadway in 2007 and earned several Tony and Drama Desk nominations, winning three Lawrence Olivier awards for its West End run. What better production to bring to your own stage than this tale of determination, pluck, and snappy fashion!
Legally Blonde – Act One
Our show begins with Elle's sorority sisters all in a tizzy. They're all certain Warner, Elle's long-time, "perfect" boyfriend is going to propose to her. So when he dumps her instead so that he can focus on his "Serious" post-graduate law school plans, Elle comes up with the perfect plan to win him back. All she has to do is get accepted into Harvard Law. Easy! With the help of her sorority, and her 4.0 grades – in Fashion Merchandising – Elle defies the odds, landing a stunning LSAT score that gets her accepted.
Sorority House and Breakup Scene Drops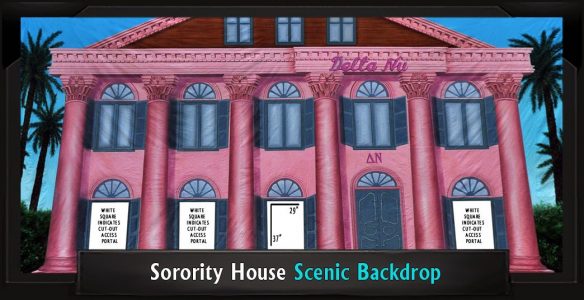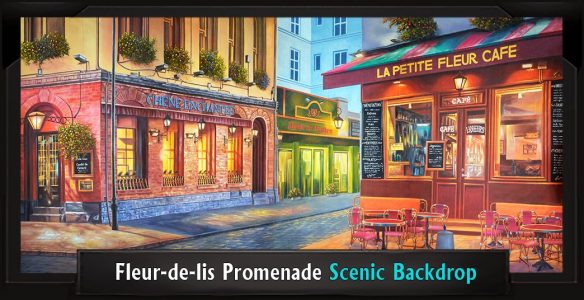 TheatreWorld's Sorority House backdrop is big, it's pink – it's perfect for the opening of this show! Don't be afraid to start the show with a bang. This drop, paired with bright lighting and a bubbly cast belting out the opening number, will leave your audiences thinking "Omigod"!
For Elle's big date with Warner, you can use set pieces and spotlights to create a small, intimate vignette. Alternatively, to capitalize on what a big moment – and even bigger disaster – this scene ends up being for Elle, opt for TheatreWorld's Fleur-de-lis Promenade backdrop. The elegant French bistro would be a great setting for a romantic dining scene that goes horribly wrong.
Welcome to Harvard!
Harvard proves daunting, even for Elle's indefatigable spirit. She finds Warner has already replaced her with Vivienne, an old girlfriend with a pedigree much more in line with his personal and professional ambitions. To make matters worse, ruthless Professor Callahan kicks Elle out of her very first law class for being underprepared. Elle decides there's only one course of action to fix things: she's ready to go brunette. She heads for the nearest salon. There she meets Paulette, a lonely beautician who dreams of "Ireland".
At Vivienne's invitation, Elle attends a party dressed as a Playboy Bunny, only to find that Vivienne has tricked her into humiliating herself. Rejected once again by Warner, Elle flees the party and runs into Emmett, a student assistant who helps her realign her priorities. Determined to succeed for herself instead of focusing solely on winning Warner back, Elle lands a coveted internship that is "So Much Better" than the proposal Warner finally extends – to Vivienne.
Harvard and Boston Backdrops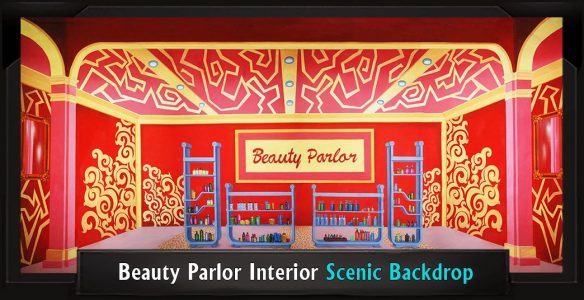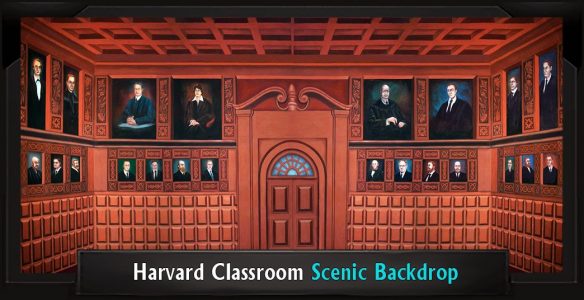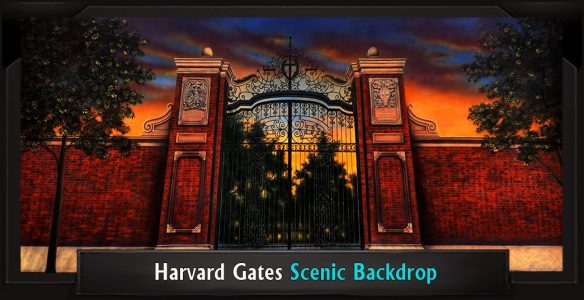 Harvard itself is a big "character" in the story, be sure you do it justice! Instead of set pieces, try an empty stage with only this Harvard Gates backdrop for Elle's arrival at her new school. The imposing wrought iron and enormous walls mirror the huge obstacles Elle faces in this new chapter.
Capture Professor Callahan's bloodthirsty style with this Harvard Classroom backdrop. The dark wood accents and looming portraits will certainly add to Elle's growing sense that she's way over her head in her first law class.
The Hair Affair beauty salon offers Elle a comforting escape from Harvard. Try this Beauty Parlor Interior backdrop, with its bold pinks and gold accents, perfectly suited to Elle's signature style.
Legally Blonde – Act Two
Elle's first legal assignment comes when Brooke Wyndham, exercise queen, is accused of murdering her filthy rich husband for his money. Elle and Brooke quickly bond over their sorority sisterhood. After a while, Brooke confides her airtight alibi: Brooke was getting liposuction during the time of the murder. While this information would let Brooke walk free, it would end her fitness career. When Elle refuses to reveal this secret, the team shuns her and Emmett, who defends Elle's choice.
Prison Interior Backdrop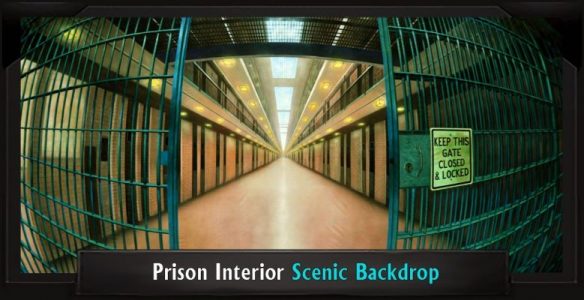 TheatreWorld has the perfect Prison Interior backdrop. With the iron gates – similar in theme to the Harvard Gates earlier in the show – and forced perspective, it's still bright enough to set the right tone for Brooke's big number.
Successes and Setbacks
Later, at the Hair Affair salon, Elle teaches Paulette the "Bend and Snap" as a means of breaking the ice with the sexy UPS man Kyle that Paulette has a crush on. Unfortunately, Paulette bungles things and breaks Kyle's nose instead of turning him on.
On the first day of the trial, Brooke still won't share her alibi. In a stroke of luck, Elle realizes that Brooke's pool boy, Nikos, who claims he's having an affair with the defendant, is actually gay. Her legal team doesn't believe her, until Elle maneuvers Nikos into a confession of his sexual orientation. The legal team praises Elle and she starts to feel like they're finally taking her seriously – until Callahan tries to force a kiss on her when he thinks they're alone. Warner sees the kiss and mocks Elle, but only Vivienne sees the slap that follows. Meanwhile, Elle flees and Emmett realizes that he's in love with her. ("Legally Blonde")
Confused and dejected, Elle decides to leave Harvard. She stops by the Hair Affair to bid farewell to Paulette. Before she can leave, Vivienne and Enid show up and talk her into staying. Finally realizing she can be a lawyer and still embrace her true self, Elle dons her signature pink and throws herself back into the Wyndham case. Brooke fires Callahan and hires Elle directly instead. In a stunning courtroom scene, Elle goads Brooke's stepdaughter, Chutney, into a courtroom confession. With her first client officially set free, Elle completes her personal victory by refusing Warner's long-awaited proposal.
Courtroom and Callahan's Office Backdrops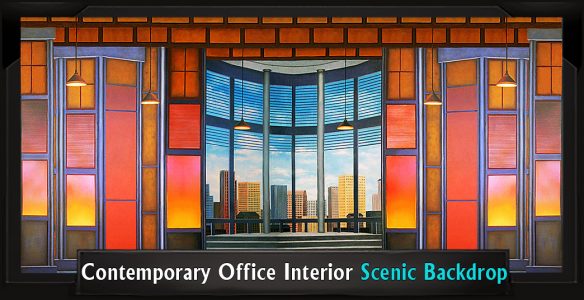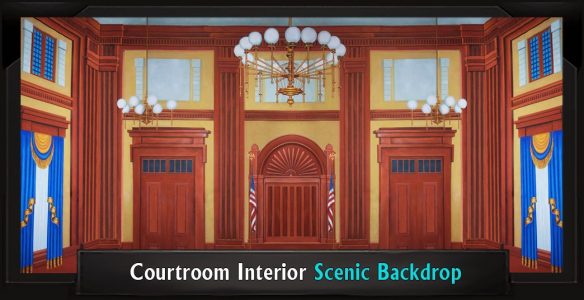 This Courtroom Interior backdrop is a go-to for all the court scenes in this show. The subtle tones and high ceilings suggest the challenge facing Elle and her team, while the red-white-and-blue colors hint at the justice that will ultimately be served.
For Callahan's skeevy move on our plucky protagonist, try this Contemporary Office Interior backdrop. The brick facing at the top of the drop, together with the faceted panels to either side, would well suit this sharky lawyer with hidden intentions.
A Happy Ending for (Almost) Everyone
Three years later, we see Elle graduating Harvard as valedictorian. Paulette has married her UPS man, Kyle, and is busy popping out kids. Vivienne and Enid are pursuing professional goals. Meanwhile, Callahan's personal and professional life is in the toilet and Warner has dropped out to pursue something more his speed – a modeling career. Our story ends with Elle proposing to Emmett– who happily accepts. The "Finale" wraps up with a happy ending for everyone – everyone who deserves it, anyway!
Legally Blonde Finale Backdrop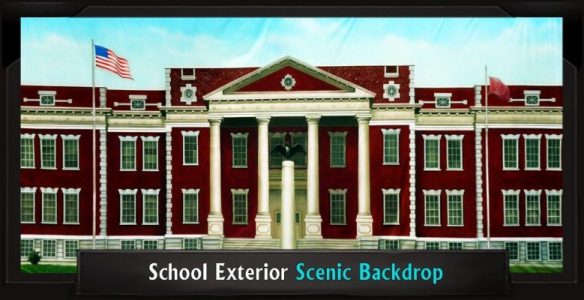 For the graduation scene, try this School Exterior backdrop, with its American flag flying proudly.

Abstract Backdrop Suggestions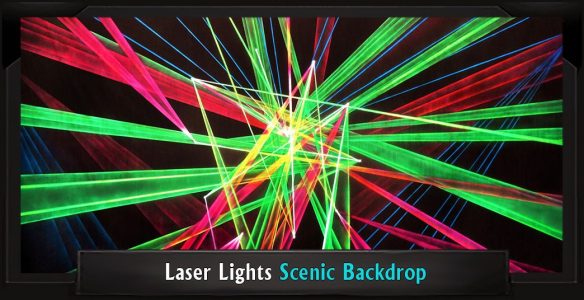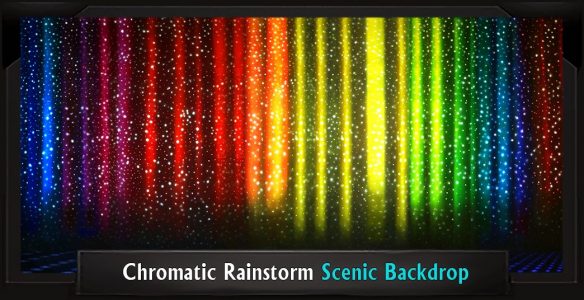 Legally Blonde is an energetic show with a lot of flash, so don't be afraid to amp up some of the more spectacular scenes with some brilliant abstract drops! For example, use this Laser Lights backdrop to really take the Bend and Snap scene over the top!
Or this Chromatic Rainstorm backdrop, with its rainbow of glittery colors, as a backdrop for "Gay or European".
***
Legally Blonde is a crowd-pleaser of a good time. Few shows capture such huge heart and spirit. With the show's major theme of "never be afraid to dream big", Elle is a role model for all the young ladies out there. Embrace the challenge of Legally Blonde by looking beyond the surface and wowing your audience with style as well as substance. TheatreWorld would love to help you remind audiences everywhere that appearances can be deceiving, no dream is ever too big to come true, and that staying true to yourself never goes out of fashion!