Going Beyond the Script
Written by: Melanie Simmons
If there's any American musical that needs no introduction, it's Grease! Written in 1971 by Jim Jacobs and Warren Casey, Grease came about as an ode to 1950's nostalgia and the everlasting lure of youth and teenage drama.
Despite its glossy veneer, Grease commands timelessness by combining upbeat musical numbers with pertinent social issues, such as peer pressure, gang violence, teen pregnancy, and sexual exploration. (In fact, its original version has been tamed down a lot over the years since its original Chicago run!) Its Broadway run saw over 3,000 shows – a record at the time. Its revival in the much-beloved 1978 movie starring John Travolta and Olivia Newton John spurned countless productions on stages around the world guaranteed this show a place in our cultural fabric.
In light of the the recent live television performance of this show – a trend that will hopefully keep rising in popularity – now is the best time to revisit Rydell High in all its shoo-bop glory!
Act One
The show opens with schoolteacher Miss Lynch leading her students in the Rydell High School "Alma Mater". The greaser gang, known as the Burger Palace Boys, arrives on the scene, accompanied by their chick squad, the Pink Ladies. They quickly take to mocking the song ("Alma Mater (Parody)") and boast about their own rebellious lifestyle ("Grease") .
Rydell High Exterior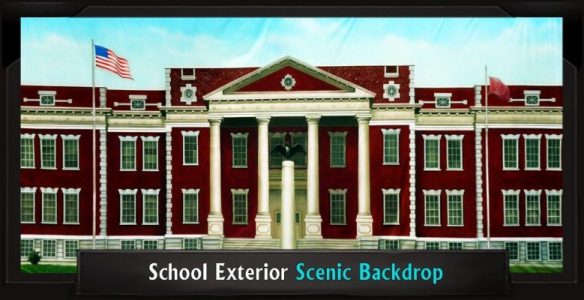 As prominent a character as any other, Rydell High School deserves a big presence in this scene! Try this School Exterior backdrop, with its proud flags flying, to let that patriotic teenage nostalgia really hit home for your audience.
In the school cafeteria, we meet Danny Zuko, the bad-boy leader of the Burger Palace Boys, who is returning from summer vacation away at the beach. Also fresh in from the coast is Sandy Dumbrowski, the goody-goody new girl in school. Sandy describes her dreamy romance with a sweet boy she met over the summer to the Pink Ladies. They are shocked to learn this romantic guy just happens to be none other than Danny Zuko himself! Meanwhile, Danny is regaling his Burger Palace Boys with tales of his summer conquests – with some noticeable differences from Sandy's chaste account ("Summer Nights"). Sandy and Danny soon cross paths and Sandy is left crushed by Danny's determination to maintain his bad-boy image.
Inside Rydell High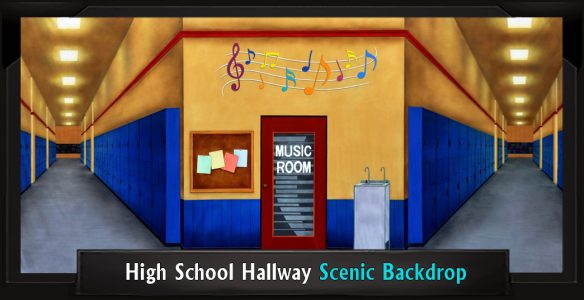 So much drama happens in high school hallways – on and offstage! This forced-perspective High School Hallway backdrop is perfect for channeling nostalgia and can be used for many of the scenes in this show. As with the earlier exterior, this drop's main colors, red, white and blue, against warm amber hues will feel both patriotic and inviting.
Pajama Party and Alleyway Drops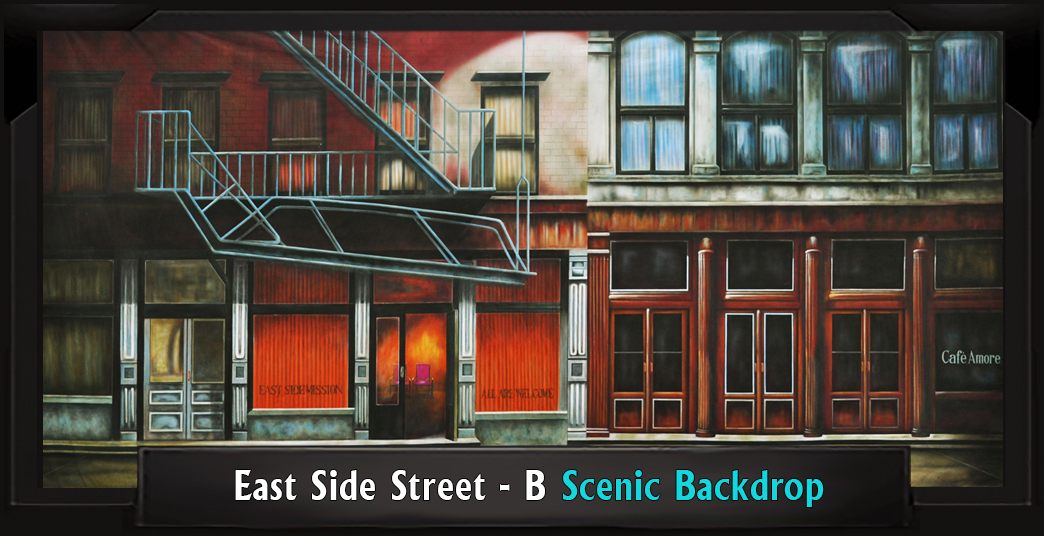 In order to cheer Sandy up, the Pink Ladies invite her to a pajama party. That night, they gossip and giggle and talk about boys. Sandy's naiveté comes into stark contrast with Marty's ("Freddy, My Love") and Rizzo's more robust experiences with love. Meanwhile, in a parallel scene, Danny and the Boys steal hubcaps and talk about cars ("Greased Lightning").
Try this Sweet Pea's Bedroom backdrop. Its pink accents and powder blue walls would contrast the songs' adult lyrics with the innocence of youth.
Similarly, this alleyway backdrop, East Side Street – B, would set the tone for the boys and their racing shenanigans!
At school the next day, Danny and Sandy continue to have awkward run-ins. Sandy decides to try out for the high school cheer team ("Rydell Fight Song"), while Rizzo rags on Danny for falling in love with a poster-perfect "Sandra Dee"-type girl. Sandy comes in just in time to hear all the greasers making fun of her. She tells Danny she wishes they'd never met, and storms off. The Burger Palace Boys and the Pink Ladies declare their undying friendship, no matter what happens ("We Go Together"), as the curtain falls.
Act Two
We rejoin our vivacious teenagers at the school dance ("Shakin' At the High School Hop"). A dejected Sandy is sitting alone and thinking about Danny ("It's Raining on Prom Night"). Danny wins a dance-off, scoring two free drive-in movie tickets. Despite watching him dance with other girls, Sandy continues to pine after Danny ("Hopelessly Devoted to You").
High School Gymnasium Backdrop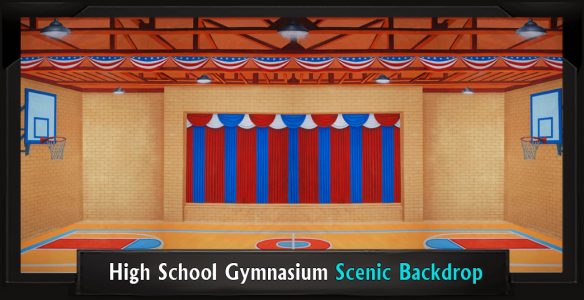 This High School Gymnasium backdrop matches the hallway drop in color and scale, helping you create the world of Rydell High School with ease. With American color flags and warm-tones, you can keep that theme of nostalgic Americana running through your production.
Later, at the local diner, the Burger Palace Boys run afoul of a rival greaser gang known as the Flaming Dukes. Their clash results in a call to rumble, which Danny tries unsuccessfully to avert. He declines the fight, running off to a track meet, while the rest of the Burger Boys grab a meal before their rumble. Meanwhile, Frenchie laments her poor life choices ("Beauty School Dropout").
Burger Palace Backdrops


TheatreWorld has two Diner backdrops that would work well here. For a more innocent production (see end notes on alternate versions), you could opt for the Classie Chassies Diner Interior to mirror the perceived innocence of that era.
The 60's, on the other hand, were marked by rock-and-roll and an anti-war movement. If you're going for a more adult-themed production, go with this Classie Chassies 60's Diner Exterior backdrop, more evocative of a decade of youthful rebellion.
The Burger Boys emerge ready to fight, but the Flaming Dukes are nowhere to be found. To get their energy out, they settle for teasing Roger.
Meanwhile, Danny and Sandy meet at the drive-in. He apologizes for the Burger Boys' teasing and for his own behavior. To make up for it, he offers her his class ring. Then he tries to put the moves on her, prompting Sandy to take off in a huff, leaving him "Alone at a Drive-In Movie".
Drive-In Movie Backdrops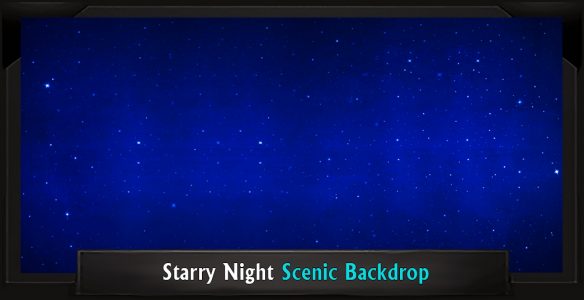 A Greased Lightning set piece would make a perfectly intimate setting for this scene, but you'll want to set the mood with a nighttime backdrop. Try this Starry Night backdrop, with its twinkling stars. Then, add an overhead beam of lighting to simulate the movie projector.
The story picks up later that week at a party in Jan's basement. Doody and Roger take a shot at their rock-n-roll dreams, while Rizzo worries that she's pregnant. She and Sandy bond over feeling like outsiders ("There Are Worse Things I Could Do") and Rizzo decides that the best option is to just fit in with the other greasers.
The next day, our teenagers are back at the Burger Palace. Danny quits the track team and the Burger Palace Boys welcome him back into their ranks. Sandy, having taken notes from Rizzo, has transformed herself into a greaser's dream girl, and she and Danny joyfully reunite ("You're the One That I Want"). Rizzo, happy to learn she isn't pregnant, reunites with Kenickie, as the Burger Boys and the Pink Ladies join in their final anthem of eternal friendship, "We Go Together".
Finale Backdrops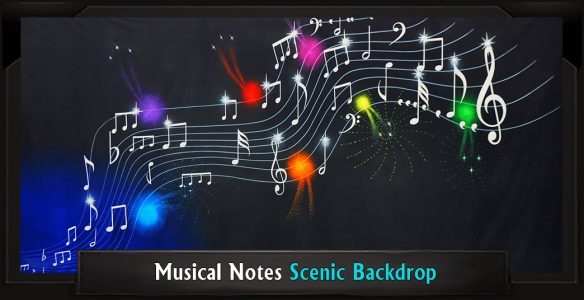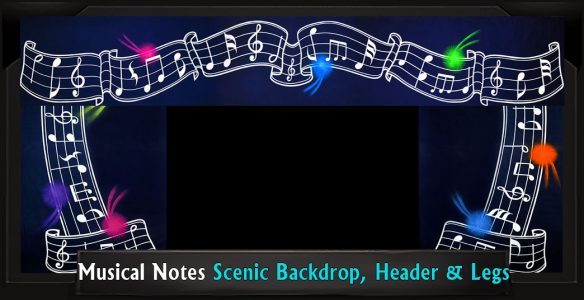 For the rapturous closing numbers, consider going from a literal diner backdrop to this effervescent Musical Notes Backdrop.
Keeping with the same theme, take your backdrops up a notch with this full Musical Notes backdrop, header, and legs set!
Other Grease Backdrops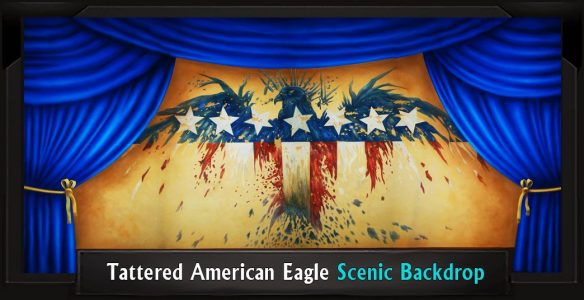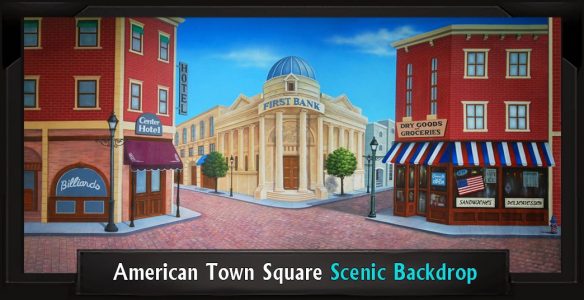 Grease is available for licensing in its original version, or in a "school version", which is more suitable for younger audiences and is edited for time and content. There have been so many revivals of this beloved musical that the sky is the limit! Here's a few more backdrops to consider for your own vision. All are evocative of small-town America and mid-19th-century nostalgia. You can't go wrong with any of these options!
Another drop that could be used for either an interior school scene, an exterior gang scene, or as a party backdrop is our Red Brick Wall with Graffiti backdrop. This drop is more pictorial than literal. The colors are on the pastel side, so they still evoking innocent playfulness. The romantic center couple, set against ground-breaking musical icons, suits this show's teenage themes while harnessing historical reverie.
This Tattered American Eagle backdrop, with the eagle image, screams Americana. Its splashy styling combines the best of energetic national pride, a graffiti feel, and a bit of anarchy.
Of course, there's nothing that says America like Downtown USA. The American colors are woven cleverly through this idyllic American Town Square backdrop, which would compliment any of the outdoor scenes. Juxtapose the peaceful simplicity of this drop with the threatening feel of the showdown between the Burger Palace Boys and the Flaming Dukes.
Friendship, Fun, and Timeless Love
Despite its clashing worlds and challenging themes, at the end of the day, Grease is about friendship and timeless love, themes that would resonate well with any audience. TheatreWorld has just the right backdrops to compliment your staging for audiences of any age. Whether you go big or small, you can't go wrong with one of America's favorite musicals! Let TheatreWorld help you design the perfect look for your production that will have audiences shouting "You're the one that I want!"