Going Beyond the Script
written by: Melanie Simmons
There are a lot of great musicals, but there's only one can be called supercalifragilisticexpialidocious! After years of popularity as a long-time classic film, Mary Poppins finally got its theatrical turn in 2004. The musical was produced by Walt Disney Theatrical and directed by Richard Eyre. Matthew Bourne co-directed and also acted as co-choreographer alongside Stephen Mear. Mary Poppins' West End run won two Olivier Awards, and, in 2006, the show came to Broadway and picked up a Tony.
With its familiar songs and young cast, Mary Poppins is an excellent choice for local theatre groups. Let's take a look at how TheatreWorld Backdrops can help you bring this beloved tale to your own stage!
Opening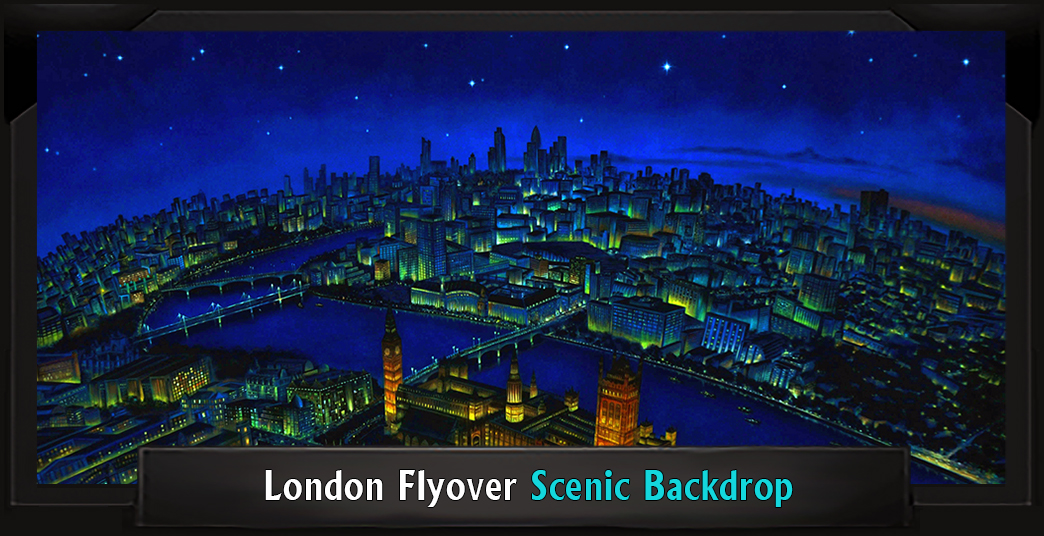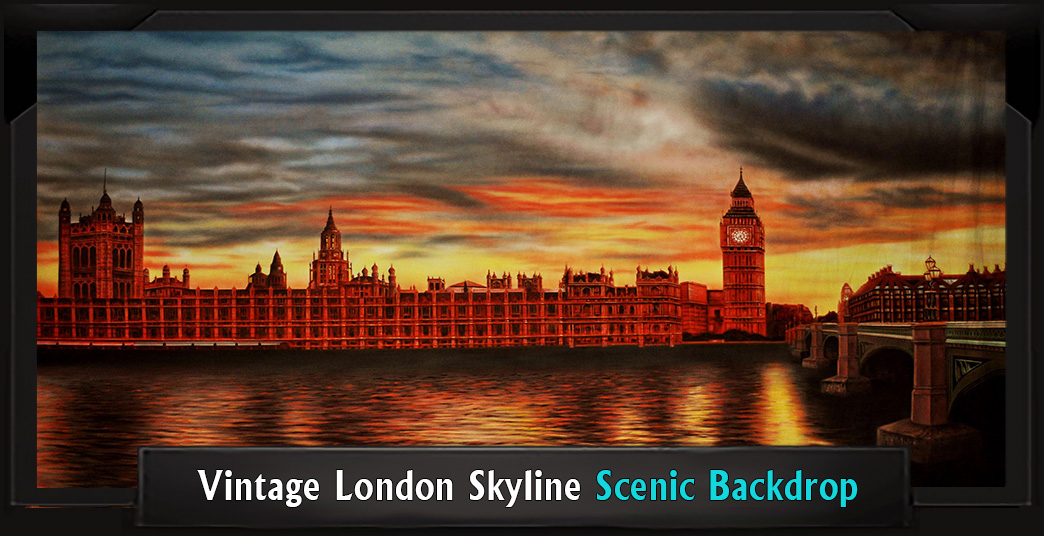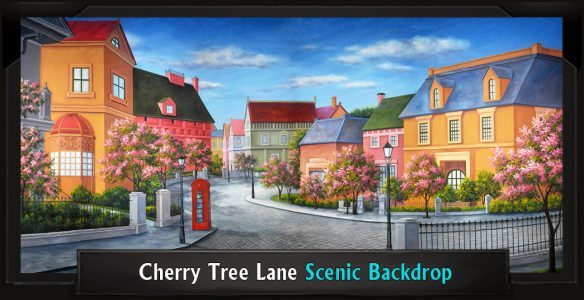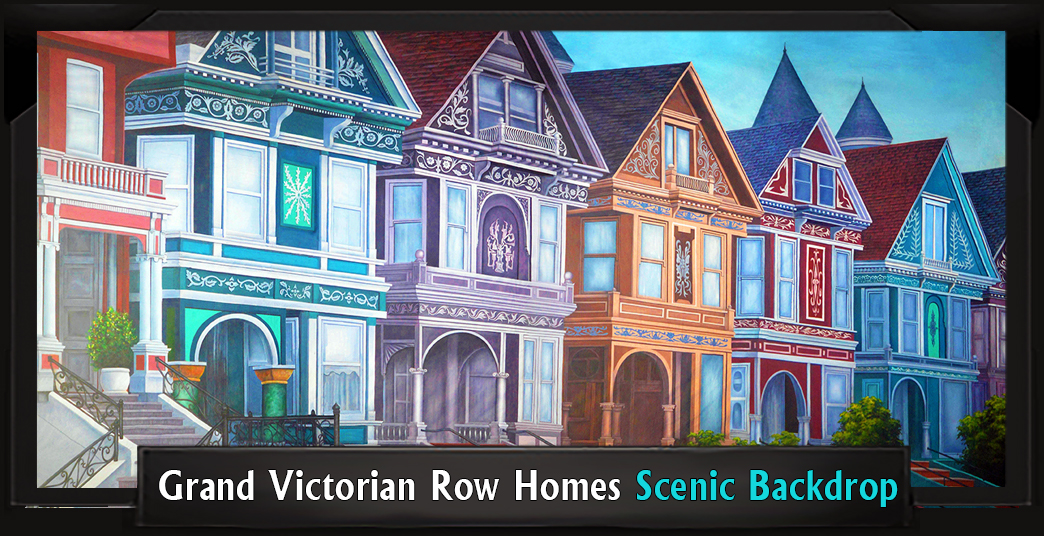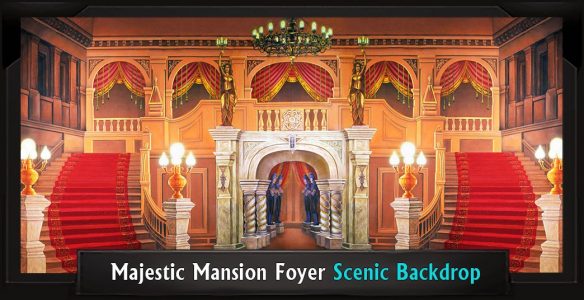 The show begins with Bert, a chimney sweep, who introduces us to a magical Edwardian London. There's nothing like making a big first impression, and this stunning, sprawling London Flyover backdrop would make an excellent choice for the opening number. You can almost feel the wind in the east and the mist coming in! (Which of course, you can easily accomplish with some simple stage effects.)
For a similar effect, but with more of a sunrise color palette, we also offer Vintage London Skyline, a distant view of London and the Thames.
Bert next introduces us to the Banks family, residents of Number 17 Cherry Street Lane. George and his wife Winifred, a banker and an actress-cum-homemaker, live with their two children in this picture-perfect neighborhood. But inside, everything isn't as wonderful as it seems on the outside. TheatreWorld has a dedicated Cherry Tree Lane backdrop, specifically designed to bring your audiences to this lovely setting.
Our Grand Victorian Row Homes backdrop would also make an excellent choice for the Banks home. This lovely London street features row houses in vibrant colors.
Inside number 17, George and Winifred are at their wit's ends. Their two children, Jane and Michael, have chased off yet another nanny with their precocious and naughty ways. The children try to "help" by writing out a description of the perfect nanny. However, George tears the paper up and throws it into the unlit fireplace, leaving the shredded pieces to magically drift up the chimney while the family argues. A knock at the door brings Mary Poppins into their lives – and nothing will ever be the same again. This Majestic Mansion Foyer backdrop would capture the opulence of the Banks family and the veneer of success that features so strongly in George Banks' character development.
Mary Poppins Arrives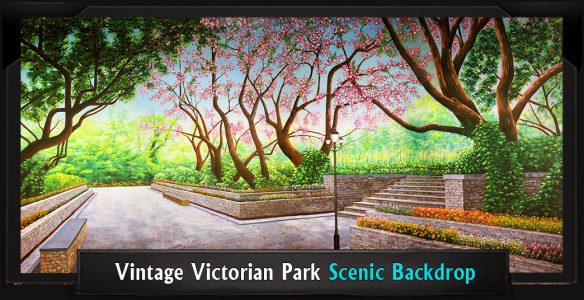 Mary quickly gains control over her mischievous charges. She takes them out into the lively streets of London, where she introduces them to Bert and challenges their preconceptions by bringing park statues to life. ("Jolly Holiday".) TheatreWorld's sedate Vintage Victorian Park backdrop, with its flowering trees, rows of bright flowers, and neat brickwork, makes a great backdrop for this scene, where the Banks children's appreciation of the world around them blossoms.
There is more disturbing the Banks household than just unruly children, however. Winifred fears she is not living up to her husband's expectations. She decides to throw a fancy tea party to impress his friends and live up to the lifestyle he expects. Mary keeps Jane and Michael from wreaking havoc on the preparations. ("Spoonful of Sugar".) Her efforts come to no avail, though, as none of the invitees decide to attend.
Exploring London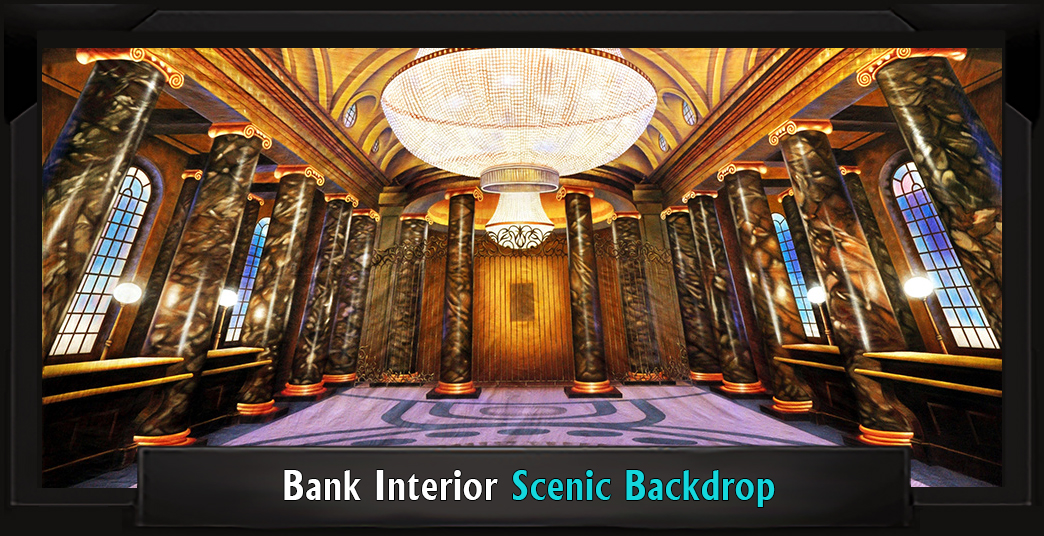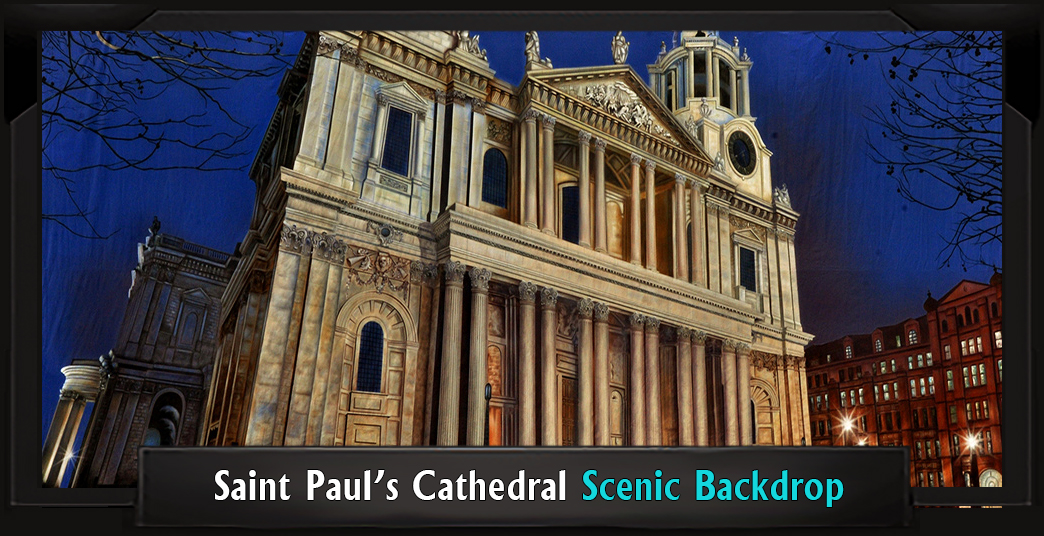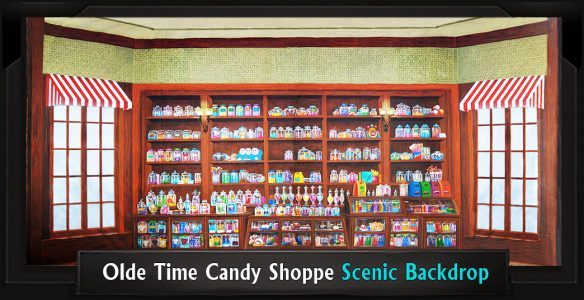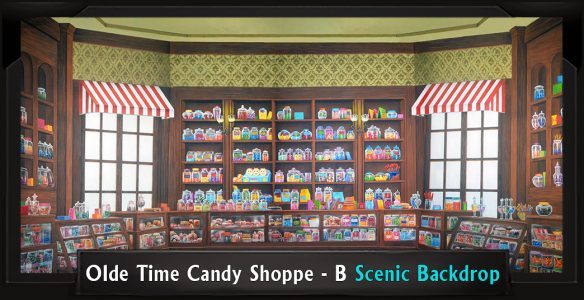 Mary Poppins decides to take the children to visit their father at work. George is frustrated by the interruption at first, but, eventually, Mary's insight moves him to make a daring investment choice. TheatreWorld's Bank Interior backdrop, with its high ceilings, curving lines, and bold color scheme, shows how dominating this entity is. Its looming presence will linger throughout the play, as George Banks' fate hangs in the balance.
Jane, Michael, and Mary continue on their trip through London. They soon stumble across the Bird Lady outside Saint Paul's Cathedral. TheatreWorld's simply stunning Saint Paul's Cathedral backdrop depicts the landmark building in incredible detail. It's a clear choice for the unforgettable "Feed the Birds" number, which stands out in the musical as it did in the film.
Afterwards, the trio stops by a magical candy shop where the owner, Mrs. Corry, sells enchanted words as well as sweets. The children learn "Supercalifragilisticexpialidocious" and return home in high spirits. This scene was created specifically for the theatre version. It replaces the "I Love to Laugh" scene, which would have been nearly impossible to stage. Be sure to fully embrace this fresh staging for the most memorable song – and word! – by choosing between two takes on a candy shop backdrops: Olde Time Candy Shoppe and Olde Time Candy Shoppe – B.
More Trouble at Home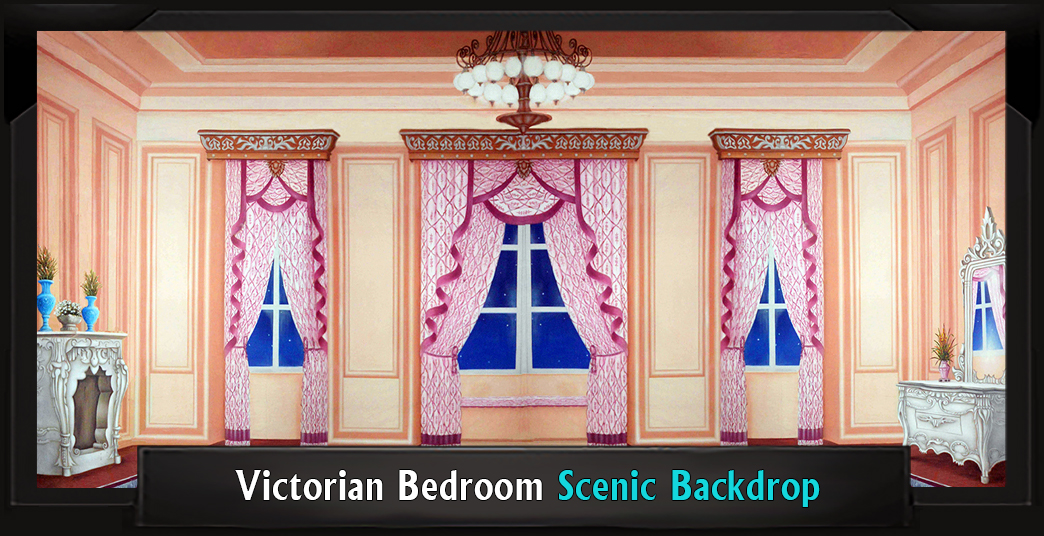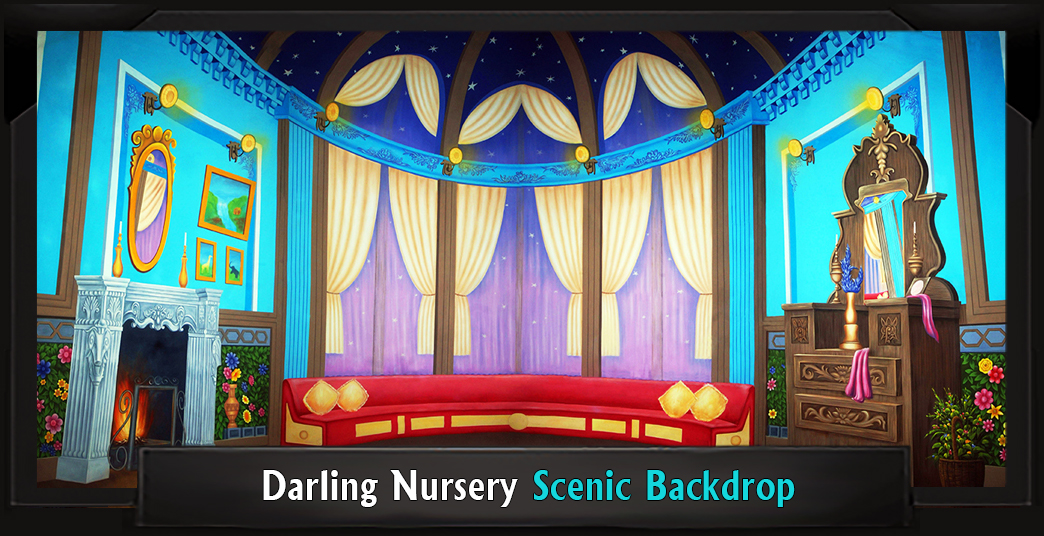 Mary and the children return home in high spirits. However, trouble awaits them inside. George learns that his uncharacteristic decision at the bank today has landed him in trouble with his supervisors and his job is on the line. He explodes at the children and sends them off to bed, where they quarrel. Meanwhile, Mary is tired of being ignored by children and adults alike. She enchants Jane's and Michael's toys to teach the children to take better care of their things. Mary departs Cherry Tree Lane, leaving only an enigmatic note.
TheatreWorld offers a couple of choices for the children's nursery that will fit perfectly into a wide variety of artistic visions. For example, our elegant Victorian Bedroom backdrop or whimsical Darling Nursery backdrop present two very different staging choices for this scene.

Act Two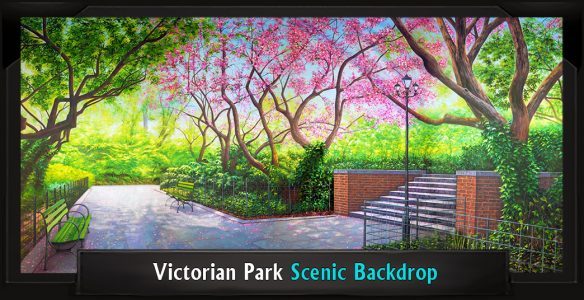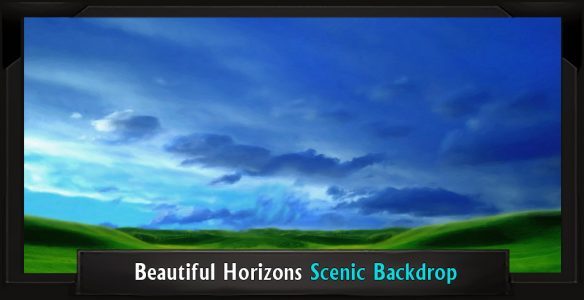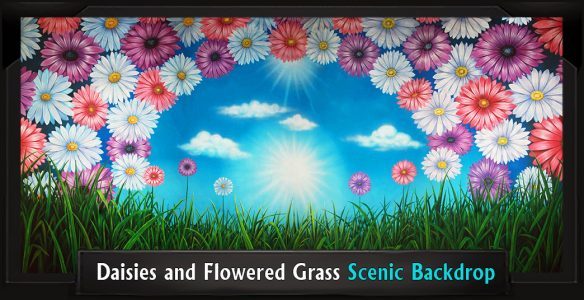 In an attempt to patch things up within her family, Winifred hires George's childhood nanny, Miss Andrew, to come care for Jane and Michael after Mary's departure. Unfortunately, Winifred fails again. George's memories of Miss Andrew are positively terrible. Indeed, she is a nasty tyrant, and it's not long before Jane and Michael realize how good they had it with Mary. They escape to the park where Bert comforts them by teaching Michael how to fly a kite. It is here that Mary returns and is shocked to learn about the changes inside the Banks household.
This slightly different take on the lovely, blossoming Victorian Park backdrop would complement the outdoor scenes from Act I.
Or, for a totally different feel, this open field (TheatreWorld's Beautiful Horizons backdrop) would make a great backdrop for Michael's first kite flying endeavor!
Alternately, the colorful Daisies and Flowered Grass backdrop would bring a smile to anyone's face!
Back at 17 Cherry Tree Lane, Mary has a confrontation with Miss Andrew and sends her packing with a dose of her own medicine. George and Winifred are pleased to learn the children are safe and the tyrant has gone. Mary, back in her rightful place, leads the children on a rooftop adventure with the chimney sweeps. Bert and his friends' unforgettable and jaunty "Step in Time" spills over into the Banks household, where some of the dancers break one of George's most prized possessions.
Mary Poppins Returns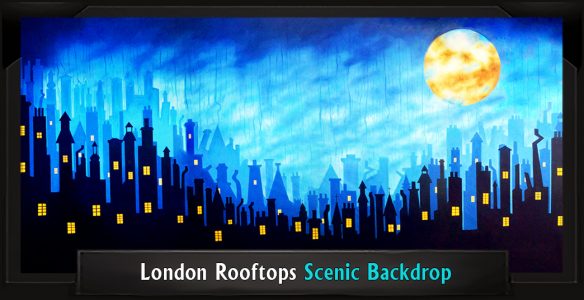 This show-stopping number is iconic on many levels. TheatreWorld has created the perfect backdrop for this scene. With TheatreWorld's incredible London Rooftops backdrop behind your cast, you won't even need set pieces. Let your dancers command the stage while this backdrop does the rest of the work!
As if George's day couldn't get worse, he learns that he is summoned to the bank, and heads out prepared to be sacked. Winifred goes to the bank to stand by George's side. Mary and the children follow, also wishing to lend their moral support. At the bank, George discovers his investment risk has paid off. Instead of firing him, the bank's managers praise him. Overjoyed, George and Winifred mend their strained marriage and reconnect with their delighted children.
A Sad Goodbye and a Happily Ever After
Mary Poppins realizes her work here is done. She reluctantly says her goodbyes to Bert and the children. She flies away on her umbrella as the happy family dances together.
Mary Poppins' setting may be vintage, but the themes of this beloved tale are timeless: "a little bit of sugar helps the medicine go down". Don't be so quick to judge people from their outside appearances. Always remember to stop and smell the roses – and feed the birds while you're at it! Love balanced with structure, leadership that is both strong and inspiring, pursuing your dreams versus the pressures of adulthood – such themes have never been more timely. So take the stage and make your voice heard in this unforgettable story of the value of childhood wonder and, in the end, love and family conquering adversity. TheatreWorld can't wait to be a part of it!