Going Beyond the Script
written by: Melanie Simmons
The Addams Family was originally conceived by Charles Addams as a cartoon exploring American macabre. Addams' cartoon was the basis for the beloved black-and-white 1960's TV series, which had a huge impact despite its short two season run. Even today, the snappy, signature Addams Family theme is nearly as iconic a part of American culture as "Take Me Out to the Ballgame".
The Addams Family musical, with music and lyrics by Andrew Lippa and clever book by Marshall Brickman and Rick Elice, hit Broadway in 2009. This darkly delightful musical draws inspiration from the creator's cartoons, while incorporating everything we've come to know and love from the iconic TV show. Despite the Addams' macabre sensibility, The Addams Family musical is energetic and entertaining. The catchy tunes, zany sense of humor, and core family themes will appeal to everyone. (You'll even have Cousin It rolling in the aisles!) Additionally, the current popularity of TV shows like American Horror Story and Penny Dreadful make this a timely show for any theatre company.
Let's take a look at the many backdrops TheatreWorld offers to bring this charmingly ghoulish experience to life.
The Story
Black is white and white is black in the Addams household. Strange is normal and "normal" is to be avoided. Dead relatives are as revered as the living and torture is a form of sibling affection. Despite their peculiarities, the Addams are a tight-knit, loving clan. However, even they can't avoid a problem that plagues families of all types: the clash between the old ways and the new. While Gomez and Morticia proudly embrace their off-kilter traditions, their beloved daughter Wednesday is reaching an age of natural rebellion. Worse, she's fallen in love with a perfectly average boy from Ohio and his family is coming over for dinner. This clash of worlds over the course of a single night sets up the entire story arc and highlights themes that even the most normal of families can relate to.
Opening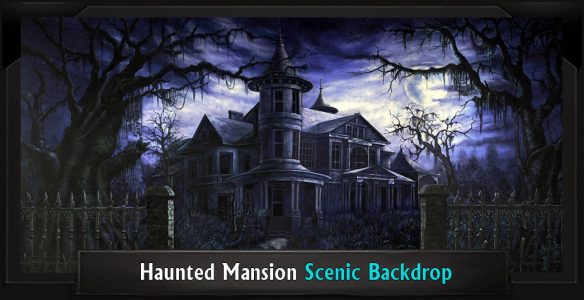 The Addams Family overture embraces the familiar musical theme and introduces Andrew Lippa's characteristic swelling music. (Lippa also scored the musical version of Big Fish). As the house opens, set the mood by using low house lights in cool blue and purple tones and cover your stage with a stark black curtain. If you wish to leave the curtains open, use TheatreWorld's Haunted Mansion backdrop to really showcase the Addams' Gothic aesthetic.
Addams Family Graveyard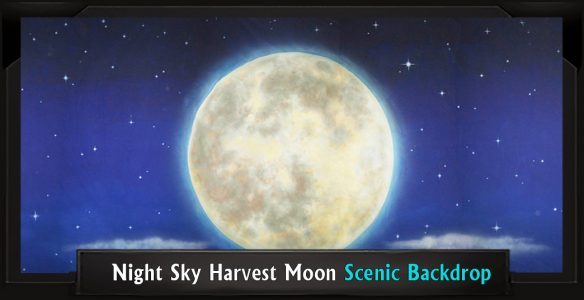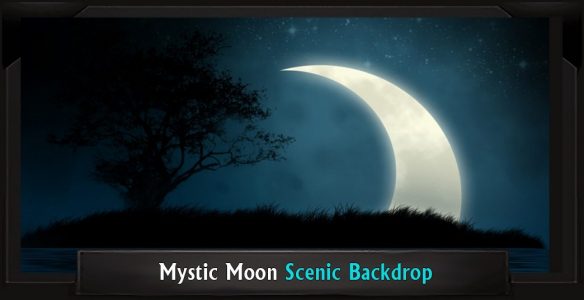 The show opens, fittingly, with a graveyard scene. Family members have gathered to celebrate what it means to be an Addams – living, dead, or undecided. In this grisly scene, Uncle Fester implores the Ancestors for help with Wednesday, who, against all odds, has fallen in love with a completely normal and charming boy. Wednesday is torn between two worlds, but wants to give love a chance. Gomez and Morticia wonder where they went wrong, raising a daughter who wants to embrace "normal". TheatreWorld's Addams Family Graveyard backdrop is the perfect way to capture this scene. The shadowy landscape and cool colors – with the moon glowing brightly above – give your show opening all the detail and "wow" factor it deserves!
If you favor more minimalistic staging, you could stage your own set pieces against our versatile Night Sky Harvest Moon backdrop, which features a looming full moon against a starlit sky.
Or, for an extra-spooky vibe, opt for TheatreWorld's Mystic Moon backdrop. The silhouette of the sprawling oak against a slightly hidden crescent moon would help create an eerie mood.
Addams Family Mansion Interior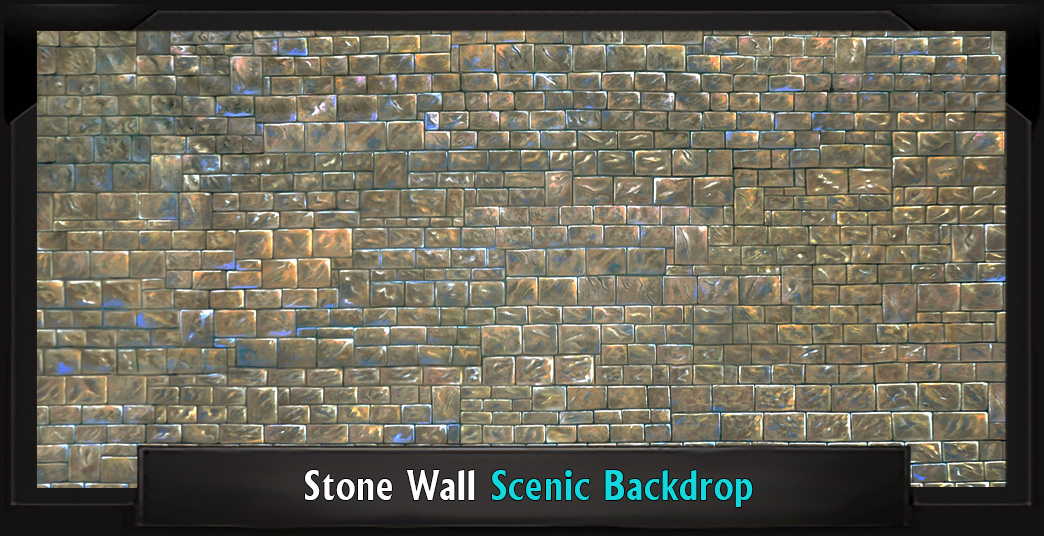 Back in the family's Gothic mansion, Wednesday worries her boyfriend's family won't quite get her family's offbeat charm. She enlists the help of her father to make sure this family meeting goes off without a hitch. Gomez hates the idea of keeping secrets from his beloved Morticia, but agrees to do his best to secure his daughter's happiness. This Vintage Parlor backdrop is a great way to welcome your audience into the Addams' special type of hominess. The backdrop captures the Gothic, yet whimsical feel of the Addams household. With details like the creepy dolls scattered in unusual places and the warm fire, this parlor feels simultaneously glamorous and disturbing.
Later, Wednesday and Pugsley enjoy one of their favorite sibling pastimes – a little bit of friendly torture. Wednesday takes the opportunity to convince her giggling brother to keep her secret as well. This Stone Wall backdrop would make an amusing setting for Wednesday's torment, as she wrestles with the angst of being "Pulled" in polar opposite directions.
Clash of Worlds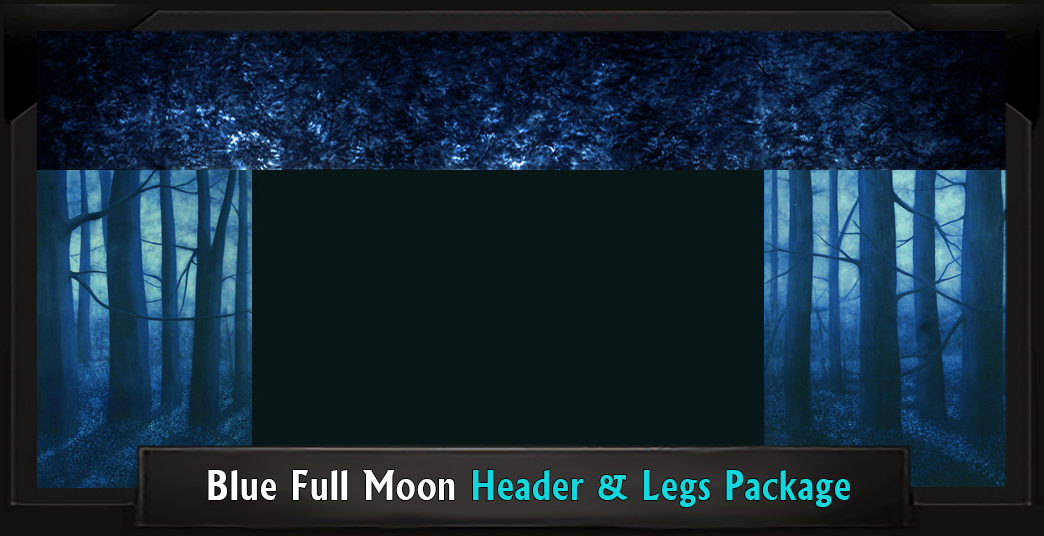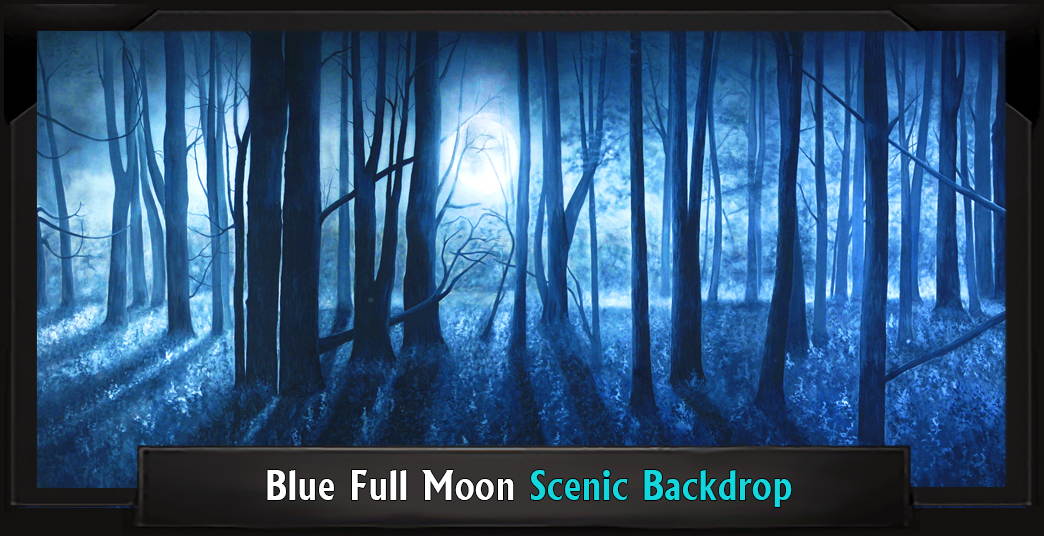 Determined to make this work, Wednesday goes to work grooming her family to pull off "One Normal Night" for the Beineke's sake. Her plan is doomed from the start, however, as Lucas and his family must brave a spooky forest in order to reach the Addams' house. Let TheatreWorld's Blue Full Moon backdrop, header, and legs set capture the Beineke's plight as they find themselves lost in the woods. It's also a great setting for Fester to plot with the Ancestors, arranging for a terrible storm to descend on the proceedings.
The Beinekes Arrive


After wandering the park for ages, the Beineke family finally arrives. TheatreWorld's Haunted Mansion Foyer backdrop compliments the tone established by the Vintage Parlor backdrop. TheatreWorld even offers this drop in two different levels of creepy decay to suit your scenic vision. (See Haunted Mansion Foyer – B.) This drop introduces a bit more grandeur – the Addams family may be unusual, but they know how to make an impression! – and captures how overwhelmed the Beinekes would be upon their arrival. By giving you two options, TheatreWorld lets you choose exactly the mood you wish to create as the Beineke's crash headfirst into this strange new world.
As Morticia and Gomez make awkward introductions, Wednesday appears wearing "crime-scene" yellow, horrifying her parents. Gomez and Morticia attempt to bond with Mal and Alice with mixed results. Stealing a moment alone, Wednesday and Lucas discuss their plan to announce their engagement that very evening. Meanwhile, Morticia senses Gomez is hiding something from her. They part on sore terms when she refuses to tango with him.
The Dinner



As if things weren't rocky enough already, dinnertime means it's time for The Game, an Addams family tradition where each person confesses something that nobody else knows. The "Full Disclosure" of Beineke's and Addams' secrets alike sends the whole evening into chaos.
Consider TheatreWorld's Fireplace of the Elements backdrop to represent the Addams Family dining room. Combine with an opulent table (festooned with creepy and questionable delicacies) to set the perfect mood for this disastrous dinner.
Or, for something a little more subtle, choose this Victorian Palace Ballroom backdrop. You still get the scope and detail to compliment the rest of the house, but the muted hues and a small, cozy fireplace really allow the zany characters and kooky dinner props to take center stage.
For yet another grand, yet subtle choice, but with slightly different colors, choose TheatreWorld's Baroque Dining Room backdrop.
Stormy Night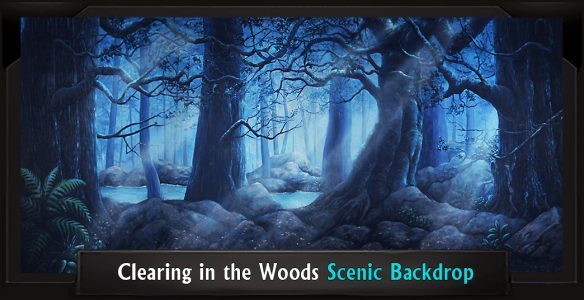 The Beinekes attempt to leave, but the storm outside ensures that everyone sticks around for Act 2. However, the storm's not just brewing outside the house – it's brewing inside, too. Morticia and Gomez are still at odds and Mr. and Mrs. Beineke are on the brink of splitting up. Wednesday and Lucas have their first fight. Meanwhile, Morticia fears she's losing her place in her own home and Uncle Fester confesses his love for the moon.
In the midst of this chaos, Gomez finds Wednesday out in the yard. He comforts her, though he's still lamenting the fact that his little girl has grown up. This nighttime woods scene, TheatreWorld's Clearing in the Woods backdrop, would be a great background for this touching father/daughter moment.
For a different take, try this nighttime scene, featuring a sprawling live oak. (TheatreWorld's Enchanted Live Oak backdrop.) What a great setting for the trust exercise Lucas uses to win Wednesday's confidence. He proves his feelings by allowing her to shoot an apple off his head. The pair are once again madly in love and determined to overcome all their family obstacles and be together.
Back inside, other fences begin to mend as well. Gomez and Fester go to hilarious lengths to try to endear themselves to Mal, whose prickly exterior prevent him from expressing his real feelings. It takes a swim in the sewers with Bernice, the Addams family squid, for Mal to appreciate what he has in Alice. Use set pieces and watery, modulated lighting to create the sewers. This Dark Cavern Dungeon backdrop would be a great addition as well.
Spookily Ever After – Repaired Relationships and Finale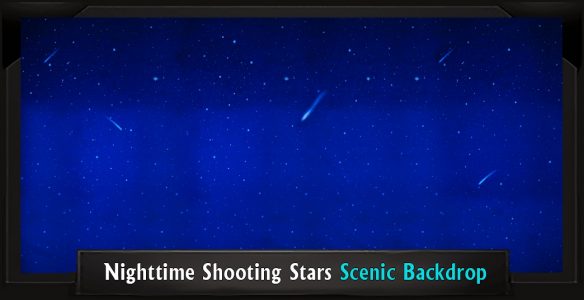 Gomez goes up to the rooftop, where he and Morticia rekindle their flame and finally dance their tango. Now that all the couples are reunited, Pugsley finally comes clean about his part in the evening's chaos. Since his mischief ultimately brought everyone closer together, he is forgiven. Even Fester gets his happy ending. As the cast delivers the final ballad, he launches into the sky to join his beloved moon. Use this starry backdrop with a projection of a moon (and some clever lighting and video tricks) to show Fester landing on the moon.
All families are a little strange, but none are quite as unique as the Addams family. Audiences will enjoy seeing their own quirks reflected in the Addams' dark humor and crazy relatives. (And they'll be even happier knowing that, compared to the Addams family, their own family's oddities seem downright normal!) Whether your vision is creepy, kooky, or a little bit of both, TheatreWorld can help you build just the right backdrop package to bring this fun and surprisingly relatable story to life.