Going Beyond the Script
written by: Melanie Simmons
"Nants ingonyama bagithi baba!"
There is nothing quite like the opening call of Disney's The Lion King. One of the first original stories produced by Disney after decades of creating twists on classic fairy tales, The Lion King is a coming-of-age story that has taken its place in the fabric of our culture and in the hearts of the young and the old. The Lion King tells the story of a young lion cub seeking his place in the world after tragedy estranges him from his destiny. The relatable themes of solitude, guilt, greed, and courage never fail to inspire. Re-imagined for the stage, The Lion King went on to conquer Broadway. The show won 5 Tonys and dozens of other awards. In years since, it has been produced by theatre companies and venues all over the world.
The original production and its touring productions have been simply stunning. Though actors of all ages are dying to bring this show to life, the rights are currently available only in Kids' or Juniors' versions. This still allows children to be a part of bringing the heart and soul of this important tale to live audiences. Furthermore, it provides a highly accessible way for families to enjoy the adventures of Simba, Nala, and their many animal friends.
Let's take a look at some of TheatreWorld's dynamic backdrops. We have many wonderful options to support your school or children's theatre production of The Lion King.
Lion King Opener – African Sunrise
Like the feature animated film, the story begins at the start of a brand new day. All the animals of the African savanna are gathered to bear witness to the birth of new lion cub, Simba, son of King Mufasa and Queen Sarabi. The only creature who does not attend the ceremony at dawn is Scar, Mufasa's scurrilous brother, who feels bitter that Simba's arrival has cut him out of the line of royal inheritance. Mufasa is also outraged that his brother did not attend such an important event. Following a brief confrontation, Scar scoffs at Mufasa's displeasure and stalks off to plan his revenge.
However, most of the other animals are blissfully unaware of the tension. They are simply filled with joy as they exalt the new king. This stunning African Sunrise backdrop will perfectly capture this moment of hope, promise, and celebration.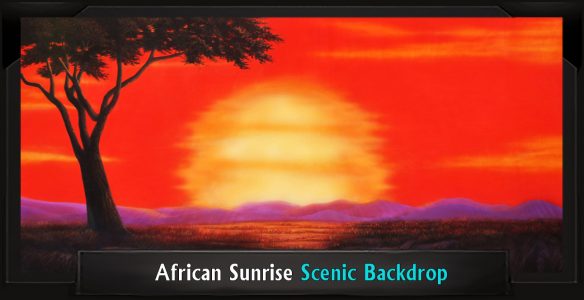 African Safari Hills
Unaware of the forces plotting in the shadows, Simba quickly grows into a precocious and fearless youngster. Together with his playmate and friend, Nala, he explores his seemingly boundless world. Mufasa, however, worries about his son's zeal for mischief. Seeking to temper Simba's bravado, he informs Simba that the Pridelands indeed have boundaries. He also tells his son that, one day, it will all be Simba's land to rule.
This African Safari Hills backdrop, full of color and light and featuring animals grazing and lounging in peace, would be a perfect backdrop for this part of the story. The Pridelands are still idyllic and the land flourishes with health and bounty. It's easy to envision Nala practicing her hunting skills with her mother and the other lionesses.
Imagine Simba strutting across the stage singing "I Just Can't Wait to be King" against this same backdrop. The serene animals and vibrant colors really pop. Add colorful costumes and lighting effects and you'll surely give this landmark scene a festive air.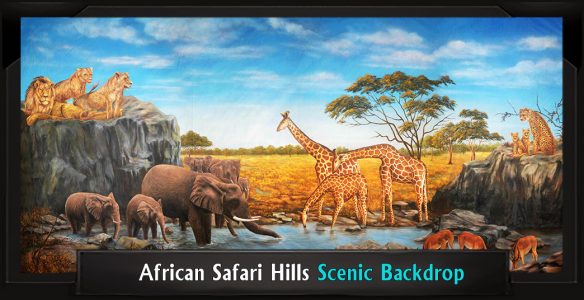 Elephant Graveyard
Unfazed by the weightiness of his future role as king, Simba runs off to tell his Uncle Scar about his good fortune. Scar, still stewing, seizes the opportunity to send Simba into the path of danger. He plants the idea of visiting the Elephant Graveyard, just beyond the Pridelands' borders, in his nephew's head. Never one to back down from a challenge, Simba rushes off. He convinces Nala to join him on this ill-conceived mission to prove his worth.
Of course, the young ones quickly find themselves in a lot of trouble. As soon as they arrive, they encounter a troublemaking trio of hyenas, who are secretly in league with Scar. The predators pounce on the clueless cubs and proceed to taunt them with threats of how delicious they will taste. Simba and Nala put up an admirable a defense, but the hyenas soon corner them. Fortunately, Mufasa arrives just in the nick of time and prevents disaster.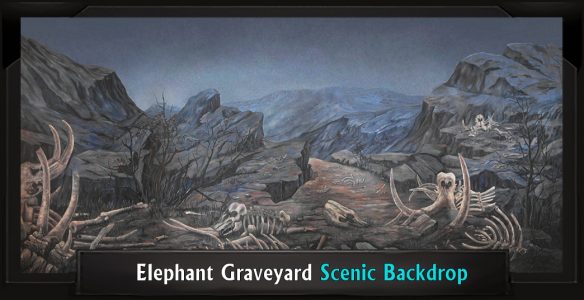 Desert Night
Sombered by the cubs' brush with death, Mufasa chastises a sombered Simba for putting both himself and his friend Nala at risk. Mufasa goes on to explain the vast history and responsibility of the great line of pride leaders that watch them from the night sky.
Simple stage directions, minimal lighting, and TheatreWorld's Desert Night backdrop would do a stunning job of capturing this scene. Father passes along to his son not only the responsibility of his future, but the hope and comfort of knowing that he will never carry it alone.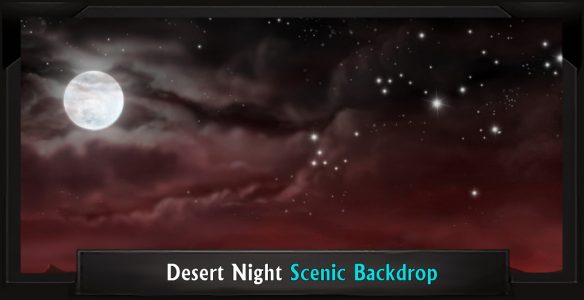 Cavern
The next day, Simba, still smarting from the humbling lessons of the day before, once again finds himself crossing paths his uncle. Scar, on the other hand, is annoyed that Mufasa has thwarted his plan. Overnight, he has come up with something even more nefarious. He sends young Simba off to a gorge in the Pridelands, under the pretense of Mufasa's orders. Simba, still unaware of Scar's true intentions, does as he is told. Meanwhile, the hyenas set off a wildebeest stampede—and aim it right in Simba's direction!
Scar runs to tell Mufasa of Simba's whereabouts, knowing his protective father will run to the rescue. Sure enough, Mufasa runs straight into the stampede. He rescues Simba, but he puts his own life at risk in the process. Scar realizes his opportunity has finally arrived and sends Mufasa tumbling to his death. Triumphant, Scar convinces a mourning Simba that the king's death was his fault. He tells his impressionable nephew he'll be shunned unless he runs away and never returns.
Use this Cavern backdrop, along with some set pieces and legs, to represent the enclosed gorge area.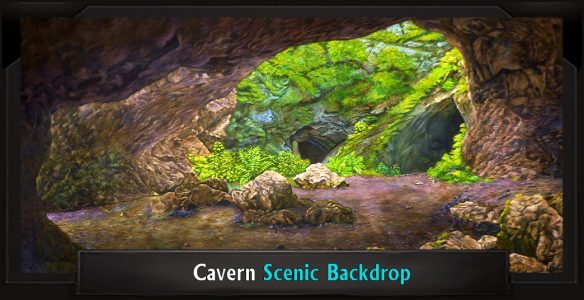 Jungle Daybreak
Inconsolable, Simba wanders off to a distant part of the savanna. There, he meets Pumbaa and Timon, a couple of self-proclaimed misfits who have found a way to live a carefree life. Attracted by the idea of a life without worries, Simba joins the pair and their unconventional lifestyle. Here, in the coolness of the jungle, young Simba grows up fast and strong.
TheatreWorld has a package, complete with Jungle Daybreak backdrop, Jungle Daybreak header, and Jungle Daybreak legs to set the scene for this part of the story. The backdrop alone is spectacular. However, the header and legs will add a sense of perspective that will truly transport audiences to the depths of the jungle.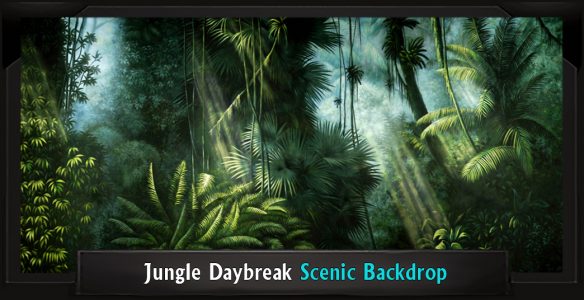 Jungle Daybreak Header & Leg Set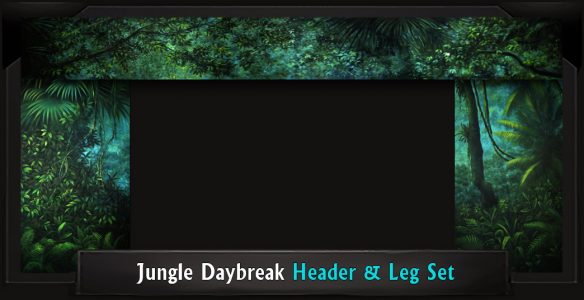 Night Sky Harvest Moon – A Lion's Legacy
Despite his new life of relaxation and carefree living, Simba's past still haunts him. It literally catches up with him when he comes across Nala, who is out hunting well past the boundaries of the Pridelands. Simba is elated by their reunion. Nala is equally thrilled. She thinks that Simba is the answer to all the problems in the Pridelands. After spending some time together, the two quickly fall in love. However, this sudden romance isn't enough to overcome Simba's insecurities. Nala pleads with Simba to return to the Pridelands and take his rightful place, but Simba refuses. Nala flees, angry and confused by this new Simba, who has changed so much from the bold lion cub she remembers.
Guilt-ridden and confused, Simba seeks solitude in the night sky. He cries out to the empty stars for the help his father promised him. Though Simba feels abandoned by everything he loved, his cries do not go unanswered. Rafiki finds him and offers some of her own unconventional wisdom. At last, Simba begins to find a glimmer of hope. He returns to his friends to announce he will accept Nala's challenge to return home and reclaim the Pridelands.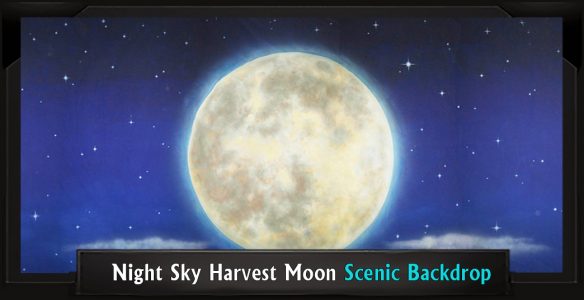 Nighttime Shooting Stars
While the big, glowing Night Sky Harvest Moon backdrop really makes an impact, some directors may wish to really focus on the stars in this key scene. TheatreWorld's Nighttime Shooting Stars backdrop is another brilliant celestial backdrop, but with a slightly more minimalist feel. Audiences will get the full array of the heavens, but without the looming glow of the moon.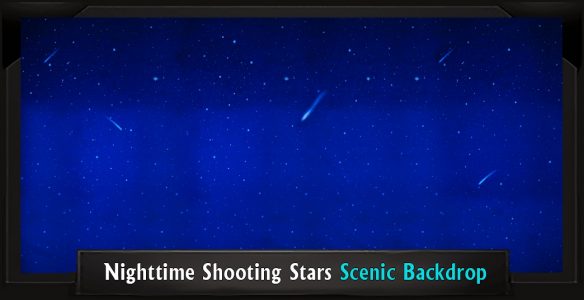 Tranquil Grasslands – A Lion King Returns
Simba returns home to reclaim his rightful place. He's shocked to find, however, that the Pridelands have suffered greatly in his absence. Scar has brought in an army of hyenas to solidify his rule. Together, they have stripped the land bare of its resources. Everyone is starving and they wrongfully blame the lionesses, still led by Simba's mother, Sarabi.
This Tranquil Grasslands backdrop would present a stark contrast to the previously lush and lively African Savanna. Gone are the peaceful creatures, the clear water, and the sense of abundance. This is a savanna on the edge of drought, empty of life. Here, the lionesses, led by Simba and Nala, rise up against Scar and his cackling minions. Ultimately, they succeed in securing Pride Rock and bringing justice to the evil Scar.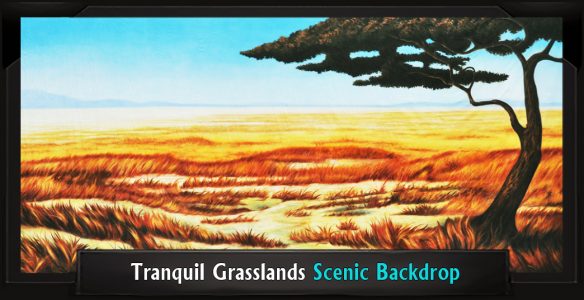 Fire Sky for a Powerful Lion King Finale
Victorious, Simba assumes his rightful place, with Nala by his side. In a swelling musical number, full of hope and restoration, Rafiki welcomes the couple's own newborn to the newly-restored animal kingdom. The future is once again bright with promise. Love and lineage have conquered evil and the "Circle of Life" is completed.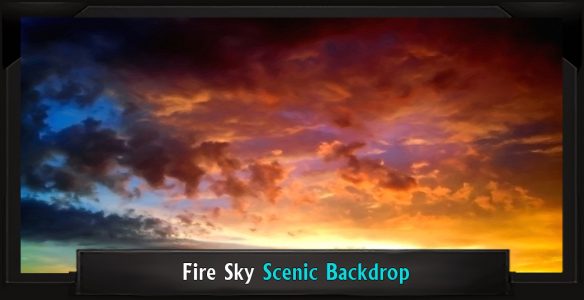 Just because you're doing children's theatre doesn't mean you can't put on a truly professional show! Seize the opportunity to add layers and depth to your performance. Though your actors may be small, you will "wildly" impress parents and family members with the scope of your production. Whether you're looking for one backdrop for the entire musical or multiple scenic looks, we have just the right option to inspire you. Contact TheatreWorld today and let our Broadway-quality backdrops take your performance to the next level—then sit back and enjoy the "lion's share" of applause!