Going Beyond the Script
written by: Melanie Simmons
Princes, mermaids, love at first sight, magical spells… who doesn't want to be part of that world? Fortunately, Disney's The Little Mermaid has all of that and more. The movie was hailed as the first successful Disney-MGM animated feature film after a long dry spell, ushering in something of a renaissance for the Disney studio. It also was the first to bring a distinct "Broadway feel" into an animated film. The plot of The Little Mermaid borrows elements from the original Hans Christian Anderson tale and is set to a score that has lived in the hearts and minds of children and adults alike since the movie burst onto the big screen in 1989. The story, lyrics, and sweeping score have continued to enchant audiences of all ages ever since.
The stage adaptation, which went through several iterations itself, has finally been released for licensing. The varied settings and magical elements provide endless opportunities to put a fresh spin on Ariel's story. Now is the perfect time for visionaries to try their hand at this enchanting tale and TheatreWorld is proud to offer a wide variety of high-quality backdrops to help you bring your vision to life.
The show opens with Prince Eric sailing the mighty seas, accompanied by his closest advisor, Grimsby. Grimsby would rather the prince settle down and accept his duties as royalty, but Eric has a longing for adventure and the freedom of the open sea. (And a yearning to investigate the mysterious voice he hears on the breeze.) The sailors warn him of the mysterious merfolk, ruled by King Triton, who live in the "Fathoms Below". When Grimsby succumbs to seasickness, an eager Eric seizes his opportunity to chase the mysteries around him.
Pirate Ship Deck – The Little Mermaid Opening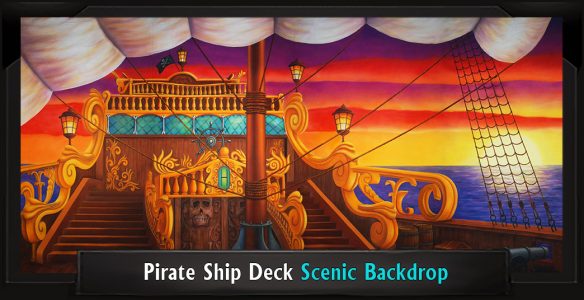 This Pirate Ship Deck backdrop would be an excellent choice for this scene. Its gilded decorations and billowing sails showcase an opulence that befits a royal ship. The vibrant sky hints at the storm to come, which will throw Eric into the deep waters and change his life forever.
Fire Sky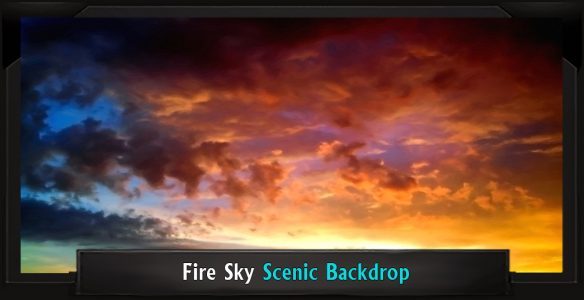 Another option is to build a set piece to represent Eric's ship and set it against a sweeping sky. This dynamic Fire Sky backdrop would pop against your set pieces, while still foreshadowing the rough seas ahead.
Atlantis Gates – Undersea Drops for The Little Mermaid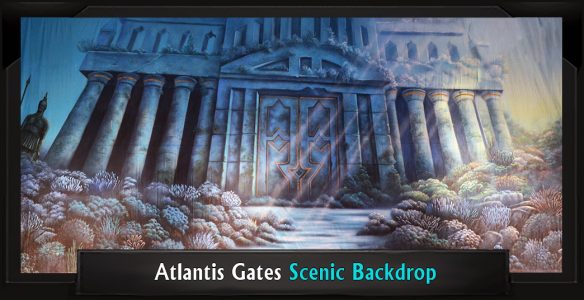 Next, we dive into the ocean, where Triton, the King of the Sea, is holding a celebration. All Triton's daughters have gathered in his palace to sing a song composed by Sebastian—all but one, that is.  Headstrong Ariel is elsewhere, collecting artifacts from the world above: the forbidden land of the humans. Combine watery lighting effects with the right backdrops to allow audiences to feel as if they, too, are floating along the gentle currents of the deep sea. This underwater Atlantis Gates backdrop, for example, would be a great choice for King Triton's castle.
Deep Sea Wreckage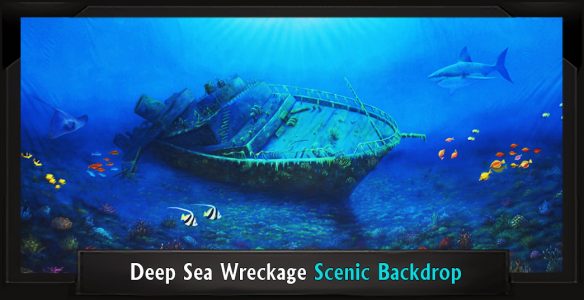 Alternately, choose TheatreWorld's Deep Sea Wreckage backdrop to represent Triton's underwater kingdom. This backdrop, which features colorful fish floating serenely by and a shark lurking in the shadows, is reminiscent of the unforgettable scene from the animated version of The Little Mermaid. (For obvious reasons, this scene was cut for the stage.) Furthermore, the sunken ship wreckage echoes back to the original film and even foreshadows the turn of events to come, in which Ariel first sets eyes on her beloved, Prince Eric.
Ariel's Grotto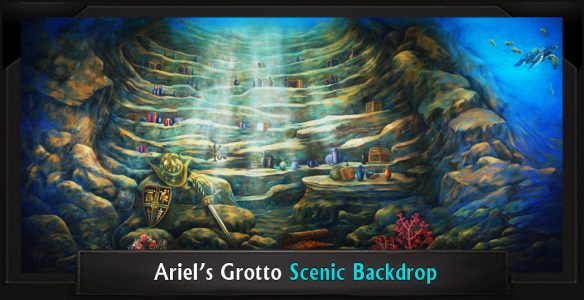 Triton is angry that his youngest daughter has missed the performance, but he becomes outraged when he learns what she has been up to. He chastises her for her foray to the surface, which he has expressly forbidden. Feeling rebellious and alone, Ariel retreats to her grotto to dream of the world above. Ariel's Grotto is such an iconic part of the animated film. TheatreWorld's Ariel's Grotto backdrop captures her secret hideaway in stunning detail.
Underwater Ruins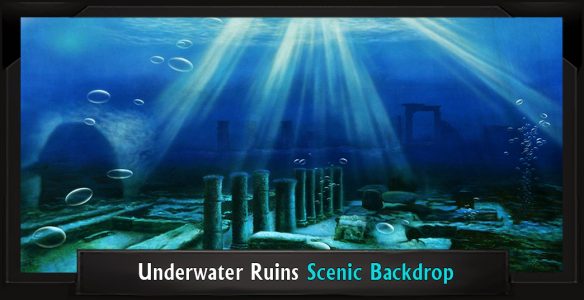 Triton wants to believe that his kingdom is perfect, but trouble threatens his watery paradise. Elsewhere in the ocean, Ursula, sister to Triton, plots her return to power. She has been banished for practicing black magic, but, now, she wants "The Good Times Back". Ursula has an inkling that Ariel is her key to getting back at Triton. She sends her two eel lackeys, Flotsam and Jetsam, to follow the rebellious teenager closely. This Deep Sea Wreck backdrop, with its echoes of ruin, would underscore Ursula's scheming nicely.
Lava Beach Hawaii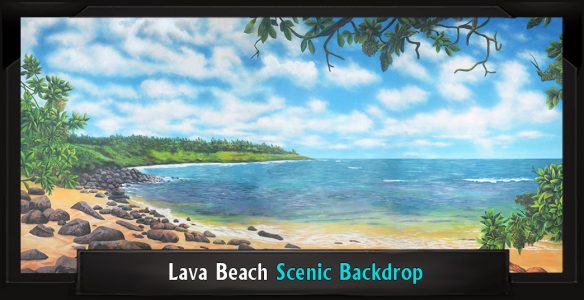 As Ursula plots, Ariel catches sight of Eric's ship floating by and swims up for a closer look. A sudden storm breaks, washing everyone overboard. Despite her father's prohibition about contact with humans, Ariel rushes to the rescue. Her bravery and her silvery singing voice enchant the half-conscious Eric. They quickly become smitten with each other, even though Eric has only a hazy memory of his rescuer and dream girl. This tropical and remote Lava Beach backdrop would provide a great setting for this dramatic rescue.
Back at home, Ariel's sisters notice her strange behavior and tell their father the undeniable news—Ariel is in love. Even Triton takes notice. This prompts Sebastian to try his hand at deterring Ariel's infatuation. In one of the most memorable songs of the show, he pulls out all the stops remind her how good life is "Under the Sea!".
More Undersea Drops for The Little Mermaid
This number is flashy and fabulous, so don't be afraid to go all out with your backdrops! TheatreWorld's Coral Kingdom backdrop, for example, is full of color, creatures, and everything beautiful the sea has to offer. For a more whimsical take, choose TheatreWorld's Bubble Lights backdrop. Add brilliant costumes and energetic lighting and let this drop bring some effervescence to this sensational scene!


Under the Sea – Azure Blue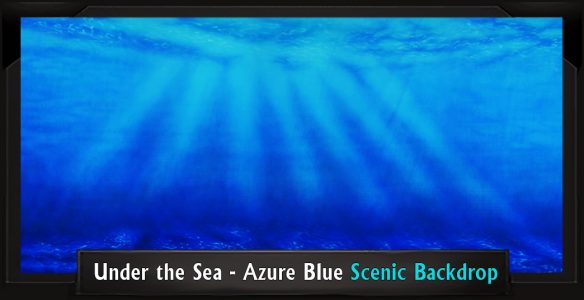 When Triton discovers the object of his daughter's affections, he flies off the handle. He destroys her collection of human things, driving a distraught Ariel even further away from him. TheatreWorld's Under the Sea – Azure Blue backdrop, showcasing open, deep water, could easily convey the vast emptiness Ariel feels as everything she loves is taken from her.
Ursula's Lair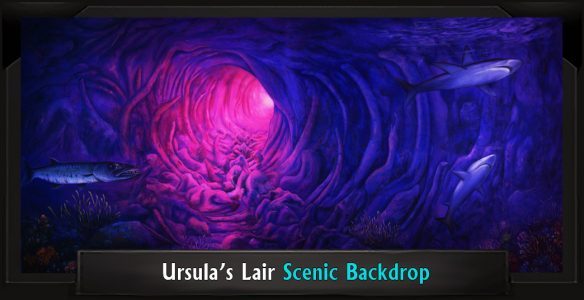 Ariel is out of hope and willing to do something desperate. Flotsam and Jetsam sense their opportunity. They swim in and offer Ariel a solution to her problems—but it will come at a price. Ariel is intrigued by their suggestion. Still stinging from her father's betrayal, she decides to visit the sea witch herself. Ursula talks her into selling her voice in exchange for three days as a human. Despite her misgivings, Ariel signs on the dotted line. Triumphant, Ursula casts a spell that turns Ariel human, at the cost of eternal imprisonment in Ursula's lair if Ariel fails to get a kiss of true love before the third sunset.
TheatreWorld is delighted to offer the perfect Ursula's Lair backdrop for this pivotal scene. Use moody lighting in blue and fuchsia tones and simple set pieces, like Ursula's magical cauldron, to transport your audiences into a scene straight out of the movie itself.
Caribbean Beach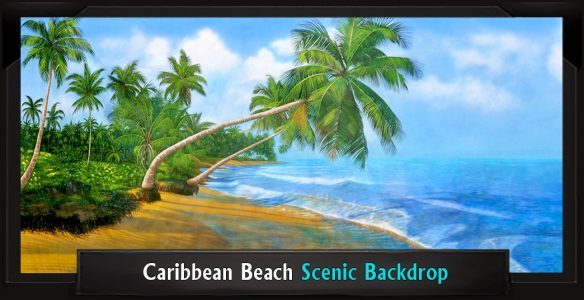 Now human, Ariel washes up on the very same beach where she left Eric. Before long, Eric, out on one of his searching walks along the shore, stumbles across Ariel. For consistency, you might use the same Lava Beach Hawaii backdrop from before—or you could change it up for a different look. TheatreWorld's Caribbean Beach backdrop, for example, boasts lush vegetation. Land and sea have equal space on this drop, mirroring the way Ariel herself straddles the line between both worlds.
Castle on the Beach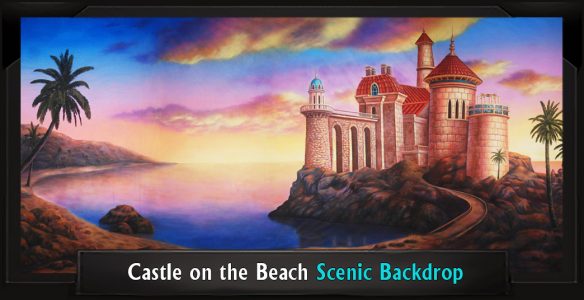 Eric is immediately drawn to Ariel, but is stunned to discover that this beautiful creature has no voice. He's crestfallen, since she can't possibly be the girl of his dreams, but, nonetheless, takes her back to his castle.  This Castle on the Beach backdrop, with its serene cove and romantic palace, would be just the thing to bring this scene to life.
Grand Ballroom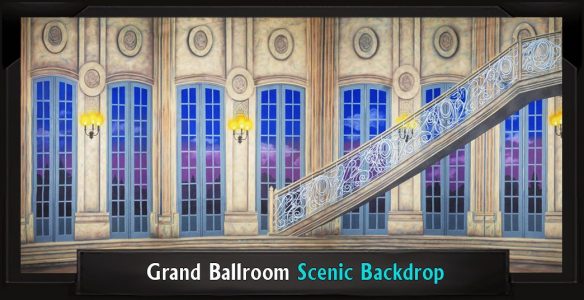 In the castle, Ariel is surrounded by the world she always dreamed of. She finds everything fascinating—maybe a little too fascinating—but her odd behavior only endears her to the castle dwellers. Even Eric finds himself amused and touched by Ariel's enthusiasm, and he teaches her how to dance.
TheatreWorld's Grand Ballroom backdrop would be a great choice for all of Ariel's castle adventures. What a great setting for the memorable dinner scene, in which Sebastian almost becomes a main dish!
Whimsical Forest/Pacific Paradise
Meanwhile, as Ariel's third day as a human rapidly approaches, her friends begin to worry that time is running out. They do everything they can to help Eric fall in love with her. As the couple floats all alone in a boat on a quiet lagoon, Ariel's animal friends croon the unforgettable number, "Kiss the Girl". Lush, tropical set design combined with this Whimsical Forest backdrop and sultry, cool lighting would help the whole audience fall under the spell of love.
Alternately, if you went with the Caribbean Beach backdrop earlier, you might choose this Pacific Paradise backdrop to match. The swaying palm trees and romantic sunset cove would be a perfect setting for the moment when Ariel and Eric finally move in to seal their growing love with a kiss.  Flotsam and Jetsam ruin the moment, however, and the second night comes to a close with nary a kiss to show for it.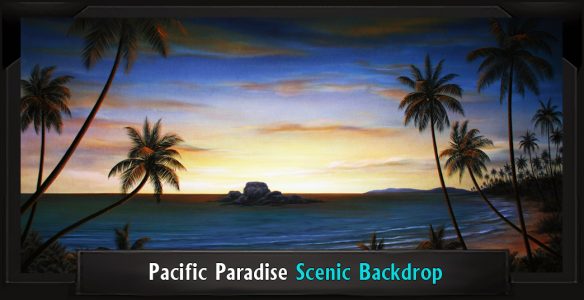 Grimsby is determined to make Eric forget about his dream girl and find a real live true love. He arranges a singing contest and invites all of the lovely maidens in the kingdom to participate. Eric, however, only has eyes for Ariel. When she dances for him, Eric finally realizes that he's been in love with her all along.
This revelation comes a moment too late, however. Ursula arrives and victoriously declares that the third sun has set and Ariel is hers to claim. Triton, upon hearing this, races to confront his sister and arrange a trade she can't refuse—he'll be Ursula's prisoner if she'll let his daughter go.
With the trident of power finally in her possession, Ursula seems unstoppable. True love prevails, however, as Eric fights back, vanquishing Ursula forever. Reunited with his love, Eric asks King Triton for Ariel's hand in marriage. Triton agrees to whatever Ariel chooses and the lovebirds begin their happily ever after.
Grand Ballroom – B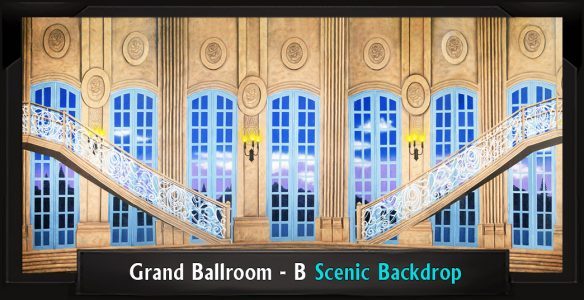 There are many ways to stage the musical's epic climax. This gorgeous Grand Ballroom – B backdrop would complement the earlier castle scenes, while adding a grander scope and tranquil water views in the background.
Magical Illusions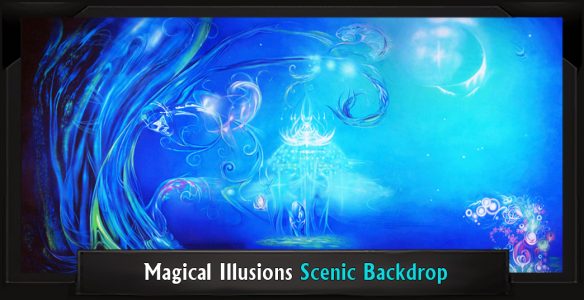 Of course, there are endless ways to stage such a challenging tale, which is set mostly underwater. For a backdrop that could go a long way towards creating that deep-sea effect, consider our Magical Illusions backdrop. Its deep blue tones and swirling magical tendrils make it flexible enough to work for many different scenes.
Feathered Fairy Tale Sky – Little Mermaid on Land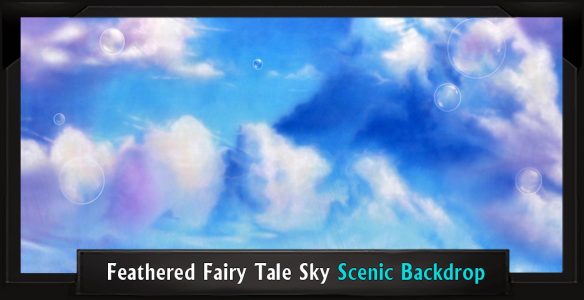 TheatreWorld's Feathered Fairy Tale Sky backdrop is another great option for the above-the-sea, outdoor scenes. This wispy sky drop could work for several of the human world scenes. Use different set pieces and vary the lighting to set the exact location of each scene in The Little Mermaid.
TheatreWorld has the high quality scenic imagery to meet your exact creative and budgetary needs. Whether you are a professional theater, community theater, or school group, we have the perfect backdrop to bring your vision to life. We are eager to help make your staging of The Little Mermaid out of this world!