Summer is One of TheatreWorld Backdrops' Highest New Production Cycles
First, thank you to everyone who used TheatreWorld Backdrops during the winter and spring season. It was our pleasure to support your productions.  A note to all customers involved with summer programs: beginning the end of June, TheatreWorld is offering complementary shipping on all orders. (And yes, that is on top of our normal discounting programs.) Please note that this promotion only applies to productions scheduled to be completed by early September. Visit our Seasonal Promotions page for details.  On a related note, we still have a few highly discounted custom production slots available on a first come, first served basis.  Call TheatreWorld's customer services team (855 TWB-DROPS) for assistance, use the new "Wishlist" function or email us at Info@TheatreWorldBackdrops.com .
TheatreWorld's creative and artistic teams are in for a long summer. We are in the process of releasing circa 80 new designs to our scenic and stage backdrop rental inventories.  TheatreWorld Backdrops' Major enhancement to our Fairytale series is currently in full swing and we have almost completed our Frozen collection. (There is still one new design remaining to be released.)  Cinderella, Frog Prince, and more have a few new designs still to be produced.  Our Around the World series is in its early stages, with many new designs to follow.  Below, please find a few highlights from these new series.  In addition to the above, we will be adding several new Winter and Holiday hand-painted backdrops to our scenic rental inventories by late summer.
TheatreWorld's Newest Backdrops
Saint Patricks' Cathedral – maybe the most challenging hand-painted backdrop attempted to date and definitely a World Class scenic backdrop.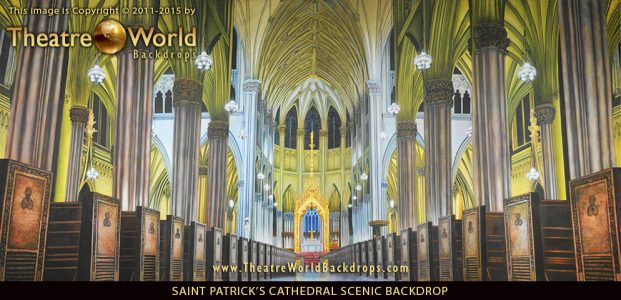 Saint Peters Square – a beautiful scenic backdrop showing the basilica and Tiber river, from in front of the Ponte Sant'Angelo bridge, that will bring an Italian flair to you next event or recital.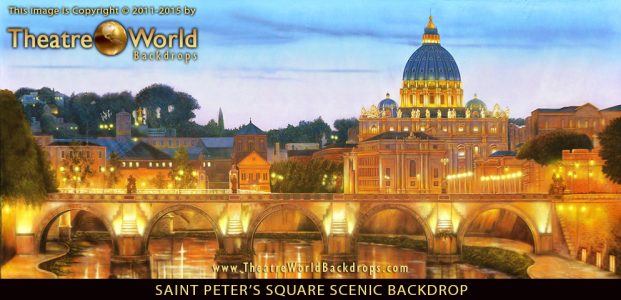 Enchanted Castle a stunning scenic setting for any presentation needing a magnificent castle or looking for a Disney-esque feel.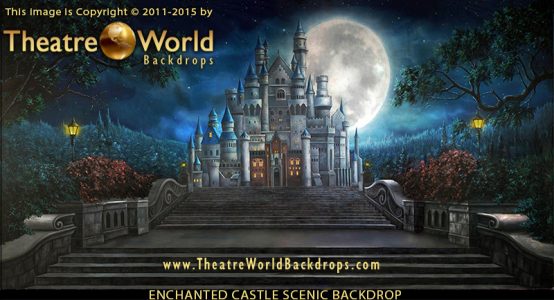 Looking Ahead to Fall and Holiday Productions
We look forward to supporting you all in the fall stage and theatrical season and for your holiday productions.  Please order as early as possible to ensure your first choice backdrop selections. Though we will be adding additional sizes as quickly as we can produce them, many of our latest designs will only be available in traditional stage size during the fall.  We are adding multiple duplicates for many of our Nutcracker Series and one or two new designs.  As always, we have limited quantities of our seasonal inventory, so we recommend you order them early! To view all the most recent designs, please visit TheatreWorld Backdrops Latest Backdrop page on the site or like TheatreWorld on Facebook and see the new releases as they happen all summer long.
Additionally, we encourage everyone to try out our "WishList" feature for planning and ordering your show and production packages. Many clients have told us that this is a very useful planning and ordering tool.
Everyone on our team wishes you and your team members the best of summers. We look forward to working with you all again for the fall and winter seasons.