TheatreWorld Backdrops is Proud to Begin Releasing Major Enhancements to our "Around the World" Stage, Dance Recital, and Event Backdrop Collections
TheatreWorld Backdrops' Artistic Teams are in full swing this summer! We are proudly designing and producing a host of new hand-painted stage, dance, and event backdrops. These new additions pay tribute to many historic buildings, international cities, and spectacular locations from around the globe. Over the course of the summer, TheatreWorld Backdrops will add approximately 80 new designs, spanning a variety of scenic options, styles, and categories.
TheatreWorld Backdrops' "Around the World" scenic backdrop series enhancements are being released to its rental backdrop inventories, effective immediately. Many of these new backdrops will also be available to support published Summer Rental Specials.
European Backdrops
One of the most popular destinations in the world is the Vatican. TheatreWorld's New Saint Peter's Square backdrop will bring the Vatican to your audiences when and where you need it.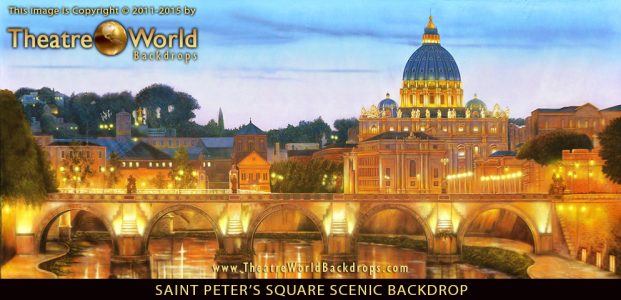 Additionally, TheatreWorld is working on multiple backdrops depicting beautiful locations throughout Europe. Unique backdrops releasing to our rental inventories very soon will include drops with beautiful Spanish architecture, a historic facility from Argentina (Eva who?), and Modern London Flyover. The collection will also include multiple majestic European scenic landscapes, beginning with our new European Countryside. (Featured below.)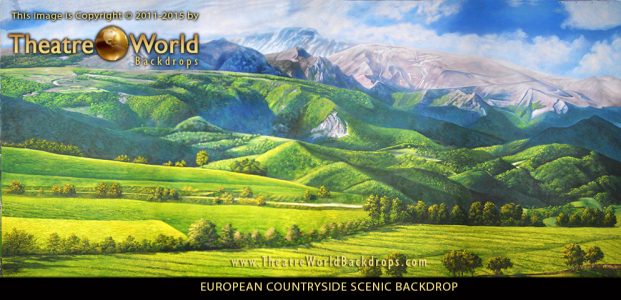 In contrast, how about a small European country village? TheatreWorld's new Olde European Village has the warmth and personality to support many theatrical productions, dance recitals, or a wide variety of themed events.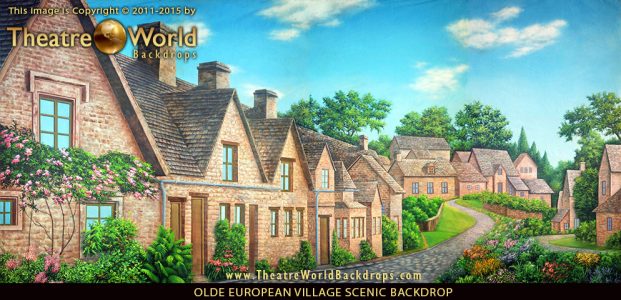 Fun in the Sun – Beaches and Tropics from the Caribbean, the Americas, and Beyond!
TheatreWorld's New Brazilian Nights hand-painted backdrop will bring the charm and excitement of Rio de Janeiro to your next Event or Dance recital. It boasts stunning color and detail. This backdrop is one of several tropical locations being released to our rental inventories right now.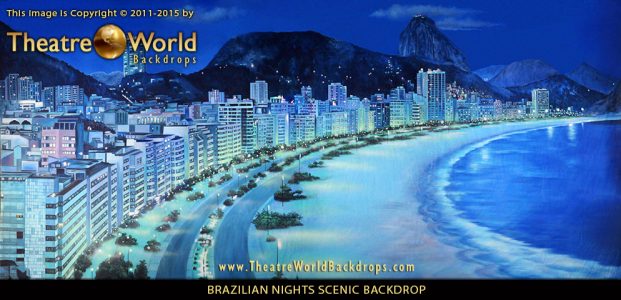 Continue with the "Sun and Fun" theme and pay a visit to our significantly-enhanced Tropical category. Let TheatreWorld provide the tropical imagery for your next show, dance recital, or event with one (or more!) stunning scenic backdrops.
First, we invite you to a historic beach in the Florida Keys. Kick back and enjoy our New Florida Keys Mile Marker 37 scenic backdrop.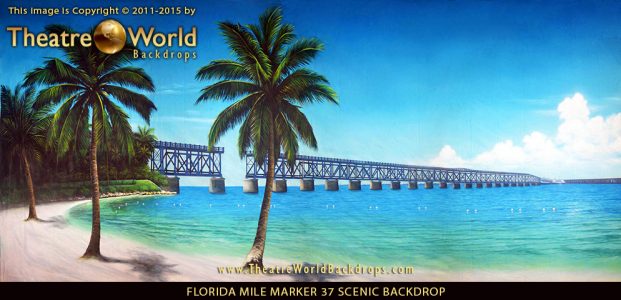 Next, we're off to the Caribbean with our new Caribbean Beach scenic backdrop.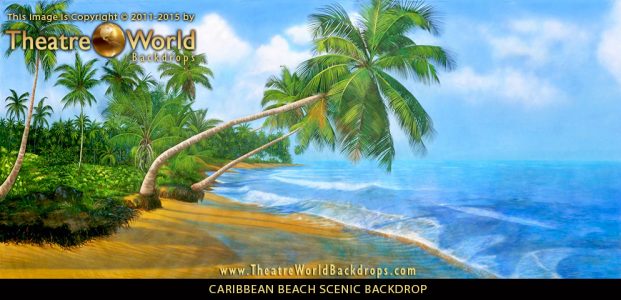 Then, let's take a quick jaunt to a very special beach in Hawaii. (Since time and distance are no problem in our world!) You will never want to leave TheatreWorld's New Lava Beach scenic backdrop.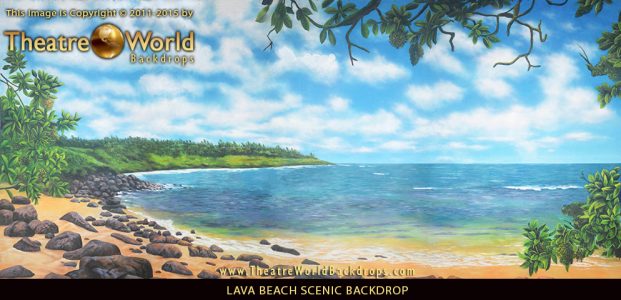 Last Stop: New York City
Finally, we would like to present TheatreWorld's artist's interpretation of and salute to Saint Patrick's Cathedral in New York, NY. This backdrop is truly the show-stopper of this summer's production cycle. Saint Patrick's is one of the most majestic and beautiful cathedrals in the world. Furthermore, the detailed interior posed one of the most difficult challenges any backdrop artistic team has ever faced technically. The backdrop actually consumed approximately twice the person-hours of TheatreWorld's normal Signature Series backdrops.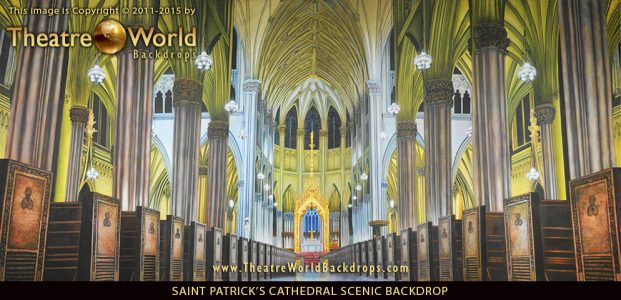 TheatreWorld Backdrops' "Around the World" Series is full of the most dramatic and beautiful scenic images available in the backdrop universe today. Moreover, we constantly push the design and production envelope and will continue to do so. Keep a eye out for some of our other designs that are still in production. These magnificent, scenic backdrops will pay tribute to Miami, New York, San Francisco, and more.
To bring World Class scenic imagery to your next production, dance recital, or event, just complete a TheatreWorld Wishlist. Alternately, you can contact TheatreWorld's customer services' team.
To stay on top of all the new releases this summer, visit TheatreWorld's Latest Backdrops page. You can also follow TheatreWorld on Facebook, Pinterest, Twitter, and Instagram.