Going Beyond the Script
Addams Family Backdrop Suite
Theatrical Rights Worldwide has unleashed the ADDAMS FAMILY into the theatrical world. This creepy and kooky musical comedy is now available for your upcoming season. As huge fans of the show, our Creative Team was beyond excited to tackle the needs for this story of love, relationships, and the importance of keeping the family together. Therefore, we are proud to present our brand new ADDAMS FAMILY backdrops, all of which are now available. Join us on a scenic journey to Central Park and into the lives of Gomez, Morticia, Fester, Pugsley, and Wednesday.
Haunted Mansion Backdrop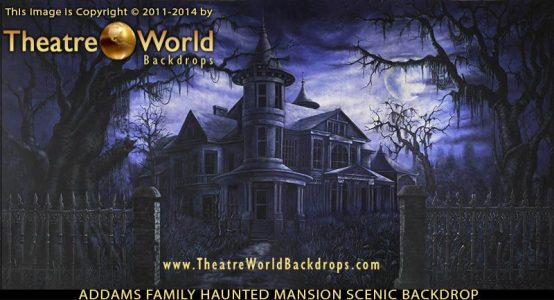 We created our premier ADDAMS FAMILY backdrop in the hopes of immediately setting the scene. Opening with the Haunted Mansion provides creepy, yet beautifully detailed imagery that works for several scenes in the show. Large Spanish oaks complete the backdrop. (Furthermore, either could represent the Addams family tree.) It also boasts a gorgeous full moon that is sure to be the apple of your Fester's eye.
This versatile backdrop can be used for the opening of the show or, alternately, to set the scene for Fester's moonlight walk. It is also ideal for the final scene of the show, in which Fester launches himself into space. To complete this moment, we suggest using a targeted spotlight rigged with a gobo that will depict Fester's smiling face. Alternately, have your Tech Crew build out a similar set piece that can be hung in front of the moon. Either choice will visually convey the fact that Fester has become one with the moon.
Addams Family Graveyard Backdrop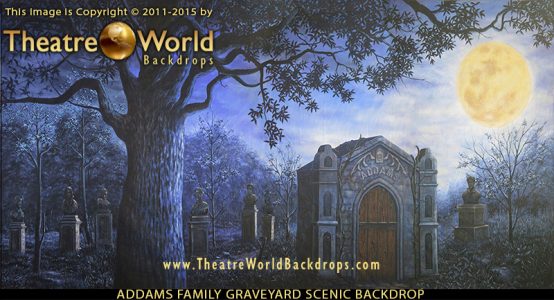 Conversely, you may want to consider opening your production with our Addams Family Graveyard backdrop. This drop perfectly sets the scene for the Addams Family's annual ritual with their relatives who have passed. The crypt in the drop provides the ideal place for Fester to take position center stage and block the deceased Addams from returning to their graves. Furthermore, between the sturdy family oak and Fester's beloved moon looking over your cast, you'll find all of the symbolic elements that take precedence in the script. While the drop has highly detailed busts, you can add additional depth to your stage by building out headstones.
Haunted Mansion Foyer Backdrops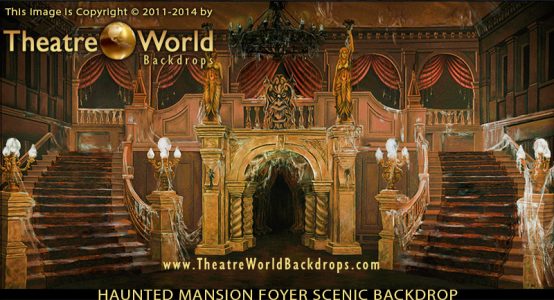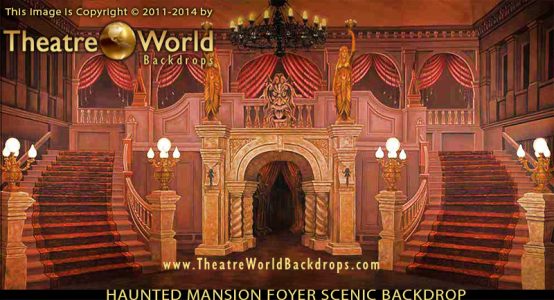 Next, take your cast into the home of the Addams family. Our Creative Team designed the Haunted Mansion Foyer and Haunted Mansion Foyer B backdrop with this scene, and several others, in mind. Our Creative Team borrowed the diverse color palette from the set of the original television program. Since the program aired in black and white, many are not aware that Hollywood's Set Designers actually used purples, pinks, and reds to depict the inside of the Addams' home. Our Creative Team drew from these reds and added a larger-than-life gargoyle to develop this pair of beautifully-detailed Haunted Foyers.
Both foyers boast broad staircases, candlelit chandeliers, lifelike statues, and a hallway that adds depth, while hinting at the other dark portions of the Addams abode. Either drop possesses all the class and spookiness necessary to welcome your audience into the Addams estate. By providing a similar design with two takes on detail, we've given you the option of selecting a spooky, yet clean, interior, or going all out with darker tones and plenty of cobwebs. Directors in search of other options may want to consider our Victorian Palace Ballroom or Baroque Ballroom backdrops. Whichever drop meets your vision, you can easily add in set pieces to depict Wednesday and Pugsley's tortuous play station, as called for by the script.
Haunted Mansion Parlor Backdrop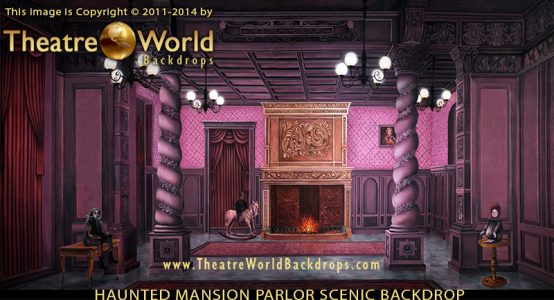 Next, move to the dining room and set your stage for dinner with the Beinekes. Our Creative Team blended purples and black from the original color palate to create our Haunted Mansion Parlor backdrop. This backdrop perfectly sets the mood for the Addams' favorite game, "full disclosure". Details include architecturally-correct columns, family portraits, and a selection of creepy clowns. HAUNTED MANSION PARLOR conveys all of the imagery associated with the ADDAMS FAMILY in a straightforward, yet highly-detailed stage backdrop. Set pieces, such as a dining room table, are all that need to be added to complete the scene. There will still be plenty of room on your stage for your cast to interact during "full disclosure". (And for Alice to mistakenly take down Pugsley's spiked concoction, which he intended for Wednesday.)
Gray Full Moon Backdrop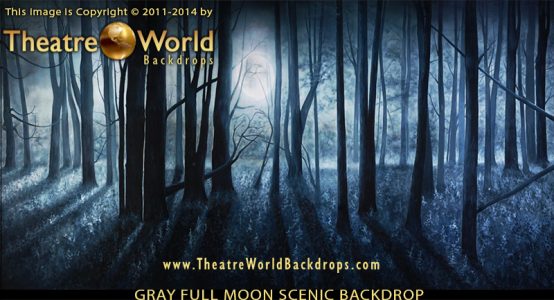 You may wish to provide new imagery for your outdoor scenes, such as the scene where Fester moon bathes and the scene where Gomez realizes that Wednesday has, in fact, become a woman. Our Creative Team suggests our Gray Full Moon backdrop. Applicable to a variety of shows and themes, this drop sets your stage with eerie night-time visuals. The shadowy trees and outstretched branches befit a park basking in the light of the very-necessary full moon. Additionally, this backdrop is a great option for Directors planning broader shows. You can use this backdrop in lieu of the Haunted Mansion or even Addams Family Graveyard, depending upon your vision. Alternately, if you prefer to really focus on the Addams Family tree, consider our Enchanted Live Oak drop. A targeted spotlight or set piece that depicts a brilliant full moon will easily compete your stage.
Dark Cavern Dungeon Backdrop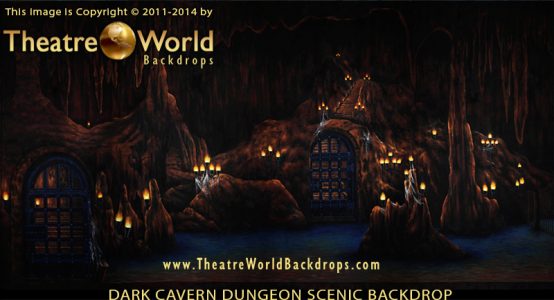 As the script moves back inside the house (or, rather, beneath it), our Team recommends our Dark Cavern Dungeon. With iron gates and plenty of candles, this drop will set the scene for Gomez and Mal's bonding session in Gomez' Grotto. Directors and Set Designers in search of a different feel for this scene may prefer our Dragon's Lair or Phantom's Grotto backdrops.
In conclusion, the design possibilities for THE ADDAMS FAMILY are endless. Your vision and creativity are what truly set the standard for your stage. Depending upon your cast, crew, and budget, a production of THE ADDAMS FAMILY can contain a wide variety of scenes. Regardless, our backdrop rental inventory has the designs and creativity to accommodate any vision. In the end, the drops that you select for your discount rental package are entirely up to you!