Choosing the Right Backdrops for Any Recital
Recital season is one of the busiest times of year here at TheatreWorld Backdrops—and with good reason! Backdrops are a great way to add visual interest to your stage and to elevate your costumes and lighting choices.
So how can you incorporate a backdrop into your recital? If your recital has a clear concept, a backdrop can emphasize your theme and help draw the audience into your vision. Or, a single backdrop can be a great way to unify lots of unrelated elements into a cohesive production. Conversely, backdrops are a great way to break up your show. If you've got a wide range of age groups and dance styles in your recital, backdrops can help provide each number with its own distinct feel. Your options are only limited by your own creativity!
TheatreWorld has a wide selection of drops that will cover just about any style of dance, age group, or theme you can dream up. We hope the examples below give you some great ideas for this year's or next year's show.
Ballet and Lyrical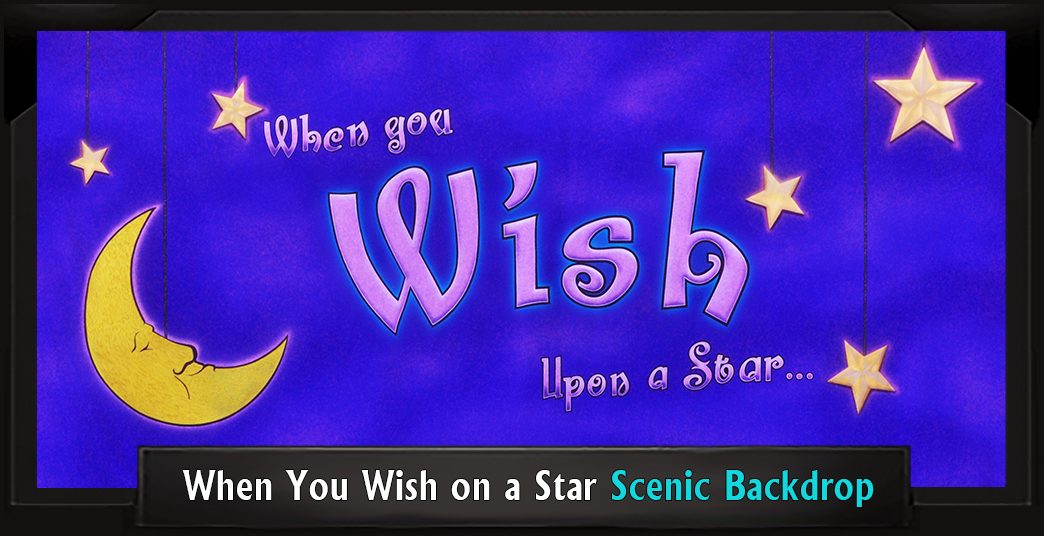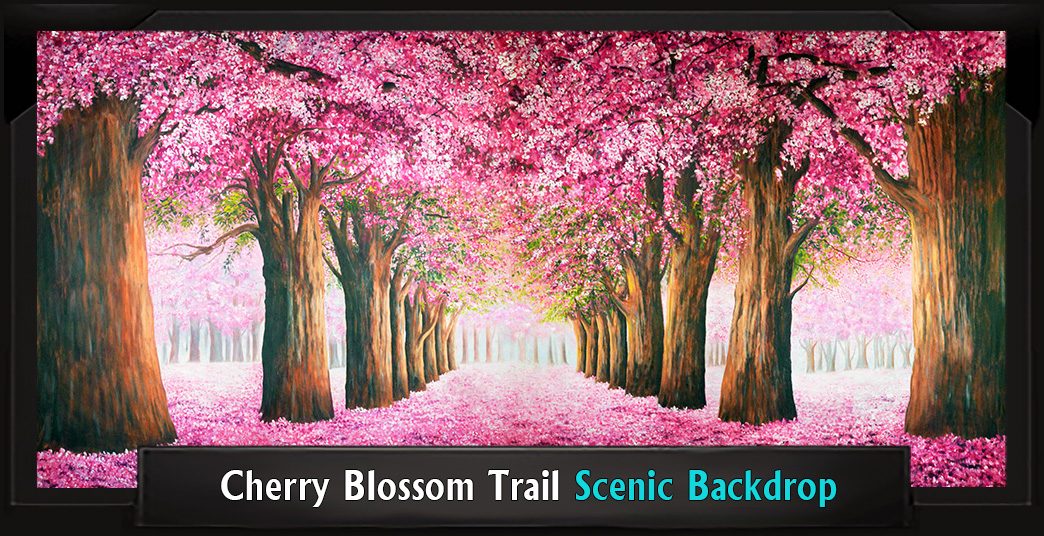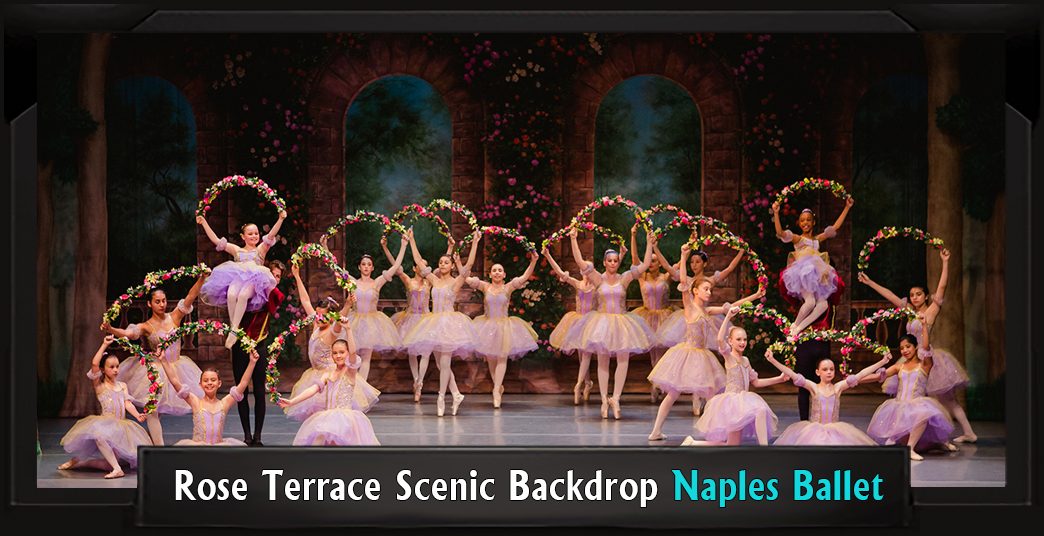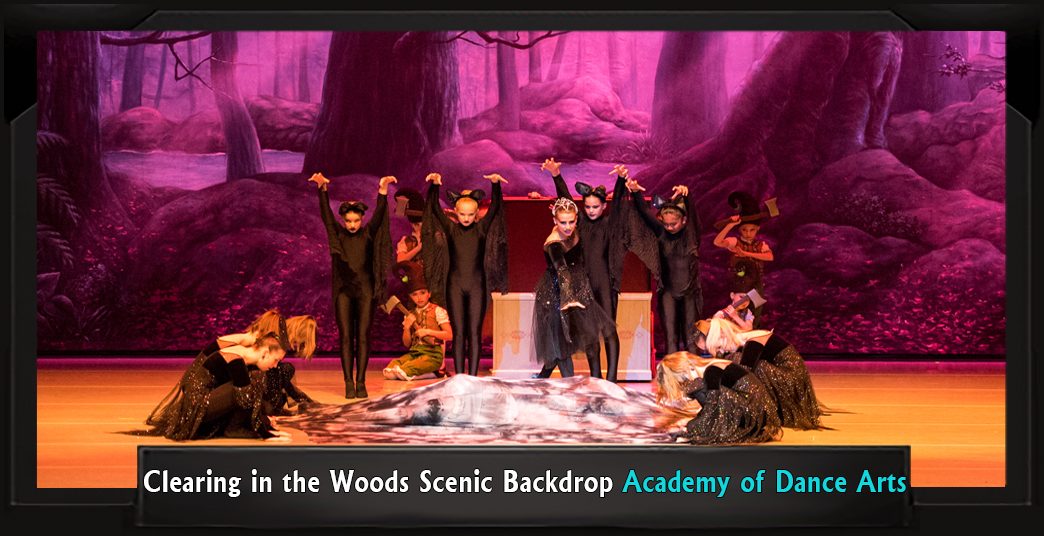 Depending on your dancers' ages, ballet numbers can range from elegant to adorable. Our When You Wish on a Star Backdrop, with its purple accents and a sleepy paper moon, is perfect for your tiniest twirlers!
For slightly older dancers, choose a beautiful drop that will compliment ballet's long lines and graceful movements. Our Cherry Blossom Trail backdrop captures all the splendor of spring. For similarly abundant blossoms in a more man-made setting, choose our Rose Terrace Backdrop. (Featured above—and looking gorgeous!—in a recent photo sent by Naples Ballet.)
Of course, ballet isn't all pretty tutus and happy endings. Clearing in the Woods is a forest scene that uses dark colors and shadows to add a slightly spooky feel. Note how Academy of Dance Arts used magenta lighting to cast a pink and purple glow over the forest scene to create a totally different mood. This is a great way to customize the look of any backdrop!
Jazz, Tap, Musical Theatre, and Hip Hop Recital Drops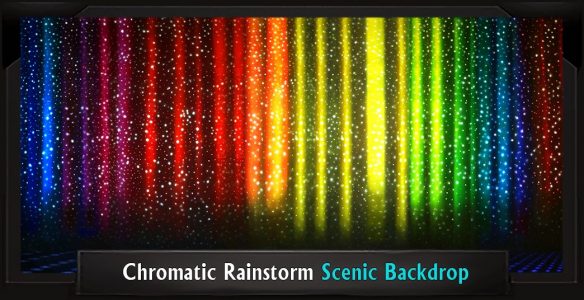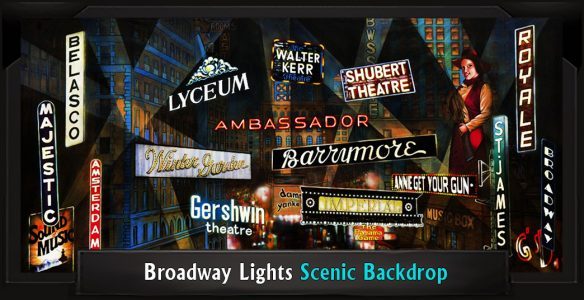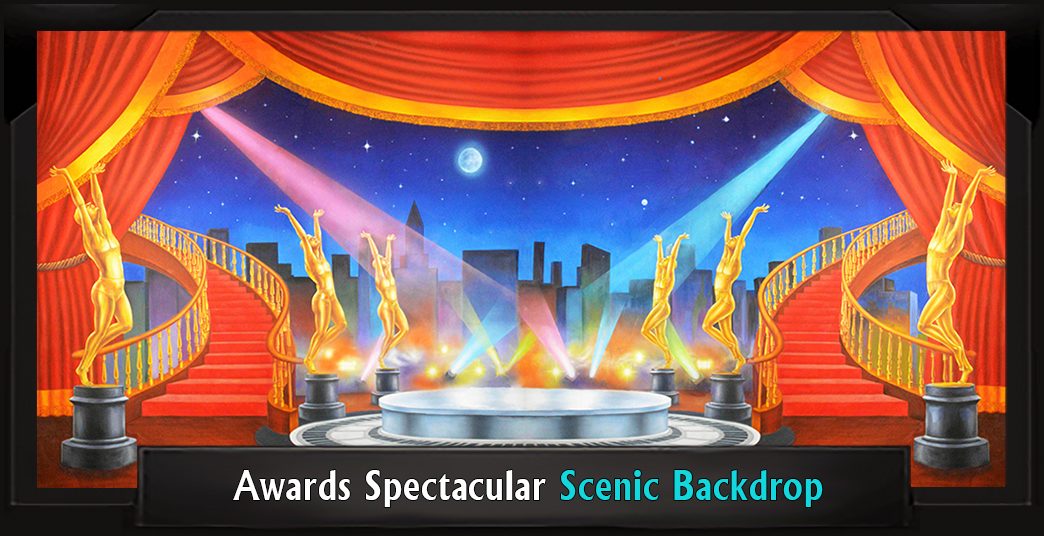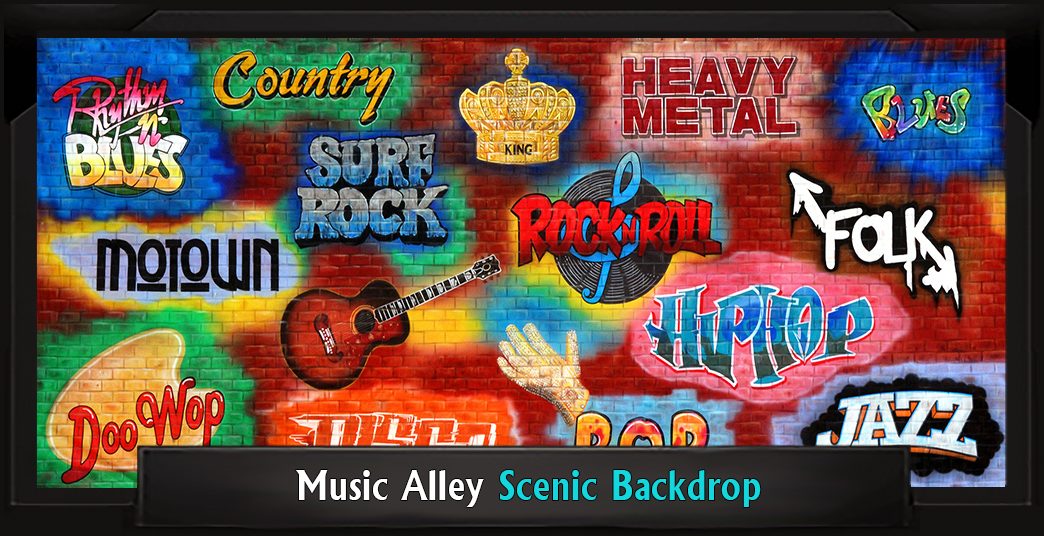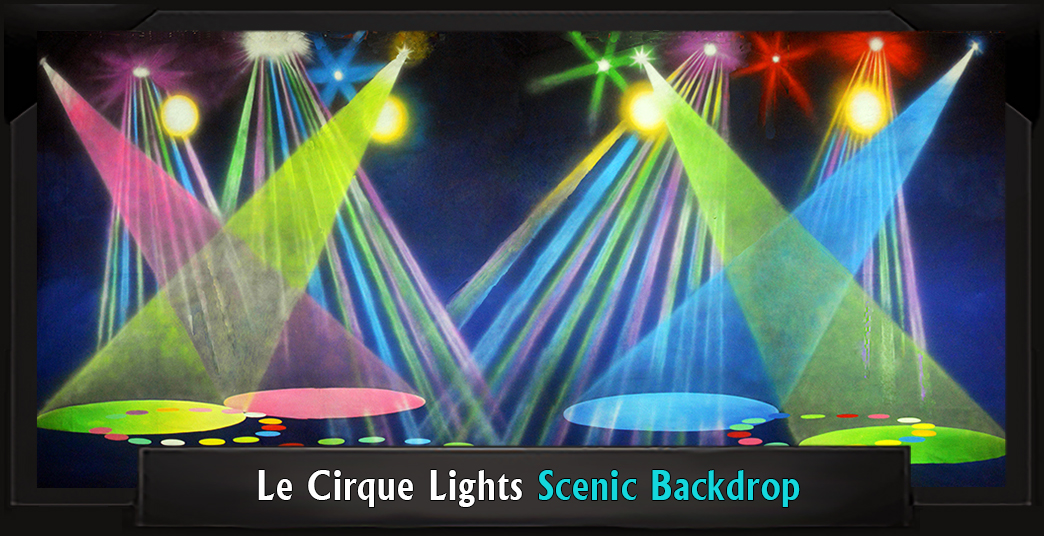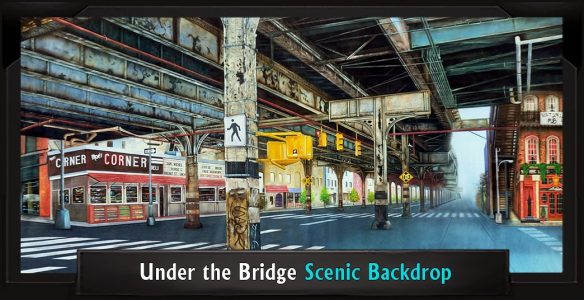 For fast and energetic dance forms, you'll want to pick up a backdrop with as much pizzazz as your choreography! By far, the sparkliest, most colorful drop in the TheatreWorld inventory is our Chromatic Rainstorm backdrop. This is its debut season, and it's been a smash hit with dance companies far and wide.
For classic jazz, tap, or musical theatre numbers, there's no better inspiration than the Great White Way! Our Broadway Lights backdrop features an old-fashioned Times Square and glitters with timeless marquees.
Another classic choice is TheatreWorld's glamorous Awards Spectacular backdrop. This new drop features gilded statues, spotlights, and a breathtaking cityscape. It's perfect for an homage to Hollywood.
Maybe your show has a little bit of everything. If so, look no further than our Music Alley backdrop. From disco to doo wop, country to hip hop, the colorful grafitti pays tribute to all styles of music.
Our Le Cirque Lights backdrop is a great choice for a recital with a more modern feel. The neon spotlights and contemporary aesthetic pair perfectly with hip hop. Le Cirque Lights would also work great for any number set to uptempo pop or rock.
Or, hit the streets of New York with TheatreWorld's Under the Bridge backdrop. This drop brings a grittier, more urban feel that will make your hip hop numbers really stand out.
Single Drops for a Variety of Styles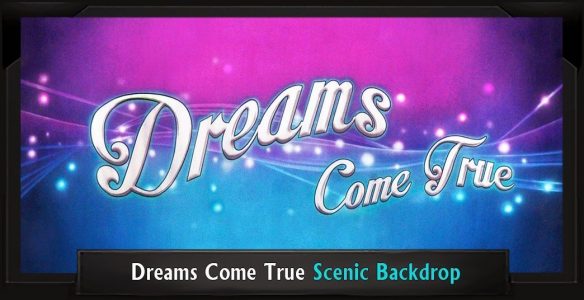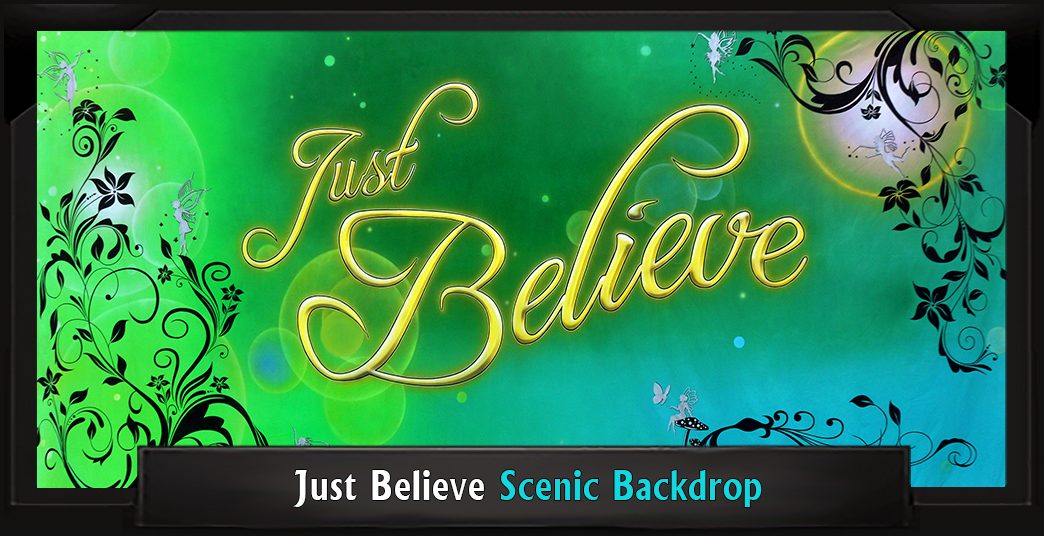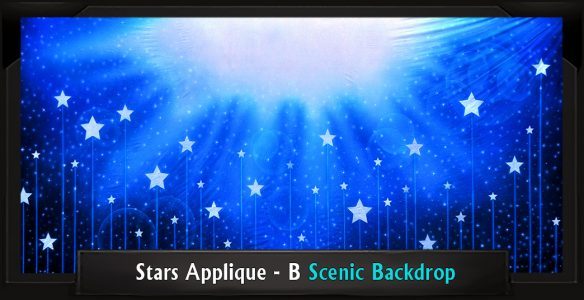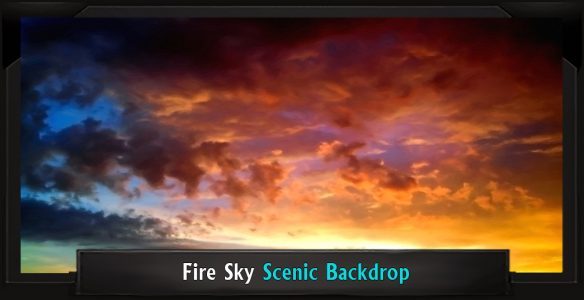 Finding a single drop that will look at home in any number is no small feat. Fortunately, with a little imagination, you can absolutely find a single TheatreWorld backdrop that can work with every dance in your recital.
Our Dreams Come True and Just Believe backdrops each feature a large message against a brightly colored background. These designs are colorful enough to work for big, bold numbers, yet elegant enough for lyrical or ballet numbers.
Stars Applique – B is a great all-purpose drop, for dance recitals and beyond. What's most special about the B version of the drop is that it features real silver metallic paint. With the right lighting, it will shine as brightly as your talented dancers!
Our Fire Sky backdrop is another versatile option. The backdrop really takes on an entirely different look, depending on how you light it. (There are some great examples of groups who've really excelled at this on the drop's product page.)
Disney/Fairy Tale Recitals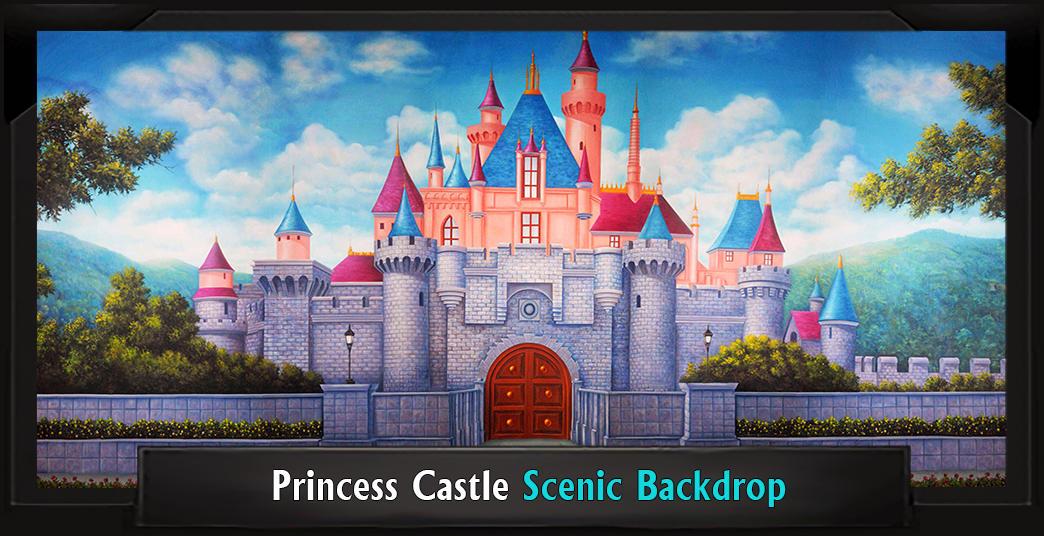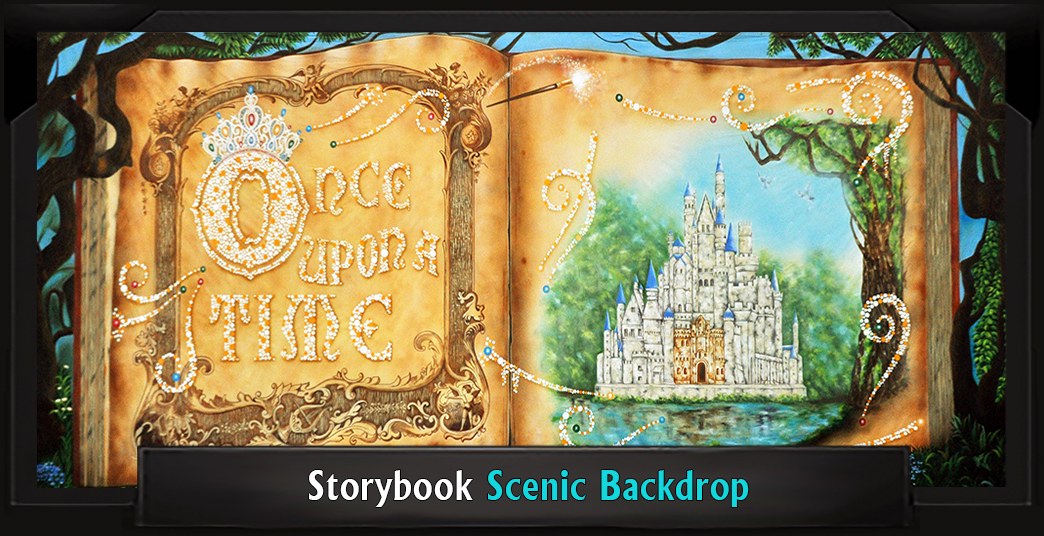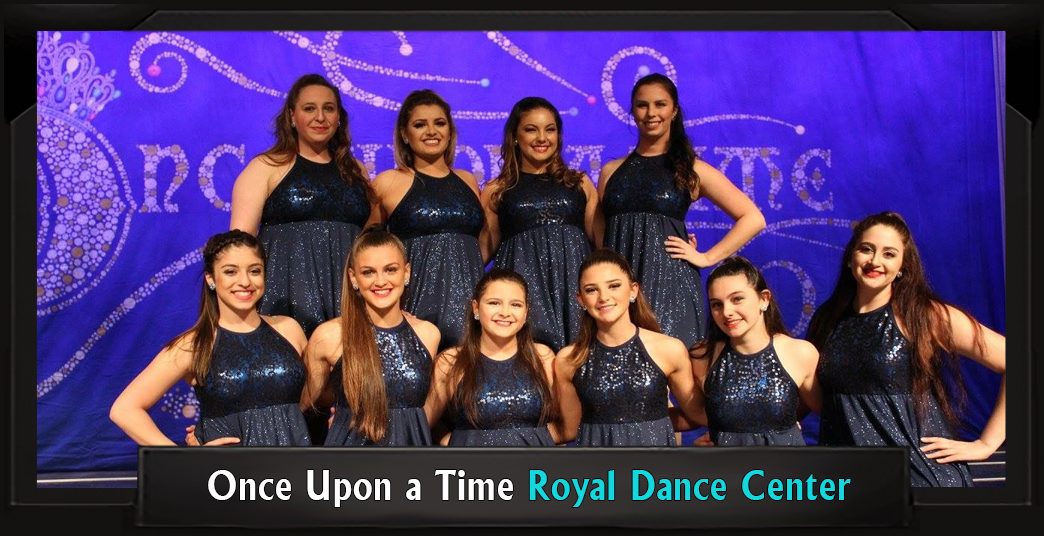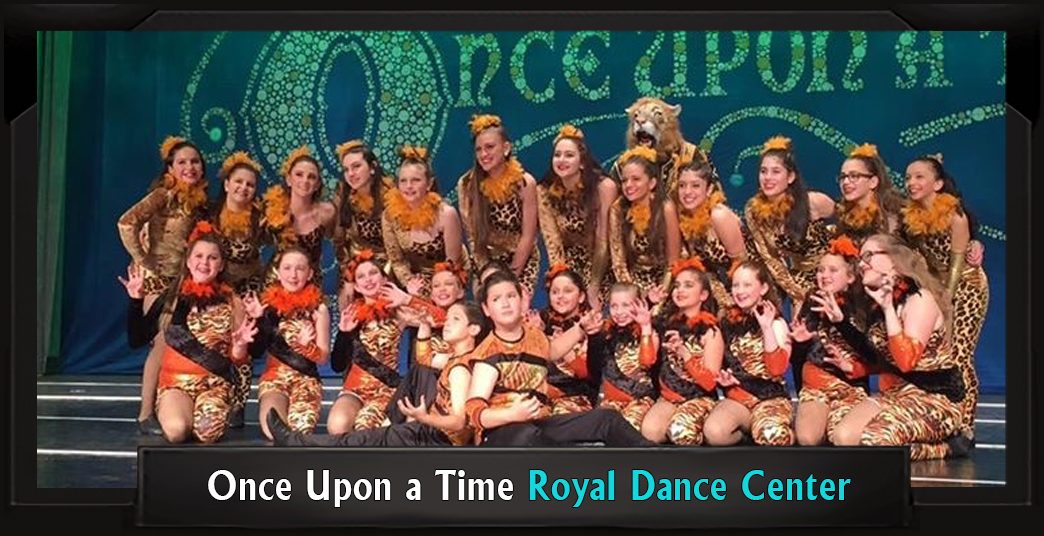 Probably the biggest trend we've seen in recitals this season is fairy tale/Disney themes. If you choose this direction, TheatreWorld has a whole category of Fantasy & Fairy Tale Themed backdrops for your perusal!
Our Princess Castle backdrop, with its pink and blue turrets, is a colorful and cheerful choice. Storybook is a brand new design that's just waiting to enchant your audiences.
If you want something a little more general, you can't go wrong with TheatreWorld's Once Upon a Time backdrop. For an interesting take, light this deep blue drop with different colors, as customer Royal Dance Center did. By using different colored lighting, they were able to achieve the emerald and purple washes shown above.
***
From bitty ballerinas to high-energy hip hop, TheatreWorld has distinctive, detailed drops to match any artistic vision. Whether you're looking for a drop for this year's recital or thinking ahead to next year, we hope we've inspired you to consider TheatreWorld backdrops for your scenic needs. We can't wait to see what you choose!