NUTCRACKER Backdrop Suite Now Releasing!
This past spring, our Creative Team began the process of re-imagining the scenery needs for THE NUTCRACKER, which many consider the preeminent ballet of the holiday season. Our team started by studying productions of THE NUTCRACKER that date back over a century. The goal was to create a suite of TheatreWorld Signature Series NUTCRACKER backdrops that combined the history and flare of traditional presentations with modern theatrical aesthetics. The end result is a show package of gorgeous drops that hint at both the Victorian and Baroque periods. Our designs satisfy the imagery needs of the ballet while bringing vivid colors and a modern approach to design.
We are excited to introduce the first 5 of 12 unique designs to support productions of THE NUTCRACKER. These backdrops will also support a variety of additional holiday shows and events. Initially, we will release all backdrops in TheatreWorld's Traditional Stage size, 40' x 18'. Nearly half of the designs will also be produced for Large Stages, which require drops measuring in at 48' x 20'. This new package is robust, but we have produced limited quantities. Please order early to ensure availability for your production dates.
Glass Palace Foyer Backdrop, Nutcracker Christmas Tree Drop, and Christmas Present Legs
Our Glass Palace Foyer backdrop was designed for the opening scenes of THE NUTCRACKER. It features an elegant foyer built of hardwood. Perfectly crafted windows reveal a winter wonderland outside. Your onstage imagery transitions seamlessly when used in conjunction with our Nutcracker Christmas Tree drop. The hardwood-framed windows and snow-topped firs featured in the Glass Palace Foyer are re-scaled and included in our Nutcracker Christmas Tree drop. This reinforces the idea that the room has grown by a feat of magic.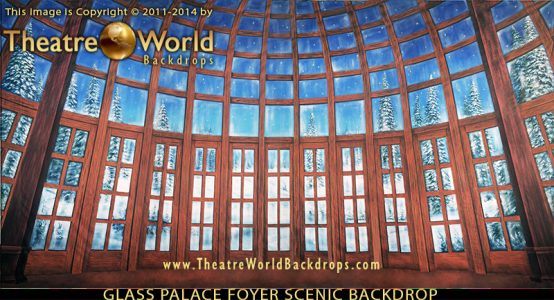 Our NUTCRACKER Christmas Tree backdrop is truly "bigger than life". We intentionally enlarged the Christmas tree and presents. This visually accommodates the famous "fight scene". (Where the Nutcracker and his Toy Army battle with the Mouse King and his rodent followers.) This backdrop will easily support your dancers, making the "growth" of the toys and rodents that much more believable from a visual standpoint.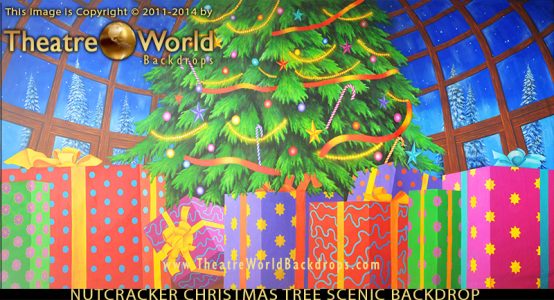 The Christmas Present Legs were designed to work directly with the Christmas Tree backdrop. The legs feature larger than life presents, a variety of popular toys, and even a gingerbread house for the Gingerbread Army. Similar to the foyer, we sized all of the imagery in this backdrop to create the illusion that the dancers are, in fact, the size of toys. Use this theatrical leg package to mix up your on-stage imagery, add depth, or widen your stage.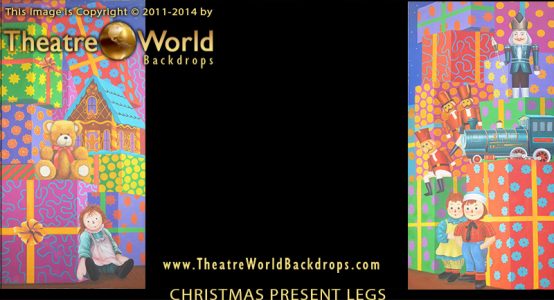 Winter Solstice Backdrop
Our Winter Solstice backdrop portrays a classic winter night. Bask in the glow of a full moon and beautifully detailed snowflakes. We designed this backdrop to portray the Land of Snow. However, like our other woodland snow scenes, this drop is sure to be a go-to for a variety of holiday events.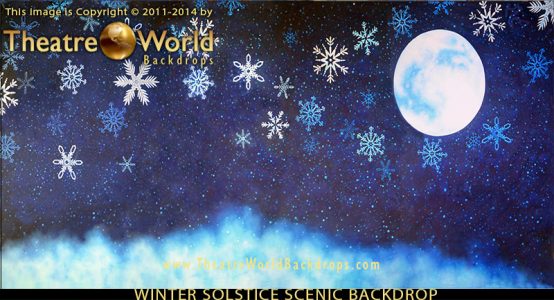 Classical Kingdom of the Sweets
Another beautiful scene direct from the ballet is portrayed by our Classical Kingdom of the Sweets backdrop. Our Creative Team drew inspiration from traditional Russian ballet designs. This fun, yet elegant, backdrop delivers fantasy with a good dose of class. (All of your favorite sweets make a cameo.) Furthermore, we painted the set pieces right into the backdrop. This leaves the stage itself free to showcase the art of dance.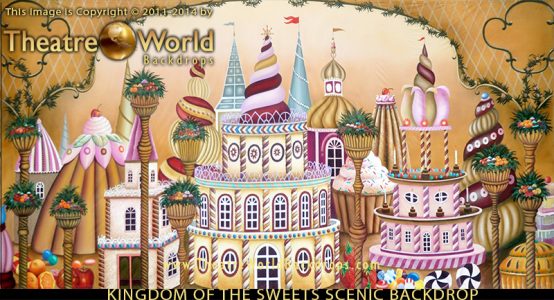 Additional Nutcracker Drops and Other News
Our teams are currently hard at work finalizing and painting the remainder of TheatreWorld's NUTCRACKER suite. In coming days and weeks, our backdrop rental inventory will expand. Additional selections include 2 Baroque Ballroom backdrops, 2 Victorian Ballroom backdrops, and 2 styles of Victorian Parlor backdrops. TheatreWorld has scheduled all of these upcoming designs to be in inventory by the end of the summer. They will be available for the upcoming holiday season.
Below, please enjoy a sneak peak at the upcoming Baroque Ballroom backdrop. This image is our official artist's sketch for the drop. We may change a nuance or two, but the image below sums up the high-end baroque interior we're envisioning. With this many imagery options, you are sure to be able to share this classic holiday ballet with imagery that meets your exact vision.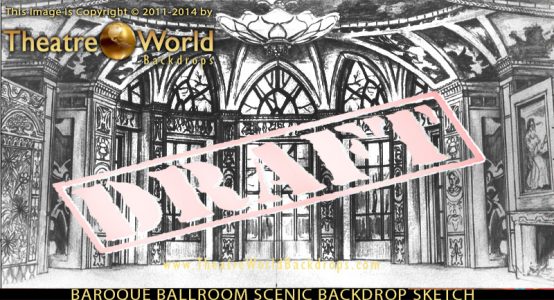 While  our Creative Team has been focusing heavily on THE NUTCRACKER this summer, they have also developed entire show packages to support THE ADDAMS FAMILY and MARY POPPINS. (Expect MTI to release the rights to MARY POPPINS this fall!) They have also developed an array of individual backdrops to strengthen the available imagery for popular theatrical, dance and event themes already in our inventory. Feel free to visit our Latest Backdrop Page to see what's new!