Spicing Up Corporate Meetings With Scenic Backdrops
We all know the adage about keeping it simple, but what about keeping it interesting? While it might be easy to keep attendees engaged at a gala or party, ensuring that the guests at a corporate event stay in tune and entertained is not as easy. After all, you're probably not planning to set up a bar or a live band just off center of the speaker's podium.
One way to get the ball rolling is to beef up the ambiance. This makes sense, as attendees don't want to leave the office only to show up to a meeting that looks like a giant conference room. If your client's guests get the feel that they are entering an environment that is both informative and entertaining, they are that much more likely to settle in and participate. This most often starts with setting a theme, and ends in decorating and planning the meeting in a way that ties in both the theme and your client's message.
"Follow the Yellow Brick Road" to a More Entertaining Event
Many Planners get creative. They choose an event theme that speaks to both entertainment and the messages that will be delivered during the meeting. One theme that has worked very well for several Planners that we have worked with is THE WIZARD OF OZ. Yes, it's a book, movie, and theatrical production; but it also has an underlying message that speaks to audiences of all ages. "Follow the yellow brick road" is more than advice from a town full of munchkins. At a meeting, it can become a mantra; following the right path can and will lead you to success. You can then bring in the right ambiance to reinforce your theme and brighten up your meeting environment. We have an example pictured below.
The Planners from Presentation Resource Group in Fountain Valley, California were tasked with organizing a corporate meeting. They took hold of the WIZARD OF OZ theme and ran with it. They chose our Road to Oz backdrop, and hung it center stage behind their speakers. It provided a clear visual that communicated the speakers' message in a stunning format. Their tech team then set up projection screens on either side of the stage, guaranteeing that every attendee would be able to follow along with the speakers' notes regardless of where they were seated in the venue. As you can see, they even had a Yellow Brick Road of their very own leading up to the stage.  In the end, the Planners conveyed their client's message, and kept it fun and entertaining.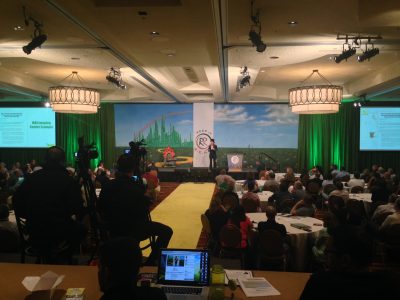 This is just one example of using imagery to add a little life to a corporate event. Meetings don't have to be hum-drum, and, with the right tools, they won't be. Backdrops afford you the ability to set the theme and add artwork to your ambiance. You can then coordinate tablecloths and other decorations to really bring it home. We hope that this helps, and would like to congratulate the team at Presentation Resource Group on a job well done. Their combination of the right tech, imagery, and communications plan produced yet another successful and engaging corporate event.