TheatreWorld's New PETER PAN Collection Debuts on CBS' "The Talk"
Our team has a knack for identifying stage shows and scripts that are due for an imagery upgrade. About a year ago, our Directors' Roundtable began heavily discussing PETER PAN. They decided that we needed to apply a portion of our focus towards this popular production in order to give clients better backdrops options.
Shortly after the sketch phase started, we got a call from Matt Tognacci; a previous client who has done Emmy-winning work for CBS' "The Talk".  Matt was in the process of planning "The Talk"'s 2014 Halloween special episode. It just so happened that he had a PETER PAN theme in mind for the show. Talk about timing! We then had the opportunity to work with an immensely talented Art Director while our Artistic Team was in the process of sketching backdrops for this production.
Matt, like most who choose this production, was in need of a backdrop that would provide imagery for NeverLand. He had already been designing set pieces and working with costume designers to dress the hosts of the show, but still needed this last bit of scenery to support his set. We showed Matt what we had been up to and kept him in the loop as our Team continued to finalize our artwork.
Working with Matt was once again a fantastic experience. His feedback became a part of our creative process as we put together brand new imagery for one of the most famous fairy tale settings out there. In the end, our now-available NEVERLAND backdrop made its debut behind the hosts of "The Talk" as a part of a spectacular PETER PAN set, viewed by millions. To complete the theme, Matt also decided to use our already-available CASTAWAY BAY backdrop.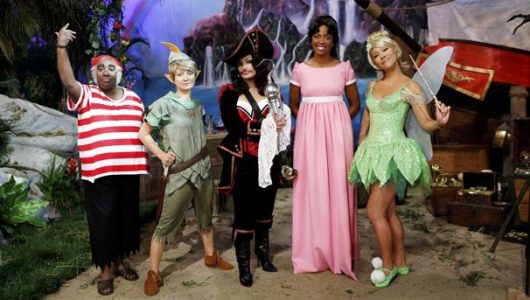 Creating NeverLand
Our artistic team wanted a drop that put the entirety of NeverLand on display. This new addition to our Signature Series features a picturesque bay that houses Captain Hook's pirate ship, The Jolly Roger. Included, of course, is the jungle island of NeverLand, complete with a spooky skull waterfall. This is contrasted by a rainbow, which represents the happy-go-lucky spirit of Peter and the Lost Boys. Our artists took their time to ensure that this drop is fully detailed and dripping with the childish fancy and charisma that characterizes PETER PAN. We are proud to announce that it is now available for our clients' theatrical productions, recitals and special events.
TheatreWorld's Other PETER PAN Backdrops
NeverLand is just the first new addition to our PETER PAN backdrop collection, however. Our team has also put together designs for The Darling Nursery, The London Flyover, and The Pirate Ship Deck. This collection of drops allows directors and planners access to an entire show package that includes all of the necessary imagery for the script. As always, our drops are designed to be used either as the sole source of scenery or in combination with your set pieces in order to meet your exact vision. NeverLand is in stock and ready for your productions now. The finishing touches on our PETER PAN package will be available very soon! Take a moment to look over our PETER PAN backdrops to see what we have in store for you.
We would like to congratulate Matt and his entire team on another job well done. Their hard work culminated in an extremely skilled and well-rounded display of imagery. With the level of creativity that they bring to the table, there might just be another Emmy in their future.