Educational Theatre Association's Most-Performed Plays and Musicals 2022-2023
Every year, the Educational Theatre Association surveys U.S. high school theatre programs and reports on the most-performed plays and musicals from the school year. The 2022 – 2023 results are in! Here are the winners:
Top 10 Full-Length Musicals
Top 10 Full-Length Plays
Clue – by Jonathan Lynn, Hunter Foster, Eric Price, and Sandy Rustin (Broadway Licensing)
Puffs – by Matt Cox (Concord Theatricals)
A Midsummer Night's Dream – by William Shakespeare (public domain)
The Play That Goes Wrong – by Henry Lewis, Jonathan Sayer, and Henry Shields (Broadway Licensing)*
Radium Girls – by D.W. Gregory (Dramatic Publishing)*
Almost, Maine – by John Cariani (Broadway Licensing)
Peter and the Starcatcher – by Rick Elice and Wayne Barker (MTI)*
She Kills Monsters: Young Adventurers Edition – by Qui Nguyen (Concord Theatricals)*
Alice in Wonderland – by Lewis Carroll (various licensing agencies)
12 Angry Jurors – by Reginald Rose, adapted by Sherman L. Sergel (Dramatic Publishing)
Top 10 Short Musicals
(* indicates a tie)
Need a Backdrop? We've Got it All!
Most of the winning titles aren't too surprising to us, as they are some of the shows most frequently-produced by TheatreWorld's customers as well! We do have dedicated show pages for many of these popular productions. However, we do carry backdrops that are perfect for all of the top-ranked shows. Let's take a look!
Mansions and Manors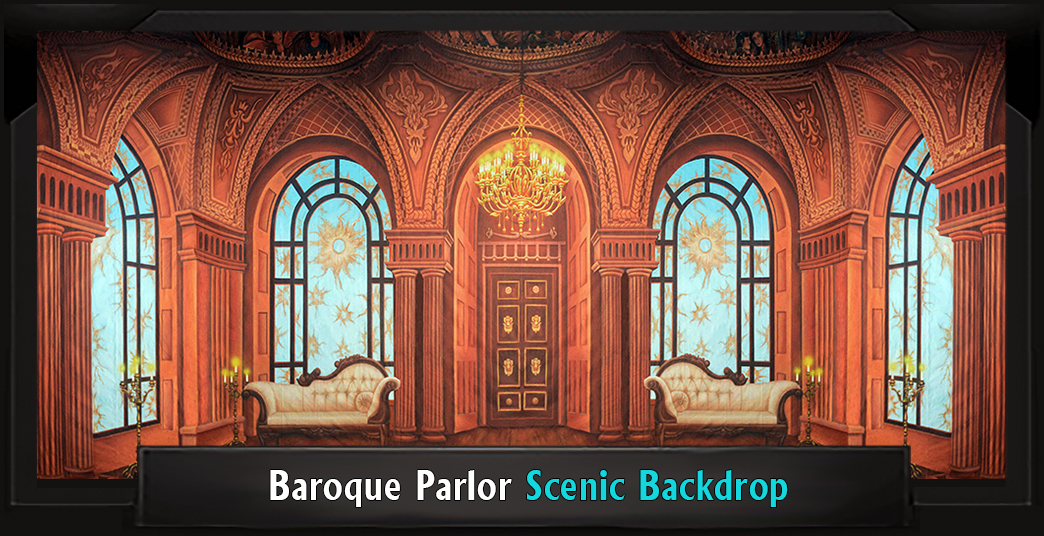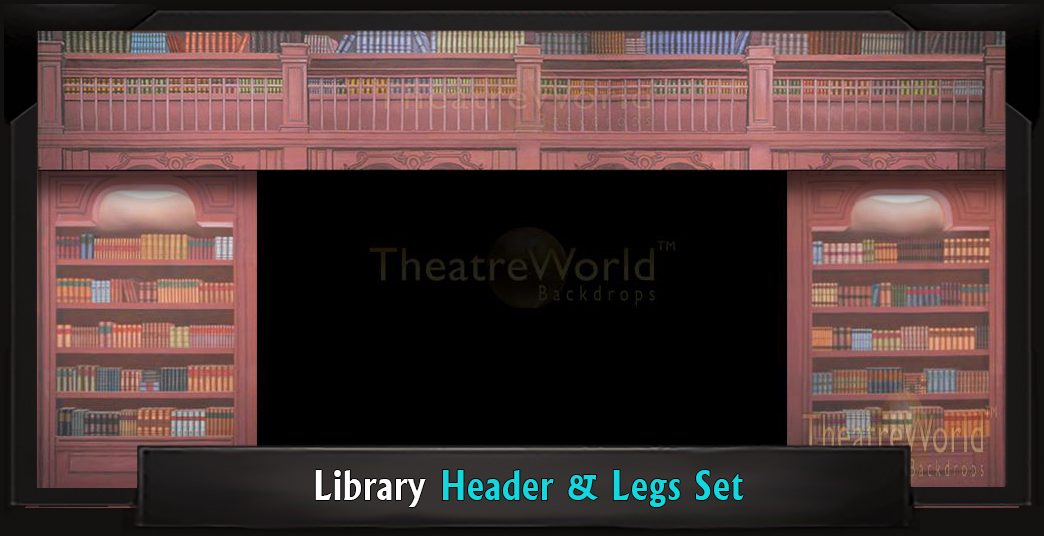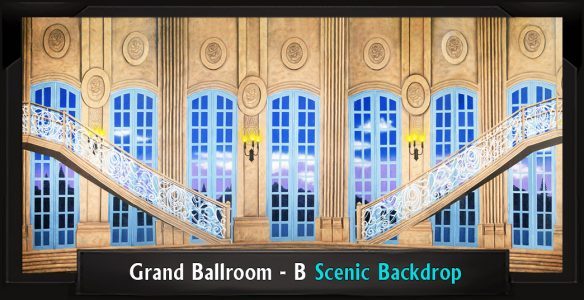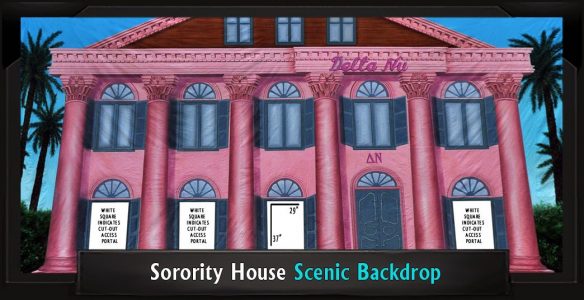 From The Addams Family to Annie, many of this year's top titles take place in grand homes. On the spookier end, as required for The Addams Family, consider Haunted Mansion, Haunted Mansion Foyer, or even Baroque Parlor. (The last two options are also great for Clue. Just add legs, like Library Legs, to add entrances and create the feel of multiple rooms.) For pure elegance, Grand Ballroom – B's dual staircases makes a big impression. For Legally Blonde's famous Delta Nu headquarters, pink and peppy Sorority House and Sorority House Interior are just perfect! (The latter would also be a great choice for the inside of Regina George's suburban McMansion for productions of Mean Girls.)
School Backdrops – From Mundane to Magical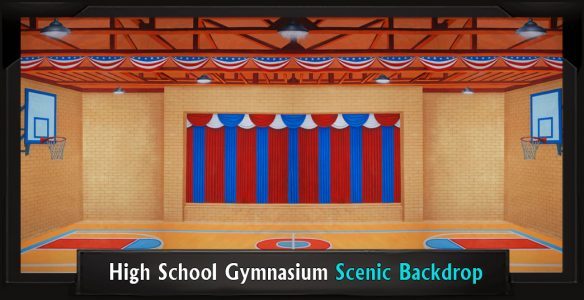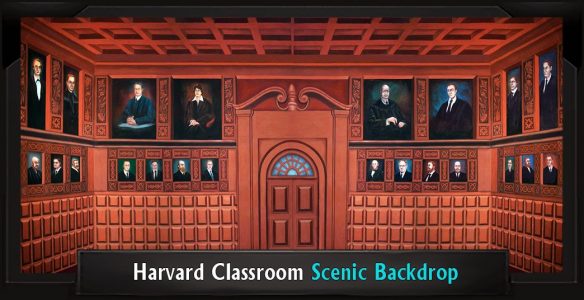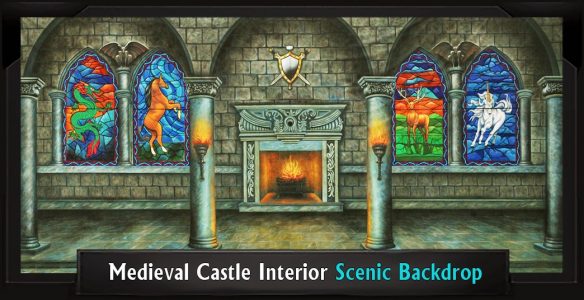 Another common setting throughout these popular plays and musicals is school. High School Musical and Mean Girls both are set in typical suburban high schools. Some great choices for this setting are High School Gymnasium, High School Hallway, and Classroom Interior. Harvard Classroom is the perfect choice for the hallowed halls of Harvard Law School for Legally Blonde. It's also a great choice for the intimidating Miss Trunchbull's school from Matilda. Finally, for Puffs, an unauthorized parody of everyone's favorite wizarding school, Witchcraft University is pure magic! Additionally, the mythological creatures featured in Medieval Castle Interior's stained glass windows are just right for the school's interior. Or, use Evil Queen's Castle Interior for a similar look at a grander scale.
Fairytales Favorites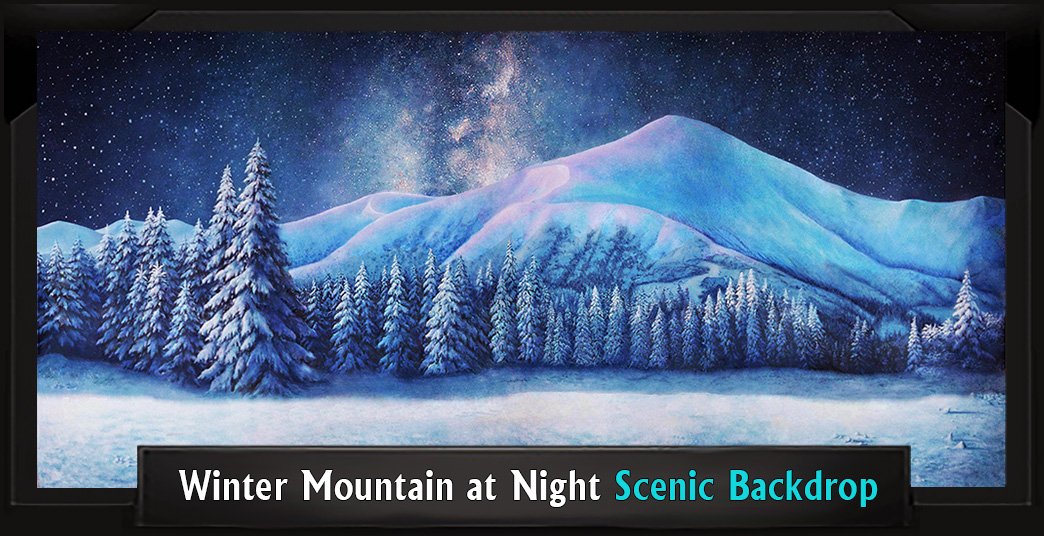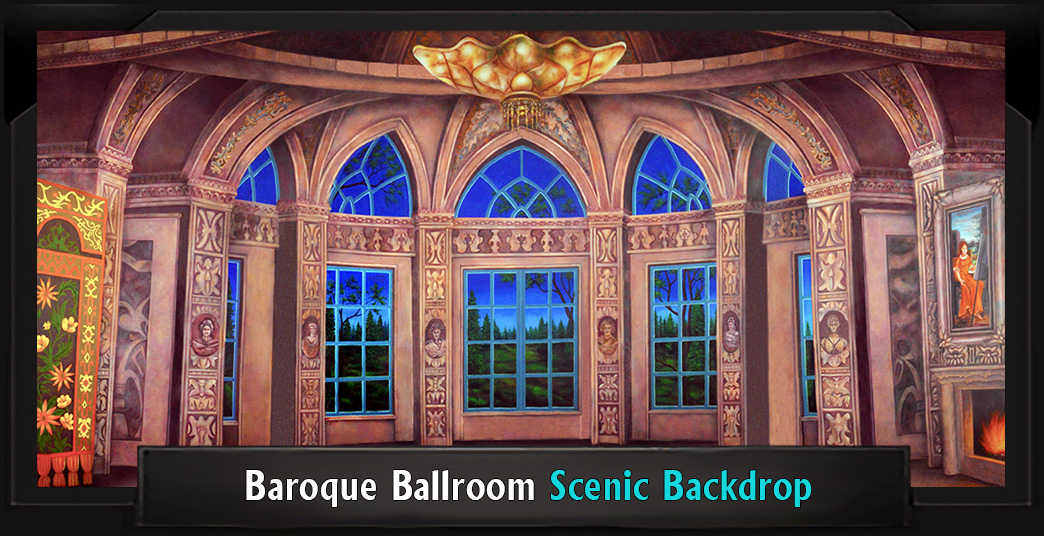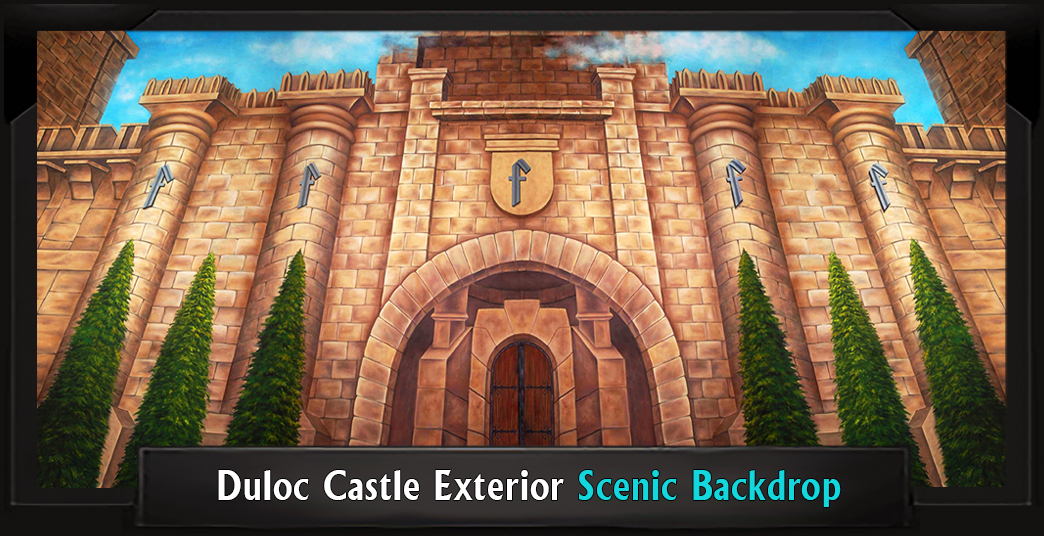 It's clear from this year's list that fairytale-inspired shows will never go out of style. For junior musicals, Frozen, unsurprisingly, tops the list. It's extremely popular with our customers as well. They love to use Ice Palace Foyer and Winter Mountain at Night to create Elsa's snowy kingdom. Within the castle walls, Baroque Ballroom is a favorite choice. (Baroque Ballroom is also a terrific choice for The Little Mermaid.) Other iconic options for this show are Castle on the Beach and Ariel's Grotto. Lastly, and also popular with the junior set, Shrek is the funniest fairytale around. From Shrek's Swamp to Duloc Castle Exterior to Dragon's Lair, we've got every moment covered!
Forest and Savannah Backdrops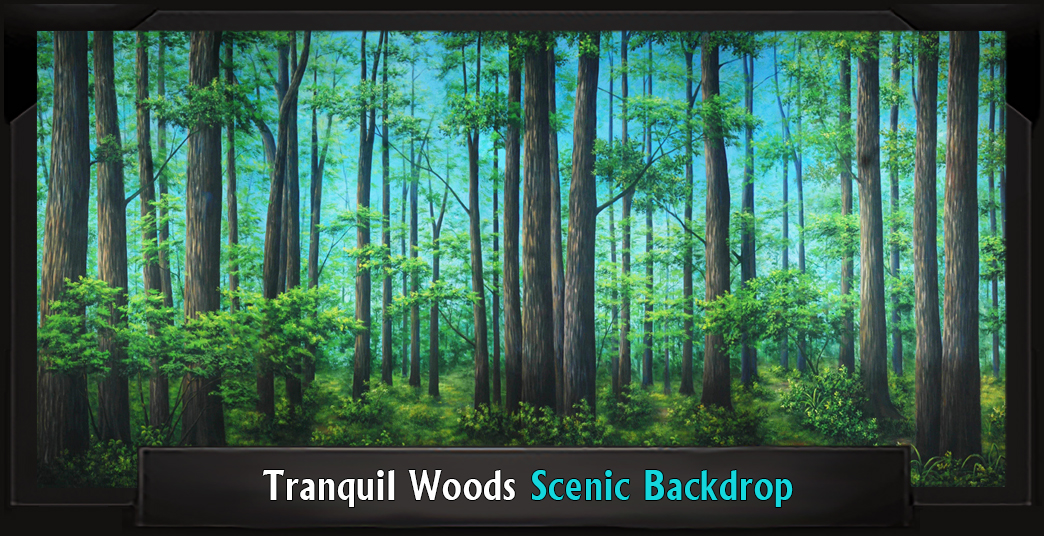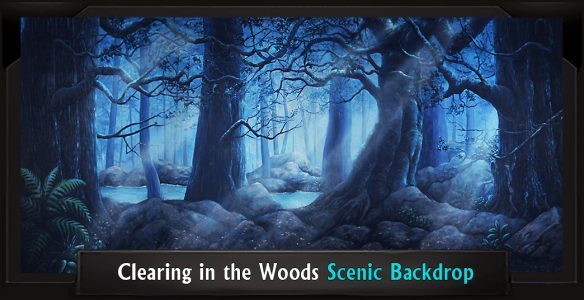 Into the woods it's time to go! From the spooky to the serene, TheatreWorld has all the forest backdrops this year's top shows require.
Our best all-purpose forest is, without a doubt, Tranquil Woods. It's a great daytime choice for Into the Woods, She Kills Monsters, and so much more. Clearing in the Woods – B, likewise, works for a wide variety of shows. For nighttime forest options, as required by Beauty and the Beast and more, consider Clearing in the Woods, Into the Woods, or Foggy Forest Daybreak. If producing the ever-popular A Midsummer Night's Dream, there's no more magical choice than Tiana's Garden. For productions of Almost, Maine, the gorgeous Northern Lights stretching across the sky of Ice Skating Pond make this drop a forever favorite. Finally, forThe Lion King, popular drops include African Sunrise, Tranquil Grasslands, and Chimera Jungle.
Seaside Towns and Under the Sea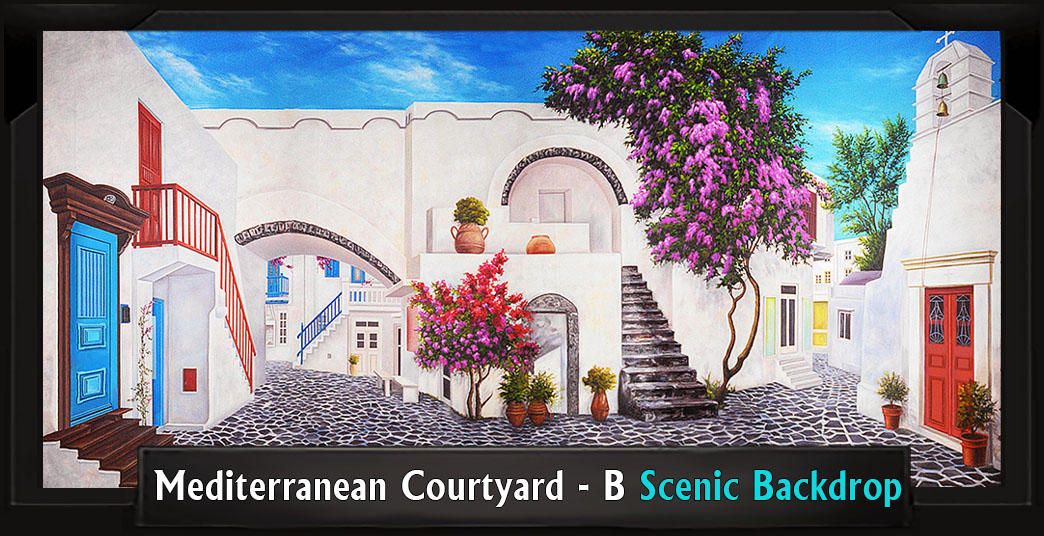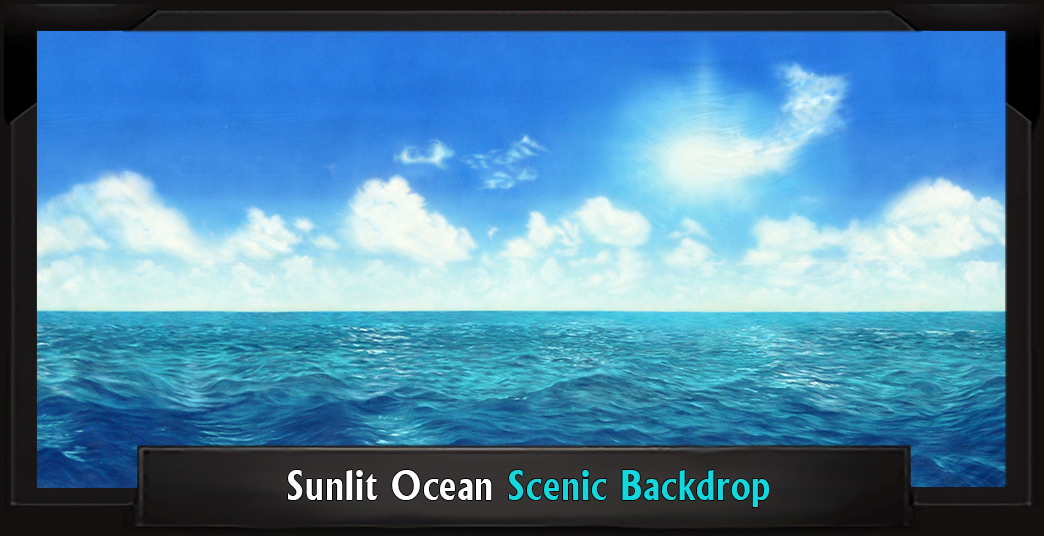 TheatreWorld has great options for under the sea backdrops–and for back on land as well! For shows like SpongeBob and The Little Mermaid, dive into underwater backdrops like Under the Sea- Azure Blue, Coral Kingdom – B, and Bubble Lights. Back ashore, if you're producing Mamma Mia, look no further than our vibrant Mediterranean Courtyard – B backdrop. However, if you're building your own set pieces for Mamma Mia, you may want something simpler. Opt for Sunlit Ocean and add great depth to your stage.
City Streets and Vintage Vibes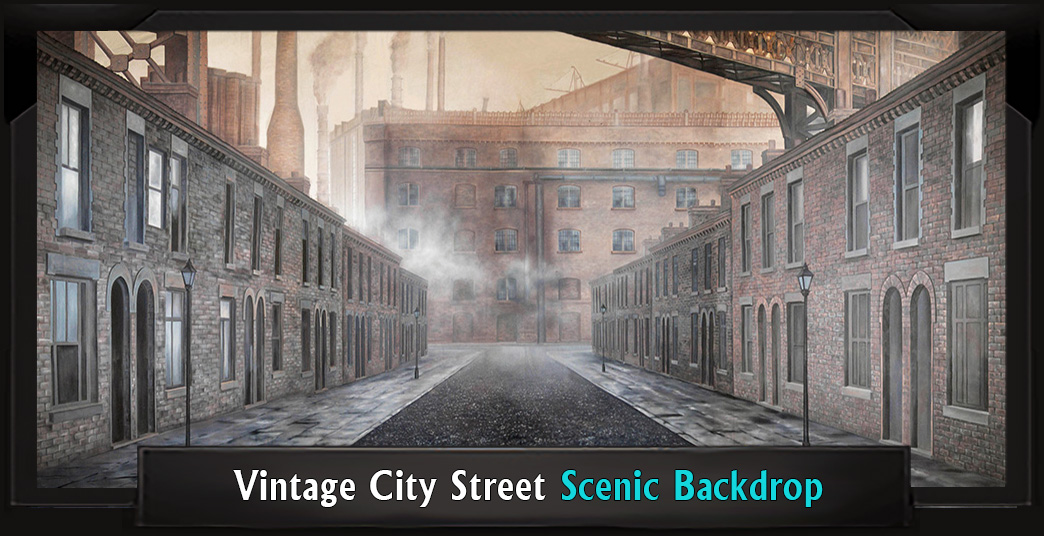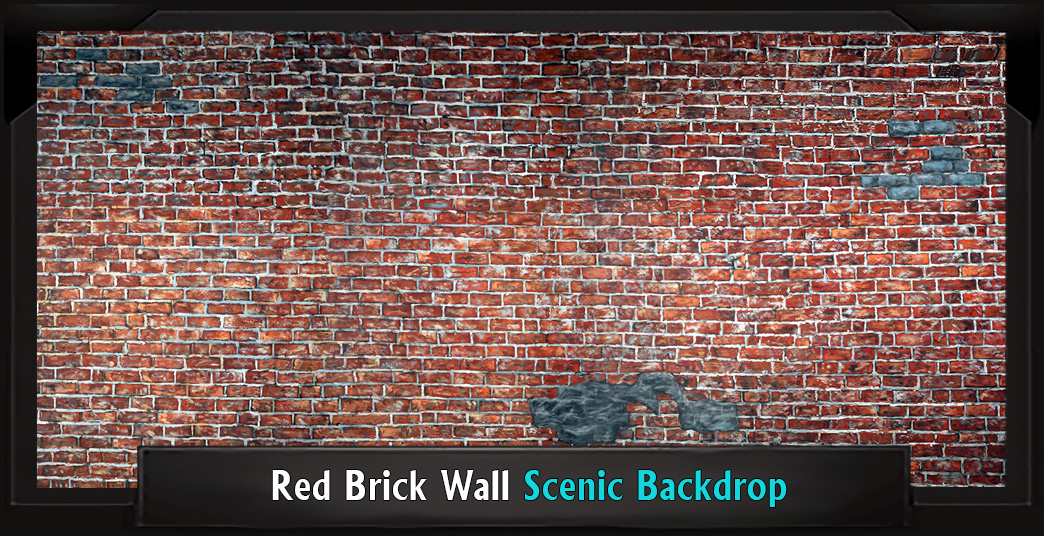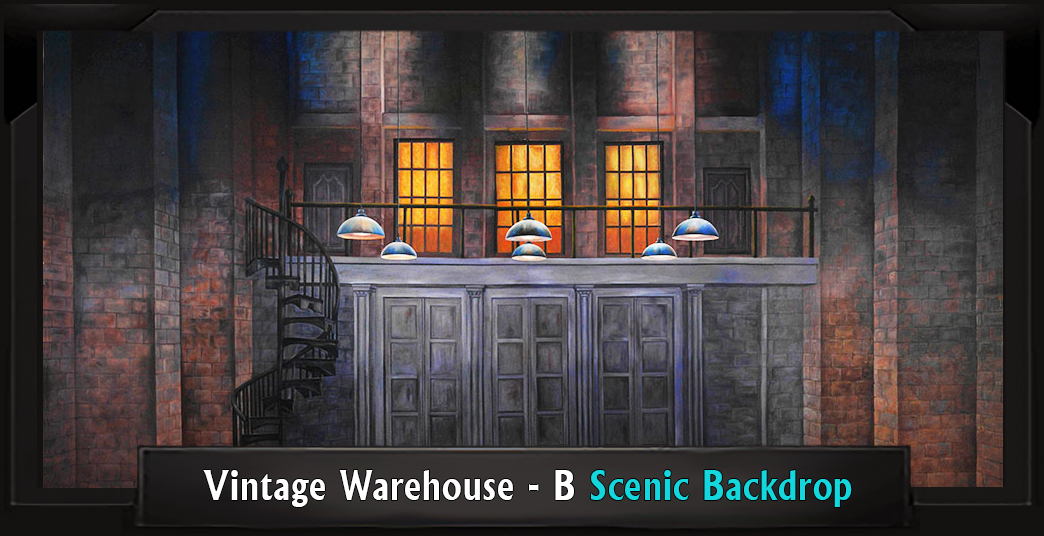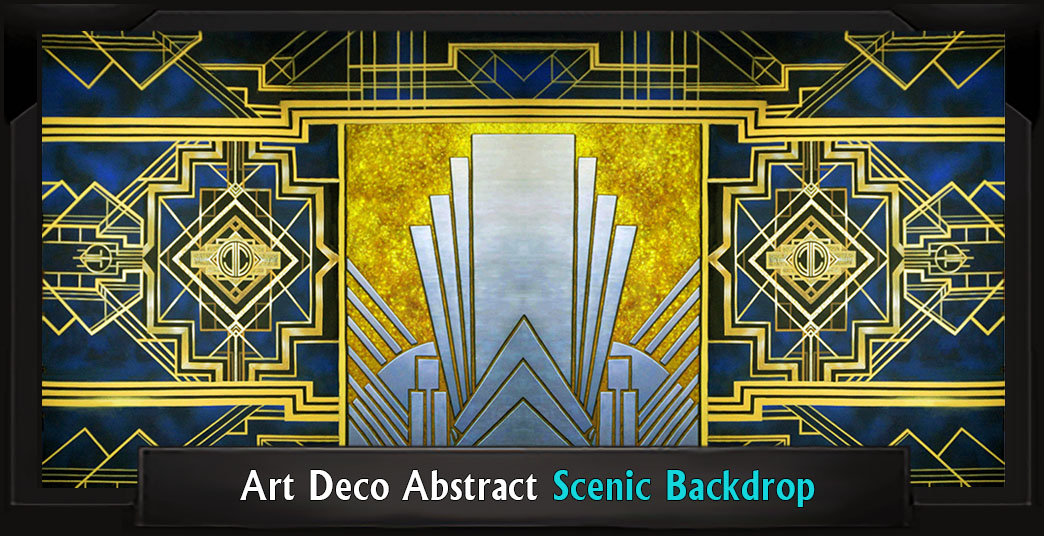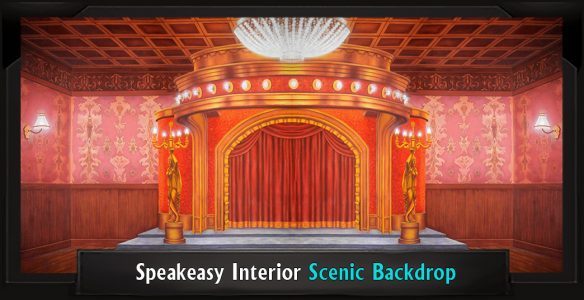 A backdrop is the easiest way to add both the feeling of being immersed in a city and the feeling of being immersed in the past to your stage. A top musical from the short musical category that requires both of these transformative elements is Newsies. For this show, customers love our Newsprint and Vintage City Street backdrops. For Radium Girls, one of the top full-length plays this year, consider Red Brick Wall for a simple backdrop that works as well for the factory floor as it does for inside the characters' offices or homes. Or, consider Vintage Warehouse – B for the factory floor or The Clock – B for an abstract single drop for the whole production.
Moving along in time, if you're producing Chicago, Art Deco Abstract, Speakeasy Interior, and Prison Interior – B bring all the razzle dazzle you need! Finally, for perennial favorite Little Shop of Horrors, consider Flower Shop Interior or Dentist Office for backdrops that need little embellishment to set the scene.
Order in the Court!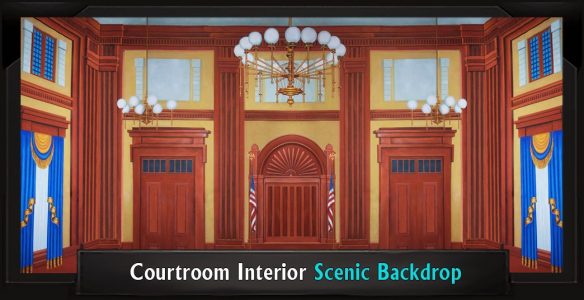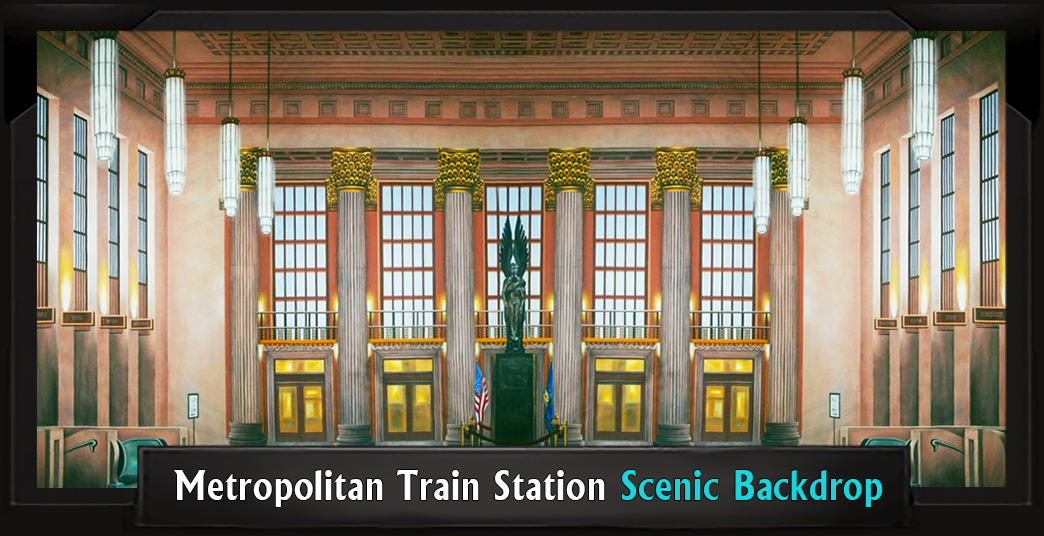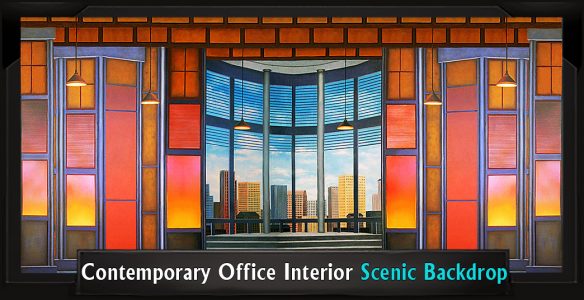 From Legally Blonde to 12 Angry Jurors, you may need a courtroom backdrop for this year's top shows. With a few choice set pieces, TheatreWorld's Courtroom Interior backdrop can transform from the courtroom itself to the jury room–and more! Alternately, consider Metropolitan Train Station, which could easily double as a busy courthouse entrance, or Contemporary Office Interior, which can be used as any interior room.
Worlds of Imagination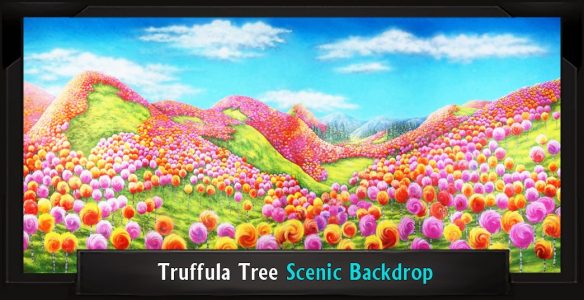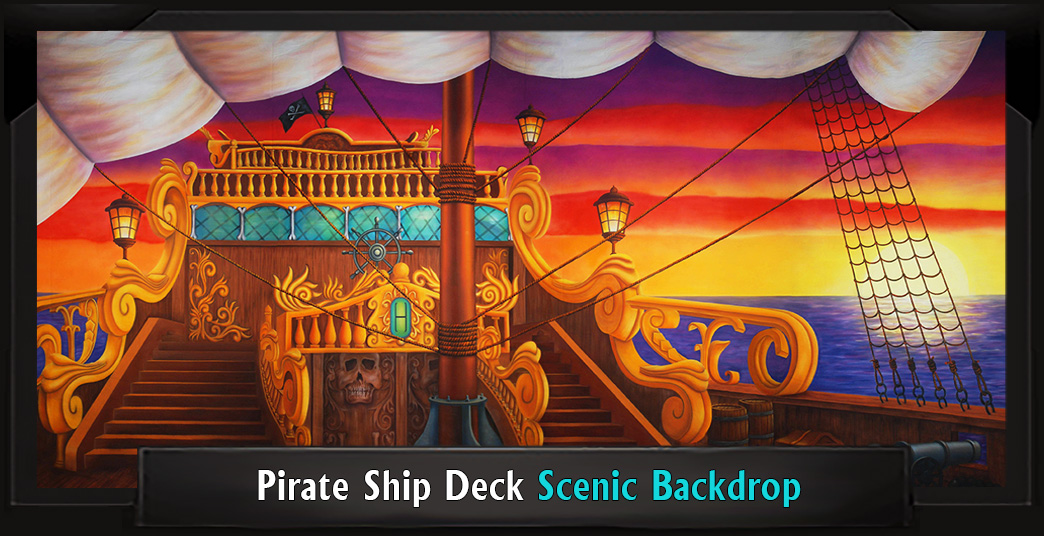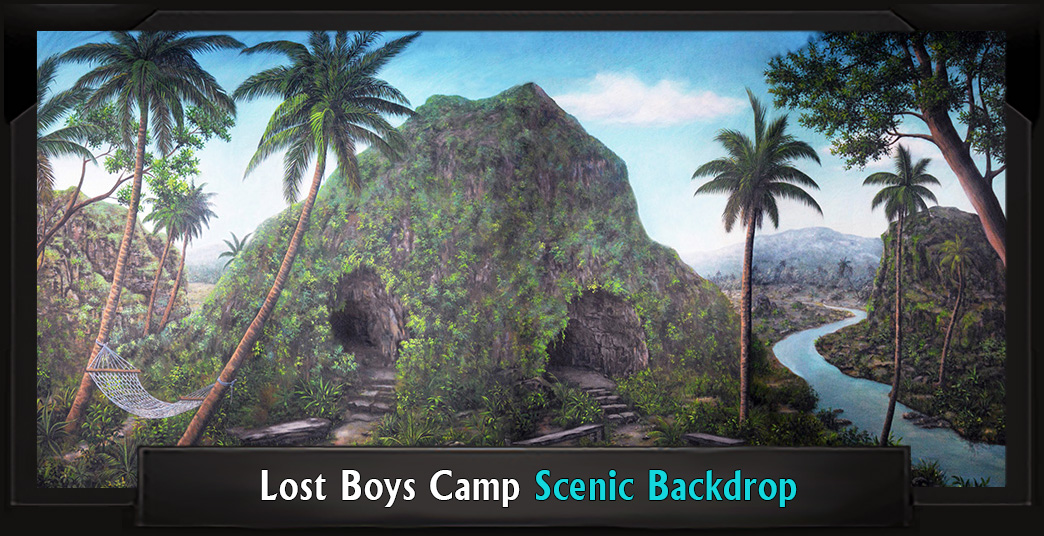 Perhaps the most exciting settings on these lists, however, are those that take place beyond the world we know. The fantastic world of Seussical is as bright and colorful as it gets! Top options from our collection include Whoville and Truffula Tree Forest. Equally colorful Willy Wonka is another forever favorite. Dive into Wonka's spectacular chocolate factory with backdrops like Chocolate Riverwalk. Peter and the Starcatcher is full of whimsy and make believe. Bring the reimagined story of Peter Pan to life with drops like Pirate Ship Deck and and Lost Boys Camp. Finally, fall down the rabbit hole and into TheatreWorld's top-notch collection of Alice in Wonderland backdrops. Choose from classic options like Child's Dreamland or colorful choices, like Wonderland Gate – B. Conversely, go in a slightly sinister direction with our Tim Burton-style Mushroom Forest.
Order Backdrops for your 2023-2024 Season Today!
You can view all of these backdrops–and more!–on TheatreWorld's website. If we don't have a page for the plays and musicals you're producing or if you don't see a backdrop you need, just give us a call. We're here to help! We look forward to hearing from you as you get ready to stage your summer theater productions and plan ahead for your 2023 – 2024 season!