New Backdrop Feature: Chromatic Smoke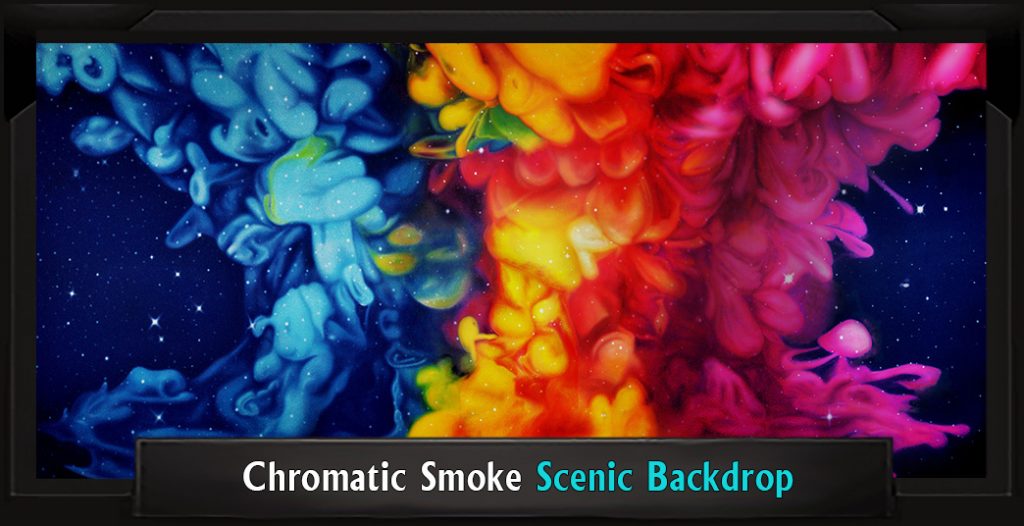 Introducing Chromatic Smoke! You told us that you wanted another bright and colorful recital backdrop option and we heard you loud and clear. We love this brand-new vivid, dynamic backdrop–and, so far, you do too! It was inspired by our extremely popular Chromatic Rainstorm backdrop, which has been a hit with dancers since its debut. It's every bit as colorful and exciting as its inspiration. If you've rented Chromatic Rainstorm in the past, you'll love this electric new addition to our collection.
Bright, Bold, and Mysterious
Chromatic Smoke is an abstract backdrop that is dominated by plumes of billowing multicolor smoke. The rich and vibrant colors of the drop range from royal and aqua blue to marigold, fuchsia, and fiery red-orange. Painted stars wink out from the deep blue background and from within the smoke itself, adding to the drop's mystical feel.
Using Chromatic Smoke in Your Productions
Chromatic Smoke is one of our top recommendations for dance recitals this year. It looks at home behind any style of dance, enhancing everything from ethereal lyrical choreography to fast-paced hip hop routines to lively Bollywood dance numbers. Use this drop for talent shows and pageants too. You won't need anything else to set a stage that's as thrilling as your performers' talents!
It's also a great backdrop for musicals, particularly if you're just looking for an exciting single drop to use for the whole show. Consider this backdrop for shows that call for colorful moments, like Joseph and the Amazing Technicolor Dreamcoat, Aladdin, School of Rock, and The Wedding Singer.
Additionally, use this drop for your parties and special events. It's got a youthful and creative energy and will be the focal point in any room. This drop is a fantastic choice for arts galas, concerts, fundraisers, homecoming, prom, grad nights, and more!
Reserve Today!
Chromatic Smoke has arrived just in time for recital season and is awaiting your reservation! Call our Customer Service team or start a Wishlist on our site today! We can't wait for you to see this one in person.