New Backdrop Feature: Friendly Street Corner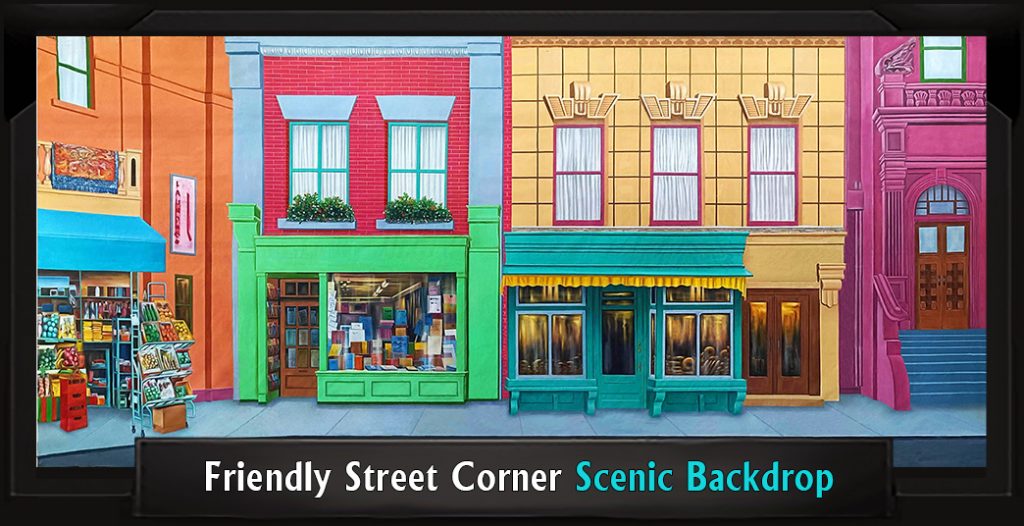 TheatreWorld is delighted to share yet another new design, Friendly Street Corner, the sweetest little street in town! Take a stroll past the corner grocery, where fresh fruits and vegetables are ripe for the picking. Peruse a book while inhaling the scent of baking bread next door. Whether you live on Avenue Q or are trying to get to Sesame Street, this brightly colored block is ready to charm your audiences!
Which Shows and Themes Can I Use Friendly Street Corner With?
Friendly Street Corner is a bright and idealized city street. It most closely resembles an American city like New York, but it could also convincingly portray any number of European cities. The architecture featured in the drop is realistic, but the colorization creates a fantastic feel. It's perfect for upbeat shows that require a set design that's colorful and stylized, yet still grounded in an urban setting. Or, use the drop ironically for grittier shows by contrasting a perfect, cheerful setting with a sarcastic tone or dark subject matter.
The drop is a natural fit for "Avenue Q", where the neighborhood's pleasant, perfect nature becomes comedic when paired with the show's edgy content. Friendly Street Corner will also work beautifully for shows like "Hairspray" that tend towards a bright and stylized set design. Similarly, it's a great match for fun and upbeat city-set shows like "Thoroughly Modern Millie", "How to Succeed…", or "Elf". The sweet pink paint and welcoming feel also make this drop a great fit for the fun and romance of "She Loves Me".
Additionally, Friendly Street Corner would be fantastic for any number of special events, from children's story hour to a celebration of the small business community. It's perfect for a "Sesame Street" themed party. You can also use this backdrop for dance recitals with a neighborhood, city, shopping, or "When I Grow Up" theme.
***
Add a little sunshine to your set design with Friendly Street Corner! Our customer service team is happy to answer any questions you have and to help you place your order. Call, e-mail, or fill out your online Wishlist today!