New Backdrop Feature: Introducing Column Legs!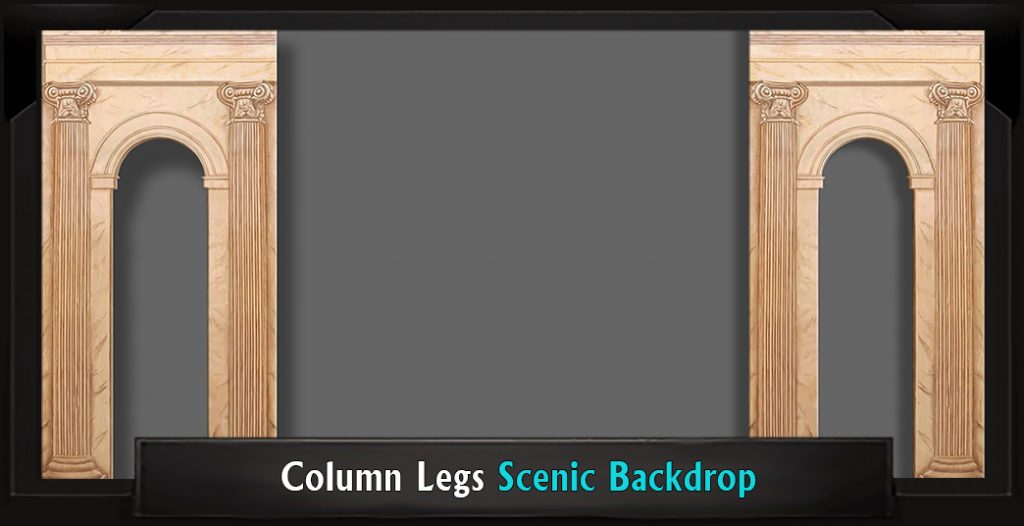 TheatreWorld is proud to introduce our new Column Legs set! From opera to ballet and everything in between, if you're seeking to add timeless elegance to your stage, you can't go wrong with this brand-new addition to our headers and legs collection. Each leg features a stately arch flanked by two ornate columns painted to look like beautiful veined marble. Perhaps the most exciting thing about this set, though, is that it's our first leg set to contain an opening in the legs themselves. Each arch has an actual 4′ wide opening, providing extra entrance and exit opportunities for your performers.
How to Incorporate TheatreWorld's Column Legs into Your Set Design
Our Column Legs can transform your stage in countless ways, either with or without a backdrop behind it. Use with a plain curtain or a scrim to add an ancient feel to your stage, while still leaving plenty of space for blocking and choreography. With a library or municipal backdrop, Column Legs will add gravitas and a sense of history. Or, use with one of our many foyer or ballroom backdrops for an extra touch of luxury. Whether used to create mid-stage entrances or to set the tone downstage, this leg set is sure to elevate your set design.
Backdrop Pairings
Not sure which backdrop to use with Column Legs? Here are a few ideas!
Ballrooms and Mansions



Marble is the ultimate luxury material–use Column Legs to show that your mansion is rich in it! The legs are a perfect match for Grand Ballroom, which already features marble from floor to ceiling.
When added to Victorian Palace Ballroom, these legs create the perfect downstage nook for gossip and scandal.
For a more modern mansion, pair Column Legs with the pink walls of Sorority House Interior, which works as well for an opulent estate as is does for Legally Blonde.
Historic and Travel-Inspired


Column Legs can also help you take your stage back in history to another place and time! They fit right into Ancient Greece in our Megara's Garden backdrop, a lovely landscaped courtyard straight out of the old world.
Taking a trip to Italy? Use Column Legs in front of one of our Italian backdrops to add additional depth to your stage. You'll feel just like you're walking amongst ancient ruins. (They look particularly great with our Mediterranean Courtyard backdrop.)
Libraries and Historic/Municipal Buildings




TheatreWorld's Grand Library backdrop gets upscaled when paired with Column Legs. This addition to the foreground amplifies the distant perspective created by second level of bookshelves upstage. You'll truly feel as though you are standing at the entrance of a huge library!
Metropolitan Train Station already bears grand columns and floor to ceiling marble. This leg set will compliment these existing features and also provide more places for your actors to weave in and out of, creating the illusion of a truly bustling station.
Our Harvard Classroom backdrop and Courtroom Interior backdrop both feature lots of glossy wood and high ceilings, perfect to create an imposing feel for students and defendants alike. Add Column Legs to magnify their stately feel tenfold!
As versatile as they are beautiful, Column Legs will unquestionably take your set design to the next level. Our customer service team will be happy to provide further suggestions for backdrops for your production and to help you place your order. Call, e-mail, or fill out your online Wishlist today!