Going Beyond the Script
Written by: Melanie Simmons
The 1957 Broadway hit The Music Man needs practically no introduction. The five-time Tony winner is as American as apple pie. An audience favorite, it has spawned countless national and regional tours, not to mention innumerable local, community, and school productions. The show also won a Grammy and enjoyed a TV adaptation. (With the current trend of live TV musicals, one can only hope it will be enjoyed on the small screen again soon!)
Meredith Wilson wrote the entire show (book, music, and lyrics) based on his own childhood midwest town. He also drew inspiration from a story by Wilson and Franklin Lacey. It tells the story of a con man named Harold Hill. Harold travels from town to town posing as a "professor" of music. He uses his charisma and uncanny salesmanship to hoodwink small town folk into purchasing musical instruments for their children, then collects the cash and splits town before teaching anyone how to play.
The heart of The Music Man unfolds as Harold finds himself faced with his biggest challenge ever: winning over the hearts and minds of the exceptionally stoic residents of River City, Iowa. (Especially the stunning librarian, Marian.) This time, however, Harold gets too involved and ends up falling in love himself – and discovers he's more than just a shady con. The Music Man is uplifting tale inevitably woos audiences with charm and warmth. The toe-tapping score strikes a chord in every heart.
River City is one of the most iconic settings in American theatre. TheatreWorld has wide array of exceptional drops just waiting to help you bring this town to life! Let's take a trip down memory lane and find just the right drops to compliment to your set and lighting design.
Music Man Opening – Welcome to River City!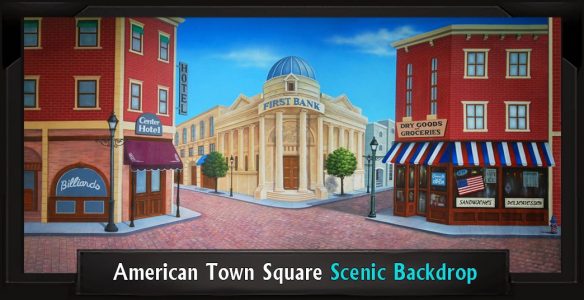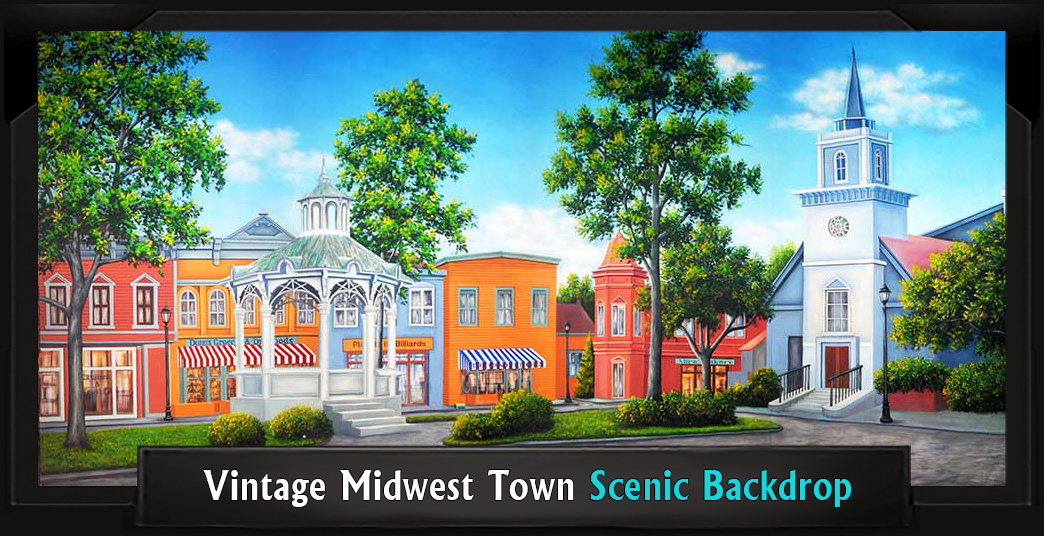 The opening scene is set on the "Rock Island" train leaving Illinois. On board, several travelling salesmen brag about their pitches and gossip about the rumored con-man making his way through their territories. Set your train interior by placing some simple benches in front of a curtain, utilizing isolated lighting spots to draw the audience's focus. Your audience will have a huge "Wow!" moment at the end of the song when Harold Hill reveals his true identity and leaps off the train. Picture the curtain flying open, landing him in the middle of River City, Iowa with a flourish!
This Vintage Midwest Town backdrop packs all the punch you would need for such a dramatic reveal. This drop features a quaint town center, surrounded by lush trees and a pristine white gazebo. Colorful storefronts line the street, while a homey chapel peers out over the scene. This sets just the right tone for the quietly stubborn ("Iowa Stubborn") and deeply conservative people of River City, who have no idea what's about to hit them!
Another great option for River City would be this American Town Square backdrop. Cobblestone roads wind through brick storefronts and homey shops. Red, white, and blue accents will inspire patriotic nostalgia in your audience. The closer perspective of this drop, versus the American Town Square, makes the downtown a bit more imposing-looking, which mirrors the personalities of the townsfolk. The Center Hotel would be a perfect, temporary home for Harold Hill, as he plans his rather unethical sales pitch. The Billiards hall below is the perfect excuse to create the crisis ("Ya Got Trouble") that will make his sales soar!
Paroo Household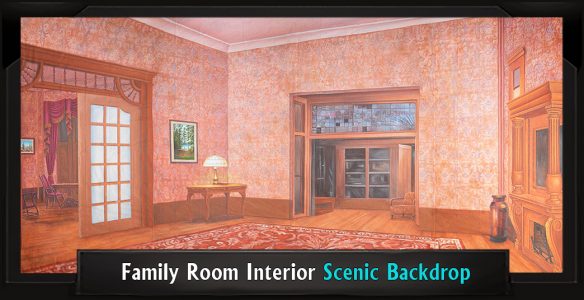 Of course, behind their cold and standoffish exteriors, the citizens of River City are really all heart. We first catch a glimpse of that in the Paroo household. Here we watch Marian, the dauntingly intelligent and beautiful town librarian, teach lisping Amaryllis how to play the piano, while her mother provides unsolicited advice about Marion's non-existent love life ("Piano Lesson/If You Don't Mind My Saying So"). Much of the story takes place in the Paroo household, so this setting is heavily featured.
TheatreWorld's Family Room Interior backdrop is done in warm wood tones and rich shades of pink and maroon. The wallpaper details are well suited to a Midwest Victorian home that is more functional than fancy. It strikes the perfect balance between dignified and homey – and just the right tone for such tender numbers as "My White Knight" and "Goodnight, My Someone".
The Library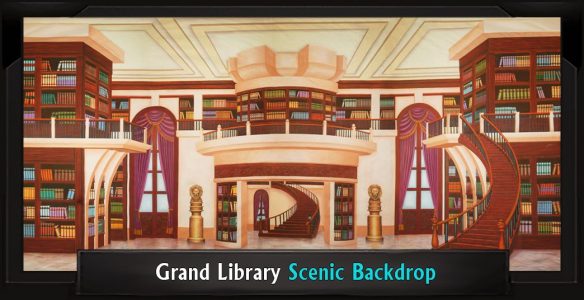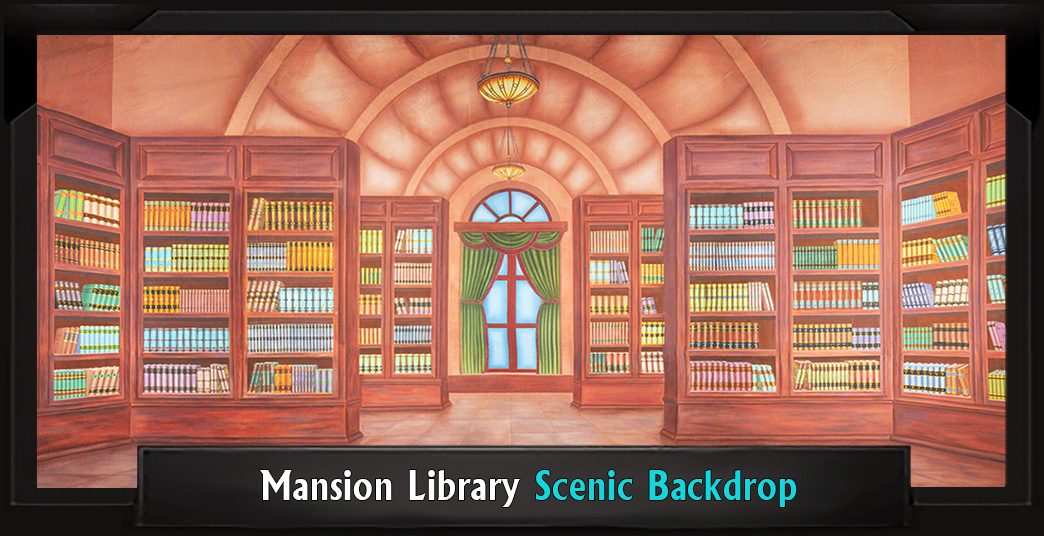 Of course, one of the most famous musical numbers in American theatre is set in none other than the Madison Public Library. "Marian the Librarian" normally enjoys her quiet job, until Harold shows up to woo her jaded heart. Even though she is not quite swayed by Harold's antics, it won't stop this number from winning over the audience! Since this scene is known for its huge dance number, leave your stage free of set pieces and let this Grand Library backdrop do all the work for you. Its grand scale and sweeping staircases hint at some of the romanticism to come, while the severe bookshelves and terraced ceilings maintain decorum. The books themselves are part of the drop, showcased in a variety of colors that add pop and personality to the scene.
For an even more cloistered and consternate feeling, try this Mansion Library backdrop. Instead of curved staircases and two stories, this drop presents staunch bookshelves with little else to distract. The book details still provide some color variation, while a set of emerald green drapes partially obscures the single window in the distance. Concentric circle details atop the back "wall" and warm chandeliers offer the only softness in the picture. Just as Marion's cold exterior hides a warm heart, this stoic library holds more than meets the eye!
Around River City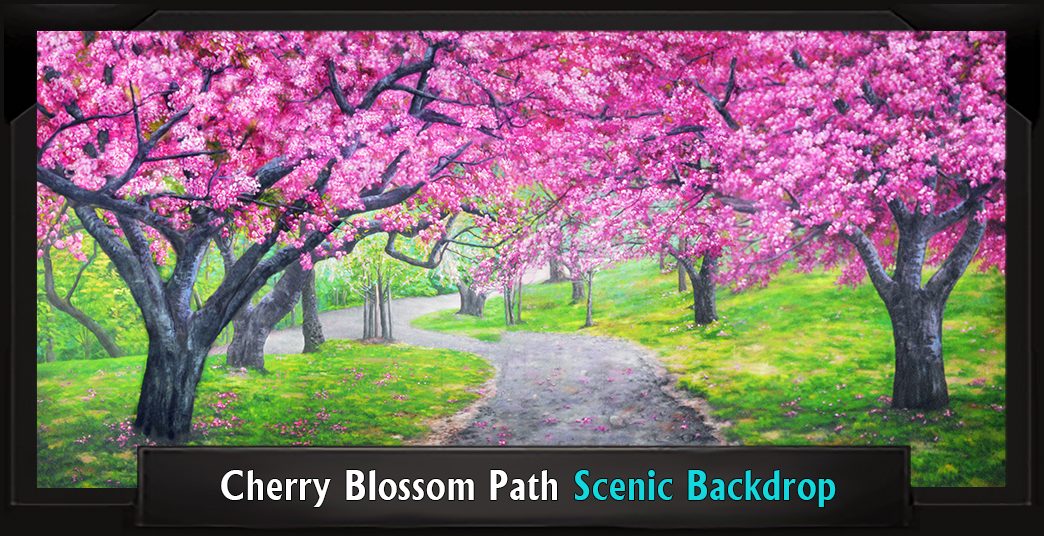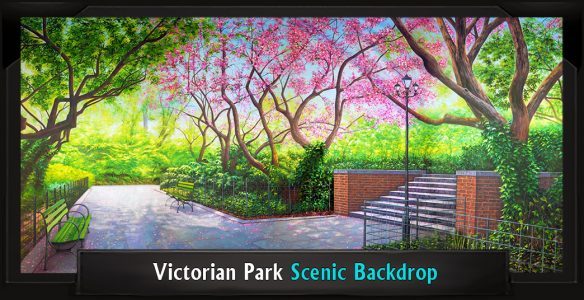 Of course, there's more to River City than just the library and town square, and more characters to enjoy than just Marian and Harold. Mayor Shinn and his wife Eulalie have troubles of their own, as they struggle to keep their flighty daughter away from the roguish Tommy, who has caught her eye. Harold also has to juggle the town council (who he deftly molds into a surprisingly adept barbershop quartet) and the endlessly gossiping ladies of the town ("Pick-A-Little, Talk-A-Little"). Harold spins his web with mastery, but doesn't begin to truly win hearts until "The Wells Fargo Wagon" shows up with the instruments! Marian's brother Winthrop is so enthralled with his new cornet that she finally warms to Harold. Winning her heart melts Harold's as well, leading him to risk exposure in order to stay near her a little longer.
This Victorian Park backdrop would be ideal for various River City rendezvous. It's easy to imagine Harold having a run-in with the town ladies amidst the lush vegetation and open walkways, or deftly maneuvering around Mayor Shinn's endless demands for his references. The pink flowering trees easily hint at the romance in the air as Harold plays the patrons like a piccolo!
Likewise, this Cherry Blossom Path backdrop brings in even more romance. Splendidly flowering cherry trees line a winding rock path. The suggestion of rolling hills dropping off into the background bring a more country feel. Such a light-hearted and gauzy drop is the perfect setting for the teenagers and adults of River City alike to be cavorting amongst the trees.
Setting the Scene for The Music Man's Biggest Showstoppers!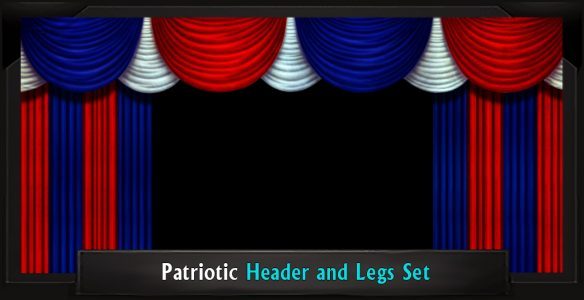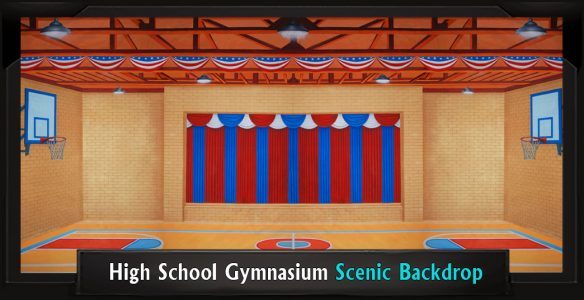 The Music Man has many musical numbers that are absolute show-stoppers. One of the most exciting numbers happens when Harold Hill whips up the townsfolk into a frenzied fever with his perfectly polished scam. During an Independence Day celebration, the manufactured "crisis" of the billiards hall becomes a topic of heated discussion. Harold steps in and paints the picture of a grand future boy's band; a reprise of "Ya Got Trouble" effortlessly flows into the high-energy "Seventy-Six Trombones". American patriotism and small-town enthusiasm collide into the rousing number that will be sure to have your audiences on their feet.
Try this High School Gymnasium backdrop. Again, as this number is dance-heavy, all you'd need is removable, easy-to-clear bleachers, and this song will be hopping! The bright gymnasium details are amorphous enough to suit any time period. Red, white,and-blue details project that all-American sentiment.
For even more pop, add this Patriotic Header and Legs set! With the American colors boldly draped across your proscenium, there would be no stopping the all-American flair of this pinnacle of Act 1. These drops all together would also work as an excellent transition into Act 2, which opens on the ice cream social rehearsals that the town's teenagers interrupt ("Shipoopi"). They are also a great choice to showcase the now-harmonious town council quartet ("It's You").
'Till There Was You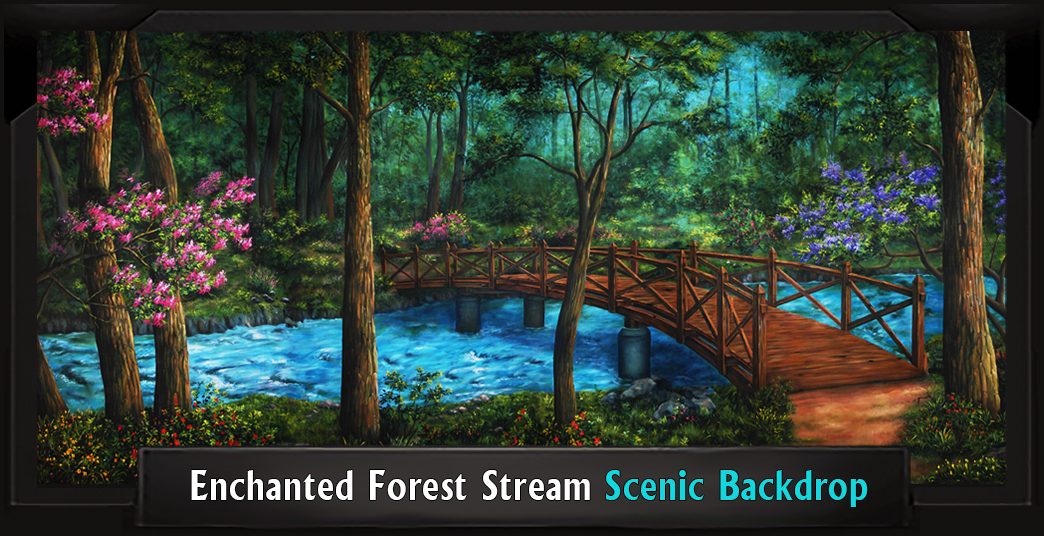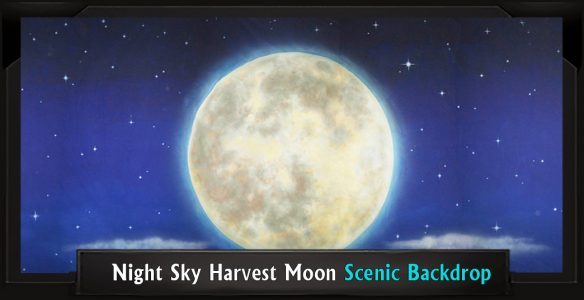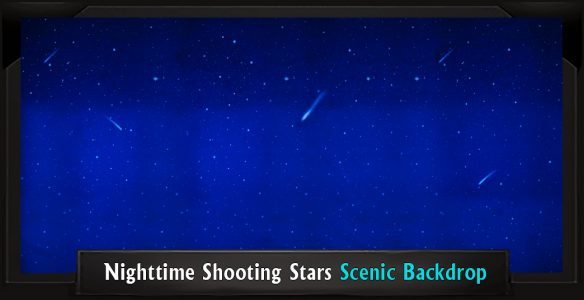 Meanwhile, Harold continues to try and juggle the myriad cons he has going all over town. He charms Mrs. Paroo, Marian's mother, with tales of his hometown ("Gary, Indiana"). However, a newly arrived traveling salesman named Charlie Cowell shows up and threatens to blow Harold's cover. Marian refuses to believe Charlie, but time is running out for Harold. As the stakes grow ever higher, Marian and Harold meet at the footbridge. There, they finally declare their love for each other ("Till There Was You").
The Enchanted Forest Stream backdrop is an excellent choice for this beautifully tender scene. The deeply-shaded forest tones suggest a moody twilight, with rose, violet, and pink flowers dotting the underbrush. (A fine complement to the cherry blossoms from an earlier drop.) A rushing stream evokes the way love sweeps Marion and Harold away. It races beneath a wooden bridge with a charmingly criss-crossed railing.
Another delightful choice would be this Night Sky Harvest Moon backdrop. Put your set team to work designing a footbridge that arcs delicately across the center stage. Harold and Marian would meet in the middle. Their silhouettes against this beaming full moon would be an enchanting visual. (One that will stay with your audiences long after the curtain drops.)
Similarly, this Nighttime Shooting Stars backdrop sets a romantic mood. It features a deep azure sky with twinkling pinpoints of light. Shooting stars fly across the heavens. It's just the perfect touch for those wishing for a happy ending!
Going Out on a High Note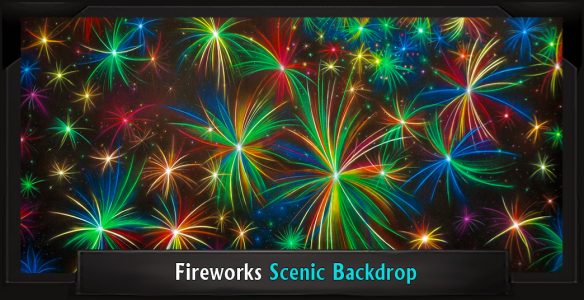 Harold and Marian's mutual amor is short-lived, however. Harold's lies finally catch up to him and the entire town hauls him out to answer for his cons. Before the citizens of River City can run Harold out of town, the boys band actually shows up in uniform, instruments in hand, and begins to play using the defunct "Think Method" Harold has been teaching them. Their playing is terrible, of course, but the heartwarming scene moves the town. For the first time, Harold learns what it's like to have that Iowa Stubbornness on his side! True love and loyalty win the day, and the fledgling band transforms in true Broadway Magic style to end the show on a high note.
Go for something really spectacular for this final, rousing reprise of "Seventy-Six Trombones" with this Fireworks backdrop. Rainbow colored lights burst across every inch. Your audience's hearts will soar as high as the brass notes!
***
One of the best parts of staging a classic show is breathing fresh life into a well-known book and score. Keep your production fresh with the right casting, eye-catching costumes, and vibrant backdrops. You'll introduce the magic of The Music Man to new audiences and bring a flood of beloved memories back to old fans.
The Music Man never fails to pack houses and please audiences of all shapes and sizes! Contact TheatreWorld today and put together your own package for this timeless show!