Going Beyond the Script
Written by: Melanie Simmons
Few shows pack as raw an emotional punch as The Color Purple. The musical is based on the novel by Alice Walker, which previously spawned the Oscar-winning movie of the same name. The book was adapted for the stage by Marsha Norman, with music and lyrics by Stephen Bray, Brenda Russell, and Allee Willis. The show captures the story of Celie, a much-beleaguered African-American woman living in the beginning of the 19th century, who finds love and redemption along the road of her difficult life.
Although it hasn't been in the Broadway lineup for long, The Color Purple has made its mark. The original 2005 production, directed by Gary Griffin, won eleven Tony Awards and the cleverly re-imagined 2015 revival earned another two Tonys. While the book and score remained the same, the 2015 version stripped away the scene changes and let the story play out against a single, static set. Because it can work with both concepts, The Color Purple is excellent for a wide range of theatre groups.
Single Drop Concepts for The Color Purple
First, let's look at how TheatreWorld can help you capture the spirit of the remake with a single set look.
Farm and Rural Drops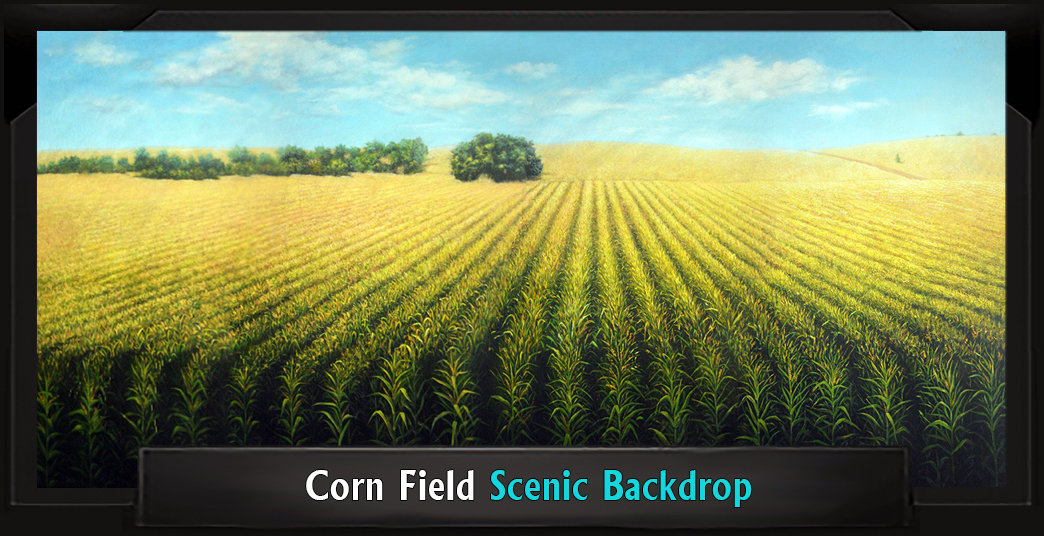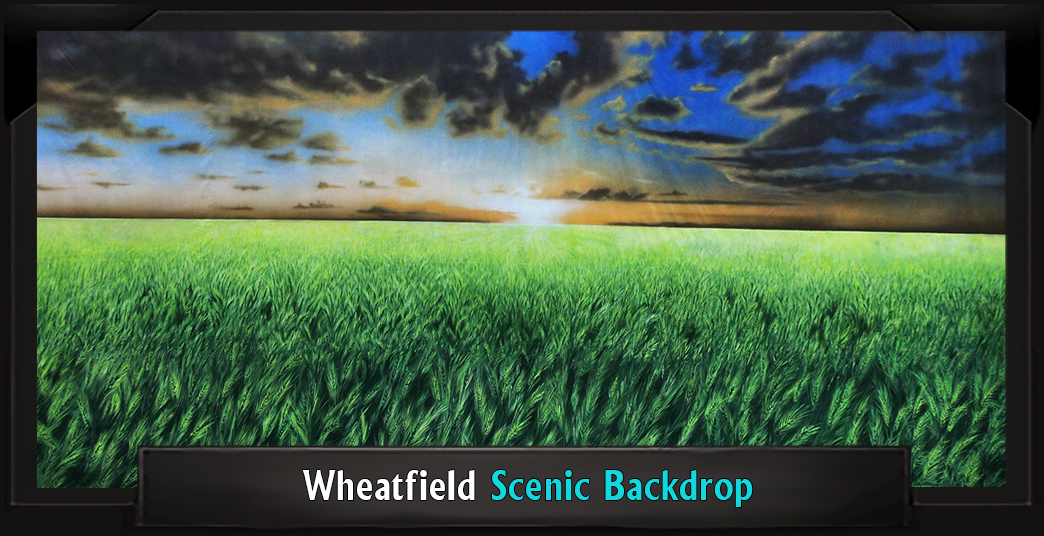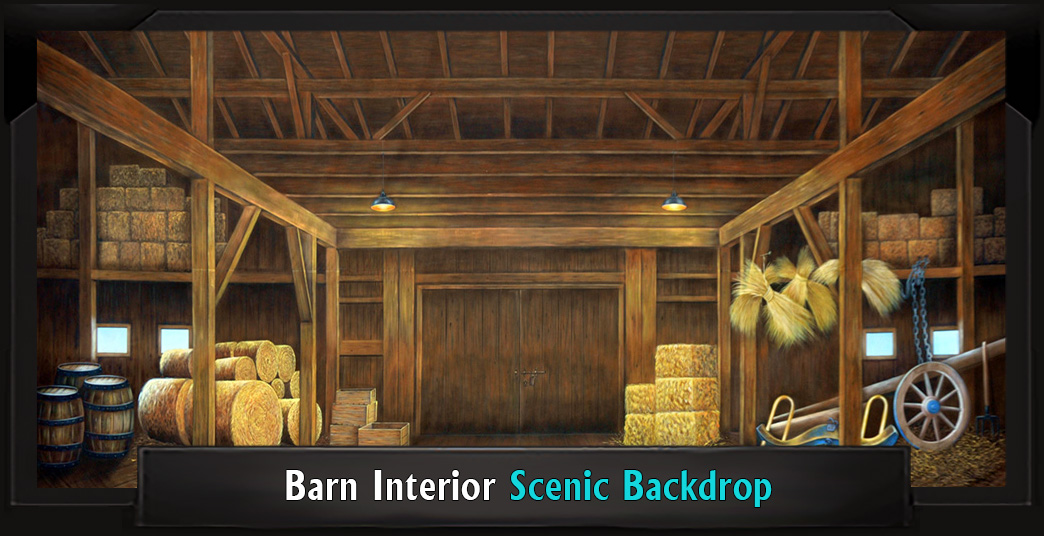 The Color Purple is rich in character and musicality, so a strong, single-set vision is all that's really needed to bring this incredible show to life. For a minimalist take, go extreme with this Black and White Cornfield backdrop. The forced perspective of the corn rows disappearing into the distance captures the expansive feel of the Deep South. The monochromatic drop will underscore the bleakness of Celie's life. Add pops of color with costumes, lighting, and select set pieces.
Even on her darkest days, Celie shines with a light that no one can dim. The lack of coloring on this Black and White Wheatfield backdrop keeps the theme of oppression, but an indomitable sun shines through the clouds. Black and White Wheatfield captures the heart and soul of the show's themes with a single drop.
Both these drops come in full color versions as well. Pair TheatreWorld's Corn Field backdrop with a brown and gray stage and washed-out costumes. The bright golden hues and light blue sky would match the vibrancy thrumming through every song in the score. Or, choose the rich emeralds of TheatreWorld's Wheatfield backdrop. Even dark clouds can't stop the strong sun from shining through.
Perhaps you are seeking a more intimate feel for your show. Set pieces could easily transform this Barn Interior backdrop into the show's various interior spaces. Capture the humble trappings of a poor southern farm house by covering up the bales of hay with some wallpapered set pieces and furniture. Swap out the couch and kitchen table for cocktail tables and remove the set pieces to reveal a swamp-style juke joint for Miss Avery to saunter her way through.
Sky Drops


Similarly, you can really rely on set pieces to tell the bulk of the story. Something simple, like this Sunkissed Blue Sky backdrop, would be perfect. It will make your scenes pop without distracting from the settings you're creating.
If you want something a little more subdued, this Blue Sky Sunburst backdrop symbolizes silver linings galore without showing the sun itself. Use lighting to either dim or enhance the gleam of this sky and to mirror Celie's journey through her dark times and, eventually, into the light.
Multiple Drop Productions of The Color Purple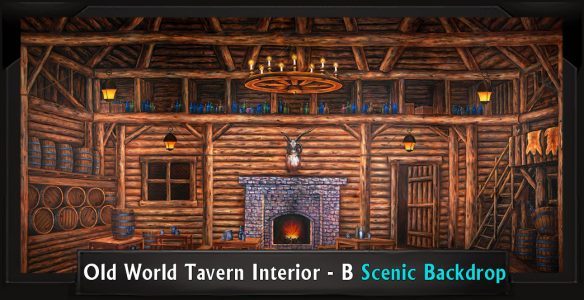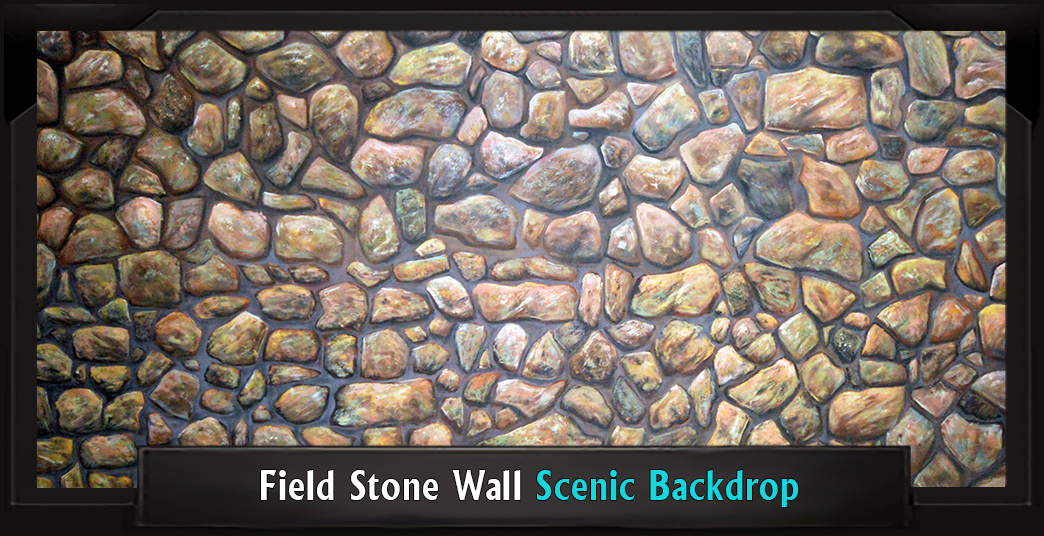 Perhaps you've got a performance space that lends well to scene changes and set transitions. In that case, you might want to lean more towards the traditional staging of the original production. Choose certain scenes to make a big change in scenery, style, and mood. You will really ramp up the emotional impact of the story by creating a contrast with Celie's rather staid life. Below are a few ideas for choosing these impactful moments in your production.
Africa
For a huge departure from the Deep South setting of Celie's story, try this African Sunrise backdrop. Nettie's haven of freedom in the rich land of her heritage is a heartbreaking divergence from Celie's gray world. The vibrant colors of sunset contrast against lavender hills and fairly leap off the drop. Draw the audience into Celie's longing for her homeland by creating a little bit of Africa in the heart of the musical.
Harpo's Juke Joint
Squeak and Shug Avery are vivid characters. Be sure to give them a suitably dynamic backdrop for their benchmark performances! Create the sultry world of the Harpo's Juke Joint with TheatreWorld's Old World Tavern Interior – B. The candlelight and earthen materials harken to a pre-modern simplicity and evoke the poverty of turn of the century Deep South.
Squeak's Cell
Squeak's tragic story of abuse and the crushing of her spirit is a crucial turning point in the show. It shows Celie (all too glaringly) how close she is to losing her own fight. Celie visits Squeak in jail and keeps her from losing all hope. This Field Stone Wall backdrop, with its detailed colors and faintly highlighted center, would be a great drop for this scene, where Celie and Squeak to find that one tiny ray of hope that keeps both women going.
The Color Purple Finale – Shug's Home and Celie's Pants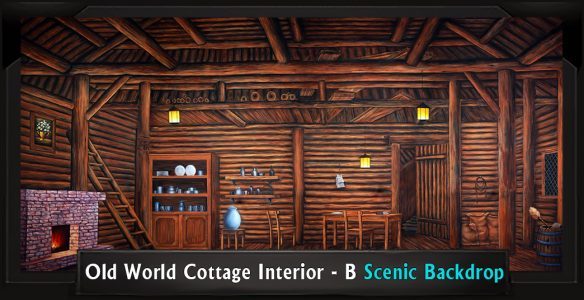 Celie emancipates herself from Mister long enough to enjoy the comforts of Shug's house in Memphis. What better way to contrast Celie's former life than by setting Shug Avery's home against this sumptuous Southern Mansion drop? It's not long before Celie has to decide if she's going to stay with Shug, or claim her family home. (It gets bequeathed to her by her father's death.) It's a brief scene, but an important one, in which Celie decides who she really is going to be. Raise the stakes on that choice by letting Celie rest in these luxurious grounds before returning to her roots.
Celie decides to claim her heritage and find a life of her own, without her father or Mister, or even Shug, to define the mark she makes on the world. This act of courage leads finally to freedom and success in her world. Celie's Pants spell a new life for a simple girl who has only ever wanted a little bit of peace and happiness. This Old World Cottage Interior – B backdrop would compliment the same aesthetic as the Juke Joint. Touches like the fireplace and warm amber lantern add a homey feel.
***
However you decide to stage The Color Purple, you're sure to pack the house. This heartwarming story that never fails to touch hearts. After all, the real landscape of the show is within the characters: their strengths and flaws, their outward struggles, and their internal journeys. Of course, that doesn't mean staging isn't important; it's vital to helping the characters express themselves through the story.
Whether your production uses scene changes, like the original 2005 production, or takes its cues from the transitionless 2015 revival, TheatreWorld offers backdrop options sure to bring your staging of this emotional story to the next level. Contact TheatreWorld today to bring The Color Purple to your own stage!