Injecting Your Vision Into THE WIZARD OF OZ With Set Design
THE WIZARD OF OZ is one of the most popular productions in all of musical theatre.  It is a timeless story that audiences of all ages know and love. Directors have access to four – yes, four – different scripts. This allows them to share this production in a way that meets the capabilities of their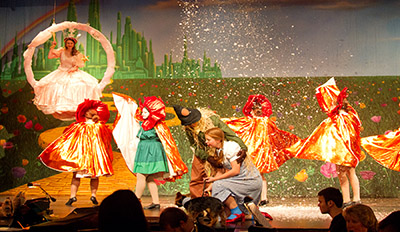 cast and best shares their vision of Dorothy and her trip to and from the magical Land of Oz.  Add professional costumes, limitless lighting and set options, and WIZARD OF OZ backdrops and you have a production you truly can taper to meet your exact vision.
Choosing the Best Script 
Older Casts
The original, 1939 cinematic adaptation is the basis for the most popular versions of THE WIZARD OF OZ . Tams Witmark licenses this adaptation. If you have an older cast, you will likely want to select either the MUNY or R.S.C. version of the show. Both include all of the musical numbers made famous by the movie. However, they differ slightly in their presentation.
The MUNY version is truly geared towards being performed onstage. (Though it still contains the key elements and plotlines of the movie.) The presentation calls for fewer special effects. Additionally, the script is written with a traditional stage show in mind. If you are directing a high school-aged cast, this may be the script for you.
The R.S.C. version embraces the movie and brings it to life on-stage. It requires more technical effects. Furthermore, it is more demanding vocally. If you have a larger cast, more advanced vocalists, and a fly system available, then this is your WIZARD OF OZ.
Younger Casts
If you have a young cast, then you still have two scripts to choose from.
Tams Witmark's WIZARD OF OZ – Young Performers' Edition is ideal for middle and grade schools. This edition reduces the script to fit a one hour run time. However, it still contains critical scenes, popular musical numbers, and the feel of the film version.
Musical Theatre International licenses the Prince Street Players version of THE WIZARD OF OZ. This script is part of MTI's Theatre for Young Actors collection. Therefore, it is ideal for  middle and grade school casts and crews. However, do note that this version is based upon the original book, versus the movie. As such, some of the musical numbers and exact details associated with the film are absent.
Key Scenes to Make Your Mark
Auntie Em's Farm
One of the first decisions that you will have to make is how to set the initial scenes that take place in Kansas. Directors who choose the Tams Witmark version and wish to mirror that exact presentation will want to present their opening scenes in black and white. Use grayscale set pieces and costumes to establish the colorless world of Kansas. Combined with black and white stage backdrops, this effect is surprisingly easy to pull off. TheatreWorld's selection of WIZARD OF OZ backdrops contains a variety of black and white backdrops. Our imagery to support scenes based in Kansas ranges from a full on farm to general agricultural fields.
If you want a different feel, opt for color in your opening scenes. Many Directors have combined vibrant set pieces with colorful backdrops. (Luckily, all of our black and white backdrops for WIZARD OF OZ are also available in color!) Use this combination of tones to give your show a modern update.
The Haunted Forest
Dorothy and company's trip through the Haunted Forest also allows Directors and Set Designers to put their own touch on the show. While our Creative Team has designed a drop specifically to support a traditional view of the Haunted Forest, many directors opt to search our selection of forest backdrops in order to find the imagery that speaks to how they envision the Haunted Forest. While the "darker" designs almost always win out some Directors have opted for realistic looking forestry, and added "haunted" elements via set pieces and stage lighting. When it comes down to it the visuals are yours to control and present as you see fit. Creating the exact sets that you have in mind is a fully attainable goal.
The Wicked Witch's Castle
When it comes to the Wicked Witch's Castle, Directors and Stage Designers have even more free rein. Some select a traditional castle interior, while others opt for background imagery with a darker tone to mirror the Wicked Witch herself. Everything from our brick-laden Dragon's Lair to our subterranean Phantom's Grotto backdrop have both been selected to set the scene of the Witch's Castle. The Prince Street Players version is technically set in a dungeon, but many Directors choose to use the latter drop anyway. (It is a popular addition to Tams Witmark versions as well.)
Even the most classic scripts can be tailored to meet your vision. When a Director or Stage Designer adds their perception of the storyline to the on-stage imagery then they have made their mark on the script. THE WIZARD OF OZ is yet another production that allows you to show off your artistic prowess. Creativity is the basis for musical theatre. Shouldn't your sets be an extension of yours?